Review
Vtiger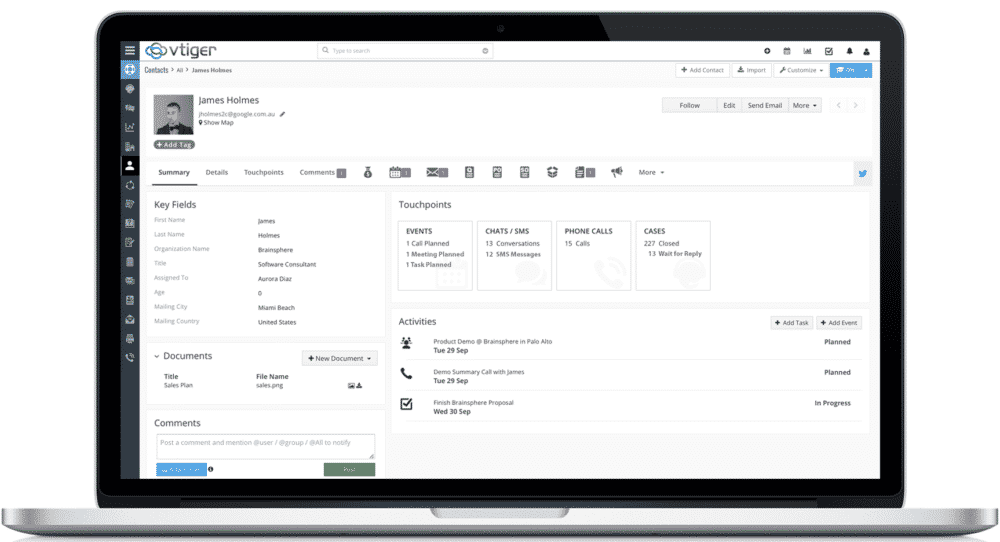 Overview
Vtiger makes adaptable, cost-effective, and easy to use cloud and on-premise CRM applications for small to medium sized businesses worldwide. Vtiger CRM to organize their businesses around their customers, grow sales, improve marketing ROI, deliver delightful customer service experiences, and much more.
• Streamlined Contacts
• Tracks Deals history and progress
• Sales forecasts
• E-mail Marketing
• Support Cases
• Case SLA
• Customer Portal
• Knowledge Base
• Project Management
• Sales Starter - $10/use/month
• Sales Professional - $20/user/month
• Help Desk Free
• Help Desk Starter - $10/user/month
• Help Desk Professional - $20/user/month
• All-in-One CRM -$30
Small (<50 employees), Medium (50 to 1000 Enterprise (>1000 employees)
Online Support, Phone Support, FAQ Knowledge base, Video Tutorials
What is best?
• Project Management
• Inventory
• Appointments
• Tasks and Activities
• Performance Insights
• Workflow Automation
• Document Management
• Mobile App
What are the benefits?
• Simplify pipeline management
• Accelerate deal nurturing
• Sales Analytics & Insights
•Visualize the health of your sales pipeline
Vtiger provides to be always in the know with alerts that notify you (on-screen, SMS, or email), if a contact becomes active, idle, or meets various other conditions. Booking appointments with a specific sales representative, or just any available member of your team, just got a lot easier. Just share Vtiger's appointment page URL with a contact to let them see and choose from an available slot on a personal, or a team's calendar.
Vtiger then creates the appointment and notifies attendees.Click into any opportunity to see important information like related contacts and organizations, forecast amount and expected close dates. As opportunities progress, create projects in one-click for post-sales teams to get up to speed and manage work quickly.
Vtiger's forecasting tool pulls together all of a sales team's opportunities, then automatically makes changes based on sales stage and probability of closing, and finally lays it out in a table that shows how much revenue you can expect in every future period.With Vtiger you can create lists of recipients by filtering on any information which ensures that your campaign reaches people to whom they're relevant.
The insights dashboard highlights key organization, team, and pipeline stats like top performing team members, and the current value of open opportunities.With Vtiger's task and activity management tools you can see existing calendar events and tasks synchronized across any system you use.You can upload marketing documents to folder "marketing" for your sales team to find fast and use while selling.
If a customer shares a document with you via email, Vtiger knows to automatically attach it to their contact record. Use plugins to request and accept payments; place, receive and log calls; do accounting; integrate emails, contacts, notes, and calendars; and much more.
You may like to read: Free, Open Source and Top Customer Relationship Management (CRM) Software, How to Select the Best Customer Relationship Management Software for Your Business and Steps for a Successful Small Business CRM Implementation