Review
InTouchCRM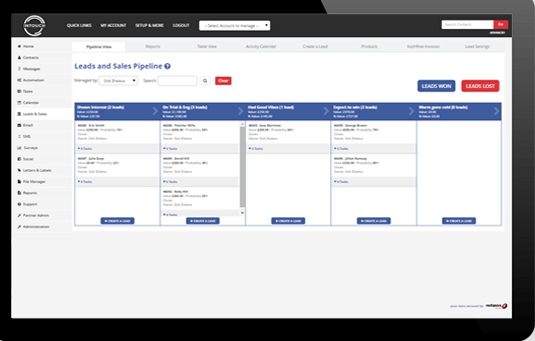 Overview
InTouch is an integrated web based platform combining email marketing with powerful and top CRM. InTouch combines all of the traditional features and CRM functionality of sales deal management, contact management, calendar sharing and more, with the immense power of integrated marketing tools such as text marketing, email marketing, social feeds, online surveys for customer insights, and mail merge for printed material.
• Drag & Drop Email Editor
• Powerful Sales Pipeline & Lead Management
• Leads Table View
• Automated Campaigns
• Web Forms
• Text Messaging & Social Media Integration
• Sales - $15 / month per user
• Marketing - $31 / month per user
• Complete - $47 / month per user
Small (<50 employees), Medium (50 to 1000 employees), Enterprise (>1000 employees)
What is best?
•Email Marketing
•Marketing Automation
•Sales Pipeline
•Calendar and Tasks
What are the benefits?
• Full reporting & Automation
• View the sales overview page
• Powerful Search & Segmentation
• Easily view each customer's history
Intouch provides a powerful sales & marketing automation for growing service businesses. It can capture your contacts' details into one central all-knowing system, wherever they may be; online, in-person or on the phone. It follows up on people by using automation to ensure that every lead, contact and opportunity is followed-up automatically.
It also has a well-planned growth system; automation and consistent follow-up are the keys to the growth and success of any small business.
InTouch has many other features to help the users business grow, such as its sale's pipeline manages the user's sales process to progress prospects from initial inquiry through to conversion of the sale. Following a sales process is critical to sales success. Being able to track prospects through that process using a funnel ensures that each prospect gets the attention and follow up that they deserve and need.
The user can also use Intouch to capture all of the employees information and contracts in one CRM system. InTouch's contact management system helps you manage and store any information relating to your contacts and customers more effectively. It can also store the customers information in one place, target your marketing to the users customers' specific needs, wants and desires, use contact scoring to prioritize leads and sell more efficiently and easily view each customer's history.
The InTouch email marketing system is simple to use, seamlessly integrated with your contact management / CRM database, easily segment your list to send targeted follow-ups,it doesn't require a PhD in HTML coding to get you started, use in conjunction with web forms to grow your list and for those who need more than just an email marketing tool.
It also has a text managing system which can text a customer to tell them their delivery is en route, tell customers about promotions & updates between monthly emails, tell them about a new product launch or to offer them a discounted price if you haven't heard from them in a while using a business SMS, remind customers of an upcoming service appointment, let someone know you have received their inquiry and notify clients that their case is closed.
You may like to read: How to Select the Best CRM Software for Your Business, Top CRM Software, Free, Open Source CRM Software  and Best Practices for CRM Implementation.