Review
Streak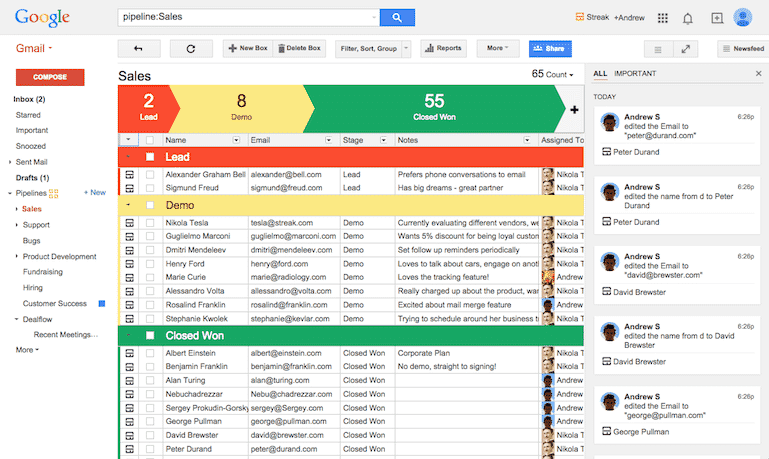 Overview
Streak manage your deals, support queue (and more) inside Gmail. Replace multiple external systems and connects securely to Google Apps. Use work, personal, and school Gmail accounts.
•Sales
•Product Dev
•Deal Flow
•Fundraising
•$0 USD user/month
•STARTER •$19 USD user/month
•Most Popular Plan •CORPORATE $39 USD user/month
•ENTERPRISE $89 USD user/month
Free, Freemium, Subscription
Small (<50 employees), Medium (50 to 1000 Enterprise (>1000 employees)
Online Support, Phone Support, FAQ Knowledge base, Video Tutorials
What is best?
•Sales
•Product Dev
•Deal Flow
•Fundraising
What are the benefits?
•Reach out to people at scale
•Track applicants where you actually talk to them
•Manage pipelines and team activity from one place
Streak is a spreadsheet style CRM provider that makes data management and everyday processing functions easier. Streak is supported by both Google chrome and safari. It has a user friendly simple collaboration feature that permits the sharing of data within seconds.
Users link their google IDs through open id without having to share any personal information with streak. It also provides a multipurpose feature that allows for management of different functions within Gmail so that you can multitask.
Streak works with Google apps and provides a secure connection to you various accounts. It is easy to install as no IT experts are required. Users just need to download the extension. Streak is also linked with cloud so you can access your data from any authorized account or mobile device. It does not have a coding requirement, so you can change the system as the dynamics of your business change.
Streak can also act as an informal applicant tracking system and can be used as a contact list provides easy email tracking services, reminders, and tempelating and scheduling functions. Streak also offers a pipeline feature that allows you to group all your emails related to certain project and then you can share that pipeline with your coworkers.
Streak has a user friendly interface, which is used and relied on by companies such as Uber, Twitter, weebly etc. Streak gives users a free trial period so that they can try out the software for themselves and decide if it's worth buying.
You may like to read: Top Sales Force Automation Software and How to Select the Best Sales Force Automation Software for Your Business
Streak Features
Manage deals from Gmail
Track your outgoing email
Create mail merges
Channel Discussion into Product Development
Use Formulas to Run Your Processes
Manage partnerships across your entire Business Development team
Manage Funding Within Gmail
Transform Gmail Into a Support Queue
Manage leads and transactions inside Gmail
Streak Pricing
For individuals looking for a simple CRM solution
Professional
49$ per user/month

For any sized business looking for a fully-featured CRM solution
Enterprise
99$ per user/month

For any sized business looking for custom roles and premium support
Streak Videos