Top 27 Personalization Software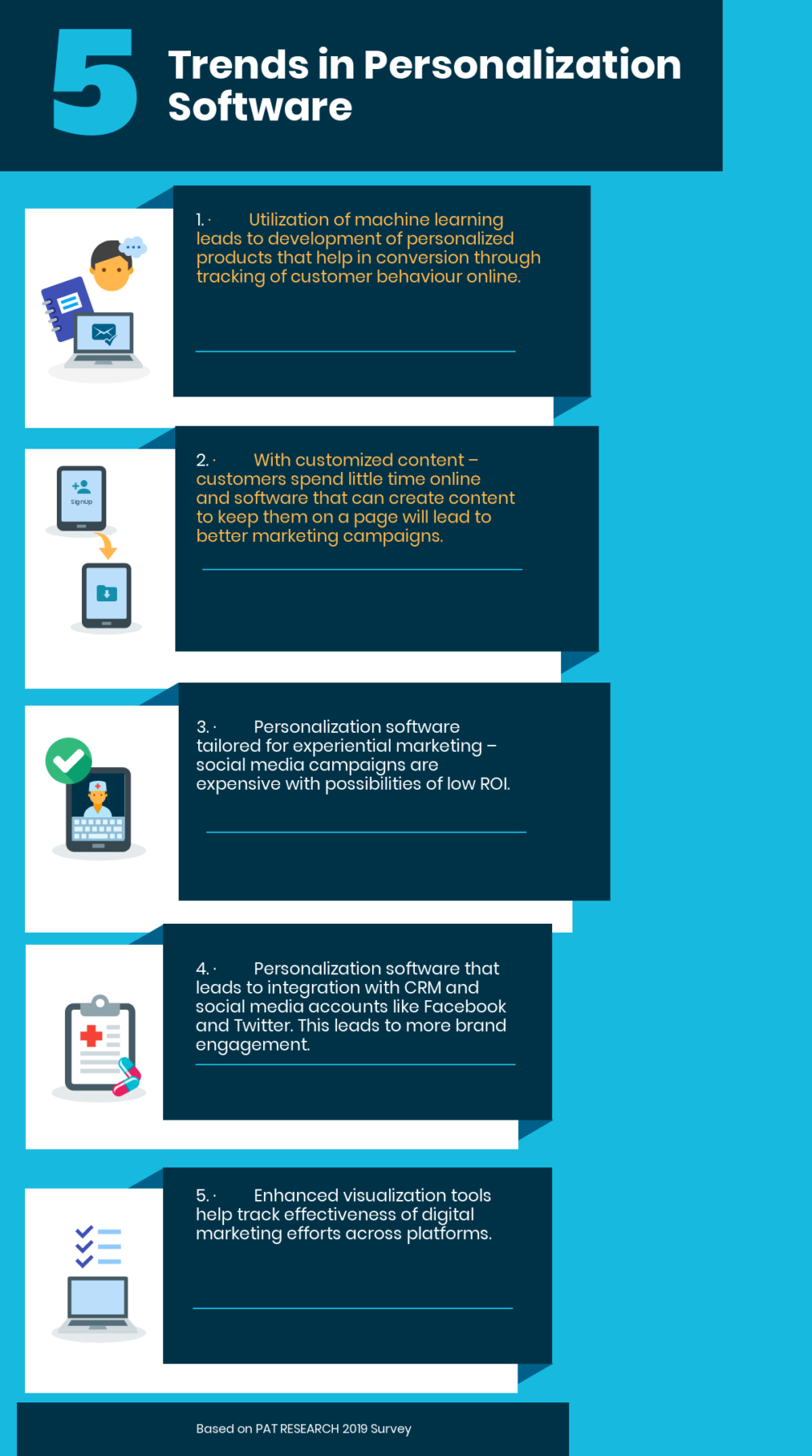 Online shoppers expect to receive personalized attention from the websites they frequently visit. Offering personalized care to your customers makes all the difference. It can be the key to success in your business. Increasingly, most online shoppers are finding personalization software more useful in their day to day operation to deliver a personalized experience to your clients. With the software, one is able to customize each client's needs based on the previous history from their searches.
Personalization Software provides relevant, individualized personal interaction and experience using the recipients personal data as well other customer touch points.
Personalization Software engines uses analytics to determine the optimum experience for the recipient using information from various customer touch points. These unique experiences created for customers, can potentially increase cross-selling, upselling, overall conversion rate, shopping cart value and customer loyalty.
What are the Top Personalization Software: Freshmarketer, Justuno, Yusp, Dynamic Yield, Kitewheel, Acquia Lift, Certona, Qubit, Flytxt, RichRelevance, NGData, IgnitionOne, Barilliance, Syntasa, Boxever, Edgeverve, Nosto, Oracle Real-Time Decisions, Episerver, ZetaHub, Sailthru, 4-Tell, nectarOM, prudsys, Blueknow, Strands, BrainSINS are some of the top Personalization Software.
What are Personalization Software
Personalization Software provides customization functionalities for tailoring a service or a product to accommodate specific individuals, or segments of individuals. Personalization Software are used to improve customer satisfaction, digital sales conversion, marketing results, branding, and improved website metrics as well as for advertising.
Personalization functionalities are a competitive advantage in social media and recommender systems. Personalization Software provide personalization based on the characteristics such as interests, social category, context, and actions such as click on button, open a link, and intent such as make a purchase, check status of an entity. It can also be achieved by any other parameter that can be identified and associated with an individual, therefore providing them with a tailored user experience.
Personalization Software is designed to meet the unique needs of an organization so that it can achieve a specific purpose. The software is also commonly referred to as custom software or tailor-made software. The software helps an organization to tailor its web pages to address individual user's needs, characteristics or preferences. Personalization helps one to meet customers' needs efficiently and effectively. As a result, customer's interactions are made more accessible, faster, and more so increases customer satisfaction guaranteeing repeat visits.
Robust, machine-driven learning: Allows the software to deliver search results and product recommendation that is tailor-made to suit your shoppers. The software also has the ability to improve itself without your intervention. The software assesses the customer's needs with accuracy and goes ahead to give a dynamic search and navigation results which are based on past shopping and search history as well as seasonal trends.
Customizable for your needs: To customize your personalization software to suit your specific industry and needs. To be able to tune your system into a solution that best serves you, then it is necessary to look for software that can be easily customized. Such software offers you a sleek, better-tailored solution that can best support your products and brands.
Powerful navigation options: It comes with smart site navigation tools which helps the users find the products they want with ease and high efficiency. Software that has an intelligent filtering option not only makes site navigation easier but it also incorporates both desktop and mobile users. The filtering option helps shoppers to filter their search either based on products, brands, or similar products. As a result, a single visit can have higher transactions at a go which in turn boosts customer retention as they are able to conduct all their operations at a go.
Desktop and mobile support: Personalized software should be able to support both desktop and mobile users. With the increased use of mobile devices, most shoppers prefer to conduct their transactions using mobile gadgets thus it's imperative to ensure you have a platform that is able to tap into this market. A software that accommodates both users ensures there is consistency access of your content regardless of the device at hand.
Top Personalization Software
Freshmarketer, Justuno, Yusp, Dynamic Yield, Kitewheel, Acquia Lift, Certona, Qubit, Flytxt, RichRelevance, NGData, IgnitionOne, Barilliance, Syntasa, Boxever, Edgeverve, Nosto, Oracle Real-Time Decisions, Episerver, ZetaHub, Sailthru, 4-Tell, nectarOM, prudsys, Blueknow, Strands, BrainSINS are some of the top Personalization Software .
Top Personalization Software
PAT Index™
1
Freshmarketer
Freshmarketer is a Conversion Rate Optimization (CRO) tool. In Freshmarketer visitors are counted based on the information stored in cookies. Until the cookie expires, Freshmarketer doesn't count the returning visitors. Freshmarketer creates cookies for every new and unique visitors to record their information and to spot out returning visitors from the already existing information. Freshmarketer collects data instantly and provides variation(s) based data as and when visitors visit the website. Integrating Freshmarketer with Universal Analytics (UA) allows users to view web metrics tracked by UA for each variation in an experiment (running on Freshmarketer), view reports in UA by filtering…
Overview
• Hesitation time report: Identify form fields where visitors are hesitant to fill in
• Freshmarketer's form refill report helps to identify the erroneous and ambiguous form fields
• Net Promoter Score
• Field level analytics: Get conversion critical information of every form field by just providing URL of the form page
• Session replay: Provide detailed information based on customer interactions
• WYSIWYG visual editor: Make changes to your page with a wide array of editing options to choose from
What is best?
• Net Promoter Score
• Field level analytics: Get conversion critical information of every form field by just providing URL of the form page
• Session replay: Provide detailed information based on customer interactions
What are the benefits?
• Solve onboarding challenges: Identify interest drop-offs, thus reducing churn
• Identify bad UX designs: Detect the areas of the website that exerts a cognitive load on visitors and eliminate them
• See what visitors see: Track more than just conversions and bounce rates
2
Justuno
Justuno is the conversion marketing toolkit that helps to create more value from the daily website traffic. It has all the tools the user needs to convert more traffic. The user can start converting their website visitors with Justuno's complete conversion toolkit. The user creates high-converting lead capture popups, signup bars, and signup forms. The user gets the power and flexibility they deserve with a world-class design drag and drop canvas, robust targeting engine, and 50+ email and CRM integrations. The user runs effective sales promotions and engages high-intent visitors at key moments during the purchasing process to drive more…
What is best?
• Clearly notify the visitors of relevant information such as sales, events, shipping information, and more.
• Capture Emails, Funnel Traffic, and Display Notifications with an Uno Bar.
• Personalize the Website Experience with Smart, Targeted Pop Ups and Promotions.
What are the benefits?
• Get the power and flexibility with a world-class design drag and drop canvas, robust targeting engine, and 50+ email and CRM integrations.
• Drive more sales revenue by improving sales conversion rate and increasing average ticket order with smart, targeted promotions.
• Reinforce offsite marketing with onsite messaging to maximize campaign performance and conversions.
3
Yusp
Yusp is a machine-learning powered personalization engine having all product modules as digital personalization engine defined by Gartner as well as other product modules, which enable to personalize the physical shopping experience. These include product recommendations, on-site, search, ad retargeting, social, email, mobile and in-store personalization. Yusp increases customers revenue in ten business models like e-commerce, online marketplace, publishers, brick & mortar retailers and retail banks. Yusp has never lost any A/B test against competitors or in-house solutions thanks to its exceptional algorithmic portfolio, which incorporates predictive, adaptive learning analytics to anticipate future behavior or estimate unknown outcomes. Yusp's scalable,…
Overview
•Product Recommendations
•On-site Personalization
•Search Personalization
•Mobile Personalization
•Email Personalization
•In-store Personalization
•Personalized Couponing
•Social Personalization
•Online ad retargeting personalization
•Shopping cart abandonment
•Next product to buy for retail banks
•TMT video service personalization
What is best?
•Product Recommendations
•On-site Personalization
•Search Personalization
What are the benefits?
•Personalized Couponing
•Social Personalization
•Online ad retargeting personalization
4
Dynamic Yield
Dynamic Yield SaaS solution empowers marketers, retailers, and publishers to test, manage and transform the complete customer journey, and drive immediate engagement and revenue without ever having to rely on IT. Dynamic Yield's unified customer engagement platform helps marketers increase revenue by automatically personalizing each customer interaction across the web, mobile web, mobile apps and email. The company's advanced customer segmentation engine uses machine learning to build actionable customer segments in real time, enabling marketers to take instant action via personalization, product/content recommendations, automatic optimization & real-time messaging. Dynamic Yield's SaaS 'ad server' for content helps marketers create the highest…
Overview
ENGAGE HIGH-VALUE SEGMENTS USING ADVANCED TARGETING.
Experience Personalization
SERVE 1:1 PERSONALIZED EXPERIENCES IN REAL-TIME.
DELIVER PERSONALIZED PRODUCT OR CONTENT RECOMMENDATIONS.
RESTRUCTURE ANY ELEMENT OR LAYOUT
Real-Time Omnichannel Personalization
Predictive A/B Testing
Campaign Optimization
Recommendation Engines
Audience Segmentation
5
Kitewheel
Kitewheel orchestrates intelligent customer journeys by unifying decisions across all touch points. Kitewheel's innovative Customer Journey Hub enables brands and agencies to discover, design, and deliver seamless experiences that drive real-time revenue and long term loyalty.Kitewheel is a smart, cloud-based hub for agencies. Rapidly design, connect, execute and refine real-time consumer journeys, anywhere consumers choose to interact. The demand for Kitewheel's solution is growing as all brands must now compete for the attention of the cross-channel consumer by orchestrating customer journeys in real-time. Kitewheel includes access to hundreds of the most popular integrations and adaptors, with the extensibility to connect…
Overview
Map Out Journeys.
Plug Into What You Have.
Develop Logic & Execute
Measure & Refine.
REAL, REAL-TIME.
OMNI-CHANNEL.
RAPID DEPLOYMENT.
Seamless testing and deployment of projects in the cloud
Highly available, automatic scaling execution capabilities
KPI creation, management and optimization
Secure project collaboration based on user roles and user groups.
Free trial available.
Flexible, Subscription-based Pricing
contact Kitewheel representatives for details.
6
Acquia Lift
Acquia is a leading cloud-based, digital experience management solution that offers personalized and contextually optimized experiences on any touch point at unlimited scale. Move rapidly from idea to execution. Have the flexibility to start small or go big, and deliver results at every step. Launch, learn and iterate to accelerate the company's path to great. The Acquia Platform offers a secure platform-as-a-service cloud environment for the Drupal web content management system, advanced multi-site management, powerful developer tools, and software-as-a-service capabilities for personalization, content syndication, and more. The Acquia Platform components are built with an API-first approach to make it easy…
Overview
Customer Profile
Content Hub
Omni Channel Integration
Real-time, Adaptive Segmentation
Testing and Targeting
Reporting and Analytics
PERSONAL $141/mo
SMALL $296/mo
MEDIUM $516/mo
7
Certona
Certona offers a complete line of solutions to drive engagement and conversion through every step of the shopping journey.Certona's solution delivers the most tailored and consistent brand experiences. From acquisition and engagement to remarketing and conversion, sharing cross channel knowledge throughout the customer lifecycle enhances experiences, drives more revenue and encourages repeat business. Certona delivers customer experiences tailored to each individual using continuous behavioral profiling and predictive technology, resulting in increased engagement and conversions. Powered by a sophisticated blend of continuous profiling and real-time targeting, the Certona personalization platform augments behavioral profiles with every interaction. This develops customer insights that…
Overview
Empower Digital Marketers & Retailers to Achieve the Highest Level of Engagement.
Leverage a Wide Range of Segmentation Methods to Tailor Consumer Interactions.
Create a 1:1 Personal Touch Throughout the Entire Shopping Journey.
Turn Insights From Testing and Analysis Into Actionable Business Decisions.
Prices start at $25,000 per year
8
Qubit
Qubit's technology prioritizes the biggest opportunities for revenue generation so users can deliver personalization that makes an impact. It powers over 300 of the world's leading consumer brands. Qubit gives their users the most complete customer understanding, flexible segmentation capabilities backed with machine learning, and high-impact digital experience techniques that deliver proven results. Key benefits that users can get are better results - 24x higher uplifts in revenue per visitor than traditional personalization with Qubit's programmatic experience technology. Qubit can be operational in under a month, bridging the gaps in the existing tech stack; Huge scales which means that Industry…
Overview
better results - 24x higher uplifts in revenue per visitor
Huge scales
fast ROI
able to target geo-specific experiences to customers depending on what's popular where they reside
gives richer targeting
deeper understanding - Qubit ties explicit customer feedback to their behavior
9
Flytxt
Flytxt's comprehensive data monetisation solutions help enterprises to personalise customer experience across digital touch points as well as increase revenue, optimise margins, and enhance loyalty.Flytxt has consistently delivered 2 to 7% economic impact to its customers with its full solution stack combining technology, packaged analytics, business applications, and enabling services. Flytxt's high-performance Big Data Analytics platform is designed to integrate Fast Data, Big Data for deriving deeper actionable insights. It follows a hybrid architecture combining scale out clusters running Hadoop with traditional RDBMS as a metadata store and an in-memory database for Real time transactional data processing. This architecture brings…
Overview
High Performance, Carrier Grade Platform.
Infinitely Scalable, Hybrid Architecture.
Real-time Analytics with Low Latency.
Continuous Insight Generation with Distributed Processing.
Advance Analytics-driven Internal Monetization Platform.
Business Objective Driven Applications.
Delivering 2-4% New Revenue Streams for Telcos.
10
RichRelevance
RichRelevance Cloud is a revolutionary platform that allows its users to quickly innovate and deliver personalized, brand-centric experiences across the spectrum of their customer lifecycle. This results in deeper engagement that extends customer lifetime value. It is powered by Personalization Graph which aggregates key data including customer behavior, content, context, and product information, to deliver the more relevant experience for each customer. By helping retailers eliminate barriers to the use of their customer data, the Personalization Graph enables retailers to create data-driven, innovative experiences that represent their brand across every touch point.RichRelevance 's personalization engine constantly tests and learns which…
Overview
Personalized Browse & Navigation
Precise Rules & Controls
Mobile Sort
Seamless Experiences
Algorithm Configurations
11
NGData
NGDATA helps data-rich companies in financial services, media/publishing and telecom to automate and optimize omni-channel customer interactions.Lily Enterprise, captures data across all channels and provides enterprises with real-time insights to drive superior customer experiences. Lily's Customer DNA puts the individual at the center of the organization by design, continuously learning from behavior to act consistently and timely for superior experiences. NGDATA is a customer experience solution company and it helps other data-rich companies in media/publishing, telecom, financial services to arrange omnichannel customer interactions. NGDATA has customer management capability and its consulting services can help the people to turn data into…
Overview
Ngdata has customer experience management and data driven solutions. It has business analytics, customer retention strategies.
It has standard pricing and it's pricing is based on volume of data or number of customers. Free trial available. For pricing information, please contact NGDATA.
12
IgnitionOne
IgnitionOne integrated technology makes it easy for marketers to know a person's level of engagement across paid, earned and owned marketing, paving the way to a faster, smoother customer journey. IgnitionOne's Digital Marketing Platform enables marketers to centralize, manage and optimize digital media across Search, Display, Social and more – as well as personalize their website -- while providing full visibility over cross-channel attribution. At the core of IgnitionOne's Marketing Platform is proprietary Score-Powered Marketing (SM) capabilities, which determines the highest value audiences in order to inform the delivery of the right message, at the right time, at the right…
Overview
Media management (paid search, display, Facebook).
Cross channel attribution.
Marketing automation.
Data management platform.
Email marketing.
Free trial is available.
Contact IgnitionOne's representatives for details.
13
Barilliance
Barilliance is an integrated suite of applications that enables e-commerce sites of any size to deliver a personalized shopping experience by adding a single code snippet to their site. The suite includes: cross channel personalized product recommendations, behavioral triggered emails and real-time onsite personalization. All applications operate on the Barilliance personalization platform from a single easy to use control panel and can choose to implement any of the solutions and add other functions later, without the need for further implementations. Barilliance helps eCommerce sites of any size to increase sales and conversion rates by providing visitors with a personalized omni-channel…
Overview
Cart Abandonment Emails.
Re-engage customers with remarketing emails.
Capture more email addresses.
Include product recommendations.
Responsive templates for triggered emails.
Multi-stage campaigns.
Ability to show items in cart.
Rich segmentation.
A/B testing.
Email suppression.
ESP integration.
Starting from: $250.00
Pricing model: Open-source, Subscription
14
Syntasa
Syntasa extends existing digital marketing analytics platforms with a real time and highly scalable big data solution. Open source technology that integrates and analyzes both online and offline data. This reveals deeper, targeted customer insights that go beyond descriptive analytics to predictive and prescriptive analytics that allow advanced decision making.Syntasa's solution integrates with existing data analytics platforms already in place, and big data machine learning and open source architecture accommodates the continuous growth of data sets. Its vendor specific expertise and a deep understanding of cloud based advanced analytics allows for rapid deployment – in the cloud or on premise.…
Overview
Multiple Devices
Fully Scalable and Interoperable Solution
Digital Marketing Data
Data Visualizations
Data Science
Real Time Behavioral Segmentation
15
Boxever
Boxever's cloud platform enables travel retailers to build a scalable, cost-effective single customer view that powers 1-1 marketing and merchandising across every channel in real-time. Boxever improves conversion and increases transaction size by targeting customers individually. Boxever is a cloud-based solution that combines master data management, CRM, decisioning and analytics into a tightly integrated, travel-centric marketing platform that enables retailers to capture, analyze and act on large volumes of customer data in real‑time. A unified view of the interactions that every visitor, passenger and customer has with your company. Boxever contains a unique timeline view that contains behaviors, transactions, demographics and…
Overview
Identity Resolution.
Single Customer View.
search-based interface to the complete guest repository.
Real-time Interaction Management.
Triggered Communications.
Advanced Segmentation.
Dashboards & Visualizations.
Cohort & CLV Analysis.
Big Data.
Scalable.
Secure.
16
Edgeverve
Edgeverve develops innovative software products and offers them on-premise or as cloud-hosted business platforms. The products help businesses develop deeper connections with stakeholders, power continuous innovation and accelerate growth in the digital world. EdgeVerve Systems, a wholly-owned subsidiary of Infosys, develops innovative software products and offers customers on premise or as cloud-hosted business platforms. The products help businesses develop deeper connections with stakeholders, power continuous innovation and accelerate growth in the digital world. Edgeverse powers the clients' growth in rapidly evolving areas like banking, distributive trade, credit servicing, customer service, and enterprise buying. Today, global corporations across financial services, insurance,…
Overview
AssistEdge
delivers an integrated, cross-channel experience.
reduces service intensity by enhancing operational productivity.
TradeEdge
best insights-driven sales platform.
ProcureEdge
ensures higher compliance, risk governance.
improves spend visibility in procurement space.
CreditFinanceEdge
provides flexibility.
Finacle.
17
Nosto
Nosto analyzes your customers' behaviour, learning their likes and dislikes and enables you to deliver automated, personalized recommendations in real-time. Nosto analyzes hundreds of thousands of data points across your store in real-time, to help you go beyond the numbers and see the individual. Nosto harnesses big data to build a deep understanding of your every customer in real-time, automatically predicting and delivering the most relevant shopping experiences at every touch point, across every device. Nosto is the greatest e-commerce platform and it is the easiest way to provide customer's shopping experiences. Nosto can make online shopping more preferable and…
Overview
It is the easiest way to deliver customer's shopping experiences. It has product recommendations and personalized emails. It has sales tracking, sales reporting characteristics.
Free traial available. For pricing details, please contact Nosto.
18
Oracle Real-Time Decisions
Oracle real-time decision is a complete decision management system and it enables the people to develop adaptive business solutions. These solutions are called adaptive because these have the tendency to adapt to different situations. Oracle Real-Time Decisions, Closed loop decisions enables business community to implement closed loop business logic. The Analytical decisions enables business community to implement rules based or predictive based decisions that leverage existing analytical assets. Self-adjusting processes enables business community to implement processes that automatically adjust based on feedback and over time. Business Goal Optimization enables business community to make real-time decisions that optimize competing business goals,…
Overview
It has cross-channel learning and decisions, it has single solution for multiple decision management. Data, rules, and predictive models. Decision services for business process optimization.
Free trial available. Subscription based. For further information, please contact Oracle.com/technetwork.
19
Episerver
Peerius is a leader in intelligent personalisation solutions. The SMART suite of personalisation tools enables Peerius to personalise each customer's online experience, one to one and in real time across all channels including online, mobile, email, instore, call centre, personalised catalogues and print. The most intelligent engine of this platform is T2 and it drives the engagement of the people and customer's insight. It delivers personalization solutions through all online and offline channel including mobile, email, call center etc. This platform can design or arrange business plans smoothly and it depends on the analytical solutions totally. So, total focus of…
Overview
It uses omni-channel software, it uses intelligent personalization solutions. It has unique qualities, sales intelligence, cyber risk auditing.
Peerius is free to use. No credit card required.
20
ZetaHub
Boomtrain's AI-powered Marketing Platform enables marketers to understand and communicate on a 1:1 level, at scale, with a human touch.Boomtrain is the only scalable marketing platform with artificial intelligence at its core, enabling brands to better understand and communicate with their customers. Boomtrain helps companies send individually relevant messages through any channel, at any scale, and in real time; it's as easy to integrate as Google Analytics. It increases engagement with the company's brand. Deliver personalized 1:1 experiences to the users in every channel. Boomtrain's AI helps UpOut to deliver personalized experiences by analyzing content and user behavior from their…
Overview
AI Powered Shopping Concierge
Smart Triggers for Tailored and Unique Customer Journeys
Acquisition Campaigns
Optimized Templates
Cohort Monitoring
AI Driven Channel Selection
21
Sailthru
Sailthru Customer Retention Cloud helps modern marketers acquire, grow, and retain customers. Sailthru's powerful suite of connected capabilities – including high-performance email, onsite personalization, mobile marketing automation, and unique integrations powering new customer acquisition – drives higher revenue, improves customer lifetime value and reduces churn. Sailthru is a cross-platform marketing company and leading provider of personalized marketing technology. It gives personalized solutions to the customers through mobile apps, data collection, and SMS. Sailthru can help marketers to expand their online retail marketing and to build long lasting relationships with the customers. Sailthru designs or arranges customer experiences according to the…
Overview
Use behavioral data, customer purchase data, it has lifetime view of customer data, it has advanced analytics and marketing strategy support.
Individual pricing plans are provided on request. Subscription pricing model. Free trial available.
22
4-Tell
4-Tell is an ecommerce software company that increases conversion and sales 15% or more for online retailers with personalized product recommendations. 4-Tell's suite of Boost Recommendations products for web, e-mail, and mobile platforms increases conversion, sales and revenues for online retailers while providing customers with a personalized shopping experience. The products are designed to work for all retailers selling any type of products, can be setup in less than an hour without any coding, and is affordable. The personalized product recommendations are used by companies selling everything from yarn to clothes to car parts. The Boost Recommendations technology works on…
Overview
Double Digit Increases in Sales.
Personalized Customer Experiences.
Powerful Merchandising Control.
Multi-Channel Support.
Targeted Customer Engagement.
Insight into Customer Behavior.
BOOST BASIC
$84
per month
Up to 50,000 Page Views Up to 2,000 Products.
BOOST PRO
$169 - $499
per month.
BOOST ENTERPRISE
Starts at $899
per month
UNLIMITED Page Views UNLIMITED Products.
23
nectarOM
NectarOM platform was built to meet the needs of Enterprises looking to build, operate, and scale their personalization function end-to-end. Built by a team of marketers, data scientists, and technologists, the NectarOM platform includes all the key capabilities required for success: customer data management, analytics, campaign execution & management. NectarOM is a software company that delivers personalized data. It is an omnichannel SaaS company that makes easy for marketers to integrate and execute omnichannel marketing. This platform was made to build and increase the personalized function i.e. doing something or designing something according to the needs of an individual. This…
Overview
It has powerful personalization solution. It has high product quality and low customer service. It has omni-channel solutions to gain customer's experiences.
24
prudsys
prudsys RDE software can execute innovative real-time business scenarios based on the needs of major customers. There are six powerful RDE modules which can be used as separate, independent units or linked together to build a omni-channel global solution. RDE Recommendations maximises personal relevance in eCommerce, Internet, intranet, telemarketing, mail-order business, on mobile devices and in high street shopping, giving your customers an incomparable shopping experience. PRUDSYS is a real-time online analytic company and it gives personalization solutions to the customers who take part in an extremely good or impressive customer experience and they can increase the commercial profit. Prudsys…
Overview
Prudsys completely focuses on improving performance. It has innovative business solutions. It has automatic price setting, sales control, reinforcement learning, etc.
Contact sales for more product information. No credit card required.
25
Blueknow
Blueknow is specialized in buying experience personalization that increases ecommerce site sales up to 30% through cross-sell and up-sell and +20 different types of recommendations (i.e."Customers Who Bought This Item Also Bought.."), email marketing personalization and shopping cart abandonment & off-site recommendations. Blueknow is a powerful e-commerce personalization suite on the market. SaaS (Software as a Service) solution transforms a complex product into a simple and easy to use service. Recommendation engine is simple to put in place, and yield result in the first month. It has a client support, which is free, immediate, multicanal and multilingual. On average, 66%…
Overview
BlueCart: abandoned cart recovery.
Recover abandoned carts in just one click.
BlueRec: personalized product recommendations..
Adapts to any e-commerce platform, even custom made..
blueMail: personalized emails.
Dashboard: Analytics and Optimization.
Total transparency.
26
Strands
Strands Retail suite of personalization products powers your e-commerce site for a customized omnichannel experience that delivers real business value. The customer segmentation software allows you to connect 1:1 with your customers to offer them what they are looking for based on their personal preferences, taste and interests, connecting the dots between customer behaviors and product lifecycles – every time they're on your site. Strands develops innovation idea for retailers and financial institutions. Strands gives solution to retailers such as e-commerce by helping retailers connect right customers through website or by email and sending right message to right customer. Strands…
Overview
Strands gives solution to financial institution such as banks by providing dashboard application to manage finance accounts and also gives solution to retailer on increase of sales.
27
BrainSINS
BrainSINS Smart eCommerce provides a 360º eCommerce Personalization Solution, that you can easily integrate into any online store. 360º eCommerce Personalization solution that allows retailers to outline their tips approach and offfer one storefront for every of your customers and customize their consumer revel in. Configure automated emails to recover abandoned carts and orders and automate emails based actions depending on customers behavior. Create behavior guidelines that adapt your online keep to each conduct in real time and create dynamic touchdown pages based on user's pursuits and behavior to make it private. eCommerce Analytics get insights approximately your on-line commercial…
Overview
Express Integration
Invisible CRM
Business Analytics
Real-Time Editor
Business Rules
Multi-Channel
Lite - FREE/50.000 monthly visitors
Intelligent - $400/month - 150.000 monthly visitors
Smart - $800/month - 300.000 monthly visitors
Genious - $1000/month - >300.000 monthly visitors
BrainSINS

What are Personalization Software?

Personalization Software provides customization functionalities for tailoring a service or a product to accommodate specific individuals, or segments of individuals. Personalization Software are used to improve customer satisfaction, digital sales conversion, marketing results, branding, and improved website metrics as well as for advertising.

What are the Top Personalization Software?

Freshmarketer, Justuno, Yusp, Dynamic Yield, Kitewheel, Acquia Lift, Certona, Qubit, Flytxt, RichRelevance, NGData, IgnitionOne, Barilliance, Syntasa, Boxever, Edgeverve, Nosto, Oracle Real-Time Decisions, Episerver, ZetaHub, Sailthru, 4-Tell, nectarOM, prudsys, Blueknow, Strands, BrainSINS are some of the top Personalization Software.