Review
Dynamic Yield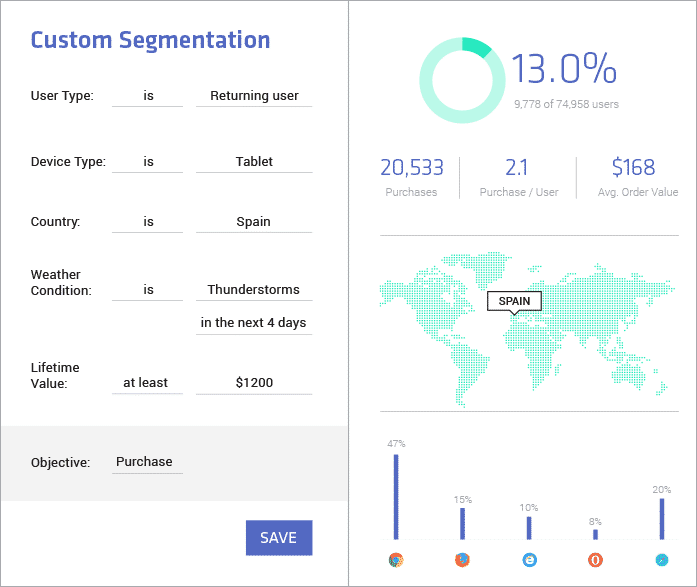 Overview
Dynamic Yield is a Unified Customer Engagement Platform that helps you optimize, personalize and contextualize your customers' digital experiences in real-time, across any channel.
Personalization Software and Engines Software
ENGAGE HIGH-VALUE SEGMENTS USING ADVANCED TARGETING.
Experience Personalization
SERVE 1:1 PERSONALIZED EXPERIENCES IN REAL-TIME.
DELIVER PERSONALIZED PRODUCT OR CONTENT RECOMMENDATIONS.
RESTRUCTURE ANY ELEMENT OR LAYOUT
Real-Time Omnichannel Personalization
Predictive A/B Testing
Campaign Optimization
Recommendation Engines
Audience Segmentation
Small (<50 employees), Medium (50 to 1000 Enterprise (>1001 employees)
Dynamic Yield SaaS solution empowers marketers, retailers, and publishers to test, manage and transform the complete customer journey, and drive immediate engagement and revenue without ever having to rely on IT.
Dynamic Yield's unified customer engagement platform helps marketers increase revenue by automatically personalizing each customer interaction across the web, mobile web, mobile apps and email. The company's advanced customer segmentation engine uses machine learning to build actionable customer segments in real time, enabling marketers to take instant action via personalization, product/content recommendations, automatic optimization & real-time messaging.
Dynamic Yield's SaaS 'ad server' for content helps marketers create the highest yielding landing pages, promotions, calls-to-action, campaigns and content, personalized per user in real-time. It empowers marketers to quickly take data-driven decisions and easily customize their CMS, independently and without any help from IT.
Dynamic Yield's advanced machine learning engine builds actionable customer segments in real time, enabling marketers to increase revenue via personalization, recommendations, automatic optimization & 1:1 messaging. Dynamic Yield easily creates and micro-targets audience groups. Target based on past behavior, customer journey phase, real-time intent, geo-location, weather forecast, subscription status and more.
Dynamic Yield combines Omnichannel Personalization, Personalized Product and Content Recommendations, Testing and Yield Optimization and Real-Time 1:1 Messaging to increase revenue and conversions. mprove revenue and LTV through dynamic recommendations. Combine multiple recommendation strategies, contextual recommendation layouts, flexible merchandizing and content targeting rules – all within a single recommendation widget.