Review
Taplytics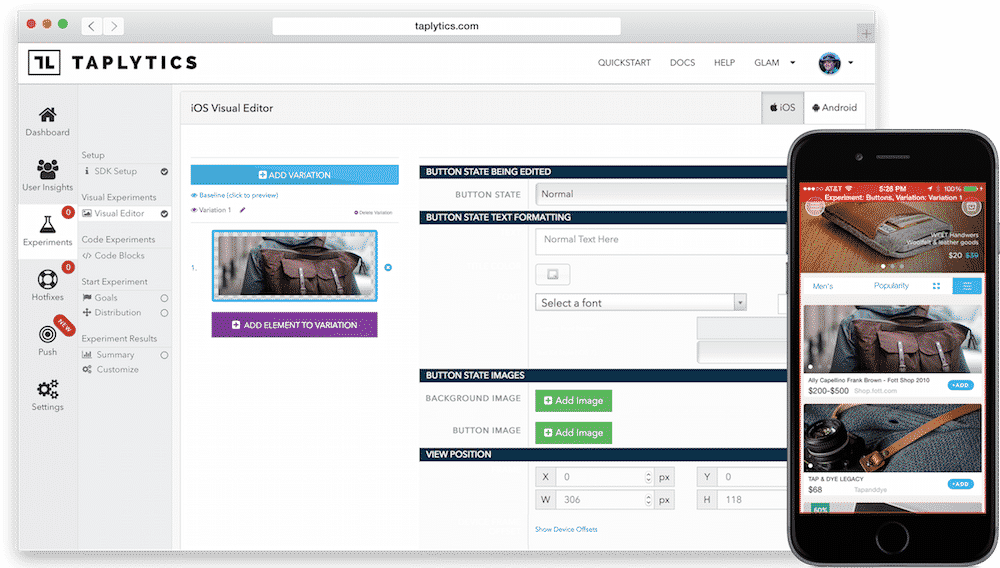 Overview
Taplytics helps you test and validate mobile product decisions quickly and easily. Visual tests let nearly anyone create simple experiments, empowering more of your team to make informed decisions.
A/B Testing
Push
Analytics
Taplytics BigQuery
Basic
1 project
Free up to 25,000 MAUs
2 team members
Enterprise
Unlimited projects
Up to billions of users
Unlimited team members
Contact us
Small (<50 employees), Medium (50 to 1000 Enterprise (>1001 employees)
Taplytics is a mobile optimization platform, helping apps with things like mobile growth, engagement, and retention. It doing this with suite of tools - dynamic A/B testing, smart push notifications, and custom analytics.
Taplytics is a fully integrated mobile A/B testing, push notification, and analytics platform providing the needed tools to optimize users' mobile app.
Taplytics's A/B testing also lets user create feature flags for different functional elements of his product. Javascript SDK let users test for the web too.This means instant, live control from a web interface while your app is in the wild.
Visual tests let create simple experiments, empowering members of users, team to make informed decisions.Code based experiments give the power for deeper, more complex experiments.
Push notifications with campaign automation help to reach the right users, at the right time, and with the right messaging. A/B tests messaging and optimize the impact of users' outreach. Also, Taplyticks gives push notifications access to comprehensive user segmentation capabilities.
Users can target down to the individual user for hyper-personalized messaging, or they can group their users into segments that make sense, and deliver them smart messages that drive key actions.User Insights gives users rich insights about their users and how they interact with their app.Allows seeing every screen and element their users interact with, know which devices they are using, and which experiences they received.
All meant to help user understand how to serve them better.Taplytics BigQuery gets customers data as soon as it's created by users. This means they can follow-up on issues as they happen.