Top 10 Free and Premium Calendaring Software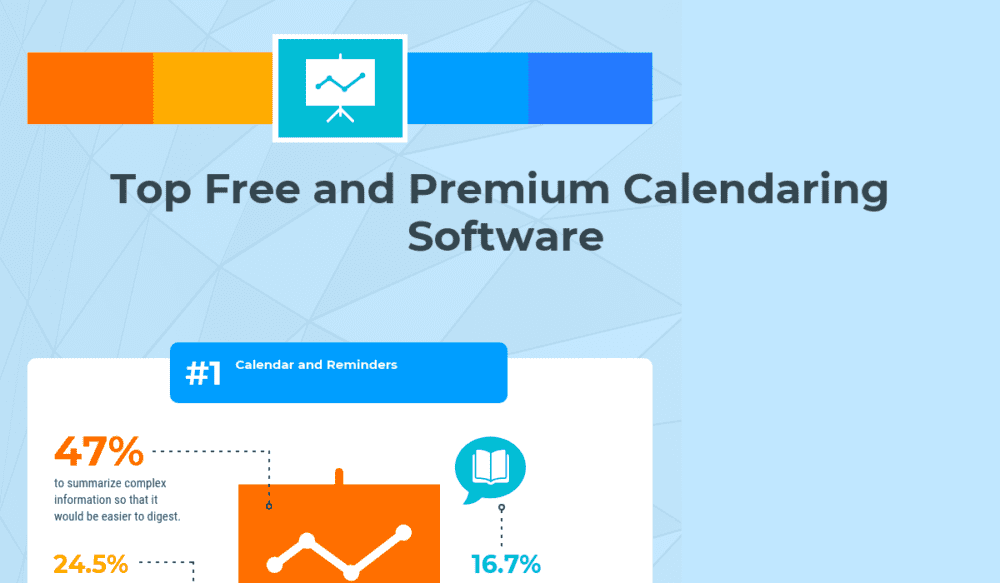 In a bid to boost productivity and keep good track of time, calendaring and scheduling software have become almost indispensable in the current business era. You will need to personally schedule tasks to manage your time wisely and get the most out of it. This software is essential in setting reminders (as phone messages or email notifications), helping you keep track of those that are scheduled, canceled or rescheduled.
As a business owner, this software may also come in handy when you need to allocate tasks to your workers and get updates regarding tasks complete and those overdue. The software will also help you do an analysis and will even provide a report on the time spent on different tasks which help you draw out a better plan to give good attention to the needy sectors. Generally, the calendaring software helps you and your team give your clients the time and attention they need
What are the Top Free and Premium Calendaring Software: G Suite, Google Calendar, eM Client, Microsoft Outlook, Microsoft Exchange Server, Tom's Planner, Mozilla Lightning Calendar, LiquidPlanner, Micro Focus GroupWise, Citadel, IBM Notes are some of the Top Free and Premium Calendaring Software.
What are Calendaring Software?
Newer versions have more advanced features such as file-sharing and automatic reminders that activate shortly before the set time. The software can be found as personal scheduling assistants, or at a larger level that enables sharing of calendar information in an organization or group of people.
It may also be obtained as independent software that is installed on your phone or personal computer, or it may be incorporated into other time management software. Calendaring software has become quite the trend in the business management world with managers preferring to make their own schedules and appointments as it suits their convenience.
Some of the features of the software include:
Top Calendaring Software
G Suite, Google Calendar, eM Client, Microsoft Outlook, Microsoft Exchange Server, Tom's Planner, Mozilla Lightning Calendar, LiquidPlanner, Micro Focus GroupWise, Citadel, IBM Notes are some of the Top Free and Premium Calendaring Software.
1
G Suite includes Gmail business email, Docs word processing, Drive cloud storage, Calendar shareable calendars, Hangouts Meet video conferencing and other productivity and collaboration software. With G Suite, the organization can move faster together, using intelligent, cloud-based apps to collaborate from anywhere, in real time. Share files easily, collaborate quickly and unite employees across different locations. G Suite helps teams move forward faster and get more done every day. G Suite has been built from the ground up to mitigate the unique threats for cloud systems. Google's standards for performance and reliability apply to businesses, schools and government institutions around…
2
Google Calendar is a web app that helps in managing time more efficiently and getting more done; it borrows from Calendar's mobile application features like the modern color palette and sleek design and brings it to the web with a responsive layout that auto-adjusts to any screen size. Google calendar offers more features for enterprises to help teams schedule and prepare for meetings. Google Calendar enables people to see conference room details when booking a room; therefore, G Suite admins can now enter detailed information about their organizations meeting rooms, so employees know where a conference room is located, how…
3
eM Client is a full-featured e-mail client with a modern and easy to use interface; it also offers calendar, tasks, contacts, and chat. eM Client has been fully optimized to run smoothly on Windows Vista, 7, 8 and 10, and it supports all major services including Gmail, Exchange, iCloud, Microsoft Exchange, Office 365 and Outlook.com. eM Client delivers a quick and easy import from an old email client such as Microsoft Outlook, Outlook Express, Windows Mail, Windows Live Mail, Thunderbird, The Bat and more. eM Client provides touch support for touch-enabled devices like laptops, tablets, and hybrid devices so this…
4
Outlook is a free email and calendar service that helps people stay on top of what matters and get things done with features such as Sweep, Pin and more. Outlook's Sweep enables automatic organization as it can be used to file or delete hundreds of emails from the inbox in seconds and it can also be used for managing rules to delete the unwanted email before it arrives automatically. Its unsubscribe feature enables blocking of unwanted mail such as newsletters, daily deals, or other recurring messages while the pin feature keeps the most important messages at the top of the…
5
Microsoft Exchange Server is an email client that enables people to accomplish more with a rich, business-class email experience on phones, tablets, desktops, and the web. Microsoft Exchange Server delivers products such as Exchange Online, Exchange Server 2016, and others like Exchange Online Archiving, Exchange Online Protection and more. Exchange allows users to remain in control as it lets them tailor their solution based on their unique needs and ensures that their communications are always available. Exchange enables users to do more on any device by helping them be more productive through its assistance in managing increasing volumes of communications…
6
Tom's Planner is a web-based project planning system that allows users to easily create, collaborate, share and publish online planning schedules with drag and drop simplicity. Tom's Planner is the ideal starting point for virtually every project. Users can visualize their planning thoughts directly into an easy-to-use, intuitive planning chart with no extensive user manual required. Tom's Planner is intuitive, easy to use, and gives control back to the project manager while ensuring projects are kept private and secure. Tom's Planner allows users to store share and manage their Gantt charts online. It offers a comfortable and safe way to…
7
Mozilla lightning Calendar is a fully integrated calendar that helps in organizing schedules and life's important events with Thunderbird or Seamonkey email. Mozilla Calendar emphasizes free and open source technology and supports standardized technology like the ical/ics format and CalDAV protocol, which is implemented by many freely available servers and also some commercial providers. It can be used to manage multiple calendars, to create a daily to-do list, to invite friends, and to subscribe to public calendars. The primary goal of the Calendar Team is to synchronize the Lightning release cycle with Thunderbird, and this means they will be using…
8
LiquidPlanner is a representative of the new generation of collaboration and project management software. It has specific features for IT teams, project managers, professional services, development teams, and marketing teams. It matches the project needs of both small businesses and large enterprises. LiquidPlanner allows users to carry out flexible best and worst scenario planning for risk assessment situations and offers multiple features that make it possible to adapt to changing priorities. It also has integrated time tracking, client portals, and resource management to help professional service firms keep tab of their clients, including tracking hourly rates for each team member…
9
Micro Focus GroupWise formerly Novell GroupWise is a complete collaboration software solution that provides email, scheduling, instant messaging, task management, contact management, and document management functions. Micro Focus GroupWise offers you some different collaboration components for establishing a robust, reliable and efficient networking environment with e-mail, calendar, contact management, RSS feeds and even complete team workspaces. Numerous customers and industry experts appreciate GroupWise mainly due to its high levels of reliability and security. Especially the comprehensive integration with Micro Focus' teaming tool Micro Focus Vibe as well as state-of-the-art communication technologies like Skype for Business or directory services like Microsoft's…
10
Citadel is an open source software for email, collaboration, groupware and content management that is quick to set-up on a company's hardware or in the cloud. It is 100% free open source, and its codebase is written mostly in C while 100% of its code is covered by the GNU General Public License. Citadel is a highly integrated groupware platform with AJAX-powered "Web 2.0" interface, but also providing built-in email SMTP, IMAP, POP3, Group calendaring and scheduling (WebDAV, GroupDAV, and Kolab-1 compatible), address books, and bulletin boards. Citadel has a built-in: Wiki and blog engines, listserv (mailing list server), full-text…
11
IBM Notes is the email client software platform that provides email, calendar, and contact management capabilities, and because it works with the Domino server, it can also integrate IBM collaboration tools and business applications. Companies can track projects, collaborate on tasks, assemble teams, share files and more directly from their inbox. IBM Notes transforms every-day email into an operational center that helps users work more productively and achieve better business results. It Increases productivity by eliminating the need to switch to other applications to take action and users can access their IBM Notes email from Apple iPhone, Android, Windows Phone,…
IBM Notes

What are Calendaring Software?

Calendaring software is basically an electronic version of a calendar. It provides its users with features that help them plan and schedule important events and tasks while also enabling various functions such as creating time reports and analyzing the time allocation to different sectors.

What are the Top Free and Premium Calendaring Software?

G Suite, Google Calendar, eM Client, Microsoft Outlook, Microsoft Exchange Server, Tom's Planner, Mozilla Lightning Calendar, LiquidPlanner, Micro Focus GroupWise, Citadel, IBM Notes are some of the Top Free and Premium Calendaring Software.