Review
ClinchPad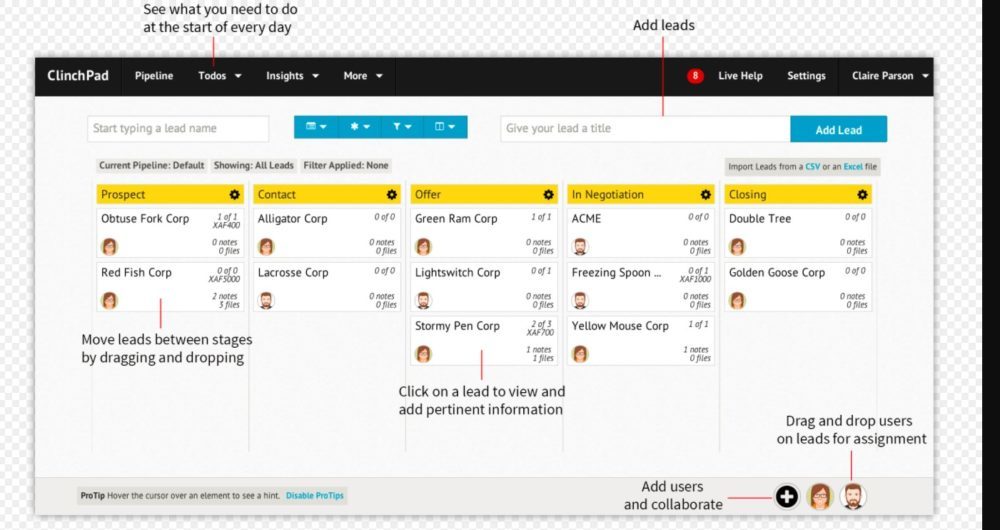 Overview
ClinchPad free CRM software lets you add unlimited leads and there is no limit to the number of sales pipeline stages. In the case of small and medium businesses, the team sizes are kept as small as possible to keep the burn to a bare minimum.
•Filter leads in sales pipeline
•Instant notifications
•Centralized document storage
•Collaboration
•Contacts
•Free for up to 100 leads and 250Mb storage
•$9/month Bronze plan for 1 user, 2Gb storage and unlimited leads
•$19/month Silver plan for 5 users, 5Gb storage and unlimited leads
•$49/month Gold plan for 15 users, 10Gb storage and unlimited leads
•$99/month Platinum plan for 33 users, 20Gb storage and unlimited leads
•Bulk plans available
Small (<50 employees), Medium (50 to 1000 Enterprise (>1001 employees)
What is best?
•Filter leads in sales pipeline
•Instant notifications
•Centralized document storage
•Collaboration
•Contacts
What are the benefits?
•Emails
•Integrations
•Reports
•Custom Fields
•Notes
•Products, Sources and Zones
•Maildrop
ClinchPad is a sales management software that offers an alternative to traditional CRM systems. It provides a new way of tracking leads and is broken down into simple categories for user interaction. It enables teams to visualise their sales pipeline, collaborate with team members, manage and organise contacts as well as categorise leads.
The sales pipeline is represented by cards and stages in columns which can track an entire sales cycle, create multiple pipelines, track new contracts and filter leads. Users can benefit from quick actions such as adding and remaining leads, assigning a user to a lead or move the lead to another stage in the pipeline. Another feature is a Todo list where users can add meetings, make phone calls, field emails and create tasks with dates and times attached, and track sales leads.
ClinchPad has the ability to use custom fields, attaching additional attributes to a lead, as well as web and email notifications of activities related. Manage and organise contacts, attach files, upload documents, presentations, spreadsheets and signed contracts related to a business lead. Users are able to categorise their needs by creating lists of products and services, group leads based on their sources, or divide leads into different geographical zones to identify the demographics of their customers.
The software email system creates a maildrop, attaching an email address to a lead automatically, syncing correspondence associated to the lead. Clinchpad is integrated with various forms of software allowing users to add and import contacts from a CSV or Excel file using multiple programs such as Google Calendar, Google Drive, Dropbox, MailChimp, Campaign Monitor and Formstack.
You may like to read: How to Select the Best CRM Software for Your Business, Top CRM Software, Free, Open Source CRM Software and Best Practices for CRM Implementation.