Review
Campaigner CRM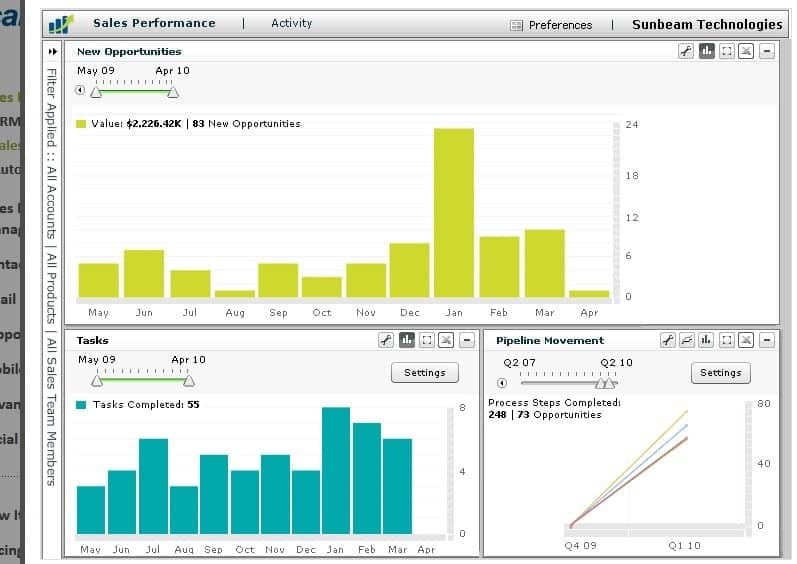 Overview
CampaignerSPM is an advanced Sales Process Manager with all of the features of CampaignerCRM™ PRO like Sharable and Scheduled Reports, Custom Fields, a VIP Personal Assistant, and a Dedicated Internal Support Team.
•Sales Forecasting
•Sales Process Manager (SPM)
•Contact Management
•Email Marketing
•Support
•Mobile
•Advanced Features
Small (<50 employees), Medium (50 to 1000 Enterprise (>1001 employees)
What is best?
•Sales Forecasting
•Sales Process Manager (SPM)
•Contact Management
•Email Marketing
•Support
•Mobile
What are the benefits?
•Get a holistic view of all accounts and opportunities
•Create and track custom fields to understand the business landscape
•Search and track decision makers and understand roles to manage the sales process
CampaignerCRM is a cloud based CRM software that makes your sales process more efficient and gets you sales, revenue and customer results. CampaignerCRM effectively combines sales process software, Web 2.0 sales productivity tools, and live Personal Sales Assistants into an easy-to-use solution.
CampaignerCRM gives your team a clear, well-defined sales flow that identifies the necessary benchmarks and activities at every stage in the sales cycle. You can access all key selling tools, documents, and job aids to effectively maximize the sales engagement.
The Pulse CRM Dashboard delivers real-time, easy to understand, reporting on sales activity and sales effectiveness giving you a clear view of your pipeline and letting you accurately predict trends and manage opportunities. Most importantly, CampaignerCRM's live Personal Sales Assistants are ready to take over your often time-consuming administrative, reporting, and data-entry work to let your team focus on what they do best - sell.
CampaignerCRM is available as CampaignerCRM Free, CampaignerCRM Pro or CampaignerSPM depending on your need. CampaignerSPM has all the functionalities of CampaignerCRM Pro and unique features as Pulse Reporting Dashboard, API Support, web/voice-to-lead, sales training and other professional services. APIs allows integration of CampaignerSPM with other business and CRM systems.Each of the solutions includes email marketing, social, and mobile integration to help you to quickly expand your contact lists and access data anywhere, anytime.
You may like to read: How to Select the Best CRM Software for Your Business, Top CRM Software, Free, Open Source CRM Software and Best Practices for CRM Implementation.