Review
CloudSuite CRM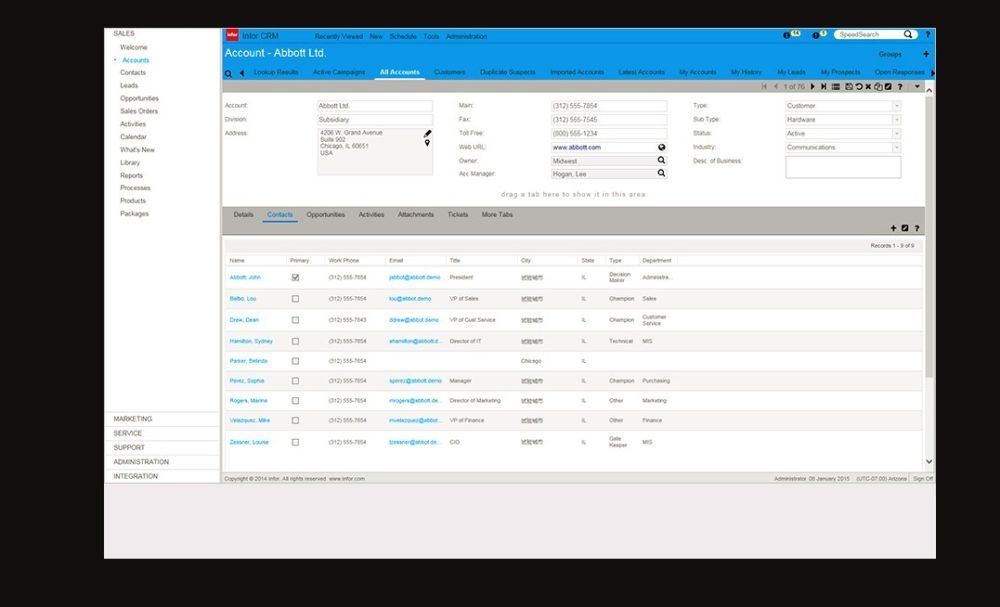 Overview
Infor CRM is an award-winning, state-of-the-art technology solution that enables businesses to fully optimize the value of their most important corporate asset— customer data.
Opportunity Management Software
• Standard open APIs & integration options
• Seamless integration
• Analytics & Reporting
• Customer Service & CRM
• Modern architecture
• Easily accessible
• No install mobile version
• Embedded CRM inside Microsoft® Outlook®
Small (<50 employees), Medium (50 to 1000 Enterprise (>1001 employees)
What is best?
• Extends its rich CRM functionality to smart phones and tablets, ensuring that the field personnel and mobile employees have that strong and distinctive competitive advantage that can help drive productivity and significantly raise the business revenue.
• Comes with a plethora of reporting and analytics applications that allows users to address user and company requirements at all levels of sophistication.
• Delivers powerful solutions that dramatically boost individual effectiveness and maximize organizational and customer intelligence.
What are the benefits?
• Identify new leads, keep up with existing clients, and achieve and maintain a total picture of the business, among others.
• Create rich customer profiles based on accurate information and interactions that are captured across the organization as well as external data sources.
• Enjoy enhanced productivity and collaboration via rich integration with business management tools as well as productivity applications.
• Provides back office integration with several ERP applications through Infor ION™, Infor's Intelligent Open Network, a purpose-built middleware platform that offers businesses a simple but robust and scalable framework.
Infor CRM is an award-winning, state-of-the-art technology solution that enables businesses to fully optimize the value of their most important corporate asset— customer data. Infor CRM's exceptional usability and versatile configuration capabilities allow rich, personalized user experiences, helping companies to ensure adoption and productivity.
Infor CRM effectively addresses the need of every business to have a hub for commercial operations by enabling the creation of rich customer profiles, delivering total connectivity and integration, and empowering the mobile workforce.
The application also provides robust data analytics and assessment of key performance indicators to allow business to attain a deeper understanding of individual, team, and business performance. By offering a complete view of every customer touch point across the sales, marketing, customer service, and support teams, Infor CRM enables the user to maximize the impact of every interaction—across the entire customer lifecycle—whether in the office or out in the field.
It has Industry-specific capabilities, deep integration, and unparalleled flexibility and control in how to deploy, use, and pay for the solution offers a best-of-breed CRM solution without compromise. Infor CRM Mobile extends rich functionality to smart phones and tablets, giving the mobile workforce a strong competitive advantage. Interactions with native device features such as mapping, dialing, and email further streamline the mobile user experience. The user can receive over-the-air updates automatically at no additional charge.
The rich customer profiles and sales productivity tools help users identify opportunities and streamline sales activities. Simultaneously, sales management tools, analytics, and proactive alerts drive accurate forecasting as well as effective team and territory management. Best-practice process automation recommends and performs winning actions that drive results. Infor CRM engages every individual, across all teams, with a user experience that's designed to help users work faster and smarter.
You may like to read: How to Select the Best CRM Software for Your Business, Top CRM Software, Free, Open Source CRM Software and Best Practices for CRM Implementation.