Review
Pivotal CRM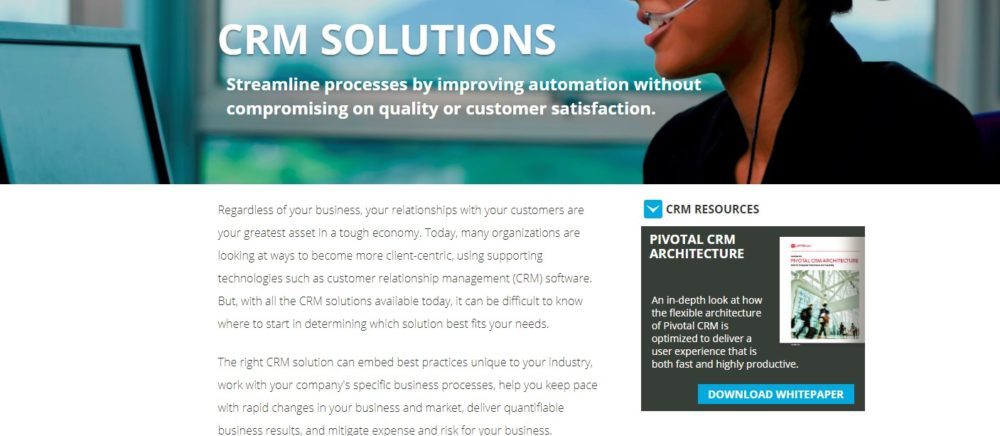 Overview
Pivotal CRM is a fully featured cloud-hosted CRM designed to integrate, streamline and automate service and support requests with sales opportunities like up selling and cross-selling.
Opportunity Management Software
• Sales Force Automation
• Marketing Automation
• Service Automation
• Partner Automation
• Mobile CRM
Small (<50 employees), Medium (50 to 1000 Enterprise (>1001 employees)
What is best?
• Makes it easy to personalize the sales strategy as it unearths customer needs, interests and concerns, allowing the reps to address them with pinpoint accuracy.
• Helps to build closer and long-term relationship with clients leveraging transparency, accuracy and actionable insights.
What are the benefits?
• Shortens the sales cycle, allowing the user to meet targets faster with automated processes that allows for picking the most viable leads, a small sales team can concentrate on quality prospects and optimize its resources, leading to higher conversion rates.
• Helps sales reps to leverage the most ROI off their prospects, while giving managers visibility across their team's activities and deals and tools for accurate sales forecasting.
Pivotal CRM is a fully featured cloud-hosted CRM designed to integrate, streamline and automate service and support requests with sales opportunities like up selling and cross-selling. Pivotal CRM is a complete service automation system that helps the user capture, manage, and quickly resolve customer service and support requests, without losing sight of up-selling and cross-selling opportunities.
Flexible Pivotal CRM technology enables the user to rapidly and cost-effectively implement a system that automates even complex, unique service processes. It helps build, grow and drive a business forward with CRM that maps to the customers' needs.
Pivotal Sales is a complete Sales Force Automation (SFA) solution that gives salespeople the tools they need to focus their efforts and maximize their time, while empowering sales managers to effectively oversee and forecast sales. Pivotal CRM automates every stage of the sales cycle, ensuring the user captures every opportunity. Pivotal Sales lets the user embed a consistent, competitive sales methodology right into the CRM system.
Pivotal CRM Sales helps the user refine, automate, and streamline the sales process to accelerate the sales cycle, reduce administrative burden, and secure better sales results.
Pivotal CRM Sales helps the user collaborate better to win new business, use social media to leverage social networks and build relationships, empower the sales staff in the field to work more efficiently with any device, align more closely with the marketing organization, be more strategic in defining account strategies, and most importantly, create and maintain a stronger relationship with existing customers to maintain their loyalty.
Pivotal CRM Marketing Automation is for companies that want more out of their marketing efforts. Pivotal eMarketing enables the user to harness the data inside their Pivotal CRM database to conduct segmented, personalized electronic communications quickly and cost-effectively. Pivotal CRM Marketing Automation is a highly efficient marketing automation and lead management solution that enables the user to conduct even the most complex multi-channel campaigns.
Pivotal CRM is designed on Microsoft .NET architecture and hosted on Amazon Services. Pivotal CRM fast tracks the sales cycle and increase the potential for repeat sales for more revenues. A separate Pivotal CRM Services, a suite of online technical resources, training and consulting as pre- and post-implementation support to ensure the system is customized to the specific processes.
You may like to read: How to Select the Best CRM Software for Your Business, Top CRM Software, Free, Open Source CRM Software and Best Practices for CRM Implementation.