Review
Fluid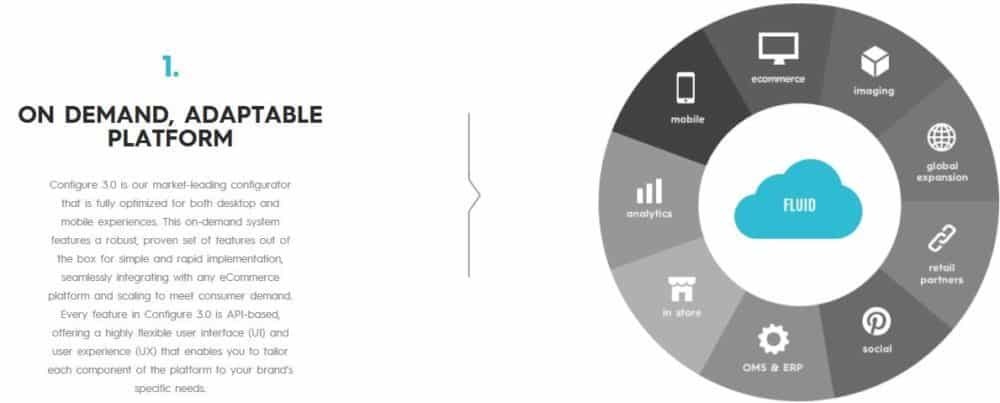 Overview
Fluid has a complete set of tools to make customers that their choices are always prioritized. Configure 3.0 is Fluid's specially designed configuration tool that gives user the best experience when it comes to making sure that they get the right item every time they shop
User Experience Design Software
Small (<50 employees), Medium (50 to 1000 Enterprise (>1000 employees)
Fluid provides one stop ecommerce solution to different business needs when it comes to product customization for online stores. With years of experience and with only one goal to help maximize profit and customer preferences, Fluid has a complete set of tools to make customers that their choices are always prioritized. Configure 3.0 is Fluid's specially designed configuration tool that gives user the best experience when it comes to making sure that they get the right item every time they shop. Whether using desktop or mobile devices, the same tools are ready for making selections.
From planning the layout, quality content until customers check out with the orders, Fluid covers it all the way. Fluid's Expert Personal Shopper gives the users the feel of having a natural conversation and not really notice of the artificial intelligence that has been integrated to the program. This promotes better shopping experience so that customer gets what they really needed in the first place.
Regardless of the products that are being offered, Fluid guarantees that they put a lot of their time analyzing and expertise to make it the best shopping experience for the customers. Fluid has all devices covered for every customer's preferences such personal computers, tablets and smartphone users.Fluid's visual design includes brand identity, responsive design, content development and commerce. All aspects when put together will create a massive online presence and outstanding experience above all others. The advantage of using technology to make customers feel like they are being taken care of is crucial and is Fluid's top priority; and with its engineers who understand how to communicate effectively, it will definitely change how people do online shopping from now on.