How to Select the Best Help Desk Software for Your Business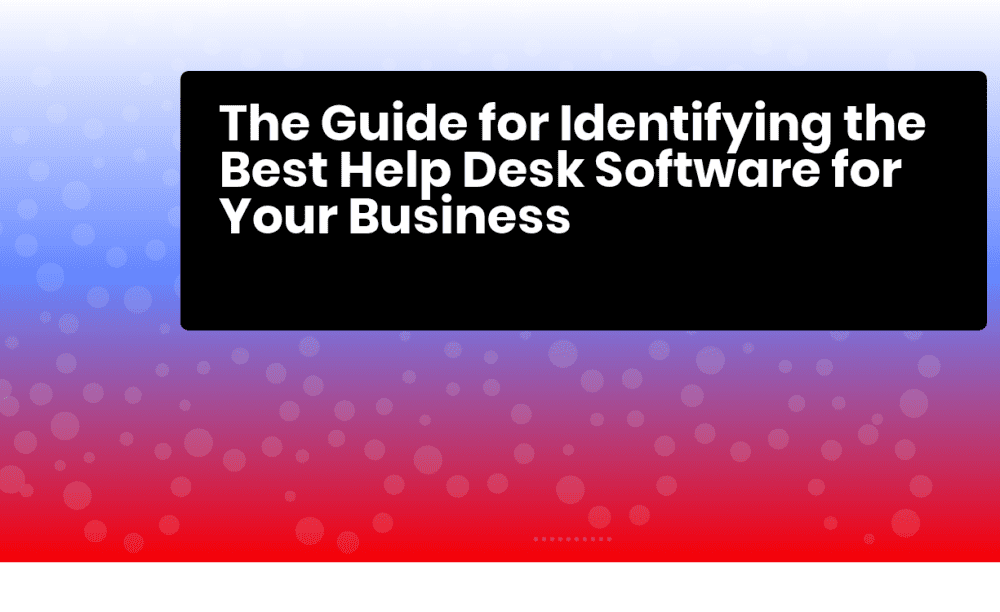 Help Desk Software refers to computer tools and applications that help companies respond to customers' requests, complaints and technical inquiries. Help Desk Software helps companies keep track of requests made by customers and deal with any customer related issues. These computer programs help organizations solve customers' needs by managing every stage from receipt of complaint to resolution of complaint.
Help Desk Software help companies attend to customers more efficiently, as they help organize information, workflow and eliminate manual processes. These software automate every customer help process, making sure that your customers are satisfied with your responses.
What are Help Desk Software?

Besides helping solve customers' complaints, these computer applications empower customer service agents by providing them with a wide variety of support and collaborative tools. Help Desk Software are often classified under broader Information Technology Management tools, but this is not exactly correct.
The strict definition of a Help Desk Software should center on the distinct process of helping address customers' issues, which is much unlike general IT management tools. However, Help Desk Software are a part of an umbrella category referred to as Service Desk. Overtime, there has been an increment in the sales of Help Desk Software across the globe. Studies show that over 40% of customers expect companies to reply them within an hour after filing a complaint. Help Desk Software help you achieve this by automating your organization's service and support function.
With these computer applications, your customer service representatives no longer have to painstakingly record issues and sift through disorganized emails and data to solve customers' problems. These tools act as centralized systems for all inquiries coming from different communication streams – from phone calls, to emails, to live chats, to social media. Help Desk Software are beginning to feature several innovative and pioneering advancements, given their increasing importance. There is something for every type and size of business with these software, as they help make your customer's experience a wonderful one.
Identifying Which Type of Help Desk Software is right for your business
There are three types of Help Desk Software, and they are each discussed below:
Basic Help Desk: This is a basic plug-and-play solution that offers a straightforward ticketing solution for customers' complaints. Other advanced help desk features like live chats, mobile, reporting and analytics, knowledge management, etc., can be added, but at an extra cost. This type is ideal for small and growing business, as the software is affordable and scalable.
Enterprise Help Desk: This type of Help Desk Software has more features than basic ones. In addition to advanced features like multiple contact points, knowledge base, accommodating more users and customers, Enterprise Help Desk can cater for internal issues like IT asset management. It can also be customized to meet company's needs.
Depending on company`s needs, business requirements and future goals, there are several types of Help Desk Software available based on licensing model:
Open Source Help Desk Software : These are Open Source Software where the source code is available.
Free Proprietary Help Desk Software : These are limited versions of a fully functional propriety Help Desk Software.
Proprietary Help Desk Software : Full paid version of Help Desk Software.
What are the Features of Help Desk Software
Help Desk Software offer several features to businesses, some of which include Point of Contact, Incident Management, Self-Service Capabilities, Service Level Agreement Management, Reporting and Analytics, IT Asset Management, Escalation, Dashboards, Customer Satisfaction Survey, knowledge Management, Customer Relationship Management, Content Management System, Time Tracking, Remote Control, Automating Repetitive Processes, Mobile Support, Ticketing Management, Organize and Store Customer Data, Centralized Portal and Collaboration Support.
Point of Contact: This software helps offer multiple channels through which customers can contact support; for example, live chat, email, community forums, etc.
Incident Management: Possesses capabilities that help service desk staff to troubleshoot, diagnose and solve customers' issues in quick and efficient ways.
Self-Service Capabilities: Helps customers resolve their problems by themselves, without the help of customer representatives.
Service Level Agreement Management: Help Desk Software equipped with this feature helps to ensure a more effective process and delivery of support services by understanding goals, measures and key performance indicators.
Reporting: Helps to provide insight and an overall overview of your customer support productivity and performance.
Analytics: Helps to provide market insight and potential sales opportunity by analyzing data like buying preferences, frequent complaints and demographic complaints data.
IT Asset Management: Helps provide asset management capabilities that can monitor changes to software and hardware configurations.
Escalation: Helps automate and ease escalation of complaints where customer support agents can transfer difficult complaints to higher authority.
Dashboards: Help Desk Software dashboard gives a bird eye view over customer support operations, making it easy to monitor the whole process at a glance.
Customer Satisfaction Survey: Helps get feedback from customers after they have received help, creating room for possible improvement.
Knowledge Management: Refers to a repository of information, descriptions and solutions to common and past problems faced by customers.
Customer Relationship Management: Helps with improving relationship with customers, as well as being easily integrated with other CRM tools.
Content Management System: Content about every part of your product will be easily managed and accessible in a Help Desk Software.
Time Tracking: Helps track the time spent in responding to complaints by customers so as to measure resolution rate and also propose possible improvements.
Remote Control: Helps customer support agents to manage, control and resolve customers' accounts or computers from remote points, as well as give remote diagnosis.
Automating Repetitive Processes: Helps with the automation of repetitive and recurring tasks in customer support, thereby making the process smooth and hitch free.
Mobile Support: Customer support agents have the ability to respond to customers' complaints and issues via their mobile devices.
Ticketing Management: Helps record, track and organize customers' complaints into tickets, tracking the complaint lifecycle from receipt to resolution.
Organize and Store Customer Data: Customer information is easily stored, organized and retrieved in order to provide personalized solution to their complaints.
Centralized Portal: Helps provide a central hub for receipt of customer complaints, no matter the channels they are coming from.
Collaboration Support: Helps ensure collaboration between different departments of a company, so they can share information and resolve customers' complaints easily.
What are the Key Performance Indicators (KPI's) of Help Desk Software
Infrastructure Stability: The stability and reliability of a Help Desk Software is a very important way to measure its performance.
Trends of Ticket Volume: A good Help Desk Software should lead to a reduction in the number of complaint tickets overtime.
First Call Resolution Rate: It is essential for customers to have their complaints resolved during the first contact with a customer support agent.
Cost per Ticket: The cost of a complaint ticket is a great way to measure the performance of a Help Desk tool.
Rate of SLA Compliance: A good Help Desk Software should be adhere to Service Level Agreements.
Utilization Rate of Software Asset: Your software asset should be well utilized by Help Desk Software, as you should aim to get to a maximum ROI on your software spending.
Lost Business Hours: A good Help Desk Software should be able to keep lost business hours to the barest minimum level.
Customer Satisfaction: If your customers are not satisfied with your customer support, then your Help Desk Software is not performing well.
What are the Benefits of Help Desk Software
One Place for all complaints: Help Desk Software help bring all complaints from your customers across various channels into one single place.
Improves Efficiency and Effectiveness: Help Desk Software improves the efficiency of your customer support staff and the effectiveness of their response to customers' requests.
Makes your Staff happy: Your customer staff are bound to be happy when their job is made easier by a Help Desk Software.
Prioritize Important Tasks: These tools help you prioritize tasks and repairs to be done by other departments in your company based on customers' complaints.
Reduces Manpower Costs: Manpower costs will be reduced when using a good Help Desk Software, since many manual processes will be automated.
What are the Latest trends in Help Desk Software
Chatbots: Conversational chatbots are on the rise, as they have proven to be cheaper and more effective than humans.
Mobile Support and compatibility: Mobile is everywhere, and as more and more customers are accessing the internet via mobile devices, there is an increasing need for Help Desk Software to be mobile compatible.
Social Media Support: Social Media has proven to be the first-touch points for customers when they want to complain, hence integration with these platforms is becoming necessary.
Is a Free Help Desk Software Worthwhile?
Help Desk Software has many features and can do a lot to help your business to succeed by connecting with your customers, but it can be expensive. There are plenty of free Help Desk Software available. There are two category of Free Help Desk Software : Free Open Source Help Desk Software and Limited version of a Proprietary Help Desk Software.
Free Open Source Help Desk Software is a good choice, when you have a development team available in your company and when you want to try out the product or build new features and functionality on top of it. You need to spend time to set it up and running.
The limited version of a Proprietary Help Desk Software is a good way to see if it will be useful to your business before making a big investment but these software comes with limitations.  A free limited version from a proprietary product company will make it easier to upgrade in the long run and also help you determine if that company's solution is what you want.
There are also drawbacks to Free Limited version of a Proprietary Help Desk Software. These limited version do not have nearly as many features available in a fully functional paid version, and there are limits such as storage limits, number of reports, and white labeling. The free versions also have limited support options.
How to Choose the right Help Desk Software for your business

Budget: You need to check both capital and subscription costs of your proposed Help Desk Software.
Ease of Setup: It is essential to get a Help Desk Software that is very easy to setup.
Ease of use: A good Help Desk Software should be easy to be used by everyone, and should not be very technical.
Scalability: You should be able to add more features as your business grows.
Security: A good Help Desk Software should be able to encrypt and protect company and customer information.
Mobile Support: Mobile support is important as it provides convenience.
Integration: A good Help Desk Software should be able to be integrated with your other business tools.
Here are the trending and the top rated Help Desk Software Open Source for you to consider in your selection process:
Here are the trending and the top rated Help Desk Software Free for you to consider in your selection process:
Here are the trending and the top rated Help Desk Software for you to consider in your selection process: