Review
Brimir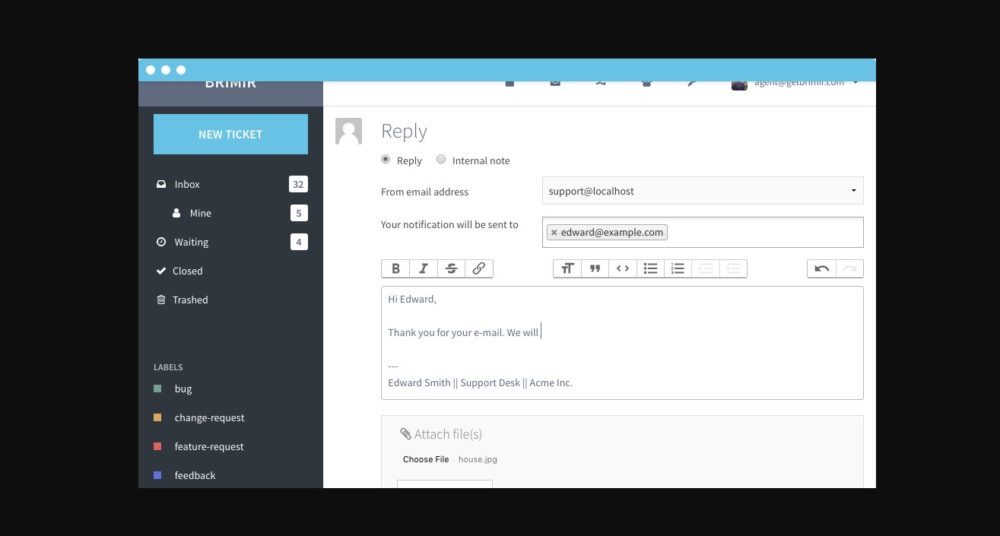 Overview
Brimir allows you to send and receive support emails through a friendly web interface. Received emails are converted to tickets, which can be assigned to agents.
Help Desk Software Open Source
•Ticket assign
•Automate support workflow
•Label tickets
•Security
•Open source
•SOLO - FREE
•STARTUP - €9.0 / •MONTH
•BUSINESS - €27.0 / MONTH
Small (<50 employees), Medium (50 to 1000 Enterprise (>1001 employees)
What is best?
•Ticket assign
•Automate support workflow
•Label tickets
•Security
What are the benefits?
•Multilingual
•Email Notifications
•Customizable user signatures
BRIMIR is a helpdesk solution designed to manage workflow with a number of features covering customer support using incoming email, reply via email, and customizable user signatures.
The system maintains visibility and central control in handling assigned tickets to team members using email notification so that users can login and reply, resolve problems swiftly and be focused on immediate tasks. Agents can change the status, priority and labels of tickets and have tickets assigned to them.
The software enables users to create rules to assign tickets automatically, streamlining workflow to reduce task levels for teams. Users are able to add labels to tickets, view tickets with labels and create rules to assign labels giving employees access to all company matters. The system security features encrypted connections using SSL.
BRIMIR is an open source platform and is released under the GNU Affero General Public License Version 3. The front-end framework and server-side web application is written using Zurb Foundation and Ruby on Rails. BRIMIR is a multilingual program and is available in English, Dutch, German, Spanish and Finish amongst other languages.
The price plan depends on the amount of agents using the system and starts at €3.00 per user per month with the first being free. BRIMIR encourages users to add their own features with accessibility to implement ideas themselves.