TIBCO MDM to Master Real-Time Digital Business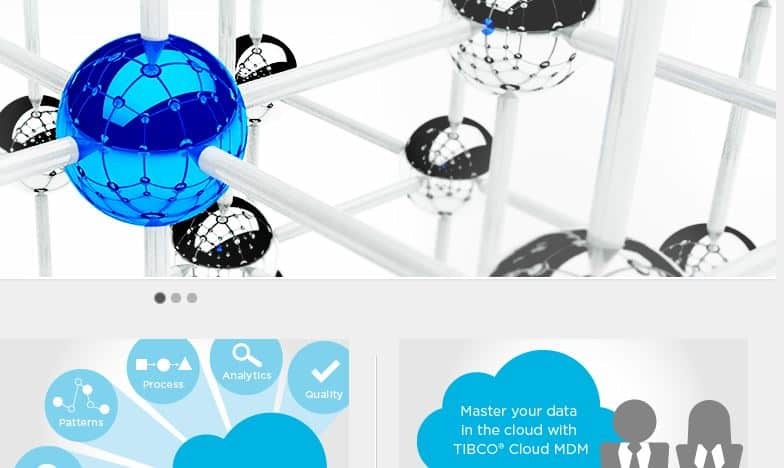 With TIBCO MDM, companies can now intelligently ingest virtually any type of digital data to provide a real-time view across an omnichannel business. With a 50% performance increase over prior versions, TIBCO MDM 9.0 enables companies to capitalize on opportunities, develop stronger customer relationships, and avert potential issues.
"In the Digital Business Era, having access to a real-time consolidated view of the organization, including customers and products, directly contributes to a company's ability to take advantage of opportunities that improve the customer experience, increase cross-sell or up-sell opportunities, and refine operational efficiency," said Matt Quinn, executive vice president of products and chief technology officer, TIBCO. "With TIBCO MDM 9.0, companies can get to that single, integrated real-time view across their physical and digital business much faster, enabling them to seize opportunities more quickly and easily."
TIBCO MDM combines data from different sources and delivers a single, consistent, view of the business, providing real-time customer insights that help companies seize each and every business opportunity. TIBCO MDM 9.0 expands this real-time view to the digital business with significant new capabilities including:
• Any Data – Ingest data from social, streaming, IoT connected devices, and unstructured big data to provide a more complete and up-to-date real-time representation of your physical and digital business;
• Intelligent Data Quality – Automate and simplify the process of defining and developing data matching rules with a built-in machine-learning engine providing significantly faster time to value than traditional rules-driven approaches;
• Real-Time MDM – Provide a real-time view of the business and your customers with MDM delivered on an in-memory data grid; and
• Anywhere Access – Enable anyone to access master data or participate in an MDM process anywhere through any business application, web portal or mobile application, using a combination of TIBCO MDM APIs and a low-code, rapid development environment that produces embeddable HTML5-based role-specific user interfaces.
"Our Fast Data platform combines integration, analytics, and event processing solutions to empower our customers to gain and act on valuable insights immediately," Quinn continued. "The addition of TIBCO MDM 9.0 not only builds a strong foundation for real-time business intelligence within an organization, it also ensures that companies can start to add new capabilities with Fast Data that act on the insights they find to unleash the full potential of their digital business."