How to Select the Best Donor Management Software for Your Non-profit organization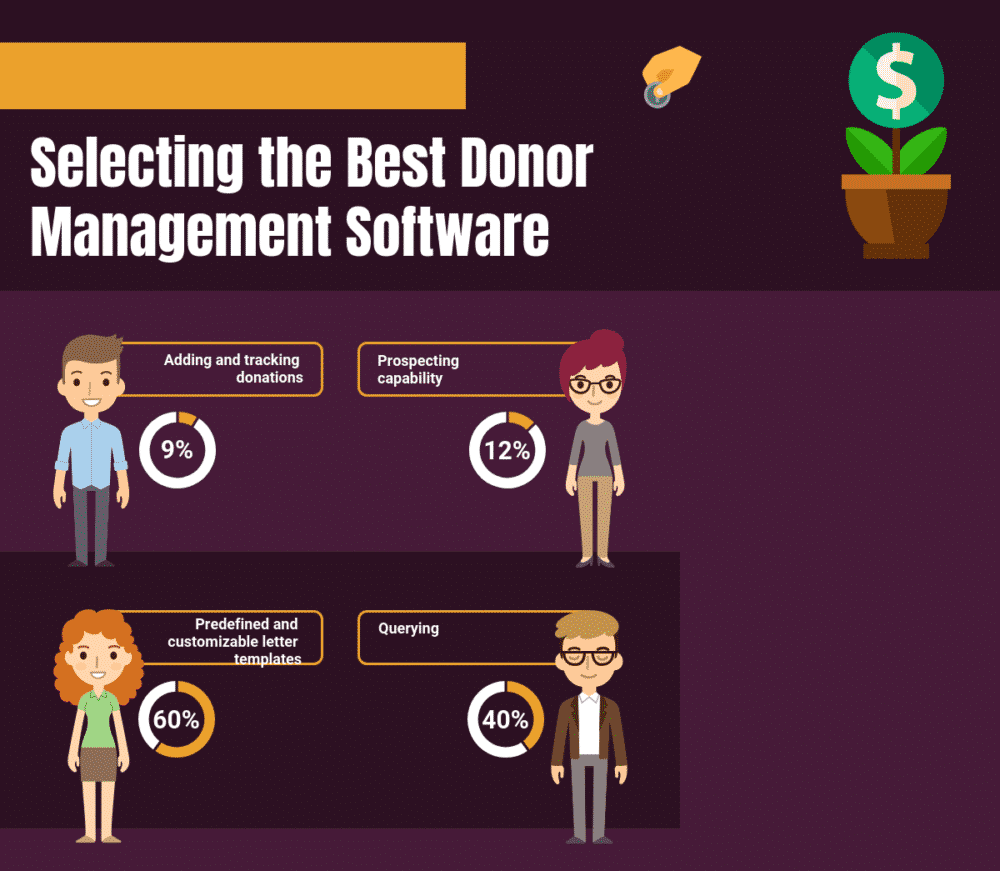 Every nonprofit organization faces a number of challenges when it comes to the running of its business operations, especially in finding and managing donors and other constituents. Without an effective system of tracking donors, it is hard to figure out whom you need to contact, which can make your organization miss out on fundraising opportunities.
Organizations tend to adopt a donor management system believing that it is all that is needed in managing funding sources. While such systems are essential, many nonprofit organizations implement them without clear guidelines on how best to utilize the systems. It is only later that they come to realize that such software cannot make a difference given their organizational culture and objectives.
Many organizations can also prioritize on the features of a donor management solution and forget the ultimate cost they will have to incur when it comes to the application of such software, including the training of staff. This article will define what donor management software is and highlight the features and benefits of an effective donor software management system. Finally, it will outline factors to consider in choosing a good donor management solution.
You may like to read:  Top Donor Management Software
What are Donor Management Software?
Donor Management system is a means of organizing, analyzing, and strategically implementing communication strategies with nonprofit supporters to maintain and grow those relationships. The terms "donor management system" are actually a modern version of what is known as a contact database. This system is also commonly referred to as a donor database. In other words, donor management systems help nonprofit organizations to effectively optimize and enhance their efforts in sourcing for donors and in fundraising.
A donor management system helps manage information about donors including data on how much the nonprofit organization has managed to receive from donors. They also help track all useful information about the donors, manage mail lists and email campaigns. This information can then be analyzed to make reports that can be used for many other purposes. Over the years these systems have become more robust and feature complex interfaces with reporting and querying functions.
Here are several features that are characteristic of donor management software.
Adding and tracking donations: This system allows for the ability to enter donations and gifts but it varies from one system to another. Some systems require that all gifts be entered as part of a batch that can be transferred to your accounting system. Other systems offer little support for batches and this can pose a challenge if you are used to reconciling this data in this way. Some systems support pledges i.e. promises by a donor to give certain gifts, but not the creation of a pledge schedule. Many of these systems integrate with a resource database to avoid duplication of information and to help keep your donor data up to date. This could be through a simple checkbox to complex checklists of all areas in the system that can be affected the removal of any entry.
Prospecting capability: Many organizations want to also utilize tracked data in the management of fundraising. Most donor management systems let you set a status or priority level for each donor, which allows the organization to determine how different donors fit in with your fundraising action plan. This enables organizations to concentrate on donors who are worth the effort.
Data access control: Systems have different levels of access. Most have the functionality of letting you turn off features or fields for certain users to protect system data or to provide a simplified dashboard. You can also choose to provide the same level access to everyone. There are other advanced systems that allow you to set rights for certain users. For instance, you can define whether they can read, update or delete content on the database. Other systems feature detailed controls, which let you define rights for individual data fields.
Predefined and customizable letter templates : Most systems contain built-in word processors and templates that make it easy to create thank you letters, solicitation letters, labels, etc. Some even allow you to export these letters to MS Word and MS Excel so you can mail-merge letters into predefined Word or Excel templates. Others let you create your own letter templates, which can include personalized text, mail-merged data, and custom formats, fonts, and logos. You can also review these letters or personal notes before printing them out.
Querying: A decent system provides the capability to generate lists of existing donors and potential donors based on certain metrics. More importantly, such a system should make it easy for even nontechnical staff to create such lists. It should also provide flexibility in creating queries and ways in which you can utilize such lists after generating them.
Integration with other systems : Most donor management systems accept credit card payments and allow the integration of other payment systems like online payment methods like PayPal with your website. Since you might want to store donor's credit card numbers in your system, it is good to ensure that the system can make sure that strict measures to secure those numbers are in place. You can consider encrypting data or storing such data in offline systems.
You may like to read:  Top Donor Management Software
What are the benefits of Donor Management Software?
Donor management systems have helped many organizations manage their operations and we have outlined some the benefits organizations get from these systems.
Provision of an information database: A donor management platform helps you to capture vast amount of data on your donors and other parties. It can also help you discover trends and opportunities within you constituent base and also how to target new prospective donors or advocates. Having an information database makes it easy to segment your pool of prospects so that you can target each prospective donor for the appropriate strategy.
Ease of access and sharing of data: A donor management system allows for knowledge to be shared between your staff and board. It also enables to lock access to data for people who part ways with the organization, which was not possible before the creation of this system. Such systems can also facilitate your prospect communication and cultivation activities of each strategy.
Mobility: Most of these systems are cloud-based making it easier to access information on the go. Staff can access data on phone, tablet or PC, from anywhere and at any time. A modern donor management system provides this functionality enabling donors to also access information online, directly from your portal.
App integration: Modern donor management software allows you to connect to all software tools at your disposal to be able to better engage with your donors, to promote your organization as well as to keep track of all your important data. Integrating accounting tools can help manage fundraising strategies better and enable you to run your organization effectively.
Flexibility: Good donor management software molds and grows with the organization. This aids your organization to be able to capture, store and report the valuable data that would be needed to report to the board of directors and your other donors. This is important since it helps build trust between you and other stakeholders.
Saving time: You can save more time with an automated functionality that donor management software provides. From scheduling, reporting, to touch points with your donors. Allowing you to quickly record donations and send acknowledgments. Having a proper reporting system also allows you to measure the effectiveness of each of your strategies so you can proceed with what's working and modify what isn't.
You may like to read:  Top Donor Management Software
How to Select the Best Donor Management Software for Your Non-profit organization?
Usability: When choosing a data software management system, make sure to consider how user-friendly the system will be, especially for your members of staff. Consider the viability of each and everyone's perspective on the expected functionality of the system. The underlying guide is that the systems should not make operations complex but rather ensure that they are more efficient, effective and less stressful.
Security: Data security is another essential thing that needs to be considered. You should ensure sensitive data is secured and not prone to unauthorized access. You should also check whether the system can allow you to set different levels of access for certain members of staff or for particular data fields.
Integration: When choosing a data management software makes sure that it is capable to integrate with your other existing systems. This could be direct integration with organizational applications or other third-party applications like online payments systems.
Scalability: The system should have the capacity to grow with your data and your organization. You will be adding data all the time and therefore you should choose a system that allows you to edit and update data regularly.
Cost and sustainability: While cost is an important factor, you should not let it be the determining factor when choosing the right donor management software. Instead, you should focus on choosing software that aligns you're your organizational objectives and one that meets organizational requirements. This can help to avoid the scenario where you choose a system that is cheap but you end up paying more for modification. It is also not advisable to choose an expensive system with features you might end up not using.
System hosting: Before deciding on a donor management system, you should consider where your system is going to be hosted. Will the system be hosted on servers in your premises or will it be hosted on the cloud? Remember that this will have implications in terms of cost, and security and accessibility of data.
You may like to read:  Top Donor Management Software
Nonprofit organizations rely upon donors to fund their operations. Hence, it is essential to manage how donors are sourced, how information is stored and shared, how funds are utilized and, more importantly, how donors are acknowledged.  This is what donor management systems are for. By highlighting the features, benefits and factors to consider when choosing a data management system, we hope this article has been resourceful.
Here are the trending and the top rated Top Donor Management Software for you to consider in your selection process:
Top Donor Management Software
PAT Index™
You may like to read:  Top Donor Management Software