How to Select the Best Configure Price Quote (CPQ) Software for Your Business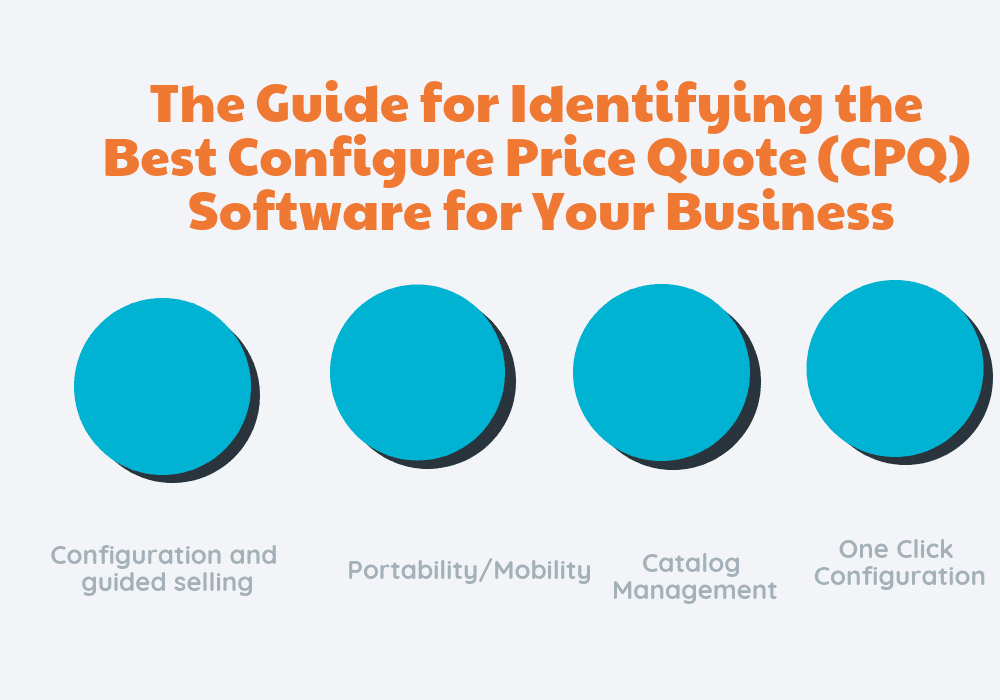 Businesses need to create value for their customers. Most enterprises are becoming customer-oriented, especially on their products sales by making purchasing as convenient as possible.
To achieve this and meet customers' needs businesses have to develop customized products, error-free quotations and have efficiency in their sales.
To respond to these business need a sales tool to produce accurate configured quotes with complex product, pricing, and business rules centralized and available in real-time. Many businesses are adopting the tool to maintain a competitive advantage and benefit from its use.
What are Configure Price Quote (CPQ) Software?
Configure Price Quote (CPQ) is a term that comes from three words which are configured, price and quote. Used in business-to-business industry CPQ software helps in quoting products that are configurable and complex. This software ensures businesses can accurately define the cost of products across large classification of variables that are always changing.
CPQ provides variable aggregation that enables optimal configurations of goods and services, proper price classification, competition, local economic factors and quoting of the best price to customers taking into account the above factors.
CPQ software ensures that sales representatives can conduct their job efficiently. It is a lifesaver to fewer experiences and new sales executives as it guides them to classify a product to customer's needs. Sales executives can narrow down automatically with CPQ software the selection of products, getting the most applicable to the company size, client's needs and other essential factors.
Once a product has been selected the sales rep through CPQ software additional configurations are integrated, extended service contracts, training sessions, complimentary product or suggestion on the best add-ons. Then the CPQ tool assists in the provision of pricing guidance to the sales reps by suggesting discounts packages. Once that is done the final phase of the CPQ software assist in generating instant quotes. The whole process is conducted in few minutes saving time and speeding up the sales process.
You may like to read: Top Configure Price Quote (CPQ) Software and What is Configure, Price Quote Software?, Pain Points and Benefits
What are the features of Configure Price Quote (CPQ) Software?
CPQ software might sound simple to use but when you have thousands of products, lengthy process of approval, complicated pricing strategies and calculations and sales executives who aren't determined who can drag customer's quotation for a week. Here are some of the CPQ features that can ensure customer satisfaction:
Configuration and guided selling: Configure complex or simple solutions containing multiple products and services
Portability/Mobility: This ensures the real-time creation of quotes by the sales teams. The feature is appropriate as it ensures quoting at anytime and anywhere using mobile devices.
Catalog Management: The features provides multiple products, enables real-time changes without downtime and efficient management of the products across all the sales channels
Administration: CPQ provides an easy to understand command center that ensures the fast creation and administering of a streamlined CPQ process.
One Click Configuration: This feature is crucial in making fast quotes as it enables sales representative to create configurations that are tailored with just one click.
Data Science (cross-sell & driven price): This feature ensures relevancy in cross-selling and delivery of accurate recommendations to the sales team with sustainable and automated capacity. Another feature from the same category is that it ensures the sale team can negotiate using patented data-science driven pricing .
Guidance: The primary essences of purchasing CPQ software is to be able to make reasonable guidelines. The benefit of this feature is that the sales team is quick to develop tailored and accurate quotes through the cross-sell recommendations presented by the software.
SKU Configurations: This feature is vital to businesses that have several products that they are selling. It helps the sales team to effectively sell all its entire products in a catalog from SKU's to hundreds of configuration processes.
Instant Proposals: This feature enables quick creation of professional, branded proposals or selecting from the template proposals and edits them. It also enables generation of the contract automatically, renewal and amendments.
You may like to read: Top Configure Price Quote (CPQ) Software and What is Configure, Price Quote Software?, Pain Points and Benefits
What are the types of Configure Price Quote (CPQ) Software?
There are different types of CPQ software, and each has a unique specification that makes it superior compared to its competitor. So when selecting the type of CPQ software you want to integrate into your business, one should ensure that the software meets the business needs and customer satisfaction.
SaaS CPQ software: Software as a service CPQ software is a cloud-hosted solution. This implies that the software can be accessed anytime and from anywhere on a real-time basis. Maintenances, updates, and upgrades are all handled by the vendor of the software. The beauty with this software is that there are no upfront costs; thus the vendor or service provider charge annual or monthly subscription to access all the benefits and the user might decide to discontinue the services if not pleased.
On-Premise CPQ software: On-premise CPQ software those that are made available to the right users as it is installed on the authorized user computer. This kind of software doesn't require any subscription just one-time payment. This type of software is considered expensive, but the beauty about it is that you have full control of your data security.
What are the benefits of Configure Price Quote (CPQ) Software?
CPQ suite of tools are designed to help organizations create accurate, personalized, targeted sales quotes. It accomplishes this by bringing together all of the available pricing and customer data in the form of a centralized platform accessible in real time.
Selling time increased: The fact that CPQ software has automated the quote and proposal process time, sales executives can now concentrate in targeting new customers since the time that was spent in supporting function has been reduced by implementing the toll across your sales force. Sales reps don't have to constantly consult experts on pricing accuracy of a product thus there is increased productivity as they have enough time to sell products and convert potential clients to loyal once
Removal of barriers when closing a deal: An organization that still uses the traditional methods of generating a quote, then approval of the quotes take time and involve chains of demand. Once you implement CPQ software in your business, this reduces the time required and work on calculations and generation of proposals as that is worked out by the CPQ algorithms. The software allows you to get the latest information relating pricing in the industry and enable the sales team to focus on the core job as the software works on the quote. As per the defined approval levels, the quote can be approved instantly.
Reduce Deal Loss: Some of the major reasons business loss deals is lack of sufficient and accurate information and processing time. CPQ software aims to tackle information issue first by the provision of asymmetry information. Putting you on level ground with your competitors of a product rather than information. Since information is easily available and extracted by CPQ  software, it reduces the barriers to entry in the market. Secondly, it reduces the delays that would occur as a result of solving a problem with a quote. The sales reps can generate and issue a quote to the customer without seeking consultation from the office.
Intelligent Quotes that Increase sales: Having the right insight relating customer need can enable sales representative to deliver product or service according to the expectations and demands of the customer CPQ software ensures all that and create harness opportunities by ensuring timely and accurate data to the customer. Analyzing the information enables the system to determine the product that has the highest likelihood of being purchased. CPQ configuration can prioritize and sort a product according to customers need and increasing customer satisfaction.
Increased customer retention and satisfaction: When a customer wants to replace or renew a product the CPQ software will quickly notify the sales rep through an alert. The alerts increase retention rate and establish a long-lasting relationship with your customers. If customers need are solved fast, and accurate quotes are provided sooner there is a high likelihood that you will retain the customer.
You may like to read: Top Configure Price Quote (CPQ) Software and What is Configure, Price Quote Software?, Pain Points and Benefits
What are the latest trends in Configure Price Quote (CPQ) Software?
Portability: A mobile transaction is the modernized mode of transaction that many businesses are integrating. Being able to complete a transaction on your mobile device, anytime is a game changer. CPQ companies can provide responsive experience in mobile and web, rendering the right information at the right time to the customer. Pushing of mobile services has enabled continual acceleration of an organization market share.  CPQ vendors are pushing on automatic configuration of quoted on mobile phones to be accessed by clients and sales team.
Marketplace: The latest trend that is being forecast is the emergence of CPQ point to point movement to ensure CPQ networks and multi-sourced. Direct and single sales force company require CPQ that can configure, quote and order their products. Multiple companies are partnering either directly or indirectly to create network hub of many providers. This enables one to generate a quote using multiple sources and processing from a large CPQ marketplace.
SaaS is a must: This is among one of the latest trends in CPQ, as companies are investing in the cloud front. Truly SaaS CPQ software will scale up fast. The only quick way of providing the sales team with rules, data and guidance they need to get their job done are through service architecture. Companies are looking for CPQ vendors who can as well integrate their software to other business related software such as CRM and ERP. On-premise option limits users from getting new features, changes and rapid innovations that can be easily accessed from the cloud system. Market demands a light CPQ software, and that can only be through SaaS.
You may like to read: Top Configure Price Quote (CPQ) Software and What is Configure, Price Quote Software?, Pain Points and Benefits
How to Select the Best Configure Price Quote (CPQ) Software for Your Business
When selecting a CPQ solution the business should consider whether they need on-premise or cloud based software. Also should consider if the software will integrate with the existing applications in the business. The software saves a lot of time and money for businesses since information is easily available and accessible in form of diagrams and charts, availability of quotes built through a point and click basis helps greatly in elimination of mistakes.
Configure Price Quote is fully customisable making it easy to tailor the configuration process around specific requirements of the business. The software greatly reduces paperwork with emphasise being made on selling time and superior price execution.
CPQ software manage sales processes with constraints or rules: When selecting a CPQ Software, it is important to identify how the modeling works as a constraint based system can help to reduce the number of rules in the system which would be easy to manage for the end user to keep track of the situation.
CPQ software is available in a mobile device: Being able to access and create quotes at a go ensures customer satisfaction. When selecting CPQ tool check if it can be accessed on a mobile device because the feature will come in handy for field users who can't access their computers regularly?
Quick and affordable implementation: Once selected the CPQ software the user should take into consideration the time it would take to implement the software to the business. Consider software that would take short implementation period so that sales team can work on it as soon as possible.
CPQ software integration with line-of-business systems: Integration is important for any business operating at an enterprise level especially when it comes to software's that streamline business processes and encourage user adoption once utilized. Ensure the other software running can easily integrate with most CPQ software your purchasing.
CPQ software deployed in the cloud: Most companies are choosing to integrate cloud computing into their business making cloud deployment gain popularity. Keeping business on a fast-track, through the use of cloud solution as you would want to access information anywhere and on multiple devices. When selecting CPQ software, users should consider cloud deployment of the software as it's a beneficial feature.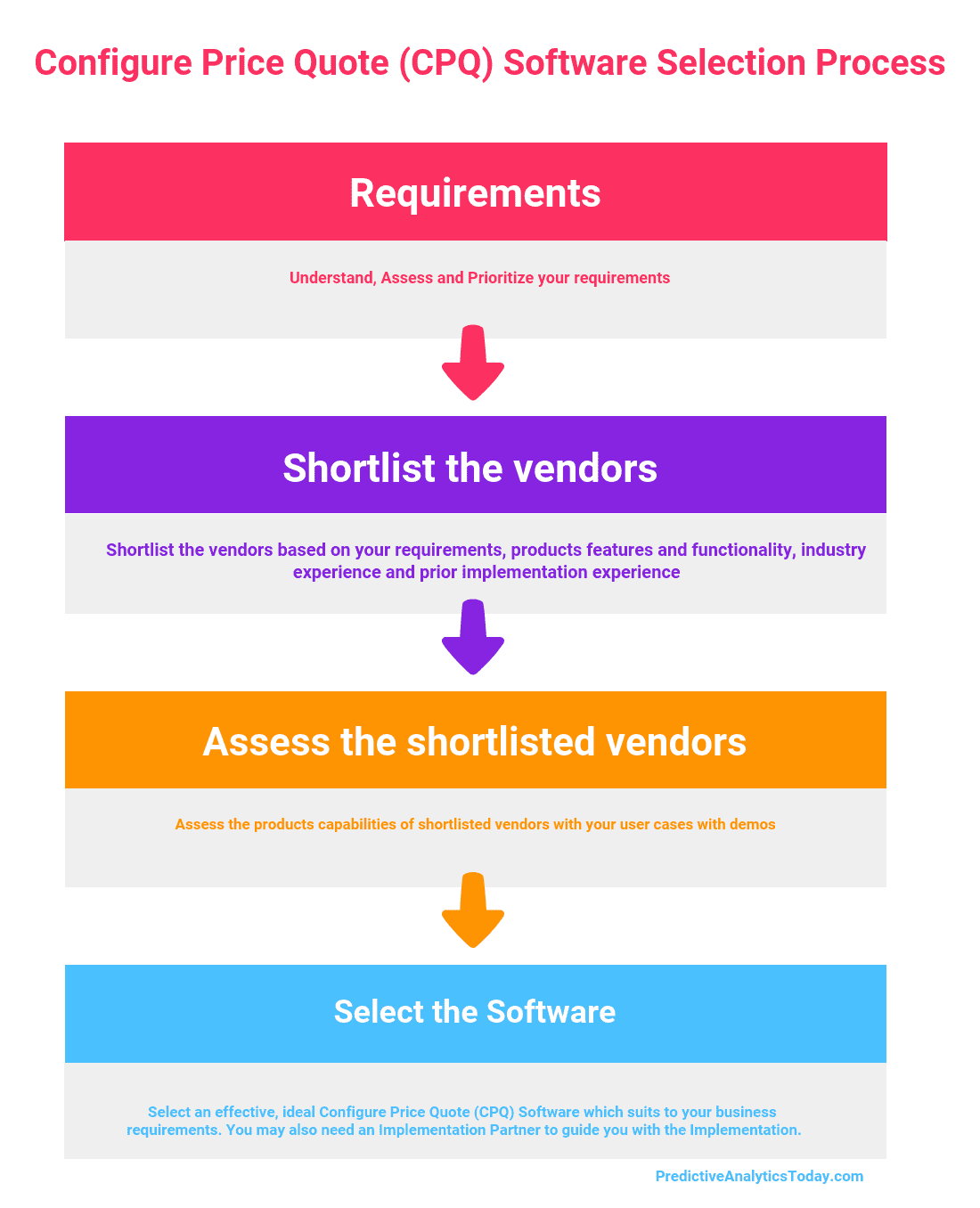 Here are the trending and the top rated Configure Price Quote (CPQ) Software for you to consider in your selection process:
You may like to read: Top Configure Price Quote (CPQ) Software and What is Configure, Price Quote Software?, Pain Points and Benefits
Top Configure Price Quote (CPQ) Software
PAT Index™