How to Select the Best Real Estate CRM Software for Your Business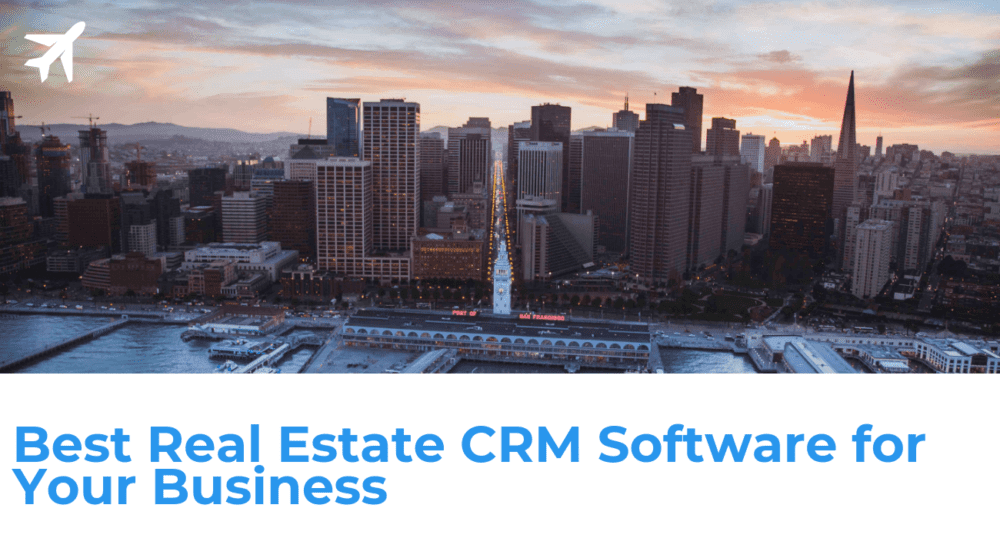 Real estate agents are always on the run following up on new leads with an aim of converting them in to clients. But most of the leads never turn out to be their customers. Worse still, existing clients rarely come back for more business. Why is it so? Most clients can barely remember the name of their agents. This makes it difficult to contact them despite the wish to do business with them again.
Real estate agents have very tight schedules. For them to convert the new leads into valuable clients, they need to have a good database in place. This can only be achieved if you have reliable software.
Real Estate CRM software will not only keep you in touch with your clients, it will also help you convert referrals into reliable and valuable customers.
Having a system that keeps track of your old clients will make your business much easier to manage. Referrals will always turn out to be your best leads thus keeping your business on toes throughout.
You may like to read: Top Real Estate CRM Software
What is Real Estate CRM Software?
Real estate CRM software is designed to help agents keep track of their real estate customers. It helps an agent manage his customers, attract new clients, and retain the existing ones. You are also able to close deals on time as well as streamline transaction.
The system is helpful both to you and your team as it creates efficiency while serving existing clients, new prospects as well as other vendors. It can also be used as a medium of marketing to various groups as you can easily send emails, letters or SMSs. The system can also be used to keep in touch with the vendors and buyers.
Besides client management, the system also acts as your listing management tool. Tasks such as uploading your listing to real estate portals, generation of brochures can also be easily performed. The system also ensures all your adverts through the vendors are well managed, records feedbacks from buyers as well as generate reports.
If you want to have a personalized relationship with your clients, the system gives you a platform where you can easily link the activities of your vendors with the client. Any advert of new properties in the market can easily be communicated to the clients. All you need is to automate the emails so that they can be contacted if there is something matching with their specific requirements.
The CRM software helps you convert your leads into lifetime clients. How is this possible? It comes with functionalities that help you to store contacts of your buyers. These contacts come in handy during follow-ups. The system makes follow-up easy as it automatically contacts the clients to find out if they need help and also inform them of new developments. This keeps clients in touch with your company thus guaranteeing future businesses.
You may like to read: Top Real Estate CRM Software
What are the features of Real Estate CRM Software?
For you to succeed in real estate business, you need to maintain a strong relationship with your clients, vendors, and lessees. Owing to the number involved, this can be hard pressing for the agent. But investing in a good CRM system helps sort out this challenge. The CRM system you opt for should have crucial features in order to be beneficial to you and your relationships. Having the following features in your system guarantees success in the real estate sector.
Email tracking: Retrieving data from your emails can be a painful process if you don't have the right system in place. You need to keep track of all correspondence between vendors, property managers, and lesser. CRM system that integrates email services helps to keep track of what is happening in the property world and share the same with your employees. This helps to maintain a cordial relationship with clients which in turn improve the efficiency of the company.
Mobile functionality: Real estate agents are always on the move. Thus your business requires a system that can support mobile apps. The apps ensure one have access to crucial information while in the field. You can also collect and update data from wherever without necessarily showing up in the office. Real estate business has a dynamic environment and it is important to have a system that can offer mobile functionality in order to keep in touch with new developments.
Listing and closing activity features: You should look for a system that can carry out the process of listing and closing a home to ensure nothing is left to chances. The system should have features that can be easily customized to build your own plans from zero or use them as they are.
Marketing functionalities: This feature helps in keeping contacts with past clients and new leads in the market. A good system helps one to automatically send emails or letters to clients at set intervals. This is not only meant for customers only, you are also able to keep in touch with seller leads, vendors, and property managers. You should be able to customize it to suit your own needs.
What are the benefits of Real Estate CRM Software?
In real estate field, you must be swift if your aim is to offer exemplary experience to your customers. Any new information that goes unnoticed means loss of business to your company. A good system should help you act swiftly whenever there are new developments in place. Here are a number of benefits you stand to reap by investing in real estate software.
Access to both desktop and mobile CRM solution: You can have access to the system either on a desktop or through your mobile devices regardless of your locality. This offers flexibility in that you don't have to be in an office set up to communicate with your clients. Information can be shared in real time 24 hours a day thus boosting your effectiveness.
One stop shop for all your information: The system has a database that helps track all the information and data generated from the field. It helps the agents organize their work effectively. They can easily identify new properties, communicate with new leads, as well as stay in touch with the existing customers.
Manage current and future real estate leads: The software helps one to manage multiple leads without losing track. A good software ensures that you are able to communicate with agents who are selling properties at the same time inform prospective customers on available properties. You are also able to keep in touch with clients who are looking forward to purchasing properties in future.
System integration: The software allows you to integrate all your system as well as with the different apps in place. System integration helps to eliminate manual processes of compiling and analyzing data which can be tedious and prone to errors. You can also integrate activities such as marketing campaigns and email communications.
You may like to read: Top Real Estate CRM Software
How to Choose the Best Real Estate CRM Software for Your Business?
There is tons of real estate software out there all claiming to be the most appropriate solution for your business. Such load of information creates confusion on which is the best system to settle for. Remember, the success of your business all depends on how well you manage your operations. Before settling on a particular system, you need to consider the following important points.
What are your needs?: It's important to assess the needs of your business before settling for any kind of software. Find out what is the most pressing functionality that you want to be sorted. Are you interested in a software that will help manage your contacts, do you want to track deals and transact? Do you need a marketing tool? All these are questions that should guide you in picking the best software for your business.
Look for the right solution: After assessing all your business needs, it's time to look for a solution that is based on the need and wants you identified. From the identified needs, do you want a solution that specifically has real estate platform or will general CRM software work? When choosing a software, all that matters is can it solve your problems regardless of whether it's real estate based or not.
Go for a cloud-based system: Software that is web-based helps to eliminate all the IT challenges associated with setting up software solutions to your business. The cloud-based system guarantees data security, smooth operation with no interruption occasioned with software upgrades and also cuts on cost. The system also allows mobile access as it comes with mobile apps. Thus you are able to conduct your business from anywhere.
Compatibility: Look for a solution that is compatible with the existing tools. You don't want to introduce a system that cannot support the existing platform. Having an incompatible software means you have to keep on keying data in multiple places. This is not only tedious but also time-consuming and prone to human errors. Look for a system that will not complicate your life further.
Benchmark with other companies: Check for reviews from other real estate agents. What kind of solution are they using and how well is it serving their needs. Contact your colleagues on social media and ask them what would be the best system to invest in. their recommendations will come in handy when making the decision on what to settle for.
You may like to read: Top Real Estate CRM Software
Here are the trending and the top rated Real Estate CRM Software for you to consider in your selection process:
You may also review the Top Real Estate CRM Software :
You may like to read: Top Real Estate CRM Software
Top Real Estate CRM Software
PAT Index™
You may like to read: Top Real Estate CRM Software
What is Real Estate CRM Software?
Real estate CRM software is designed to help agents keep track of their real estate customers. It helps an agent manage his customers, attract new clients, and retain the existing ones. You are also able to close deals on time as well as streamline transaction.