Review
Velaro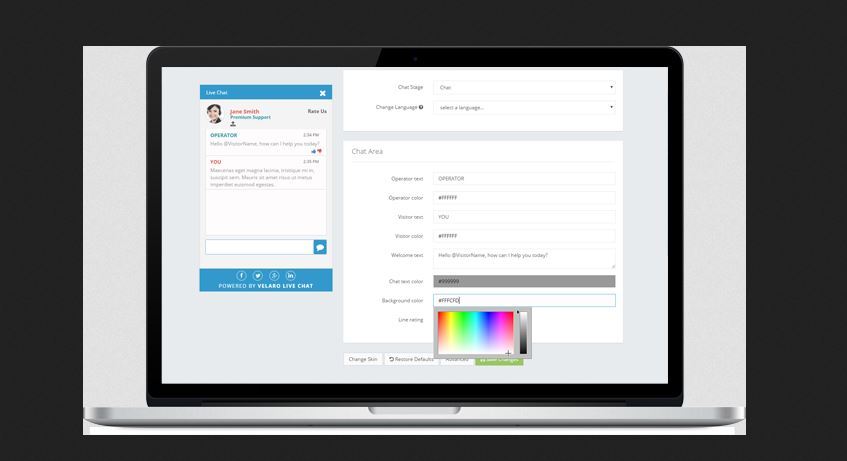 Overview
Velaro is website live chat software built to support the unique needs of the enterprise. Leaders in e-commerce, higher education, health care, pharmaceuticals and more turn to Velaro's integrated platform to optimize sales, deliver stellar service and dramatically improve rep productivity.
Customer Engagement Platform
•Visitor Monitoring
•Workflow and Routing
•Performance management
•Reporting, granular security controls
•Quick and easy setup
•Proactive chats
•Sales and conversion tracking
Small (<50 employees), Medium (50 to 1000 Enterprise (>1001 employees)
What is best?
•Visitor Monitoring
•Workflow and Routing
•Performance management
•Reporting, granular security controls
•Quick and easy setup
Velaro is an enterprise live chat software that gives the best live chat experience to its customers. Live chat gives customers a direct line to the brand's sales and support stuff so Velaro provides all the important tools that are required by the customer. It also provides and insight to what the visitors are doing and where they are coming from so that the brand can always be updated with the statistics.
Apart from Visitor Monitoring, Velaro focuses on Workflow and Routing which enables the customer to find the right agent at the right time for their problems. The agents are trained to have a general knowledge about any kind of problem a customer can face and not specific to one domain only.
The next feature of Velaro is performance management. Managers can direct and assist agents in real time with chat shadowing, or review transcripts and reports after the fact to look for coachable moments. The reporting tools are all up to date and specific to all the report requirements including data transfer to Excel sheets, PDF or web views. The customer data is kept safe and secure through Velaro's granular security controls that let a customer control all the personal information that they provide.
Velaro provides with a quick and easy setup and anyone with rudimentary computer or web skills can deploy Velaro in about 10 minutes. Proactive chats enable the customer to turn nibbles into leads, and abandoned carts into sustainable revenue.
The customer can also experience sales and conversion tracking and see the exact correlation between website live help and leads, form completions, eCommerce sales or any other metric. Velaro provides with 4 kinds of pricing packages including Starter costing about $19.95/user, Small Buisness costing about $64.95/user, Professional costing about $149.95/user and for Enterprise package the customer gets custom pricing.