Top 22 Real Estate CRM Software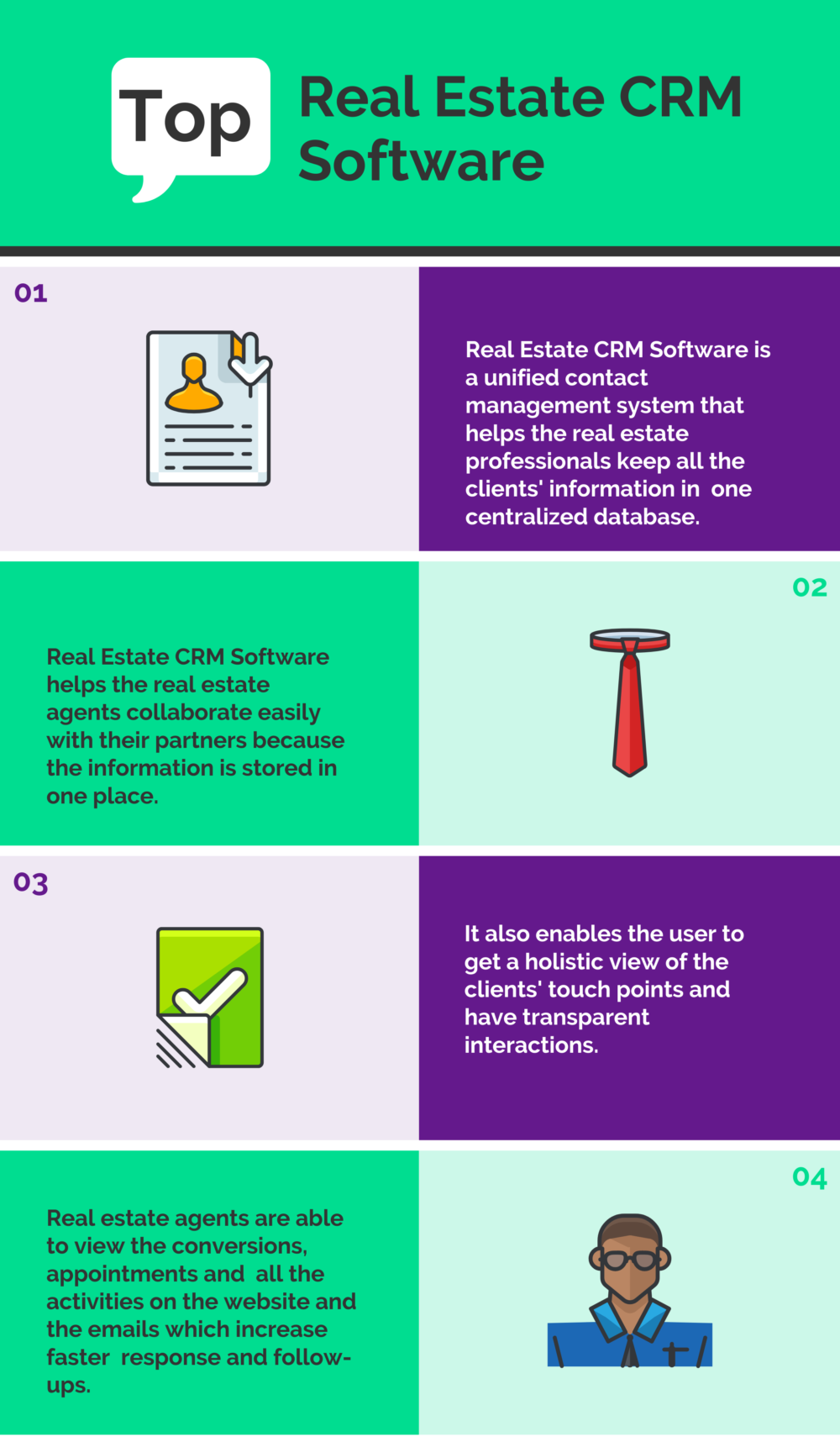 Real Estate CRM Software is a unified contact management system that helps the real estate professionals keep all the clients' information in one centralized database. Real Estate CRM Software helps the real estate agents collaborate easily with their partners because the information is stored in one place. It also enables the user to get a holistic view of the clients' touch points and have transparent interactions.
Real estate agents are able to view the conversions, appointments and all the activities on the website and the emails which increase faster response and follow-ups. The software automates the everyday tasks from sending follow up emails, capturing prospects from the websites and more. This enables the user to focus more on developing strong and long-lasting relationships with clients and close deals.
What are the Top Real Estate CRM Software: Capsule CRM, Freshsales, Streak, Pipedrive, Propertybase, Real Geeks, Contactually, CINC, Market Leader, Top Producer CRM, Rethink CRM, RealtyJuggler, Follow Up Boss, LionDesk, IXACT Contact, Boston Logic, ClientLook, BoomTown, Placester, Less Annoying CRM, ReferralMaker, CoStar Brokerage, Apptivo CRM, LeaseHawk, Apto are some of the Top Real Estate CRM Software.
You may like to read: How to Select the Best Real Estate CRM Software for Your Business
What are Real Estate CRM Software?
Real Estate CRM Software brings about greater efficiency and better client organization through integrated profiles. It also automates real estate marketing and sales tasks which helps strengthen customer connections. A Real Estate CRM Software helps the user to get immediate feedback about what works because it reports about open rates, links click-through rates among other helpful data. It also allows the user to make instant responses to client enquiries.
The basic feature of the Real Estate CRM Software is contact management. The platform should possess a contact management platform that can be customized to categorize persons by referring leads, clients, agents, competitors and partners. It should also allow the user to classify clients further into subcategories that can group clients into cold and warm leads, current and past clients or satisfied and highly satisfied clients among others. These tags help the user when making a ranked referrer tiers to generate more leads. Another key feature is the list management system.
The list management platform should help the user to customize database fields to build a list depending on deals, offers, events, third parties, transactional stage and commissions. The CRM system should allow the real estate agents to generate and attach property details, service reports and transaction documents that are synchronized with the listing to help the user create a comprehensive list with the relevant and vital documents attached to it. They can help the agents to get a quick overview of all the dealings and monitor progress.
Real Estate CRM software should also have an email platform. The email tool should have a pre-designed drip email campaigns for a variety of contacts, a bank of email templates with keywords in the industry and a monthly real estate newsletter. Another important feature is the software compatibility with other popular platforms. The CRM should be able to integrate to several other platforms.
The CRM should also be easy to use even for non-technical users. Another feature is the mobile capability. It should be cloud hosted; webs based or at least have online features. This can help the real estate agents to work even while on the move. It should also have control options which can allow the agent to access sales reports but prevents them from performing unwanted procedures like blocking financial statements, or downloading or forwarding the documents while in the field.
You may like to read: How to Select the Best Real Estate CRM Software for Your Business
Top Real Estate CRM Software
Capsule CRM, Freshsales, Streak, Pipedrive, Propertybase, Real Geeks, Contactually, CINC, Market Leader, Top Producer CRM, Rethink CRM, RealtyJuggler, Follow Up Boss, LionDesk, IXACT Contact, Boston Logic, ClientLook, BoomTown, Placester, Less Annoying CRM, ReferralMaker, CoStar Brokerage, Apptivo CRM, LeaseHawk, Apto are some of the Top Real Estate CRM Software
1
Capsule CRM is a simple CRM system aiming to keep your business organized, improve your customer relationship, and to make the most of sales opportunities, all the while minimising user input. The contact page gives you a complete overview of a contact so that you can keep track of the people, companies and other organizations that you do business with and with the option to share contacts with co-workers ensuring a single up-to-date view of the contact. Use Capsule to track bids, deals, proposals and other opportunities. You also have the option to generate reports and extracts from the pipeline…
2
Freshsales is a free cloud-based CRM system that can track customer behaviour and progress of deals from start to finish. Some of the features include an email tracking system, calendar sync, click to call, tasks & appointments, 360° customer view and in-app tracking. The 360° customer view allows the user to identify customer touchpoints whether it be a website, product, interactions or appointments from a single screen. The free plan also includes a built-in phone system allowing sales teams to make calls, automatically log incoming and outgoing calls, with an option to record and monitor them. The email feature allows…
3
Streak is a spreadsheet style CRM provider that makes data management and everyday processing functions easier. Streak is supported by both Google chrome and safari. It has a user friendly simple collaboration feature that permits the sharing of data within seconds. Users link their google IDs through open id without having to share any personal information with streak. It also provides a multipurpose feature that allows for management of different functions within Gmail so that you can multitask. Streak works with Google apps and provides a secure connection to you various accounts. It is easy to install as no IT…
4
Pipedrive is a web-based Sales CRM and pipeline management solution that enables businesses to plan their sales activities and monitor deals. Built using activity-based selling methodology, Pipedrive streamlines every action involved in converting a potential deal into a successful sale. As a cloud-based application, the solution can be accessed from anywhere 24x7 using any web browser or dedicated mobile apps. Pipedrive provides sales personnel full visibility of different sales pipelines. A robust interface displays the progress stages for each deal with the complete details for next actionable items. The activity & goal feature allows users to track the pending activities…
5
Propertybase is the leading real-estate CRM solution built entirely on the force.com software-as-a-service (SaaS) platform. Existing entirely in the cloud, it requires almost no IT investment or development from its users. Propertybase is a cloud-based Customer Relationship Management and marketing solution that caters to Real Estate brokers in businesses of all sizes. Key features include Marketing Automation, Sales Automation, Social CRM and Web Self-Service. Propertybase helps users manage contacts, documents and communications related to leads which can be organized in custom lists. Propertybase also allows users to set up customized, conditional notifications that are triggered automatically. Propertybase integrates with multiple…
6
Real Geeks is a real estate lead generation service that offers lead generation websites, ad management, and CRM integration. It allows users to customize a lead generation website; track, segment, and follow up with leads; and monitor sales. The Company's mission is to combine innovative solutions and modern technology to improve the lives of Real Estate Professionals. Real Geeks is designed to have a high conversion rate. The user-friendly experience along with features like the interactive map, street view, saving multiple searches, tagging favorite properties plus the new property alerts keeps the leads coming back. User friendly CMS allows agents…
7
Contactually, is a virtual assistant for email, and discovers opportunities in inbox by proactively suggesting the next steps to take with the most important contacts. Contactually helps to build stronger relationships with the people who can make the client successful by providing CRM like features to organize prospects and generate new leads. It provides a simple user interface and one click email and calendar integration they want. Contactually Dashboard provides recommended follow-ups, calendar events, and any upcoming tasks in a single place. It provides ability to reach out to key contacts, review previous interactions, and note the offline interactions such…
8
CINC was founded on the encouragement of some of the nation's top brokers and mega-team leaders in order to address a gaping hole in real estate technology. In a few short years and several thousand clients later, CINC has become the fastest growing real estate technology platform in the industry to date. Built on a solid foundation of strong core values, CINC has built a team of dedicated, talented and passionate individuals that are 100% bought into the mission of providing real estate agents more closings, more efficiently with the best support and technology in an all-in-one conversion engine. Driven…
9
Market Leader is a pioneer in lead generation and contact management systems and has been helping agents and teams manage, grow, and thrive since 1999. Market Leader proudly serves over 250,000 agents and teams across the United States and Canada. They are passionate about making agents more productive and more successful. Their mission is to make life-long customers through outstanding products, leads, education, and customer support. It helps make experience great with unparalleled training and support. It helps to generate and Convert Leads. The user can get training and best practices for generating new leads consistently and access to resources…
10
Top Producer is North America's leading provider of marketing and lead generation systems for real estate professionals, offering a full range of leading-edge, integrated contact management, lead generation, lead incubation, postcard marketing and web marketing solutions. Poised for integration, Top Producer® is compatible with dozens of systems already used by today's agent. Manage, send and attach documents to any of your contacts, listings or closings via Dropbox and Google Drive. Seamlessly sync contacts, calendars and email from Office 365, Outlook, iCal and Gmail into everyday workflows. Use popular email services like MailChimp and BombBomb to send email campaigns directly to…
11
REthink CRM is powered by world-class software-as-a-service (SaaS) infrastructure, Salesforce.com, which provides a multi-tenant architecture. REthink CRM was designed by commercial real estate professionals to help simplify and streamline the deal process, while allowing brokers to focus on what they do best- closing deals. Built on the world's # 1 CRM platform- Salesforce.com, REthink CRM leverages the power of the force.com platform, which means you get best-in-class technology when it comes to commercial real estate software. REthink CRM allows CRE brokers to manage their entire deal lifecycle all in one platform in the cloud- from prospecting to deal management all…
12
RealtyJuggler functions as an organizer for real estate agents, helping them to manage contacts, appointments, and leads in a master database that can be accessed by multiple users. Since 2004, tens of thousands of real estate professionals have relied on RealtyJuggler. While others create products that emphasize complexity and power, RealtyJuggler's focus is on simplicity. Other real-estate software vendors focused upon the "Top Producers", RealtyJuggler would focus upon the average agent. The software supports smart phone synchronization, which enables users to automatically change and update information in the database from other organizers. RealtyJuggler has the capability to feed leads from…
13
Follow Up Boss is the leading company to provide the solution for lead management to the real estate firms. Follow Up Boss is easy to use and is intuitive enough for basic tasks such as email logging, social media imports and lead management. Connect directly to the email inbox to automatically sync and log all emails exchanged in Follow Up Boss. Completely eliminate data entry when it comes to communicating with prospects by calling and texting through Follow Up Boss. Be laser focused while using Follow Up Boss Inbox by only viewing emails from leads and contacts, free of unwanted…
14
LionDesk is a customer relationship management service prepared and designed for real estate professionals. Regarded as an efficient real estate management platform, LionDesk offers an all-in-one solution for realtors, teams, agents, brokers, and lenders. LionDesk helps users by organising their leads, prospects, and clients, and providing them the opportunity to close more deals or sales. The reason why it is referred to as an all-in-one solution is because it also offers marketing and transaction management tools. LionDesk features are video email and video texting. Through these functionalities, users will be able to send out video emails and video text messages…
15
IXACT Contact is an integrated CRM, Email Marketing, and Website solution designed specifically for real estate agents. IXACT Contact is an easy-to-use web-based real estate CRM that helps realtors stay organized and build lasting relationships with past clients, hot prospects and important referral sources. IXACT Contact makes it easy to stay in touch with clients in a way that's personalized, relevant and timely. Keep in touch easily and effectively with a "set it and forget it" professionally written and designed monthly e-Newsletter that's mobile friendly. Generate more leads with a beautifully designed personal website that looks great on all devices,…
16
The Boston Logic platform is proudly made in Boston, MA by talented software developers writing in the same coding language, used by companies like Twitter, Airbnb and Hulu. The Boston Logic platform is the industry's most comprehensive suite of digital tools to grow real estate business, manage leads, create a stand-out online brand, and close more deals. It's a command center for your business that manages contacts, simplifies email marketing, integrates MLS search, and drives more repeat and referral business through the power of automation. The Boston Logic platform CRM is software built specifically for real estate professionals. The solution…
17
ClientLook was built from the ground-up for commercial real estate professionals. It is a cloud-based CRM system that combines contact management, project collaboration and corporate social networking in one integrated solution. ClientLook is the only commercial real estate CRM software that includes a FREE team of Virtual Assistants that are standing by to handle your requests. Win more assignments by offering a whole new level of service. ClientLook is real estate contact management software at its core. It was created to help you build better relationships as easily as possible. With a unique approach to workflow and design, there's no…
18
Boomtown offers three core products which are Launch, grow and Advance. The Launch product is an entry tool to get the team off the ground, Grow is a complete system to cultivate the team & market and Advance is an enterprise platform for market expansion. The user can convert leads into real clients with the BoomTown platform. BoomTown isn't just innovating on real estate software it is also building new lead generation technology to support the users goals. The lead activity is tracked to give the user predictive insights on top opportunities most likely to engage in conversation, follow the…
19
Placester is a website builder designed specifically for real estate agents and brokers. It provides users with professional websites that have functionalities to perform marketing automation, lead capturing, team management, and website analytics. Placester is helping the real estate industry work smart by building software that "moves the industry online." The Placester platform enables real estate agents, brokers, and brands to grow their businesses online and via mobile through seamless MLS integration, natural language search, and eye¬-catching visuals. In addition, Placester offers a wide range of apps and add¬-ons for high¬-impact email marketing, digital advertising campaigns, lead management and streamlining…
20
Less Annoying CRM is a straightforward customer relationship management solution that is built to address the CRM needs of small enterprises. Thousands of small businesses use Less Annoying CRM to manage contacts, track leads, and stay on top of follow-ups. The system delves on ease-of-use, transparent pricing, and free customer support. The platform is hosted in the cloud and can be configured easily, which means setup is quick and can be done within minutes. Less Annoying CRM delivers applications designed for effective contact management and sales force automation (SFA). The platform enables users to consolidate all of their customer information…
21
Referral maker is a robust real estate CRM for generating high quality leads. It helps one to stop chasing leads and financial & personal goals and personalized action steps are created for the user. It helps to always know who to contact, when to contact them and what to say, and generate a steady stream of referrals from people the user want to work with. It enables the user to take action of the day with preloaded activities telling the person who to call, who to write a note to, and who to go see (Pop-by). It helps one to…
22
CoStar Brokerage Applications (formerly REApplications) provides a web-based Enterprise Information Management system exclusively for Commercial Real Estate firms. CoStar Brokerage Applications enables executives, professionals and support staff to manage property data and market research, collaborate with Clients on transactions, and manage prospects & client relationships. In addition, there are a number of "Back Office" modules to streamline Brokerage operations, such as Commission Management. CoStar Brokerage Applications is the most accurate source of listings available. It's easy to navigate and consolidates all pertinent info for all potential clients and has the most in depth and comprehensive statistics of any real estate…
23
Apptivo's customer relationship management (CRM) applications provide modules for contact management, lead management, opportunity management and customer service ticket management. While it offers all of the functionality available in higher cost products, such as Salesforce, it is possible to customize the software to match company's precise needs, adding and removing functionality as the business changes and grows. It's this flexibility that makes Apptivo a one-stop solution for just about any organization, regardless of the size. Apptivo has upgraded its built-in CRM app capabilities, adding new tools called triggers to build custom workflow automation rules for any given app. Rules can…
24
LeaseHawk SaaS software suite was designed to empower the user with insight to elevate the key aspects of the business—the people and marketing. LeaseHawk focus is to bring emerging technologies to the multifamily industry. By leveraging artificial intelligence, predictive analytics, and "big" data the user will be able to more effectively manage the relationship with the rental customer. The suite is loaded with tools, including dynamic analytics that users can access anytime, anywhere. It helps identify the best and worst performing ad sources so they can refine the marketing spend. It helps to get insight into the team's conversion rates…
25
Created by commercial real estate brokers, Apto streamlines the entire deal lifecycle. Apto serves nearly 10,000 commercial real estate brokers and is the CRM of choice for 6 of the top 8 CRE brands. Apto is the only commercial brokerage software that lets you manage the entire lifecycle of your deals on a single platform, from prospect to pitch to close. It is built on the Salesforce.com platform, which means it's more powerful, stable and secure than any other CRM. Apto will become the hub of an industry ecosystem that'll change the way commercial property is purchased, sold, leased and…
You may like to read: How to Select the Best Real Estate CRM Software for Your Business