47 Bigdata Analytics Consulting Companies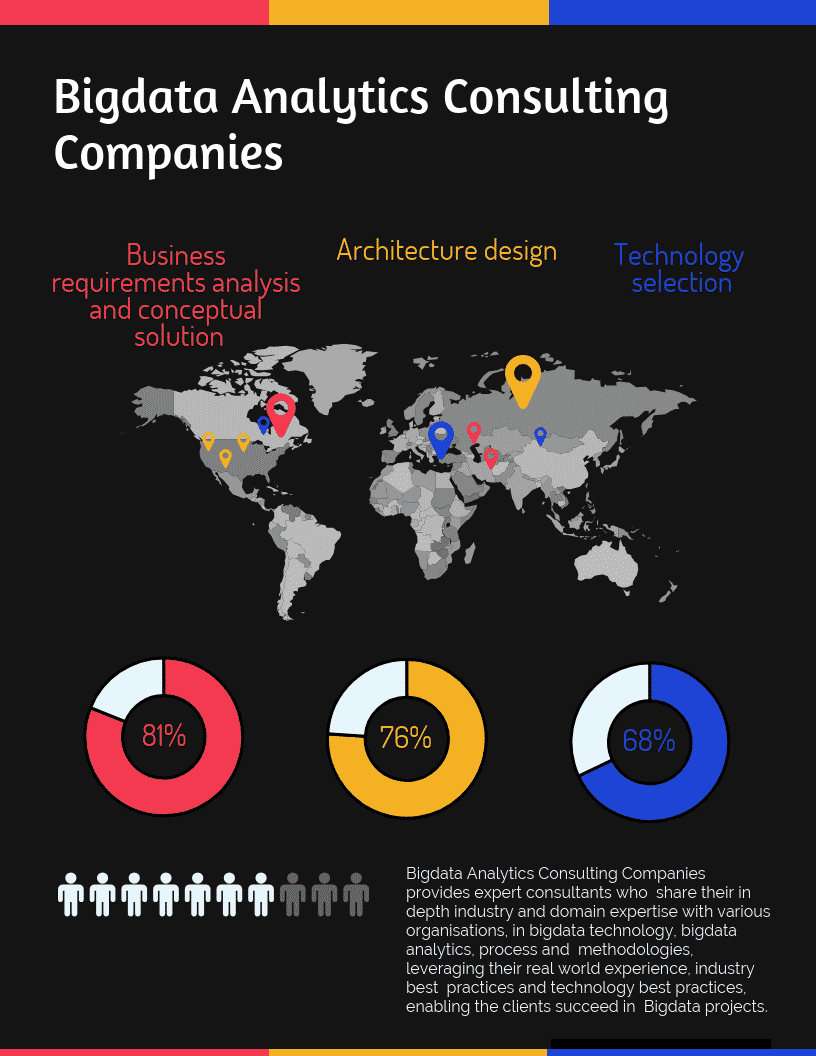 Bigdata Analytics Consulting Companies provides expert consultants who share their in depth industry and domain expertise with various organisations, in bigdata technology, bigdata analytics, process and methodologies, leveraging their real world experience, industry best practices and technology best practices, enabling the clients succeed in Bigdata projects.
IBM Analytics Consulting, HP Bigdata Services, Dell Big Data Business Intelligence Consulting, SAP Big Data Services and Consulting, Teradata Services, Oracle Consulting, SAS Consulting, Accenture Bigdata Consulting, PWC Bigdata Consulting, Deloitte Consulting, MicroSoft Consulting, Hitachi Bigdata Consulting , CSC Bigdata Services, CenturyLink Bigdata Solutions, Netapp Consulting, EMC Bigdata Consulting, Mu Sigma Consulting, TCS Consulting, MicroStrategy, Actian, Booz Allen's Technology Consulting, Opera Solutions, Red Hat Consulting, Capgemini Consulting, GE Analytics, Vmware Consulting, Syncsort Hadoop Solutions, SGI Data Analytics, Hortonworks, Guavus, Alteryx, 1010data, TIBCO, MapR, Tableau, Qlik, Attivio, Juniper, DataStax, GoodData, Attunity, Fractal Analytics,Pentaho Consulting Services, Datameer, Kognitio Analytical Platform, Sumo Logic, ORTEC Consulting are some of the top companies in no particular order.
47 Bigdata Analytics Consulting Companies
1.IBM Analytics Consulting
IBM Bigdata Analytics provides access to IBM's 9000 strategy, analytics, and technology experts and consultants from around the globe, who can assess the business and identify the specific areas in which analytics can bring the most value to the business.
2.HP Bigdata Services
HP Big Data Services help to reshape IT infrastructure to convert the bigdata into beneficial information. The Big Data solutions encompass strategy, design, implementation, protection and compliance.
3.Dell Big Data Business Intelligence Consulting
Dell Big Data Business Intelligence Consulting helps with big data solutions, to improve the success of business, and generate new revenue streams. The Big Data Business Intelligence Consulting Services includes assessments, proof of concepts and managed services.
Dell Big Data Business Intelligence Consulting
4.SAP Big Data services and consulting
SAP's Big Data services and consulting experts helps to transform IT infrastructure and implement Big Data technologies that to capture, store, and leverage data-driven insights in real time. The services include leveraging the advanced data science to uncover hidden signals that lead to competitive advantage, design a detailed road map that helps to achieve long-term vision for Big Data and implement a Big Data platform and governance system using best practices.
SAP Big Data services and consulting
5.Teradata Services
Teradata provides services to design, build, and maintain an optimal UDA approach and trusted service and support for Analytics, Hadoop, BI, Big Analytics, Data Management, and Systems Architecture.
6.Oracle Consulting
Oracle Consulting delivers architecture, upgrade, and implementation services to quickly and effectively deploy business Intelligence (BI) and enterprise performance management (EPM) solutions
7.SAS Consulting
SAS, provides an end to end family of proven service offerings across the four key phases of successful technology deployment, which they call as the Customer Success Circle.
8.Accenture Bigdata Consulting
Accenture Bigdata Consulting provides consulting services through data management and other technology and analytics tools.
9.PWC Bigdata Consulting
PwC helps to design Big Data pilots that inform and enable strategy and investments in order to quickly address tangible business issues and opportunities.
10.Deloitte Consulting
Deloitte Consulting , provides a host of lightweight, challenge and industry focused analytics tools that are ready for deployment.
11.MicroSoft Consulting
Microsoft Services help by delivering powerful data solutions that make it easier and faster to gather and prepare data and get it to the people who need it.
12.Hitachi Bigdata Consulting
Hitachi Bigdata Consulting offers services to use information infrastructure to capture, manage and analyze big data, take advantage of the deep industry expertise to bring managing and processing vast amounts of disparate data and apply holistic perspective on big data, which we use to drive analytics innovation across all the Hitachi businesses.
13.CSC Bigdata Services
CSC Bigdata Services offers offers Big Data Platform as a Service is a pay as you go cloud managed service that simplifies big data application development & deployment. CSC's business intelligence strategy and transformation services can completely revamp business' performance.Data services with advanced predictive analytics of data sets from NASA and NOAA delivering probability of tornado occurrence next year.Business Analytics helps to mine big data and visualize practical, continuing commercial insights to improve organizational performance.Data Integration and Optimization through the best of ETL tools, proprietary methodology and modern metadata migration engines.
14.CenturyLink Bigdata solutions
CenturyLink big data solutions allow organization to realize game changing insights, operate with unprecedented speed and agility, and gain a true competitive edge. CenturyLink big data solutions, headlined by CenturyLink Big Data Foundation Services, combine CenturyLink's enterprise grade global infrastructure and network connectivity with proven big data software in a fully hosted and managed service.
15.Netapp Consulting
NetApp Transformation Consulting Services help to identify a fast path to business transformation to find ways to minimize costs and decrease risk while becoming a more efficient, agile business taking advantage of solutions such as virtualization, IT-as-a-Service (ITaaS), and cloud computing.
16.EMC Bigdata Consulting
EMC Bigdata Consulting offers Planning and build the information infrastructure to provide the data needed for smart business decisions. The solutions help to identify the right Big Data business opportunity and build comprehensive solutions to successfully apply new Big Data developments.
17.Mu Sigma Consulting
Mu Sigma solves high impact business problems by accelerating the journey from Data Engineering to Data Sciences and Decision Sciences.
18.TCS Consulting
TCS Consulting Services deliver integrated, end to end IT enabled solutions and services to help the business transform with certainty.
19.MicroStrategy
MicroStrategy provides effortless access to all business data from one place. Use data connectors that are optimized for each source, and allow queries to reach their greatest performance potential and connect to one source or many, separately or in combination. Gain the pureplay advantage of superior R&D focus on strong technology partnerships and high speed analytics.
20.Actian
Actian transform business with these Customer Analytics Blueprints for Customer profiles, Micro segmentation create segments of one customer lifetime value, Next best action,Campaign optimization, Churn and Market basket analysis.
21.Booz Allen's technology consulting
Booz Allen's technology consulting services provide clients with highly skilled experts and engineers who maintain a deep knowledge of leading technologies. The consultants combine their specialized skills with the firm's proven problem-solving approach, ensuring that we understand a client's mission and objectives.
Booz Allen's technology consulting
22.Opera Solutions
Opera Solutions bigdata platforms are modular and integrated and these are Vektor, Fraud platform, Mobiuss, BIQ and open source signal detection.Vektor is the Big Data analytics and Signal-processing platform, where Signal Hubs are created. Fraud Platform where we build fraud and other case management–centric solutions. Mobiuss for complex scenario building and simulations enhanced with Man and Machine integration. BIQ areused for machine intelligence enabled analysis and anomaly detection within complex data. Open Source Signal Detection are turning the World Wide Web into a world-wide database.
23.Red Hat Consulting
Red Hat Consulting works with the existing technologies and multiple resource providers to mix different components based on what's right for the organization. Using industry accepted practices and experience, the consultants provide recommendations and technical expertise to set up Infrastructure as a Service (IaaS) and Platform as a Service (PaaS) in the cloud environment.
24.Capgemini Consulting
Capgemini Consulting offer Analytics Strategy and Design, analytics Proof of Concept, Analytical Model and Deployment, Business Process Analytics and Analytical Operational Support.
25.GE Analytics
GE has a full suite of advanced, proven, and integrated data management and data analytics software solutions for everybody in the decision making process in engineering, operations, C-level, and and optimize every aspect of equipment health and processes.
26.Vmware Consulting
Vmware Consulting consultants combine vast platform, product and solution expertise with an ability to work across multi vendor IT domains and silos to design, build and implement solutions that exploit evolving technology, better manage costs and ensure quality and availability of operations
27.Syncsort Hadoop Solutions
Syncsort Hadoop Solutions help to overcome the challenges of collecting, processing and integrating data in Hadoop. Remove barriers for wider Hadoop adoption: connect, develop, deploy, re-use, and accelerate.
28.SGI Data Analytics
SGI High Performance Computing (HPC) solutions for Data Analytics are designed to address two principle metrics, the data analysis and time to value. SGI Data Analytics leadership derives from over two decades of delivering many of the world's fastest supercomputers. SGI also delivers the extreme capacity and scale needed for Big Data storage as well as software solutions to optimize storage investments.
SGI High Performance Computing
29.Hortonworks
Apache Hadoop is a core component of a modern data architecture, integrating with and complementing existing systems to create a highly efficient, highly scalable way to manage all the enterprise data.
30.Guavus
The Guavus Reflex Platform is capable of creating actionable information from widely distributed, high volume data streams in near real-time. The resulting "live analytics" are powerful business metrics generated from responsive querying over huge volumes of high cardinality data.
31.Alteryx
Alteryx offers solutions which puts the value of Big Data in the hands of all analysts and decision makers.Key Alteryx capabilities for Big Data Analytics are access, integration, and cleaning of sources of data as varied as Hadoop (including Cloudera & MapR) or NoSQL (MongoDB) and Excel or Teradata. Sophisticated but accessible predictive and spatial tools, combined in a simple, workflow design environment.
32.1010data
1010data provides simple, fast solutions to complex problems to leverage the fastest database in the world via an easy-to-use, spreadsheet-like interface.
33.TIBCO
TIBCO Consulting combines the industry, technology, and TIBCO product best practices to help to achieve the goals with SOA, BPM, MDM, and business optimization.
34.MapR
MapR Professional Services brings world class expertise to get the most out of Hadoop investment. From implementation to data migration to tuning and optimization to data engineering and advanced analytics, the Professional Services team will work opn every step of the way offering a wide range of services to help to plan, implement, deploy and manage the big data installation.
35.Tableau
Tableau is rapid fire business intelligence that equips anyone to analyze data quickly. Its intuitive user interface means there's no need for canned reports, dashboard widgets, or templates to get started.
36.Qlik
Qlik Consulting Services ensures that the QlikView applications meet clients analysis needs now and in the future.
37.Attivio
Attivio's Active Intelligence Engine combines Big Data and Big Content, including Hadoop and the more than 80% of information that is human-generated text, to Analyze Everything.
38.Juniper
Juniper offers service in the core and edge, data center and security. The Core and Edge Practice enables Service Providers to shorten the time it takes to bring revenue-generating opportunities to market, bring new productivity enhancing capabilities online faster, roll out new business models and ventures more quickly, and create greater market reach and higher levels of customer satisfaction.
39.DataStax
DataStax offers unmatched expertise in commercial NoSQL and open source database technology to bear on every consultation.
40.GoodData
GoodData Consulting follows a rapid and iterative implementation process that combines GoodData's leading platform with best practice domain knowledge and an agile model to speed delivery of GoodData solutions.
41.Attunity
Attunity provides extensive experience and expertise, and a solution delivery methodology that improves a project's success rate.
42.Fractal Analytics
Over 40 productized services are delivered by the Fractal Sciences lab allowing to leverage defined solution frameworks and reusable model components to custom tailor analytics for the business, and get them integrated into any format or platform.
43.Pentaho Consulting
Pentaho Consulting Services offer pre packaged programs and custom engagements that help you develop, design and implement the analytics projects quickly.
44.Datameer
Datameer simplifies the big data analytics environment into a single application on top of the powerful Hadoop platform.
45.Kognitio Analytical Platform
The Kognitio Analytical Platform is a scale-out in-memory, Massively Parallel Processing (MPP) not-only-SQL software technology that is optimized for low-latency data load and high-throughput complex analytical workloads
46.Sumo Logic
Sumo Logic focuses on combining the best of human-based interactions (searches, alerts, dashboards, etc.) with machine learning (LogReduce, Anomaly Detection) to enable enterprises to succeed in both types of machine data analytics.
47.ORTEC Consulting
ORTEC Consulting Group offers number of services to approach the data opportunities strategically. Analytics Performance Assessment helps to assess how advanced the current analytical capabilities are, what analytical capabilities should be developed within the organization and which steps need to taken to take full advantage of advanced analytics.