Review
MantisBT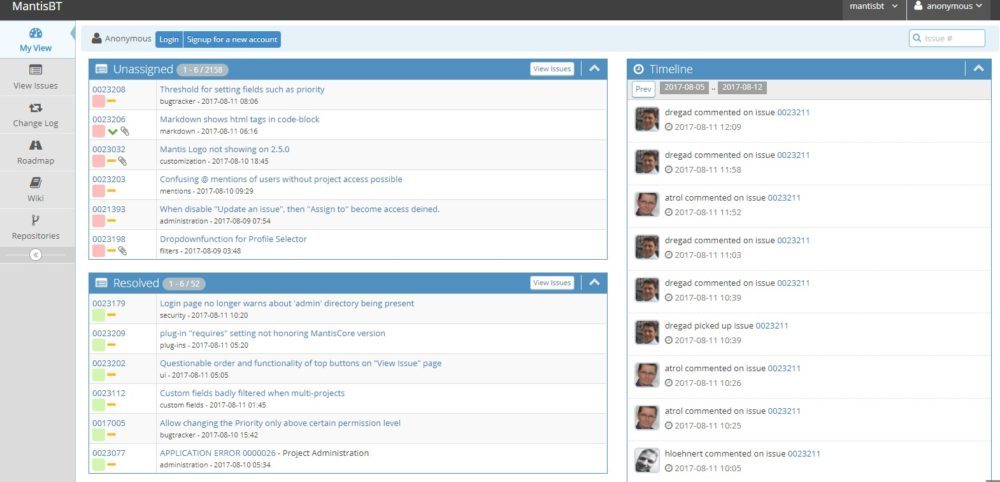 Overview
MantisBT is an open source issue tracker that provides a delicate balance between simplicity and power. Users are able to get started in minutes and start managing their projects while collaborating with their teammates and clients effectively
Help Desk Software Open Source
•Web Based
•Supports platform that runs PHP
•Customizable Issue Pages
•Multiple Projects per instance
•Search and Filter
Small (<50 employees), Medium (50 to 1000 Enterprise (>1001 employees)
What is best?
•Web Based
•Supports platform that runs PHP
•Customizable Issue Pages
•Multiple Projects per instance
•Search and Filter
•Built-in Reporting (reports / graphs)
•Custom Fields
What are the benefits?
•Export to csv, Microsoft Excel, Microsoft Word
•Time Tracking
•Roadmap
•Projects, Sub-Projects and Categories
•Support for mobile devices
MantisBT is a web-based bugtracking system that provides a platform where teams can collaborate and manage projects effectively. The platform can be used to track bugs and manage defects in software. The program is easy to install and implemented in PHP working with Windows, Linux, Mac, Solaris, and AS400/i5.
Users can communicate with team members, resolve issues, manage projects and record feedback and comments with email notifications. Reports can be created and presented in written or graph form with the built-in reporting system. MantisBT is flexible for users giving the option to customize issue fields, notifications and workflow practices. The software has the ability to create access control per project where users can monitor specific issues.
MantisBT can be installed on Windows, Linux, Mac OS, OS/2, with various web browsers functioning as a client. Public projects are accessible to all users with the option to keep some private and accessible to only team members explicitly added. Group actions can be applied on multiple issues within a project. The software is designed to easily search and filter with advanced and shared across users and projects.
Workflows are made easier with the custom fields element enabling teams to track progress on a project. The roadmap feature is designed to track the progress of planned fixes rather than implemented ones which can be translated through the system to the clients and the development team. Projects are divided into categories where users are assigned access and roles, which can be attached to multiple parent projects. MantisBT is available on mobile phone devices whether it be iOS or Android.