How to Select the Best Live Chat Software for Your Business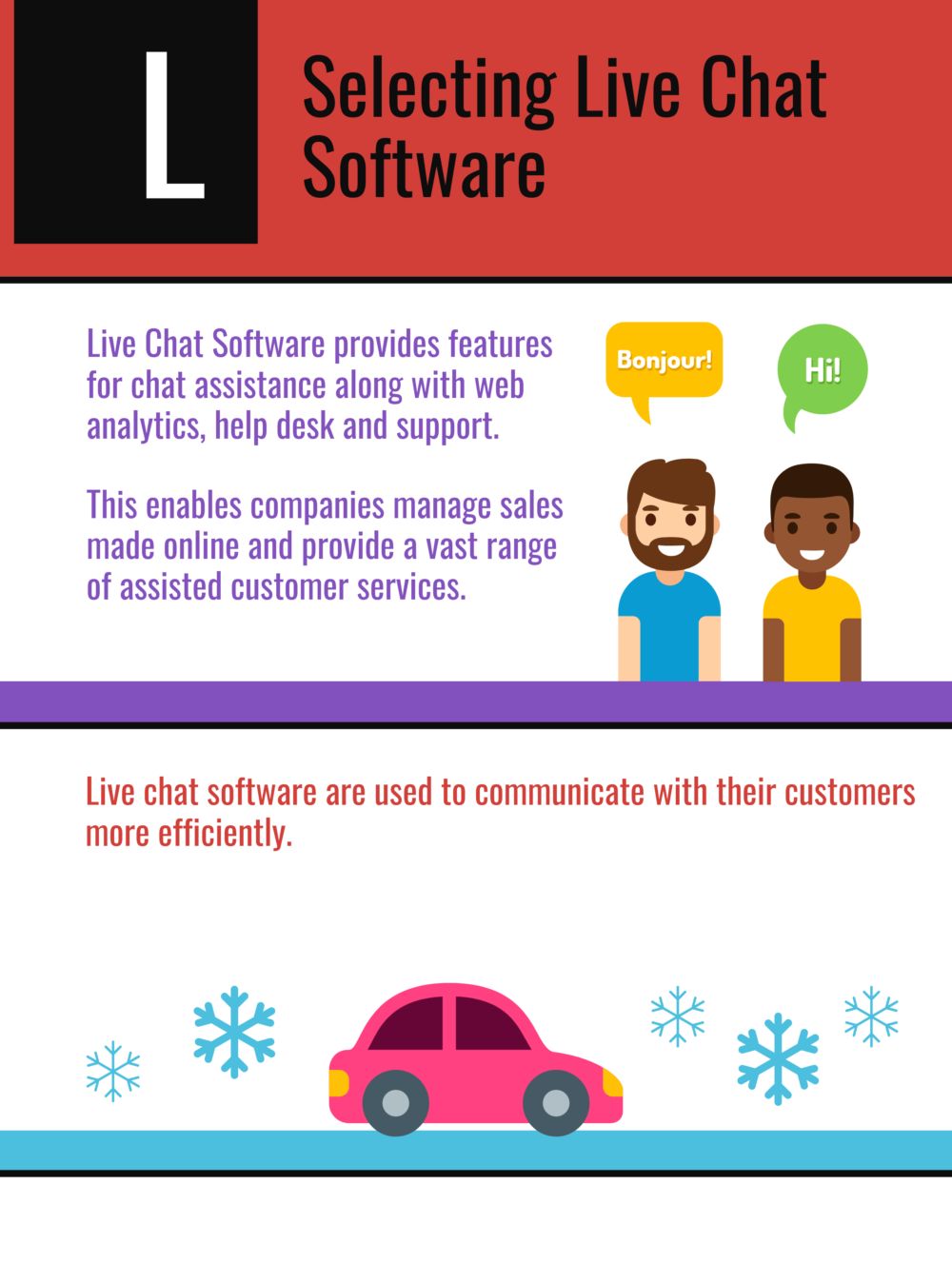 Live Chat Software refers to a customer service based program that helps with managing eCommerce sales, creation of leads and provision of customer support. Companies use live chat software for fast communication with their customers.
The life blood of every company or service provider is its customers. They are the utilizers of the services rendered by these companies and would exchange value for such services. This is why companies and other service providers seek new and more efficient ways to improve customer experience and invariably increase sales.
Over the years, live chat software has proven to be an answer to easy and efficient management of online sales and customer support.
What are Live Chat Software?
Live Chat Software provides features for chat assistance along with web analytics, help desk and support. This enables companies manage sales made online and provide a vast range of assisted customer services. Companies use live chat software so as to be able to communicate with their customers more efficiently.
This is possible because the software allows companies do with one software activities what they would have required using several channels for. That is, instead of having to use channels such as email, social media which includes Facebook, twitter and more, and chats in seeing to proper administration of customer support, live chat software can be used alone.
Live chat software improves customer's experience as customers can easily chat with agents, ask questions about a product or service and get replies almost immediately. This is a significant improvement from having to send mails and hope to be replied as soon as possible. An agent with the use of live chat can retain customers by helping a confused or uncertain customers through the questions they answer.
Live chat is flexible. An agent can engage in multiple interactions at a time. It runs a 24/7 schedule and is worldwide. In our ever technologically developing world where speed and efficiency are fast becoming the watch words, the Live chat software essentially provides these key elements for the improvement of customer support is and ultimately, customer experience.
You may like to read:  Top Free and Premium Live Chat Software
Identifying Which Type of Live Chat Software is right for your business
There are three major types of live chat software and they are largely differentiated according to their level of technical support.
Live Text Chat Support: This text-only chat support is what a lot of companies offer its customers. It increases the rate of customer engagement and conservation. A large number of customers favor the text-only chat support more. It does not incur extra cost for customers.
Live Video, Text Support and Voices: Customers, with this type of live chat, can not only chat with agents but can also see and speak with them. It provides a form of customer engagement that is personal and more reliable. It also has an influence on the psyche of a customer by creating a perception of credibility between agent and customer. It also proves useful when a customer's eCommerce transaction involves a large sum of money. Such a customer would involve in information search to a certain company's reliability.
Video, Text, Voice and Co-browsing: Besides customers being able to speak to, chat with and see agents, both customers and agents can engage in co-browsing. It makes it easy for customers and service agents to access an application on the web together. In addition to the video, text or voice chat earlier discussed, customers and customer service agents can also view digital files or website at the same time. Co-browsing is quite different from and an improvement to screen sharing that allows just one party to control the screen. It proves valuable when online forms are being filled.
Depending on company`s needs, business requirements and future goals, there are several types of Live Chat Software available based on licensing model:
Open Source Live Chat Software : These are Open Source Software where the source code is available.
Free Proprietary Live Chat Software : These are limited versions of a fully functional propriety Live Chat Software.
Proprietary Live Chat Software : Full paid version of Live Chat Software.
You may like to read:  Top Free and Premium Live Chat Software
What are the Essential Features of Live Chat Software

There are several features of live chat that makes it a game changing card for online businesses and service providers which include proactive chat, chat monitoring, reports and analysis, mobile optimization, visitors tracking, real time resolution using offline forms, chat rating, chat routing, canned responses, smart triggers, file transfer, and queue times.
Proactive Chat: This live chat feature permits agent to start a conversation with and offer assistance to website visitors, thereby growing customers' engagement and satisfaction.
Chat Monitoring: This allows for the supervision of chat between customers and agents, informs you on the performance of agents so as to know who to train and in what area to train.
Mobile optimization: The software ensures that website visitors can still get the assistance they need when using the site irrespective of the device being used.
Visitors tracking: It serves as a tool for tracking and developing a detailed analysis on the behavior of website visitors, gathering information on time spent by them chatting up agents, collecting transcript reports, as well as following up on agents' activities.
Real time resolution using offline forms: This ensures agents can be contacted even when they are not online as tickets for offline messages are produced by message routing.
Chat rating: This is an avenue for getting feedbacks from customers as they rate their conversation with the agent, thereby providing information used to evaluate customer support quality and gives insight into customers' level of satisfaction.
Chat routing: This feature enables the agent move a chat to a colleague either because he feels the other agent would better answer a question or his workload cannot allow him accommodate another customer if adequate attention is to be given.
Canned Responses: With this feature, replies to frequently asked questions with just few strokes can be readily and easily accessed by agents, hence saving time and increasing response speed.
Smart trigger: With this feature, certain situations act as triggers such that, for example, a notification is sent to an agent when a potential client is.
File Transfer: It makes it easy for files to be shared between website visitors and agent, which is both convenient and helps with further assistance.
Reports and analysis: This feature makes it possible for a company to make report and analysis from data collected.
Queue time: Especially in cases where there are a lot of chats, website visitors are informed on how long they would have to wait to chat with an agent.
You may like to read:  Top Free and Premium Live Chat Software
What are the benefits of Live Chat Software

Providing convenience: It gives room for customers to multitask whereby they can shop and wait for chat support.
Increasing sales: Assistance offered by an agent can result in the birth of loyalty and trust in customers which often leads to them patronizing the website.
Cost effectiveness: There is no doubt that time is money, as live chat enables agents multi-chat and maximize time, as well as remove the cost of phone calls.
Addressing pain points: Live chat is more personal and addresses issues more directly than post on certain problems customers encounter created on other channels.
Boosting services and customer loyalty: Customers are more likely to develop a sense of loyalty to products or services that gives them satisfaction and reduces their level of stress than to does that do not.
Expanding Market reach: For international customers who may not be able to make contact through calls, live chat is an easy, more convenient way to make contact.
What are the latest trends in Live Chat Software ?
Co-browsing and screen share: This greatly improves the quality of guidance and assistance offered as both customers and agent can access a website at the same time.
Social Media Integration: This saves one from the stress of having to redirect customers to a website but can easily conduct chat on various other social media channels that widely used.
CRM integration: This saves chat histories with customers which is then used in creating a profile for such a customer as a lead.
Pop messages: These messages pop up when there is a website visitor and promotes engagement.
You may like to read:  Top Free and Premium Live Chat Software
What are the Key Performance Indicators of Live Chat Software
 
Number of chats: The number of chat received is a pointer to whether or not company goals are being achieved.
Agent Utilization Rate: This tool reveals what percentage of time customer service agents spend on live chats and other functions which speaks volume of efficiency.
Queue time: How long visitors wait in queue plays an essential role in customer satisfaction, as long waiting time can influence visitors' actions negatively.
Average handle time: The average time spent on a chat by each agent helps in determining speed of providing resolution to customers' issues, as speed is a key factor in our technologically advancing world.
First contact resolution: Almost like emphasizing the importance of first impressions, this metric measures the percentage of time customers' issues are solved in one live chat by agents.
Invitation Acceptance Rate: The rate at which customers accept agents' invitations to a live chat indicates how effective the software is.
Sales conversion rates: Making sales is every company's goal and an increase in company sales goes a long way in indicating whether or not efforts made by agents are paying off.
Customer Satisfaction score: The ratings given by a customer indicates how well the company has performed in providing customer support.
Is a Free Live Chat Software Worthwhile?
Live Chat Software has many features and can do a lot to help your business to succeed by connecting with your customers, but it can be expensive. There are plenty of free Live Chat Software available. There are two category of Free Live Chat Software : Free Open Source Live Chat Software and Limited version of a Proprietary Live Chat Software.
Free Open Source Live Chat Software is a good choice, when you have a development team available in your company and when you want to try out the product or build new features and functionality on top of it. You need to spend time to set it up and running.
The limited version of a Proprietary Live Chat Software is a good way to see if it will be useful to your business before making a big investment but these software comes with limitations.  A free limited version from a proprietary product company will make it easier to upgrade in the long run and also help you determine if that company's solution is what you want.
There are also drawbacks to Free Limited version of a Proprietary Live Chat Software. These limited version do not have nearly as many features available in a fully functional paid version, and there are limits such as number of agents, chat storage limits, number of reports, and white labeling. The free versions also have limited support options.
You may like to read:  Top Free and Premium Live Chat Software
 How to choose the right Live Chat Software

Cloud-based vs. Self-hosted: The major difference between the two is that cloud based is internet facilitated and occurs on a third party server while self-hosted occurs on the company's technical infrastructure. Choosing between the two depends on what ones business requires. Most companies place their products on cloud-hosted apps.
Easy Customization: It is important to choose an easily customizable live chat software as a business brand is an identity.
Value vs. Price: The value to be derived from the live chat software should be rated higher than its purchase price.
Security: It is very important to choose a live chat software that is well protected against cyber threats and other possible attacks.
Here are the trending and the top rated Live Chat Software Free for you to consider in your selection process:
Top Live Chat Software Free
PAT Index™
You may like to read:  Top Free and Premium Live Chat Software
Here are the trending and the top rated Live Chat Software for you to consider in your selection process:
Top Live Chat Software
PAT Index™
You may like to read:  Top Free and Premium Live Chat Software