Review
Kustomer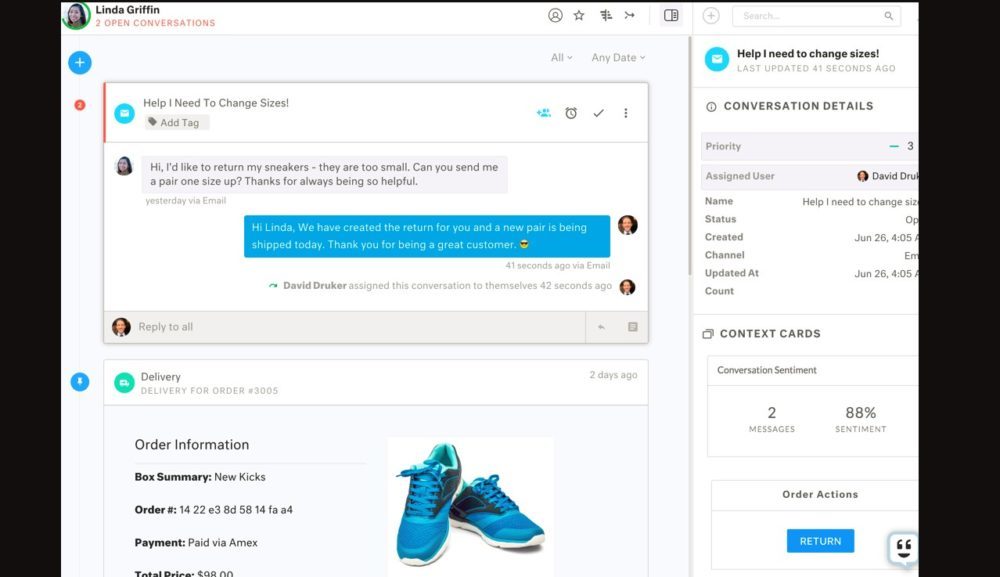 Overview
The kustomer platform offers customer experience, service and support and helps the user to know everything about every customer.
• Conversation History
• Tracking Events
• Making Searches
• Smarter Conversations
• Sentiment & Snooze
• Making Collaboration
• Reporting & Analytics
• Customer Timeline
•Professional $49 per user per month paid annually
•Enterprise $99 per user per month paid annually
•Ultimate $169 per user per month paid annually
Small (<50 employees), Medium (50 to 1000 Enterprise (>1001 employees)
What is best?
• Set up more intelligent reminders for follow-ups that are triggered by events like receiving packages or a next purchase.
• Use Chat to convert anonymous visitors into customers and ultimately into seriously engaged users.
• Create powerful multistep automated workflows using the Kustomer Workflow Builder; no developer required.
• Generate reports about the conversations, team performance, and customer base.
• Dive even deeper into the customers' needs by adding data from external services through Custom Objects and Tracking Events.
What are the benefits?
• Analyze and monitor the customer's activity and optimize their buying journeys driven by informed actions by agents, marketing programs, and automation.
• Empower the agents with true omnichannel communications, ensuring repeat business and increasing lifetime value.
• See all of the conversations with a customer across different channels including email, texts, and more.
• Get better immediate insight into the customers' needs with their conversation history.
The kustomer platform offers customer experience, service and support and helps the user to know everything about every customer. By making the customer Kustomers' platform's atomic unit, it empowers the agents to know everything about every customer.
From purchase and engagement history to tracking events and custom objects that fit the users business logic, Kustomer organizes all the customer data in one timeline. With all of the data and real-time sentiment in one place, the user can proactively engage targeted customer segments. Omnichannel platform provides a complete, fully actionable view of the customers' experience.
This gives the user a full context of their customer's history, which enables the user to engage with them in a more personalized way. Built for the way agents and customers have conversations.
Kustomer lets the user to have a continuous conversation across your channels, on a single screen. Channels include email, chat, Facebook Messenger, Twitter, SMS, voice, and mobile apps. Custom Objects let the user tailor Kustomer to the unique way they work with their customers. Custom objects could be their customers' orders or account information.
This enables the user to respond to customers more efficiently. Kustomer provides the user with a variety of features and information that lets them have a more personalized and effective conversations with every customer they engage with. Kustomer's messages are like real communications from real people. No ticket number or mention of "do not reply." Seeing the customers' sentiment lets the user understand the best way to communicate with them and how best to prioritize them.
The software can generate reports based on sentiment changes that help the user understand their team's effectiveness. This allows them to be more proactive when supporting customers. This enables them to take action based on either Kustomer or external data and provide a higher quality, more efficient customer experience. The customer timeline is at the center of the Kustomer.
You may like to read: How to Select the Best Live Chat Software for Your Business and Top Free and Premium Live Chat Software