Real time analysis using Guavus Reflex Operational Intelligence Platform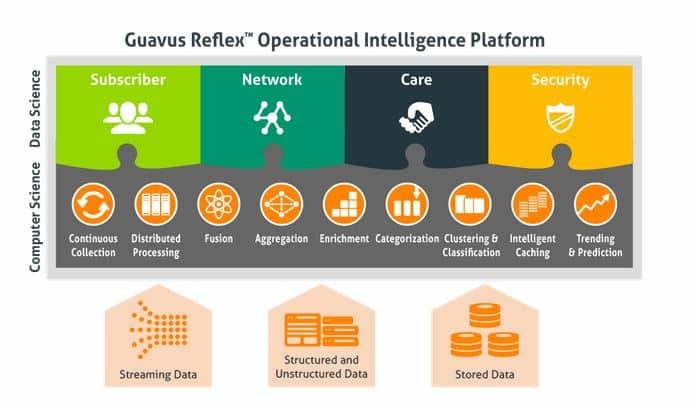 Real time analysis using Guavus Reflex Operational Intelligence Platform : Guavus offers an operational intelligence platform integrated with a suite of decisioning applications for network planning and operations, marketing, security and customer care. The Guavus Reflex Operational Intelligence Platform provides real time analysis across business and operations for better quality decision making. The Guavus Reflex Operational Intelligence Platform correlates and analyzes massive petabytes of streaming and stored business, operational and sensor data from multiple, disparate source systems in real time. The resulting live operational analytics from the analytically powered applications address the specific business problems for network, marketing, customer care, security and the Internet of Things. These solutions can be embedded into automated workflows and business processes, make customers more agile, competitive and profitable by transforming them into real-time, data driven enterprises.
The analyze-first capabilities of Reflex allow companies to process incredibly large amounts of data - up to hundreds of billions of events or petabytes per day - from a wide variety of sources, including traditional subscriber and network data warehouses, deep packet inspection probes and network flow data, as well as unstructured machine data, which is generated throughout the network. By taking the analyze-first approach, Guavus eliminates the need to spend millions on storage and eschews the time constraints to store, gather and process data.
The latest version of Reflex expands the ability from batch processing to true continuous analysis at scale from multiple sources and systems including data from billing, CRM, OSS, network, applications, devices and cloud to provide an end-to-end understanding of complex systems. Reflex 2.0 correlates, fuses and analyzes data streams with data at rest in silos to provide customers with a 360-degree view of what's going on in their network. Reflex supports virtualized and elastic architectures for maximum scalability. The updated platform, which leverages an open source analytics core including Hadoop, Spark and YARN technologies, is integrated with a new class of high value, analytically powered solutions for network operations, marketing, care and security. These solutions, which have data science built in, are pre-integrated and are tailored with specific business problems in mind. The solutions are based on streaming analytics, so users are always assured of getting the most current data for real-time business decision-making. By analyzing data as it arrives within milliseconds of when it hits the network and within the context of other events in the enterprise, Guavus customers can trigger immediate actions and improve decision-making.
Guavus enables businesses to monitor and identify the root cause of anomalous events in their network, and make adjustments or take action as it's happening to improve customer experience. Develop solutions that can be embedded into workflows and business processes to improve CAPEX/OPEX efficiencies. Identify and prevent fraudulent activity in the network as it happens and create highly targeted, personalized marketing mobile ad campaigns based on subscriber activities.
"With these significant enhancements to our operational intelligence platform, Guavus continues to set the standard for big data-powered operational intelligence," said Anukool Lakhina, CEO and Founder, Guavus. "In today's hyper connected world, data continues to grow exponentially from an ever increasing variety of data sources. Enterprises require multi-dimensional analytics insights across their businesses that will improve CAPEX and OPEX, and enable better quality business decision-making that simply isn't possible with today's architecture and traditional analytics solutions. With Reflex, we transform our customers into real-time data-driven enterprises, making them more agile, competitive and profitable."
The Guavus Reflex platform is deployed at four out of the five largest mobile network operations, three of the top five Internet Backbone providers and the largest MSOs in North America. Guavus Reflex 2.0, which is built using Spark 1.0 and Hadoop Yarn 2.4, the technologies for large-scale processing of big data streaming analytics. With an open source core, the Guavus Reflex Platform also features pre-built engines for the integration of streaming and stored data, machine learning and decisioning applications for network, marketing, care and security.
CareReflex, is an application to improve the ability to identify the root causes of complex customer issues. Built on top of the Guavus Reflex Platform, CareReflex combines IVR, operational, and business data in real-time to provide timely, actionable insights for an improved customer experience.