DataTorrent RTS data processing pipeline from ingestion to real-time dashboards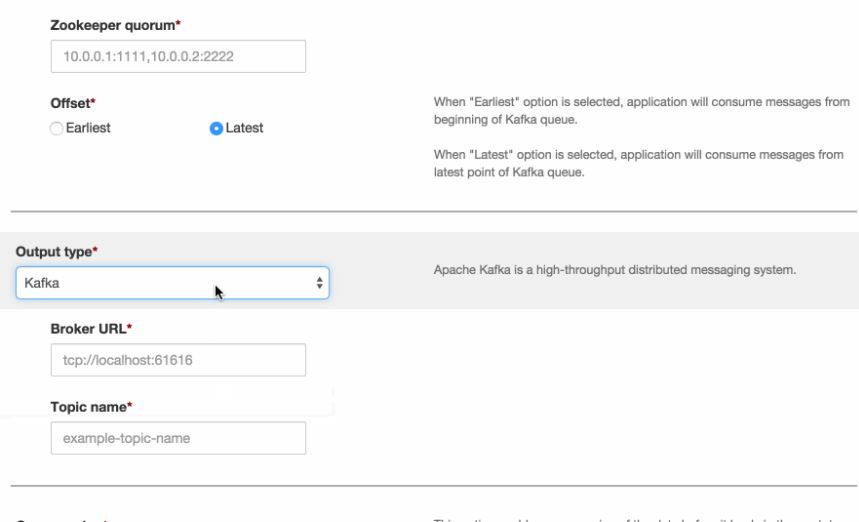 DataTorrent RTS 3, is aimed at continuing to enable successful enterprise adoption of big data solutions and Hadoop. DataTorrent RTS 3 addresses current challenges such as ease of use and demonstrating business values with no-coding required GUI application assembly, self-service real-time and historical data visualization, and a simple to use data ingestion and distribution application for Hadoop. Released as Project Apex, the open-source DataTorrent RTS core engine forms the foundation of DataTorrent RTS 3, is available in three editions Community Edition, Standard Edition and Enterprise Edition.
DataTorrent RTS 3 provides new features, tools and applications to enable easy creation and assembly of production-ready big data applications.
Simple, graphical application assembly – Data scientists and developers can now create big data applications without writing code. They simply assemble a data flow using a drag-n-drop-n-launch GUI. Self-service real-time and historical visualization – Business users and data scientists can accelerate time to insight and take business action. Browser-based, RBAC-enabled intuitive, self-service data visualization allows for the creation of custom dashboards in minutes.
Scalable, fault-tolerant data ingestion for Hadoop application – Big data projects often stall due to difficulties ingesting data whether at rest and in motion. The application provides a graphical interface to ingest from multiple sources in a secure, high-performing, fault tolerant manner.
Enterprise integration and analytics pack – Time-to-value is decreased using advanced pre-built connectors for the most popular technologies and pre-built JAVA business logic for analytical applications like dimensional analysis and transformations like de-duplication.
Production and operability enhancements – Data center operations teams need to ensure that their business crucial big data applications are operable across multiple data centers and generations of applications.
"Organizations today are looking to reduce time to insight and take action quickly," said Phu Hoang, co-founder and CEO, DataTorrent. "DataTorrent RTS 3 enables organizations to go to production quickly with an end-to-end solution that addresses enterprise performance and reliability with vastly superior ease of use and interoperability for driving greater business value from big data."
DataTorrent RTS 3 includes three editions for greater and flexible choice for enterprises:
DataTorrent RTS: Community Edition is a free, unlimited use, community supported edition that combines a pre-packaged version of Project Apex with basic management capabilities. The Community Edition is designed to enable developers and innovation groups in enterprises to quickly prove out their big data streaming and batch use cases and establish a business case for an enterprise grade big data project.
DataTorrent RTS: Standard Edition adds enterprise support and makes the Community Edition production ready.
DataTorrent RTS: Enterprise Edition is a full-featured enterprise suite that includes enterprise security and data integration features, advanced operational capabilities, and graphical tools for application assembly, data visualization and data ingestion. The Enterprise Edition is designed for production deployment and serves data center operations, developers, data scientists and business analysts.