Top 53 Bigdata Platforms and Bigdata Analytics Software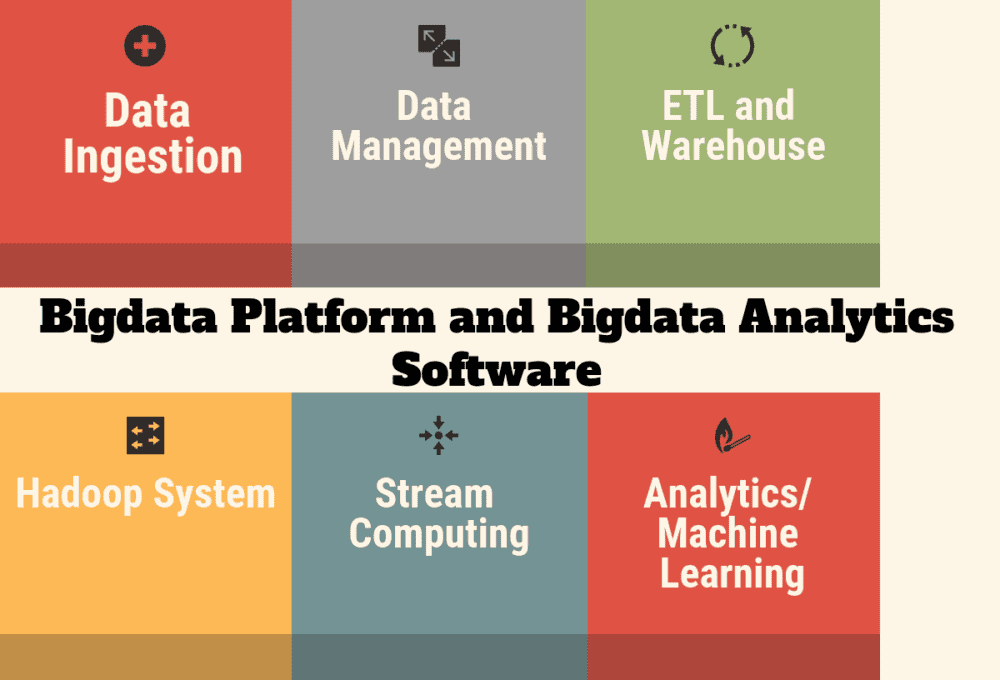 Bigdata Platforms and Bigdata Analytics Software focuses on providing efficient analytics for extremely large datasets. These analytics helps the organisations to gain insight, by turning data into high quality information, providing deeper insights about the business situation. This enables the business to take advantage of the digital universe.
Organizations are increasingly experiencing a voluminous flow of information on a daily basis. Most of this information goes untapped reason being the traditional analytical application can no longer handle the volumes. Where does this data come from? Some of it includes high-volume sensor data, server farms, mobile devices, and information obtained from social networking sites such as LinkedIn, Twitter and Facebook.
An organization cannot afford to ignore information obtained from these sources. In most instances, the decision made in an organization is usually influenced to some extent by the information obtained from these sources.
Voluminous data cannot be adequately analyzed using the traditional data management techniques and warehousing. This explains why institutions are increasingly embracing big data platform. A big data platform is a tool that has been developed by data management vendors with an aim of increasing the scalability, availability, performance, and security of organizations that are driven using big data.
The platform is designed to handle voluminous data that is multi-structured in real time. The platform can be used to carry out different tasks by different users. For instance, data engineers use the platform to clean, aggregate, and prepare data for analysis, business users use it to run queries on the platform while scientist finds it useful while analyzing patterns from large data set using machine learning algorithms.
What are the Top Bigdata Platforms and Bigdata Analytics Software: Periscope Data, Microsoft Azure, Amazon Web Service, Google BigQuery, MongoDB, BlueTalon, Informatica PowerCenter Big Data Edition, VMware, Google Bigdata, IBM Big Data, Flytxt, Attivio Active Intelligence Engine, Wavefront, Cloudera Enterprise Bigdata, Palantir Bigdata, Oracle Bigdata Analytics, DataTorrent, Qubole, Syncsort, MapR Converged Data Platform, Hortonworks Data Platform, Amdocs Insight, Splunk Bigdata Analytics, Celebrus Technologies, HPCC Systems Big data, Pachyderm, Arcadia Data, BigObject, Opera Solutions Signal Hub, Rubikloud, SAP Bigdata Analytics, Next Pathway, CSC Big Data Platform, Kognitio Analytical Platform, 1010data, GE Industrial Internet, DataStax Bigdata, SGI Bigdata, Teradata Bigdata Analytics, Intel Bigdata, Guavus, HP Bigdata, Dell Bigdata Analytics, Pivotal Bigdata, Cisco Bigdata, Mu Sigma Bigdata, MicroStrategy Bigdata, Opera Solutions Bigdata, Datameer, GoodData, Pentaho Big Data Analytics, FICO Big Data Analyzer, Opera Solutions Signal Hubs, Actian Analytics Platform are some of the Top Bigdata Platforms and Bigdata Analytics Software.
What is Bigdata Platform and Bigdata Analytics Software?
Big data Platform is an enterprise class IT platform, that provides the features and functionalities of big data application in one single solution for developing, deploying, operating and managing big data.  Big data Analytics Software  helps to uncover hidden patterns, unknown correlations, market trends, customer preferences and other useful information from wide variety of data sets.
What is big data ? Top Bigdata Tools
What are the features of Bigdata Platform and Bigdata Analytics Software?
Data Ingestion, Data Management, ETL and Warehouse: Provides features for effective Data Warehousing and Management for managing data as a valuable resource.
Hadoop System: Provides features for massive storage for any kind of data, enormous processing power and the ability to handle virtually limitless concurrent tasks or jobs
Stream Computing: Features for pulling in streams of data, processing the data and streaming it back out as a single flow.
Analytics/ Machine Learning: Features for advanced analytics and machine learning.
Content Management: Features for comprehensive content life cycle and document management.
Integration : Features for big data integration from any source with ease.
Data Governance: Comprehensive Security, Governance and Compliance solution to protect the data
Some of the benefits of Bigdata Platform and Bigdata Analytics Software includes:
Provides accurate data. Big data platform offers accurate data to business which helps in making the right decision in a company. The analytic tool reduces the risk of having inaccurate data which comes as a result of dealing with raw data that has not been analyzed. This, in turn, helps the company to make an informed decision with the right facts at hand. Making decisions based on inaccurate data is not only harmful, but it also creates inconvenience thus affecting the growth of the company.
Increases efficiency in the workplace. The highest percentage of the workforce comprises of millennial. This is a generation that is technology savvy. This means they embrace technology and most of their interaction is technology based. They can access any kind of data instantly. Having big data platform makes it easy for them to source for the information they would need. The platform is kind of proactive as it also tends to offer information that will be needed later thus saving time and boosting the efficiency of the users.
Gives answers to complex questions. To manage your business, you must be able to answer critical questions affecting your business operation. Having a big data platform in place helps to answer questions business leaders would ask in a more robust manner. Some critical questions that would take weeks or months to provide answers can take only a few hours or minutes to address if you have the right tool in place.
It is secure. Big data platform comes with a secure infrastructure which guarantees the safety of your data. Security breach on data is a nightmare that every company dreads. The platform ensures your data is secure thus saving the company from loss of revenue that would have arisen in case of a security breach.
Big data Analytics and Predictive Analytics
Top Bigdata Platforms and Bigdata Analytics Software
Periscope Data, Microsoft Azure, Amazon Web Service, Google BigQuery, MongoDB, BlueTalon, Informatica PowerCenter Big Data Edition, VMware, Google Bigdata, IBM Big Data, Flytxt, Attivio Active Intelligence Engine, Wavefront, Cloudera Enterprise Bigdata, Palantir Bigdata, Oracle Bigdata Analytics, DataTorrent, Qubole, Syncsort, MapR Converged Data Platform, Hortonworks Data Platform, Amdocs Insight, Splunk Bigdata Analytics, Celebrus Technologies, HPCC Systems Big data, Pachyderm, Arcadia Data, BigObject, Opera Solutions Signal Hub, Rubikloud, SAP Bigdata Analytics, Next Pathway, CSC Big Data Platform, Kognitio Analytical Platform, 1010data, GE Industrial Internet, DataStax Bigdata, SGI Bigdata, Teradata Bigdata Analytics, Intel Bigdata, Guavus, HP Bigdata, Dell Bigdata Analytics, Pivotal Bigdata, Cisco Bigdata, Mu Sigma Bigdata, MicroStrategy Bigdata, Opera Solutions Bigdata, Datameer, GoodData, Pentaho Big Data Analytics, FICO Big Data Analyzer, Opera Solutions Signal Hubs, Actian Analytics Platform are some of the top Big data Analytics Platforms and Software.
Bigdata Platforms and Bigdata Analytics Software
PAT Index™
1
Periscope Data
Periscope Data is an end-to-end BI and analytics solution that lets you quickly connect your data, then analyze, visualize and share insights. Periscope Data can securely connect and join data from any source, creating a single source of truth for your organization. Perform BI reporting and advanced analytics operations all from one integrated platform. Communicate insights more effectively by selecting from Periscope Data's wide range of visualization options (including standard charts, statistical plots, maps and more) and instantly share real-time insights via direct linking, email or Slack. Periscope Data is a data analysis tool that unifies business data across multiple…
Overview
•One Tool For All Your Data Needs
•Enable data experts to answer more complex questions, quickly.
•SQL Editor Built By Experts, For Experts
•Advanced Analytics With Python And R
•Intuitive Drag-and-Drop Interface
2
Microsoft Azure
Azure allows any developer or IT professional to be productive. The integrated tools, pre-built templates and managed services make it easier to build and manage enterprise, mobile, Web and Internet of Things (IoT) apps faster, using skills users already have and technologies they already know.Azure supports the broadest selection of operating systems, programming languages, frameworks, tools, databases and devices. Run Linux containers with Docker integration; build apps with JavaScript, Python, .NET, PHP, Java and Node.js; build back-ends for iOS, Android and Windows devices. Azure cloud service supports the same technologies millions of developers and IT professionals already rely on and…
Overview
Reliable
Secure
Affordable
Worldwide
No upfront costs
No termination fees
Clients pay only for what you they use
Per minute billing
3
Amazon Web Service
Amazon Web Service offers a broad set of global cloud-based products including compute, storage, databases, analytics, networking, mobile, developer tools, management tools, IoT, security and enterprise applications. These services help organizations move faster, lower IT costs, and scale. AWS is trusted by the largest enterprises and the hottest start-ups to power a wide variety of workloads including web and mobile applications, game development, data processing and warehousing, storage, archive, and many others.With different products being offered by Amazon Web Service, users can choose their needs from the many services that they can take advantage of.Amazon Web Service's Elastic Compute Cloud…
Overview
Compute - Amazon Cloud Front
Storage - Amazon S3
Database - Amazon Aurora
Migration - Database Migration Service
Amazon Virtual Private Cloud
4
Google BigQuery
Google BigQuery is Google's fully managed, petabyte scale, low cost enterprise data warehouse for analytics and is serverless. There is no infrastructure to manage and users don't need a database administrator, this means that an enterprise can focus on analyzing data to find meaningful insights using familiar SQL. Google BigQuery is a powerful Big Data analytics platform used by all types of organizations even those who are just startups.Google BigQuery is powered with both speed and scale. BigQuery can scan TB in seconds and PB in minutes. Load company data from Google Cloud Storage or Google Cloud Datastore, or stream…
Overview
Flexible Data Ingestion
Global Availability
Security & Permissions
Highly Available
Fully Integrated
Connect with Google Products
Cost Controls
Storage - $0.02 per GB, per month
Streaming Inserts - $0.01 per 200 MB
Loading, Copying, or Exporting Data Metadata Operations - FREE
5
MongoDB
MongoDB is the next-generation database that lets its users create applications never before possible. It is designed for CIOs, architects, DBAs and Ops, Developers and Analysts. MongoDB stores data using a flexible document data model that is similar to JSON. Documents contain one or more fields, including arrays, binary data and sub-documents. Fields can vary from document to document. This flexibility allows development teams to evolve the data model rapidly as their application requirements change. When users need to lock down their data model, optional document validation enforces the rules they choose. MongoDB can make users heroes to the business,…
Overview
Single View
Internet of Things
Mobile
Real-Time Analytics
Personalization
Catalog
Content Management
6
BlueTalon
BlueTalon is a leading provider of data-centric security for Hadoop, SQL, and big data environments deployed on-premises or in the cloud. BlueTalon is used to control the data and give users access to the data they need, not a byte more, while gaining unparalleled flexibility in the deployment of data resources. The BlueTalon Policy Engine provides precise authorization, fine-grained filtering, dynamic data masking, stealth analytics and auditing across applications and enterprise data stores. BlueTalon has architected its data control solution to provide a unified approach to policy management that brings the right level of control and consistency across the enterprise,…
7
Informatica PowerCenter Big Data Edition
Informatica PowerCenter Big Data Edition is highly scalable, high performance enterprise data integration software which uses visual development environment to build ETL data flows that run natively on Hadoop. The data flows can be reused and collaborate with other developers and analysts with a common integrated development environment (IDE). PowerCenter Big Data Edition let access all types of big transaction data, including RDBMS, OLTP, OLAP, ERP, CRM, mainframe, cloud, and others, including social media data, log files, machine sensor data, Web sites, blogs, documents, emails, and other unstructured or multi-structured data. PowerCenter Big Data Edition provides an extensive library of…
Informatica PowerCenter Big Data Edition
8
VMware
VMware Cloud Management Platform delivers a complete solution for managing a heterogeneous, hybrid cloud. Cloud Management Platform supports companies addressing cloud management requirements related to day one and day two IT operations for compute, storage, network and application-level resources across a hybrid and heterogeneous IT environment. The platform provides the underlying management capabilities to address two key IT initiatives: Streamlined and automated data center operations Application and infrastructure delivery automation. vRealize cloud management platform delivers intelligent operations that address the need to manage everything from applications to the complete infrastructure stack (compute, storage and network) across a hybrid landscape. VMware…
Overview
Data Center & Cloud Infrastructure
Networking and security
vSphere with Operations Management
vRealize Suite for addressing intelligent operations, automated IT.
Virtualization management
vSphere Hypervisor having built-in management tool, advanced memory management
VMware vSphere Standard:
$1,268.00
VMware vSphere Enterprise:
$3,479.00
VMware vSphere Essentials Kit:
$560.00
VMware vSphere Essentials Plus Kit:
$5,439.00
9
Google Bigdata
Google Bigdata provides Analytics and machine intelligence at web-scale when it comes to managing company's big amount of data. It works on highly unstructured and raw data and makes them efficient for operations. Google Cloud Platform leads the industry in the ability to let its users analyze data at the scale of the entire web, with the familiarity of SQL and in a fully managed, server less architecture where backend infrastructure is fully handled on behalf of the business. Google Bigdata analytics products are able to scale automatically while users focus only on the business insight that needs to be…
Overview
Fully Managed, Serverless Insight
Fast Queries on Petabyte-scale Datasets
Unified Batch and Stream Processing
Spark and Hadoop in the Cloud
Managed Databases, Object Storage and Archival
10
IBM Big Data
IBM Big Data offers its users the next generation architecture for big data and analytics that delivers new business insights while significantly reducing storage and maintenance costs. IBM data scientists break big data into four dimensions such as volume, variety, velocity and veracity. A company will be able to stay on top of all the changes including, Hadoop-based analytics, streaming analytics, warehousing (including Big SQL), data asset discovery, integration as well as governance.Companies will be able to gain industry-leading database performance across multiple workloads while lowering administration, storage, development and server costs by using IBM Big Data. Also, realizing extreme…
Overview
Data Management & Warehouse
Hadoop System
Stream Computing
Content Management
Information Integration & Governance
11
Flytxt
Flytxt's comprehensive data monetisation solutions help enterprises to personalise customer experience across digital touch points as well as increase revenue, optimise margins, and enhance loyalty.Flytxt has consistently delivered 2 to 7% economic impact to its customers with its full solution stack combining technology, packaged analytics, business applications, and enabling services. Flytxt's high-performance Big Data Analytics platform is designed to integrate Fast Data, Big Data for deriving deeper actionable insights. It follows a hybrid architecture combining scale out clusters running Hadoop with traditional RDBMS as a metadata store and an in-memory database for Real time transactional data processing. This architecture brings…
Overview
High Performance, Carrier Grade Platform.
Infinitely Scalable, Hybrid Architecture.
Real-time Analytics with Low Latency.
Continuous Insight Generation with Distributed Processing.
Advance Analytics-driven Internal Monetization Platform.
Business Objective Driven Applications.
Delivering 2-4% New Revenue Streams for Telcos.
12
Attivio Active Intelligence Engine
Attivio Active Intelligence Engine is a unified information access platform that brings together structured data and unstructured content by integrating and correlating all data and content with no advance data modeling. It provides advanced text analytics, intuitive, Google-like search for BI and integration with BI and data visualization tools. Active Intelligence Engine integrates structured data and unstructured content in a single index so it can be searched, manipulated and analyzed comprehensively. Both search queries and SQL can be used to retrieve data and AIE can be used to build business related applications including customer experience management, enterprise performance management, IT…
Attivio Active Intelligence Engine
13
Wavefront
Wavefront is a hosted platform for ingesting, storing, visualizing and alerting on metric data. It is based on a stream processing approach invented at Google which allows engineers to manipulate metric data with unparalleled power. Wavefront makes analytics easy, yet powerful. Our query language allows time series data to be manipulated in ways that have never been seen before. The language is easy-to-understand, yet powerful enough to deal with high-dimensional data. Wavefront can ingest millions of data points per second. Leveraging an intuitive query language, you can manipulate data in real-time and deliver on actionable insights. This helps to address…
14
Cloudera Enterprise Bigdata
Cloudera Enterprise Bigdata is powered by Apache Hadoop. Cloudera Enterprise is the fastest, easiest, and most secure modern data platform. From analytics to data science, anyone can now get results from any data and across any environment—all within a single, scalable platform.Cloudera Enterprise Bigdata offers limitless possibilities with the company's data. This includes powering data engineering and data science workloads, building an operational or analytic database, or looking to bring them all together in an enterprise data hub. Cloudera provides the right platform to fit users needs, users can bring their data engineers and data scientists together to build real-time…
Overview
Data Engineering
Analytic Database
Operational Database
Secure without Compromise
Easy to Manage
15
Palantir Bigdata
Palantir Bigdata builds data fusion platforms for integrating, managing, and securing any kind of data, at massive scale. On top of these platforms, Palantir Bigdata layer applications for fully interactive, human-driven, machine-assisted analysis. Palantir Bigdata offers 2 platforms that an enterprise can choose from, the Palantir Gotham and Palantir Metropolis.Palantir Bigdata's Gotham integrates, manages, secures, and analyzes all of the company's enterprise data. Palantir Gotham platform comprises a suite of capabilities for integrating many different data sources for secure, collaborative analysis. The platform serves as an enterprise knowledgebase, containing the full record of an organization's collective analysis. Instead of rigid…
Overview
Data Integration
Iteration and Collaboration
Custom Metric Development
Flexible Modeling
Privacy and Security Controls
Algorithmic Processing
16
Oracle Bigdata Analytics
Oracle Bigdata Analytics helps enterprises manage their organizations when it comes to the increasing amount of data that the world has to offer. Being able to create data strategy and approach is what Oracle Bigdata Analytics aims to provide their users. The program includes the ability to leverage the benefits of big data in the cloud, extend scalability, reliability, and resiliency across the entire environment and protect investments and skills in the era of big data and cloud.Oracle Bigdata Analytics provides solutions for business, industry and technology. Oracle's business data solutions address a range of customer needs including business analytics,…
Overview
Application Development and Systems Integration
SQL Cloud Service
Oracle Big Data Discovery
Oracle R Advanced Analytics for Hadoop
Business Intelligence Cloud Service
Data Visualization Cloud Service
Oracle Data Visualization Cloud Service US$75.00/Month
For other Oracle Products, visit website
17
DataTorrent
DataTorrent is the leader in real-time big data analytics. DataTorrent RTS provide high performing, fault tolerant unified architecture for both data in motion and data at rest. The engine provides a complete set of system services freeing the developer to focus on business logic. The platform is capable of processing billions of events per second and recovering from node outages with no data loss and no human intervention DataTorrent RTS is proven in production environments to reduce time to market, development costs and operational expenditures for Fortune 100 and leading Internet companies. DataTorrent RTS provides pre-built connectors for the most…
18
Qubole
Qubole Data Service is a comprehensive autonomous big data platform that self-optimizes, self-manages, and learns from usage through combination of heuristics and machine learning. Qubole Data Service is built for Data Ops, Analysts, Data Scientists, and Data Engineers. Qubole Data Service provides access to insights where clusters are automatically activated, scaled and terminated in response to user queries submitted via Notebooks, Workbench, third-party Business Intelligence tools via ODBC/JDBC integration, or API requests from external applications. Qubole Data Service also runs a persistent metastore which reduces cluster uptime. Qubole Data Service is a single platform for Machine Learning, Stream Processing, Ad-hoc…
Overview
• Cost efficiency
• SLAs & performance
• Productivity
• Ease of scale
• Eliminate vendor and technology lock-in
• Community Edition - Free
• Enterprise Edition – Subscription
• Qubole Cloud Agents - Subscription
19
Syncsort
Syncsort provides enterprise software that allows organizations to collect, integrate, sort and distribute more data in less time, with fewer resources and lower costs. Syncsort software provides specialized solutions spanning "Big Iron to Big Data," including next gen analytical platforms such as Hadoop, cloud, and Splunk. Syncsort offers fast, secure, enterprise grade products to help the world's leading organizations unleash the power of Big Data. With Syncsort, you can design your data applications once and deploy anywhere: from Windows, Unix & Linux to Hadoop; on premises or in the Cloud. Syncsort DMX-h was designed from the ground up for Hadoop…
Overview
Elevating performance & efficiency - to control costs across the full IT environment, from mainframe to cloud
Assuring data availability, security and privacy to meet the world's demand for 24x7 data access
20
MapR Converged Data Platform
The MapR Converged Data Platform integrates Hadoop, Spark, and Apache Drill with real-time database capabilities, global event streaming, and scalable enterprise storage to power a new generation of big data applications. The MapR Platform delivers enterprise grade security, reliability, and real-time performance while dramatically lowering both hardware and operational costs of its users' most important applications and data. MapR supports dozens of open source projects and is committed to using industry-standard APIs to provide a frictionless method of developing and deploying exciting new applications that can meet the most stringent production runtime requirements. It is composed of Enterprise-Grade Platform Services,…
Overview
High Availability
Real-Time
Unified Security
Multi-Tenancy
Disaster Recovery
Global Namespace
Self-Healing
Management & Monitoring
Converged Community Edition: Free
21
Hortonworks Data Platform
Hortonworks Data Platform is the industry's only true secure, enterprise-ready open source Apache Hadoop distribution based on a centralized architecture (YARN). Hortonworks Data Platform addresses the complete needs of data-at-rest, powers real-time customer applications and delivers robust analytics that accelerate decision making and innovation.Hortonworks Data Platform includes a versatile range of processing engines that empower users to interact with the same data in multiple ways, at the same time. This means applications can interact with the data in the best way: from batch to interactive SQL or low latency access with NoSQL. Emerging use cases for data science, search and…
Overview
Data Management
Data Access
Data Governance and Integration
Security
Cloudbreak
22
Amdocs Insight
Amdocs Insight puts together the full potential of big data with real-time analytics for powerful, relevant and actionable insights. Amdocs Insight drives efficiency through the business, ignite new revenues and improve the customer experience to ensure that the company will be able to have a better solution for all of their needs. Amdocs provides a carrier-grade, big data analytics solution that accumulates, manages and transforms service providers' data assets to deliver real-time, actionable business value. Some of the solution highlights from Amdocs Insight would be intimate knowledge of the relevant data and how it's driven from the different sources and…
Overview
Real-time Analytics
Amdocs Logical Data Model
Data Management
Personalized Marketing Offers
Modern Data Infrastructure Management
Analytical Applications Ecosystem
23
Splunk Bigdata Analytics
Machine data is one of the most underused and undervalued assets of any organization. But some of the most important insights that can be gained—across IT and the business—are hidden in this data. This includes where things went wrong, how to optimize the customer experience, the fingerprints of fraud. All of these insights can be found in the machine data that's generated by the normal operations of the organization.The Splunk Bigdata Analytics platform uses machine data—the digital exhaust created by the systems, technologies and infrastructure powering modern businesses—to address big data, IT operations, security and analytics use cases. The insights…
Overview
Splunk Analytics for Hadoop
Splunk ODBC Driver
Splunk DB Connect
Easy to Deploy and Use
Massively Scalable
Real-Time Alerts
Robust Security
24
Celebrus Technologies
Celebrus collects, contextualises and delivers data about how individuals are behaving across a brand's digital channels including websites, mobile apps, social and streaming media. The tagging-free software streams this online behavioural data in real-time, or near real-time, into the client's chosen target database or technology.Celebrus is the platform of choice for leading brands for whom customer-centricity is essential to success. These organisations understand the need to get a complete picture of individual customers across all channels, devices and time. Celebrus technologies is a software company which provide dataset that consist of customers information across digital channel such as mobile phones…
Overview
real-time (milliseconds) or <60 second data feeds. Individual customer's data .All data captured from web,mobile apps etc.
25
HPCC Systems Big data
HPCC Systems Big data is a powerful open source Big Data Analytics platform. It incorporates a software architecture implemented on commodity shared-nothing computing clusters to provide high-performance, data-parallel processing and delivery for applications utilizing Big Data. The HPCC Systems platform includes system configurations to support both parallel batch data processing (Thor) and high-performance data delivery applications using indexed data files (ROXIE). It also includes a high level and implicitly parallel data-centric declarative programming language for parallel data processing, called Enterprise Control Language (ECL). HPCC Systems STRIKE Platform Components include Scalable Automated Linking Technology which addresses most common data integration tasks…
Overview
Scalable Automated Linking Technology
Data Refinery Cluster
Rapid Data Delivery Cluster
Seamless Data Integration
Knowledge Engineering Language
Enterprise Control Language
26
Pachyderm
Pachyderm is data storage and processing platform, that fit into many different architectures. Pachyderm File System (pfs) is a Git for Data. Its like a Time Machine for your data with clear historical snapshots of how you data looked at different points in time. Pachyderm Pipeline System (pps) is a containerized processing engine for versioned data. Pachyderm is a data lake and can easily push data into many common data warehouses, including Amazon Redshift, Apache Hive, and Elastic Search. Pachyderm, you can take snapshots of your production databases so that you can revert back to any previous state if something…
27
Arcadia Data
Arcadia Data unifies data discovery, visual analytics and business intelligence in a single, integrated platform that runs natively on Hadoop clusters. Arcadia Data does not require coding and users can go straight to into big data with intuitive drag and drop self service interface which provides exploration and semantic modeling on breadth and depth of all business data. Arcadia Data allows working on multiple sources such as Hive, Impal, Postgres, Amazon Redshift, MySQL, Teradata Aster and much more. It's unique Active Data store models and tunes data structures continuously at Hadoop scale. Active Data automatically replaces sub-optimal curated schemas with…
Overview
•No Coding Required
•Connect With Multiple Sources
•Flexible Visual Builder
•Self-Optimizing Data Store
•Customization and Embeddability
•Data Embedding Across Sources
•On-Cluster Security
•Advanced Analytics
•Instant - FREE
•Enterprise - Annual Subscription – Contact
28
BigObject
BigObject is a solution provider that enables Smart Data Analytics (SDA). SDA platform addresses the new challenges raised by big and complex data. SDA platform also delivers responsiveness with patented In-Data Computing technology. It achieves smartness by transforming big and complex data into actionable insights. BigObject provides transformational in-data computing technology to enable users' data computing real time, at scale, and with high ease of use. Besides performance, BigObject Platform offers four overall values in analytic power, multi-model database, small footprint, and cost of ownership. BigObject can perform fast and smart queries with In-Data Computing technology where complex logics are…
Overview
• Add time-bounded sliding table.
• Enable SELECT on specified time window for sliding tables via LAST, SINCE, or BETWEEN clause.
• Add table sampling via FILTER BY SAMPLE clause.
• New aggregate function CORR.
• New functions DATEDIFF, CUT.
• Supports read only file system.
• Bug fixes.
29
Opera Solutions Signal Hub
Opera Solutions provides advanced analytics software solutions that address the persistent problem of scaling Big Data analytics.Signal Hub extracts and applies insights from the most complex data environments to address multiple business problems and opportunities, accelerating targeted business actions and radically reducing time-to-value. The Signal Hub platform touches hundreds of millions of consumers across many leading companies, with a specific focus on dramatically increasing revenue from existing customers while introducing new capabilities that drive competitive advantage. The key innovation behind Signal Hub is its ability to deliver data science at scale. The end-to-end platform automatically creates Signals, which can be…
Overview
•Signal Library.
•External Code Integration & Augmentation.
•Modeling Tools Plug-in. Interoperate with R, SAS, IBM SPSS, and other popular analytical tools
•Provides native visualization and extends that visualization to BI tools
30
Rubikloud
Rubikloud is a big data architecture that works on ingesting, cleaning and processing data from multiple sources at scale. Rubikloud accurately and securely manages billions of rows every day from real-time and batch sources of data. Rubikloud's sophisticated architecture empowers organizations to think forward and move faster.Rubikloud works on business intelligence, reporting, and analysis of data that comes from multiple sources. The availability of acquiring big data in the business requires it to be accurate at all times and this is what Rubikloud is providing it clients. After which, it provide access to a single view of all the disparate…
Overview
•Natural Language
•Complex Data Sets
•Intuitive Interface
•Trend Analysis
•Brand Perception
31
SAP Bigdata Analytics
SAP Bigdata Analytics introduces SAP HANA 2 which is an in-memory computing platform that lets its users accelerate business processes, deliver more business intelligence, and simplify IT environment. By providing the foundation for all of the company data needs, SAP HANA removes the burden of maintaining separate legacy systems and siloed data, so that the business can run live and make better business decisions in the new digital economy.On the other hand, application developers can also use SAP HANA 2 to deliver smart applications that leverage advanced analytic processing and empower all users which includes employees, customers, and partners; with…
Overview
Multi-tier storage
Database Services
Analytics Processing
App Development
Data Access
32
Next Pathway
Next Pathway's Cornerstone is a Big Data Management Platform that is metadata-driven ingestion product that is automated, reusable, extendable and flexible for ingesting data across the enterprise. Cornerstone is a self-service model that allows data producers to automatically ingest their data into the Enterprise Data Lake (EDL) and for consumers to analyze and report from a standardized enterprise zone. On the other hand, when it comes to Big Data Solutions, Next Pathway's Customer Event Lake solution enables an organization to gain a 360 degree view of their customers by combining historical customer data with streaming data sources, including click-stream and…
Overview
Big Data Management Platform
Security Framework
Metadata Management
Analytics
Customer Event Lake
Risk and Regulatory Reporting
33
CSC Big Data Platform
CSC Big Data Platform helps enterprises leap past the hurdles of business risks and operational efficiencies and be able to get value from their data much more quickly. With CSC BDPaaS, enterprises can rapidly develop, secure and deploy next-generation big data and analytics applications with a centralized, subscription-based platform that uses leading analytics tools, infrastructure and software. Deployed in the cloud or in the company's own data center, CSC Big Data Platform enables users to quickly implement a proven configuration of open-source technologies, so that the business can begin deriving value from its data in fewer than 30 days.CSC Big…
Overview
Real-Time, Streaming, and In-Memory Capabilities
Integrated Security and Audit Monitoring
Reduce Costs through Open-Source Applications
Protect Data with Multilayer Enterprise Security.
Ensure Full Compliance
Deliver Real-Time Visibility
34
Kognitio Analytical Platform
Kognitio Analytical Platform is a scale-out in-memory, massively parallel processing (MPP), not-only-SQL, software technology that is optimized for low-latency large volume data load and high-throughput complex analytical workloads. Kognitio is a pioneer in high performance, scalable Big Data analytics for Data Science & Business Intelligence. Building and deploying technology and services for over two decades, Kognitio continues to exceed client expectations, lead innovation and deliver production-grade installations for Big Data analytics. An intuitive, massively parallel in-memory platform, combining SQL and NoSQL, reading Big Data directly from existing persistence platforms such as Hadoop, DW and cloud, while integrating with business applications…
35
1010data
1010data is designed to deliver powerful insights on all of its users' data using a single, simplified system. It's democratic, flexible, and incredibly fast. Best of all, it puts the power of cutting-edge data and analytics in the hands of its users – delivering more to them and their teams. Users can load, transform and integrate data from any and all sources, including powerful third-party data sets available directly on the 1010data platform. They can then manage that data without all the usual hassles. Besides this, they can leverage interfaces tailored for every user type and system performance offering lightning-quick…
Overview
Data Acquisition & Management
Analysis & Modeling
Reporting & Visualization
Application Development
Data Sharing & Monetization
36
GE Industrial Internet
GE Industrial Internet leads the business to a new wave of productivity gains and performance optimization. GE has developed the Industrial Internet Maturity Model that has a unique five-step model that enables its users to Assess where the business is today on the spectrum of expected maturity or capabilities in terms of adopting the Industrial Internet, Determine where the business wants to be in the future and understand the best solution pathway to help the company achieve its business priorities. GE Industrial Internet provides the foundation to connect the company's machines and enables the collection of data from its own…
Overview
Connect – Proficy Historian
Monitor – QuickPanel+
Analyze – Proficy HMI/SCADA – CIMPLICITY
Predict – RtOI Intelligent Alarming
Optimize – Proficy CSense
37
DataStax Bigdata
DataStax Bigdata Enterprise accelerates the company's ability to deliver real-time value at epic scale by providing a comprehensive and operationally simple data management layer with a unique always-on architecture built on Apache Cassandra. DataStax Enterprise provides the distributed, responsive and intelligent foundation to build and run cloud applications. It offers advanced functionality designed to accelerate the user's ability to create intelligent and compelling cloud applications. Integrated within each node of DSE is powerful indexing, search, analytics and graph functionality. Users can write data once, and access it using a variety of workloads or access patterns, all from a single cohesive…
Overview
Advanced Indexing and Search
Multi-Model and Graph
Powerful Integrated Analytics
Advanced Security
DataStax OpsCenter
DataStax Studio
38
SGI Bigdata
SGI High Performance Solutions for Data Analytics helps users to unlock value at the speed of memory, with near limitless scale and mission-critical reliability using SAP HANA, Oracle Database In-Memory, and Apache Hadoop. SGI UV 300H is a model of the SGI UV 300 supercomputer designed for large or growing SAP HANA environments and enables running critical applications on SAP HANA including SAP Business Suite, SAP Bank Analyzer, SAP S/4HANA Finance, and other SAP S/4HANA applications. Currently SAP-certified from 4 to 20 sockets and 20TBs of computing capacity, the future-ready UV 300H is designed to scale seamlessly to 32 sockets…
Overview
Tackles highly complex data relationships using graph databases
Achieves time to value in seconds with other powerful analytic engines
Tackles batch analysis and extending volumes of unstructured and historical data
39
Teradata Bigdata Analytics
Teradata Bigdata Analytics together with their Analytics Business Consulting team helps identify high-impact opportunities that map to specific leverage points against business processes and goals, accelerating time to value through proven, intellectual property, technologies, and consulting methods. Paired with the Data Science expertise of their highly skilled analytic professionals and Teradata Analytic Solutions, businesses are able to uncover insights that deliver them to the point where transformational outcomes can be achieved.Teradata helps some of the world's most successful companies make sense of some of the largest, fastest and most complex data sets. From IoT strategy and architecture to analytics and…
Overview
Advanced Analytics
Teradata Integrated Data Warehouses
Teradata Aster Analytics
Teradata Cloud Data Warehousing and Analytics
Communications Compliance Analytic Solution
40
Intel Bigdata
Intel Bigdata is enabling the cost-effective adoption of big-data-and-analytics-driven business models that fuel innovation. With its architecture-based advanced analytics solutions, users can efficiently and effectively capture process, analyze, and store vast amounts of data of all types. Built in partnership with industry leaders in big data and analytics software, it's highly available, performance-optimized, open-standards-based solutions will support the enterprise's most ambitious analytics-driven initiatives.Intel Bigdata and its network of partners are working together to spread analytics adoption, helping organizations use the data center to generate innovation and discovery. This includes SAS, Sap and Cloudera. Intel and SAS work closely together to…
Overview
Big Data Advanced Analytics
Cloud Computing
Step Up Security
Network Transformation
Simplify Openstack Cloud Deployment
41
Guavus
Guavus provides CSPs, Cable & Media and Enterprise customers with an extensive portfolio of products for network planning, operations analytics, marketing analytics and IOT analytics. By correlating, fusing and analyzing streaming data from the network and enriching it with business operational data, Guavus is able to very quickly uncover actionable insights on a per network element, device and application level – all while complying with subscriber privacy policies. The result is a suite of next-generation analytically powered applications that have data science & machine learning built-in. Guavus operational analytics brings together network, machine and sensor generated data within the context…
Overview
Planning
Operations
Marketing
Internet of Things
42
HP Bigdata
HP Bigdata offers a proven and scalable enterprise-class analytics and APIs through their Big Data platform offerings so that users can deliver actionable insight from all of their data without any limits or compromises. It helps companies make unstructured data work for them. Users get advice from analysts, along with best practices for creating an unstructured data program that delivers real business value.HP Bigdata provides Checklists for Achieving Big Data Analytics Maturity. It has created a series of 4 checklist guides to help users assess their organization, infrastructure, data management, analytics, and governance and learn about best practices.HPE Vertica Advanced…
Overview
HPE Vertica Advanced Analytics
HPE IDOL
HPE Haven OnDemand
Big Data Analytics
SQL Analytics
43
Dell Bigdata Analytics
Dell Bigdata Analytics transforms businesses by making analytic-based decisions. Dell Bigdata Analytics' Statistica drives analytic-powered innovation to solve business challenges throughout organizations. Embed analytics everywhere to empower a wider community.Companies using Dell Bigdata Analytics will be able to leverage heterogeneous data environments, address the broadest range of Internet of Things (IoT) analytics requirements with Edge Analytics, provide citizen data scientists with streamlined data prep and analytic workflows for greater ease of use and increased efficiency and run any analytics, on any data, anywhere, to drive better decisions across the organization. Users are set to experience streamlined data preparation, network analytics…
Overview
Citizen UI
Network analytics and powerful data visualization
Edge Analytics for IoT
In-database analytics (NDAA)
Collective intelligence
44
Pivotal Bigdata
Pivotal Bigdata is a comprehensive Cloud Native platform for building the company's future. Its Microservices features lets the company's developers move faster with composable services designed for independent deployment, scaling and recovery. Offer developers a production-ready application container runtime and fully automated service deployments. Build applications as deployable containers then leverage distributed container scheduling to ensure the right workloads are running, and keep running.Pivotal Bigdata is an Open Source program that is built on the fully open source Cloud Foundry, backed by contributions from over 40 members of the Cloud Foundry Foundation. Cloud Foundry is an open source Platform as…
Overview
Microservices
Open Source
Continuous Delivery
Spring Cloud Data Flow
Lightweight API Gateway
45
Cisco Bigdata
Cisco Bigdata offers its users the ability to boost staff productivity, improve big data and analytics solution performance, drive efficiencies in IT operations and increase competitiveness by increasing time to market. Cisco UCS Integrated Infrastructure for Big Data and Analytics can quickly and efficiently deliver out-of-the-box performance while scaling from small to very large as the business and its big data and analytics requirements grow.With Cisco Bigdata's Unified Computing System, an enterprise can fine-tune their environment to support the unique needs of big data and analytics. At the same time, power all its data intensive workloads on a centrally managed,…
Overview
UCS Integrated Infrastructure for Big Data and Analytics
Unified Computing System
Unified Management
Cisco Validated Designs
Wide Integration Options
46
Mu Sigma Bigdata
Mu Sigma Bigdata helps organizations scale analytical problem solving from problem definition and mapping to analytical solution discovery and operationalization. It has created many software utilities, tools and Lego blocks that accelerate time to value, drive standardization and re-usability while ensuring better solutions across industries.Mu Sigma Bigdata's software complements rather than replaces a third party technology eco-system. It provides the necessary analytical value chain layer on the existing technology stack, improving the effectiveness of infrastructure investments made by Fortune 500 organizations. Mu Sigma works with a large number of third party technologies; it has also built components that fill key…
Overview
Computational Enablement
Intelligent Systems
Usability & Visualization
47
MicroStrategy Bigdata
MicroStrategy Bigdata is built to enable organizations to quickly deploy sophisticated analytical and security applications at scale. Its platform architecture is uniquely suited to deliver high performance applications and meet the business intelligence demands of every user and every organization. MicroStrategy Bigdata makes it easy to seamlessly connect to any enterprise resource, including databases, mobile device management (MDM) systems, enterprise directories, cloud applications, physical access control systems, and more. The MicroStrategy Bigdata platform empowers organizations to build applications that leverage big data and Hadoop distributions. All of the major Hadoop distributions are certified to work with MicroStrategy, and once connected,…
Overview
Ease of use
Enterprise readiness
Low total cost of ownership
Cloud Data
Enterprise Resource Planning
Web - $600 per named user
Mobile - $600 per named user
Architect - $5,000 per named user
48
Opera Solutions Bigdata
Opera Solutions Bigdata allows its users to transform Big Data analytics into a scalable operating capability to maximize the value of their data assets. Opera Solutions Bigdata's Signal Hub is an end-to-end Big Data analytics platform for large enterprises. It accelerates the process of extracting insights and intelligence from large volumes of data, including data of different types and in different formats. Signal Hub delivers unique value to data scientists and analytics professionals by compressing analytic development time and promoting understanding and reusability of existing analytic components, allowing organizations to more effectively meet the growing demand for usable Big Data…
Overview
Data Ingestion
Modeling Tools Plug-in
External Code Integration & Augmentation
Visualization Tools
External APIs
Third-Party Data Enrichment
49
Datameer
Datameer Professional, is a SaaS big data analytics platform targeted for department specific deployments. Datameer offering features leading Hadoop cloud providers Altiscale and Bigstep. Datameer simplifies the big data analytics environment into a single application on top of the powerful Hadoop platform. Datameer combines self-service data integration, analytics and visualization functionality that provides the fastest time to insights. Datameer simplifies the big data analytics process into a single self-service big data application on top of Hadoop, disrupting a multi-process system. With more than 70+ pre-built data connectors for any data type, size or source, a spreadsheet user interface, and over…
50
GoodData
The GoodData platform includes advanced distribution and product lifecycle management features to automate the process of maintaining one-to-many cloud deployments. GoodData provides a highly engaging guided analytic exploration experience that drives actionable insights by teaching users best practice techniques through recommendations inside the interface. GoodData's dashboards are responsive, mobile optimized, and include built-in alert, email and collaboration features to promote sharing across the organization GoodData provides groundbreaking BI for data monetization to enterprises, independent software vendors, and system integrators who seek to unlock the value of data for their business networks with engaging, one-to-many analytics. The intelligent analytics distribution platform…
Overview
• Deliver Packaged Analytics
• Accelerate Time-to-Market without Compromising Functionality
• Enable Hundreds of Thousands of Business Users to Operate on Massive Datasets
• Boost Security and Compliance
• Seamlessly Embed Analytics In-Context
• Deliver Powerful Analytics
• Technical Capabilities
• Free version
•Growth- 200 per year per customer
•Enterprise- Contact for Pricing
51
Pentaho Big Data Analytics
Pentaho Big Data Analytics provides big data tools to extract prepare and blend user's data, plus the visualizations and analytics that will change the way a company runs its business. From Hadoop and Spark to NoSQL, Pentaho allows users to turn big data into big insights. Pentaho Big Data Analytics offers full array of analytics such as data access and integration to data visualization and predictive analytics. It empowers users to architect big data blends at the source and stream them directly for more complete and accurate analytics. Users are given the ability to spot check data in-flight with immediate…
Overview
Blended Big Data Analytics
Broad and Adaptive Big Data Integration
Simplify Hadoop Data Integration and Analytics
Interactive Analysis, Reporting, Visualization and Dashboards
52
FICO Big Data Analyzer
FICO Big Data Analyzer, is a purpose-built analytics environment for a new generation of data professionals. Big Data Analyzer empowers a broad range of users to collaboratively explore data and discover new insights from any type and size of data on Hadoop. FICO Big Data Analyzer, provides features to ingest your own data, explore, query and visualize data, find and re-use analytic assets, wrangle big data for predictive and prescriptive modeling, export insights for downstream decisions and services and empower data and business teams to collaborate. FICO Big Data Analyzer closes the loop between data exploration and insight discovery with…
53
Opera Solutions Signal Hubs
Opera Solutions Signal Hubs : Opera Solutions Signal Hubs are domain specific collections of Signals along with the technology required to continually extract, store, refresh, and present selected Signals and recommended Best Actions. The Signal Hub employs machine learning to glean and drive insight. It ingests data from both inside and outside the enterprise, extracts the Signals, executes predictive models, and provides secure real-time access to all the resulting Signals. Opera Solutions Signal Hubs are Consumer Finance & Risk Signal Hub, Customer Signal Hub, Global Markets Signal Hub, Insurance Claims Signal Hub and Product Signal Hub, Collections Recommender Engine ,…
54
Actian Analytics Platform
Actian Analytics Platform provide users faster and deeper insight and reduce analytic workloads and enable business users to maximize the value of historical data and make more informed business decisions. Actian Vector makes performance so fast, you can get into production quickly without the need for OLAP cubes, schemas and complex builds of aggregations. Actian Analytics Platform run complex queries against billions of records in just seconds, deploy BI projects faster without risky, complex and costly data warehouse projects and use half the cores, experience one-quarter the cost, and twice the performance of traditional solutions. Actian Analytics Platform accelerates the…
Overview
•Vectorized Query Execution
•Maximizing CPU cache for execution
•Other CPU Optimizations
•Column-Based Storage
•Data Compression
•Positional Delta Trees (PDTs)
•Easy data migration
•Storage Indexes
You may also like to review the Top Graph Databases :
Top Graph Databases
You may also like to review the Top In Memory Data Grid Applications :
Top In Memory Data Grid Applications
You may also like to review the Top Open Source Big data Enterprise Search Software :
Top Open Source Big data Enterprise Search Software
You may also like to review the List of Security Event Management and Log Analysis Software
List of Security Event Management and Log Analysis Software