Review
Celebrus Technologies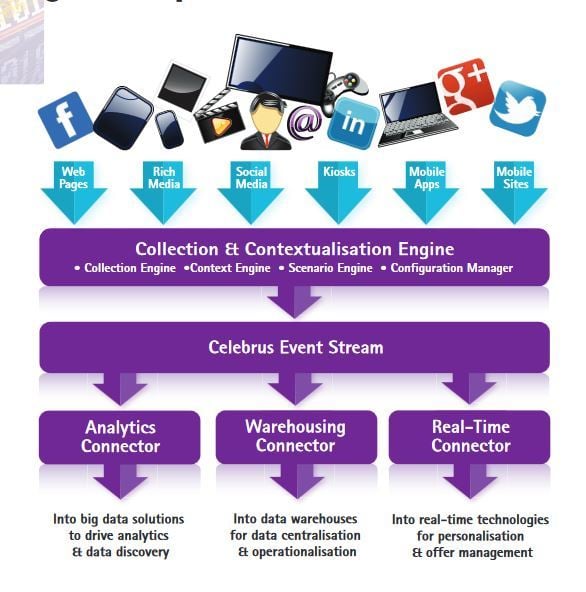 Overview
The Celebrus v8 big data engine is a ground-breaking digital big data technology that captures, contextualises and delivers real-time data about individuals' behaviours across a brands' digital channels including websites, mobile apps, social and streaming media
real-time (milliseconds) or <60 second data feeds. Individual customer's data .All data captured from web,mobile apps etc.
Small (<50 employees), Medium (50 to 1000 Enterprise (>1001 employees)
Celebrus collects, contextualises and delivers data about how individuals are behaving across a brand's digital channels including websites, mobile apps, social and streaming media. The tagging-free software streams this online behavioural data in real-time, or near real-time, into the client's chosen target database or technology.Celebrus is the platform of choice for leading brands for whom customer-centricity is essential to success. These organisations understand the need to get a complete picture of individual customers across all channels, devices and time. Celebrus technologies is a software company which provide dataset that consist of customers information across digital channel such as mobile phones using particular mobile app captures customer behavior by telling which is the most visited links ,keep track of customer's click etc ,streaming media also gives brief customer behavior by telling an organization about viewer of streaming media(youtube) etc .Celebrus technologies not only provide group of customer behavior but also provide individual customer data also it gives deep customer understanding ,not the latest trend. celebrus tells customer's insights on numerous parts of business ,including marketing ,finance ,product development .Celebrus keeps business ahead of competition by keeping business updated .All these services provided by celebrus increases sales by reading customer behavior, gives brand loyalty by bringing satisfaction to customers , reduces cost of marketing budgets. Celebrus Helps analyze individual customer behavior over web which increase sales and customer experience .Provide services to satisfy customer and improve cost .celebrus dataset engine are so powerful that they response within a minute irrespective of the size of the data needed by an organization about individual customers.