Review
GE Industrial Internet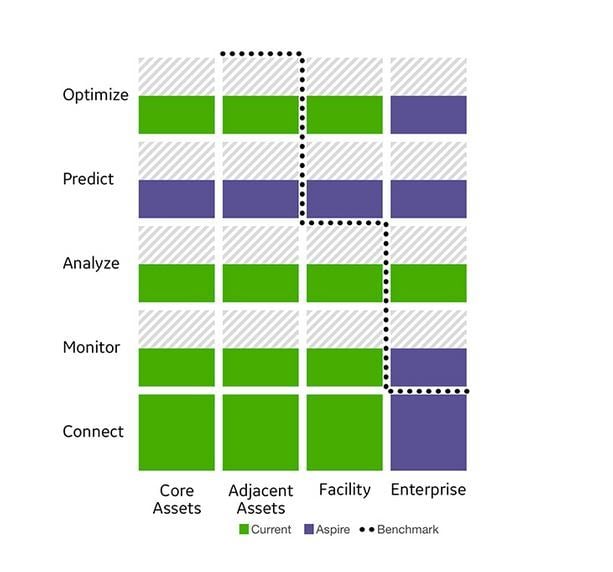 Overview
GE is a leading provider of automation and controls technology and services for power generation, distribution and adjacent applications across industry.
Connect – Proficy Historian
Monitor – QuickPanel+
Analyze – Proficy HMI/SCADA – CIMPLICITY
Predict – RtOI Intelligent Alarming
Optimize – Proficy CSense
Small (<50 employees), Medium (50 to 1000 Enterprise (>1001 employees)
GE Industrial Internet leads the business to a new wave of productivity gains and performance optimization. GE has developed the Industrial Internet Maturity Model that has a unique five-step model that enables its users to Assess where the business is today on the spectrum of expected maturity or capabilities in terms of adopting the Industrial Internet, Determine where the business wants to be in the future and understand the best solution pathway to help the company achieve its business priorities. GE Industrial Internet provides the foundation to connect the company's machines and enables the collection of data from its own assets and processes as well as management of that data to derive value. It's what the company needs to collect, store, and manage its industrial big data for unprecedented operational and process visibility. It's the foundation from which they can leverage higher-level analytics.With GE Industrial Internet's monitoring, data inputs to the historian can be presented in real-time visual form at the human machine interface (HMI), providing a window into the company's operations. Users can precisely monitor and control processes and equipment, and make informed decisions for better, faster troubleshooting and control. By analyzing, this helps determine the root cause of issues based on historical and real-time data so that users understand relationships, correlations, and trends, and can effectively troubleshoot problems.
GE Industrial Internet's predict is the 4th step of the model where in it focuses on providing foresight into impending problems so that the business can avoid issues before they occur and drive greater process consistency and asset uptime. By using advanced predictive analytics and diagnostics, users will be able to monitor all critical assets automatically and continuously, 24 x 7. And as a final step, GE Industrial Internet maximizes the performance potential of the assets and processes to achieve its desired outcomes and leverage the benefits of the Industrial Internet.