Review
Mu Sigma Bigdata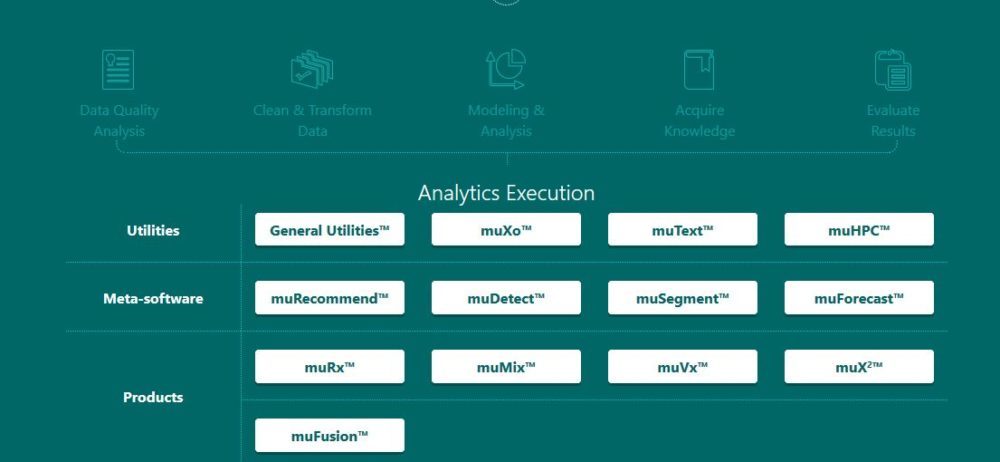 Overview
Mu Sigma has been consistently validated as the preferred Decision Sciences and analytics partner and provide an integrated decision support ecosystem of products, services and cross-industry best practice processes transforming the way decisions are enabled in enterprises.
Computational Enablement
Intelligent Systems
Usability & Visualization
Small (<50 employees), Medium (50 to 1000 Enterprise (>1001 employees)
Mu Sigma Bigdata helps organizations scale analytical problem solving from problem definition and mapping to analytical solution discovery and operationalization. It has created many software utilities, tools and Lego blocks that accelerate time to value, drive standardization and re-usability while ensuring better solutions across industries.Mu Sigma Bigdata's software complements rather than replaces a third party technology eco-system. It provides the necessary analytical value chain layer on the existing technology stack, improving the effectiveness of infrastructure investments made by Fortune 500 organizations. Mu Sigma works with a large number of third party technologies; it has also built components that fill key gaps in the analytics marketplace.Mu Sigma Bigdata's Innovation Lab researches, prototypes, and helps deploy the next generation analytics solutions. It's an open model, in collaboration with academia, customers and technology providers to innovate in three areas. These are computational enablement, intelligent systems and usability and visualization.Mu Sigma Bigdata make informed decisions by Scalable Analytics, Big Data & NoSQL technologies, GP-GPU, & High Performance Computing, Analytics as a Service and the Cloud, Open Source Maturity, Data Model Disruption, ETL vs. ELT and Collaboration and Re-Use.It also provides better insights via smarter tools. This includes Real Time Analytics and Event Streams, Operational Analytics, Experiments in the Enterprise and the Quasi and Intelligent Search & Agents. When it comes to Usability & Visualization, Mu Sigma Bigdata focuses on Improved Data Visualization & Aesthetics, Dashboards, Graph Analytics sparked by Social Data, Graph Analytics sparked by Social Data and Computational Geometry enabled by Big Data Technology.