Top 22 Security Information and Event Management Software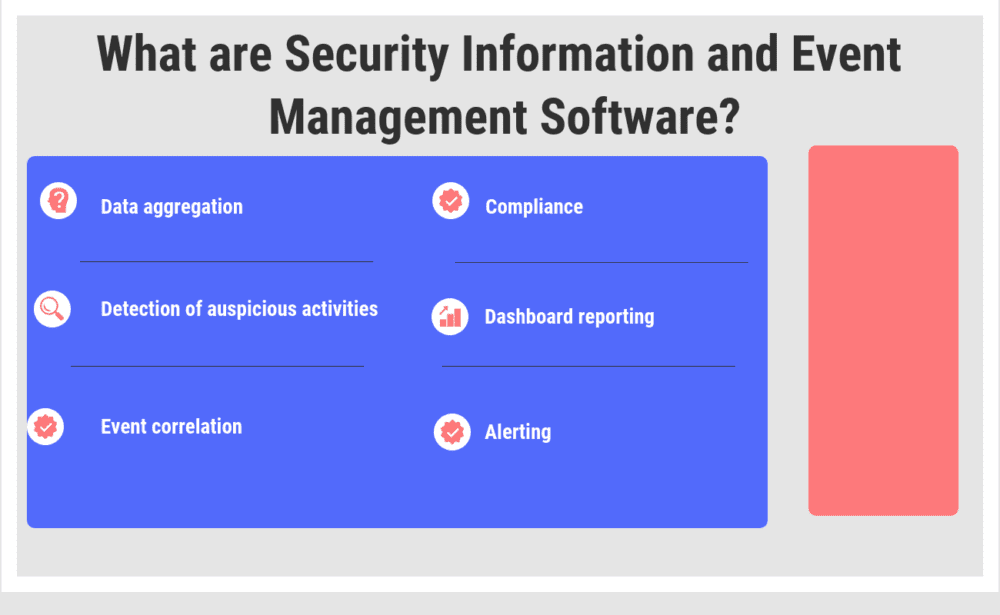 Security Information and Event Management Software combine the Security Information Management (SIM) and Security Event Management (SEM) functionalities and features. Security Information and Event Management Software provide real-time analysis of security alerts generated by network hardware and applications.
Security Event Management (SEM) Software provides with real-time monitoring, correlation of events, notifications and console views. Security Information Management (SIM) provides the long-term storage as well as analysis, manipulation and reporting of log data and security records of the type collated by Security Event Management (SEM) Software.
In the current technical era, computer security has become one of the most observed priorities by most businesses, both big and small. There is a need to protect your company's data and other computer software to avoid cyber-attacks that often lead to loss, destruction or interference with data and misdirection of company services. Such incidences may interfere with operations by slowing them down or even lead to business closure altogether.
Security Information and Event Management (SIEM) software becomes indispensable in such efforts to safeguard your company's databases and networks. It helps your computer software team detect any breaches and handle them before the situation accelerates. SIEM also helps them counter incidences promptly and efficiently; during such attacks, it is easy to identify which hosts are affected and initiate an automated protocol to stop it or minimise its effect. Additionally, it helps to manage security events through centralized logging.
What are the Top Security Information and Event Management Software: Splunk, LogRhythm, BlueTalon, AlienVault, IBM QRadar, ArcSight ESM, Tenable, Sumo Logic, SolarWinds, RSA NetWitness, VMware Log Insight, WatchGuard, EventTracker, Loggly, Xpolog, Logscape, Trustwave, McAfee Enterprise Log Manager, Sesage, NetIQ, EiQ Networks, Symantec are some of the top Security Information and Event Management Software.
What are Security Information and Event Management Software?
Security Information and Event Management Software provides tools for enterprise data networks to centralize the storage, interpretation and analysis of logs, events, generated by other software programs running on the network.The product capabilities include gathering, analyzing and presenting information from network and security devices, identity and access-management applications, vulnerability management and policy-compliance tools, operating-system, database and application logs and external threat data.
SIEM software is a combination of Security Information Management (SIM) and Security Event Management (SEM). The resulting computer program uses artificial intelligence to detect and counter potential threats on important business computer networks by normalising data and threat prioritisation.
It gathers security data from many systems installed in that regard such as anti-virus applications and firewalls which is then critically analysed through a centralised system. Its primary purpose is to relay important intelligence on any activities that threaten computer security and manage such vulnerabilities promptly to protect the business and customers from cyber-attacks.
The SIEM process starts with collection and aggregation of log data that is generated from the company's host systems and security applications. The software then identifies, categorises and analyses the data to create reports on security incidences and events, and send alerts if any anomalies from the expected or set procedures are found.
Data aggregation: The log management function of Security Information Management (SIM) enables the system to collect, aggregate and retain log data from different sources such as the company's host systems, firewalls and anti-virus applications.
Compliance: SIEM is designed to run its processes of gathering data, analysing it and producing reports in conformity to the set or current security procedures, governance requirements and auditing processes.
Detection of auspicious activities: As mentioned earlier, this is the primary function of the software. It detects any suspicious activities and provides alerts that enable the computer software and network management team deal with them promptly.
Dashboard reporting: SIEM can report event and incidence data in the form of charts and other visual representations that provide information on, or help in identifying patterns.
Event correlation: After collecting data, the software characterises and gathers it into groups or bundles with common It enables the use of correlation techniques while integrating data from different sources which makes the information easier to understand.
Alerting: When threats are detected, SIEM generates and sends alerts to the relevant parties. The notifications can be displayed on the dashboard or transmitted through third-party means such as emails.
Data aggregation : aggregates data from many sources
Correlation: links events together into meaningful bundles for common attributes
Retention: long-term storage of historical data
Forensic analysis: ability to search across logs
Top Security Information and Event Management Software
Splunk, LogRhythm, BlueTalon, AlienVault, IBM QRadar, ArcSight ESM, Tenable, Sumo Logic, SolarWinds, RSA NetWitness, VMware Log Insight, WatchGuard, EventTracker, Loggly, Xpolog, Logscape, Trustwave, McAfee Enterprise Log Manager, Sesage, NetIQ, EiQ Networks, Symantec are some of the top Security Information and Event Management Software.
Top Security Information and Event Management Software
PAT Index™
1
Splunk
Splunk is the ultimate platform for digital transformation. If there's gold in log files, Splunk will help you to find it. Splunk bridges the gap between simple log management and security information and event management products from vendors such as ArcSight, RSA, Q1 Labs and Symantec. Splunk lets the user gather log data from systems and devices, and run queries on that data to find issues and debug problems. Splunk's capabilities also include reporting and alerting, pushing it ever-so-slightly into the world of SIEM. What separates out Splunk from the world of Syslog servers and SIEM tools is Splunk Apps,…
Overview
Collect, search, and index data
Analysis, reporting, and visualization
Automatically detects strange data patterns
Real-time monitoring
Custom user interfaces
Operational visibility on all environments
Adaptable to any organization
Free for certain features.
2
LogRhythm
The LogRhythm Security Intelligence Platform is a security information and event management (SIEM) product for enterprise use. It is used to collect security event log data from software throughout an enterprise, including network security controls, operating systems and user applications. The SIEM tool analyzes the data to identify possible signs of malicious activity so humans or automated processes can stop attacks in progress or help recover from successful attacks. SIEM platforms such as LogRhythm's also generate detailed reports on security events that can be used to document compliance with security regulations, laws and other requirements. LogRhythm's SIEM platform is available…
Overview
Threat management
User behavior analytics
Network threat detection
Endpoint threat detection
Cyber crime detection
Threat intelligence
3
BlueTalon
BlueTalon is a leading provider of data-centric security for Hadoop, SQL, and big data environments deployed on-premises or in the cloud. BlueTalon is used to control the data and give users access to the data they need, not a byte more, while gaining unparalleled flexibility in the deployment of data resources. The BlueTalon Policy Engine provides precise authorization, fine-grained filtering, dynamic data masking, stealth analytics and auditing across applications and enterprise data stores. BlueTalon has architected its data control solution to provide a unified approach to policy management that brings the right level of control and consistency across the enterprise,…
4
AlienVault
AlienVault Unified Security Management (USM) is a comprehensive approach to security monitoring, delivered in a unified platform. The USM platform includes five essential security capabilities that provide resource-constrained organizations with all the security essentials needed for effective threat detection, incident response, and compliance, in a single pane of glass. AlienVault unifies all essential security tools in one location and combines them with real-time threat intelligence. Within minutes of installing AlienVault USM Anywhere or USM Appliance, the built-in asset discovery will find and provide visibility into the assets in AWS, Azure, and on-premises environments. Users will be able to discover all…
Overview
• Asset Discovery & Inventory
• Vulnerability Assessment
• Intrusion Detection
• Behavioral Monitoring
• Siem & Log Management
5
IBM QRadar
IBM QRadar SIEM detects anomalies, uncovers advanced threats and removes false positives. It consolidates log events and network flow data from thousands of devices, endpoints and applications distributed throughout a network. It then uses an advanced Sense Analytics engine to normalize and correlate this data and identifies security offenses requiring investigation. As an option, it can incorporate IBM X-Force Threat Intelligence which supplies a list of potentially malicious IP addresses including malware hosts, spam sources and other threats. QRadar SIEM is available on premises and in a cloud environment.Optimize threat detection and compliance reporting by reducing billions of events and…
Overview
Sense analytics
Platform-unified visibility
Scale power
Advanced and persisten threat detection
Insider threat detection
Critical data protection
Free trial. Contact for further pricing details.
6
ArcSight ESM
ArcSight Enterprise Security Manager (ESM) is a comprehensive threat detection, analysis, triage, and compliance management SIEM platform that dramatically reduces the time to mitigate cyber-security threats. ArcSight allows security teams to move from enriched event data, to powerful real-time correlation, use workflow management and security orchestration, and to triage advanced persistent threats to mitigation and resolution. With ESM, the event variables and information that is collected, gets enhanced and enriched to provide more than 400+ individual and specific data points. ESM allows for the collection of data and real-time correlation of events to accurately escalate threats that violate the internal…
Overview
Enriched security event data
Powerful real-time data correlation
Workflow automation and security orchestration
Multi-tenancy and unified permissions matrix
Free lite version. Contact for further pricing details.
7
Tenable
Tenable lets users gain intelligent visibility with the first cloud-based VM platform built for today's dynamic IT assets – like cloud, containers and web apps. It lets users view and track all of user resources with unmatched accuracy – even dynamic IT assets like cloud, containers and web apps. It lets users leverage numerous pre-built integrations and quickly build new ones to enhance user vulnerability management program. It lets users benefit from a unique, customer-friendly licensing approach, measured by assets, instead of IP addresses. Tenable.io delivers multiple applications to solve user toughest security challenges, such as vulnerability management, container security,…
Overview
• Web Application Scanning
• Container Security
• Vulnerability Management
$2,190.00/50 assets
Pricing is based on number of assets. Free trial also available
8
Sumo Logic
Sumo Logic simplifies how you collect and analyze machine data so that you can gain deep visibility across your full application and infrastructure stack. With the Sumo Logic service, you can accelerate modern application delivery, monitor and troubleshoot in real time and improve your security and compliance posture. Users can build, run and secure their AWS, Azure or Hybrid applications with Sumo Logic, a cloud-native, machine data analytics service for log management and time series metrics. One platform for real-time, Continuous Intelligence. Gain real-time operational and security insights. The user can also monitor, secure and troubleshoot your modern/cloud applications and…
Overview
Detect and predict
Alert and notify
Monitor and visualize
Search and Analyze
Collect and centralize
Lite version for free. Contact for more pricing details.
9
SolarWinds
Easy to deploy SIEM virtual appliance provides real-time, in-memory event correlation, active responses, file integrity monitoring, threat intelligence, and USB device monitoring.Collect log data from the systems, applications, and network devices that you care about using syslog, SNMP traps, or agents. Supported log sources. It provides 11 Products on Network Management; 4 Products on Systems Management; 4 Products on IT Security; 2 Products on Database Management; 4 Products on IT Help Desk and 4 Products on Monitoring Cloud. Users can Solve problem today and decide to buy later. Users can download anything free, deploy and start problem solving in about…
Overview
• Fix it now
• Scale to any size
• Access to industry-leading support
• Tools inspired by people just like you
10
RSA NetWitness
Organizations can deploy RSA NetWitness Logs & Packets across diverse network typologies and geographies, and scale it according to their data capture and performance requirements. It recreates full sessions (web browsing, FTP, email, etc.) so that analysts can literally see what happened during an attack (including what was stolen during an exfiltration) and identify root causes. Its automated behavior analytics provides insight into attacker tactics, techniques and procedures as they execute their attacks. RSA NetWitness Logs & Packets is Flexible, Scalable Architecture that Consists of three components which can be deployed virtually, on premise, in the cloud or using a…
Overview
• Flexible, Scalable Architecture
• No Stone Unturned
• Real-Time and Historical Analysis
• Identifies Advanced Threats and Multiple Use Cases
11
VMware Log Insight
vRealize Log lnsight delivers heterogeneous and highly scalable log management with intuitive, actionable dashboards, sophisticated analytics and broad third-party extensibility. It provides deep operational visibility and faster troubleshooting across physical, virtual and cloud environments. vRealize Log Insight also promotes Rapid Troubleshooting and Root Cause Analysis by delivers innovative indexing and machine learning based Intelligent Grouping to enable high performance searching for faster troubleshooting across physical, virtual and cloud environments. Create Structure from Unstructured Data. It collects and automatically identifies structure in all types of machine-generated log data (application logs, network traces, configuration files, messages, performance data, system state dumps, etc.)…
Overview
Universal Log Collection and Analytics
Enterprise-class scalability
Intuitive GUI and Easy Deployment
Built-in vSphere Knowledge
Integration with vRealize Operations
12
WatchGuard
ThreatSync is WatchGuard's new cloud-based correlation and threat scoring engine, improving security awareness and response across the network to the endpoint. ThreatSync collects event data from the WatchGuard Firebox, WatchGuard Host Sensor and cloud threat intelligence feeds, and correlates this data to generate a comprehensive threat score and rank based on severity. The lightweight WatchGuard Host Sensor extends visibility and management to the endpoint and continuously sends endpoint events up to ThreatSync for correlation and scoring. The Host Sensor detects events, sends the data to ThreatSync and enables the remediation of threats on the endpoint.WatchGuard Threat Detection and Response (TDR)…
Overview
Provides visibility and correlation of network and endpoint activities
Scoring and prioritisatization
Improves security from advanced malware attacks, including ramsonware
Extends enterprise-grade threat intelligence to small and midsize business at no additional cost
Free trial. Contact for further pricing details.
13
EventTracker
EventTracker provides a custom-fit SIEM-as-a-service on top of award-winning security management platform. Comprehensive protection through an adaptive security architecture integrating prediction, prevention, detection and response by integrating these capabilities in a single solution, effectiveness is increased and cost is decreased. The security mindset shifts from "incident response" to "continuous response," wherein systems are assumed to be compromised and require continuous monitoring and remediation. Study global and community threat intelligence anticipate new attack types, proactively prioritize and address exposures. This intelligence is then used to feed back into the preventive and detective capabilities, thus closing the loop on the entire process.…
Overview
• Dedicated Analyst Team
• Threat Intel Integration
• Vulnerability scan
• Forensics
• Endpoint Threat Detection
14
Loggly
The Loggly service integrates into the engineering processes of teams employing continuous deployment and DevOps practices to reduce MTTR, improve service quality, accelerate innovation, and make better use of valuable development resources. Move from reactive to proactive real-time log monitoring and view app performance, system behavior, and unusual activity across the stack. Monitor key resources and metrics, and eliminate small issues before they turn into big problems. Trace issues down to their root cause by analyzing them in the context of the entire stack. See how your components interact, identify correlations, and share findings with experts across team boundaries to…
Overview
Configuration management
Databases
Datacentre infrastructure
Web services
Containers and microservices
Free lite version. Contact for further pricing details.
15
Xpolog
XpoLog Center is an End-To-End solution for log management and log analysis. Every single computing device and application in your organization generates log events. Some of the most critical and private information in your organization is stored in the endless haystacks of logged data. Log events contain valuable information on network errors, security risks, application problems, abuse of systems, frauds and more. Log events are characterized by unstructured data, hysteric generation ratio and usually it is very difficult to access logs scattered across the network. These problems make it impossible to efficiently correlate logs, track system problems, fix malfunctions and…
Overview
Unique agent-less technology over SSH
Real time log events collection
any lof file format
High availability grid
Free trial. Contact for further pricing details.
16
Logscape
Logscape is a big-data analysis tool. Using the user's logs and other data, Logscape produces clear dashboards and provides real-time alerts. All data is indexed on your system, whether locally, or using a centralised index store. Once indexed the user can search the entire stack for a single term, or use precise functions and filters. Logscape is deployed on your infrastructure and provides a straight forward web interface, with enterprise ready access controls. Put simply, it's an application that allows the user to run distributed searches across all the disparate log data your applications, containers, infrastructure and OS are producing.…
Overview
Logscape manager
Forwarder
Local indexer
Central index store
Share expert knowledge
Interactive search and discovery
Analyse each event in details
Integrate with third party services
Free lite version. Contact for further pricing details.
17
Trustwave
Trustwave provides enterprises of all sizes broad, effective and achievable security against constantly changing advanced threats. Trustwave offers a comprehensive and flexible portfolio to meet the demands of BYOD and mobility so organizations can keep their data safe as their perimeter expands. Trustwave Secure Mobility Platform delivers integrated security and compliance monitoring to help organizations of all sizes proactively protect and defend their fleet of mobile devices. Applications remain a preferred vector for cyber criminals. Trustwave application security solutions ensure user applications are tested for weaknesses, remain resilient and can withstand attack. Trustwave content security solutions help keep user network…
Overview
• Threat Management
• Vulnerability Management
• Compliance Management
18
McAfee Enterprise Log Manager
McAfee Enterprise Log Manager collects, compresses, signs, and stores all original events with a clear audit trail of activity that can't be repudiated. It boasts of four features such as the Comprehensive log collection and management which is a Universal event log collection and retention that meets compliance requirements and supports chain of custody and forensics; the Flexible storage which Adapts storage and retention appropriate to each log source and which also stores logs locally or via a managed storage area network; the Rich context for analysis which Leverages built-in event log management, analysis, and search functions; and the Integrated…
Overview
• Comprehensive log collection and management
• Flexible storage
• Rich context for analysis
• Integrated with your infrastructure
19
Sesage
Ignite's SenSage AP and SenSage Insider Threat allow organizations to build or buy industrial strength applications that allow enterprises to use the information their systems are already generating to meet business-critical goals such as fraud detection, insider threat behavior analysis, and regulatory compliance.Ignite's SenSage AP is a powerful Event Data Warehouse (EDW) that enables advanced data analysis, detailed forensics and ad hoc investigations on a wide variety of data formats at very large scale. The only EDW designed specifically for event data, it collects and stores more data, from more sources, over longer periods of time – years or even decades – so that you…
Overview
• NuView Core HRMS
• NuView Talent Management
• NuView CORT Payroll
• Acorn Shared Services Manager
• Acorn Performance Analyzer
• Infobright DB
• VersataBRMS
• ETI Solution
• ObjectStore
• Gensym G2
• SenSage AP
20
NetIQ
NetIQ offers broad portfolio of solutions helps you manage the complexity of hybrid environments to ensure that the right people have the right level of access to the IT services they need, whenever they need them. With NetIQ, you can incorporate new technologies and services more securely, faster and with less effort. And our solutions help you understand what is going on in your environment—in real time—so you can mitigate risk while still taking advantage of opportunities. Microfocus NetIQ offers the cloud which fundamentally changes the way that new IT services are rolled out. Today, it is easier than ever…
Overview
• Identity and access management
• Security management
• IT operations management
• Disaster recovery
• Workload migration
• Unified communications/VoIP
21
EiQ Networks
EiQ's SOCVue Security Monitoring combines SIEM and Log Management, and Machine Learning with security best practices and global SOC teams to deliver 24x7 threat detection, continuous security intelligence, analysis and notification, proactive remediation guidance, and compliance auditing. With EiQ's SOCVue Vulnerability Management, the SOC team will deploy and manage Qualys VM to identify user user vulnerabilities, prioritize fixing vulnerabilities based on business risk and level exposure, and deliver guidance on fixing vulnerabilities. EiQ's SOCVue Patch Management service is a cloud-based security as a service that scans user Windows and Linux systems and third-party applications for missing patches, provides centralized repository…
Overview
• Security Monitoring
• Vulnerability Management
• Patch Management
• Co-Managed SIEM and Log Management (Splunk Enterprise Security)
22
Symantec
Symantec Cloud Workload Protection provides automatic and elastic cloud-native security for AWS and Azure workloads, enabling business agility while integrating security into DevOps service workflows. Symantec Data Center Security provides complete server protection, monitoring, and workload micro-segmentation for private cloud and physical on-premises data center environments.Automatic and elastic cloud-native security for AWS and Azure workloads, enabling business agility while integrating security into DevOps service workflows.Scalable, high-performance malware detection and prevention for cloud services, NAS devices, and SharePoint servers.Symantec Corporation helps organizations, governments and people secure their most important data wherever it lives. Organizations across the world look to Symantec for…
Overview
Simplify queries and reporting of log data
Minimize additional storage requirements
Monitor logs to detect malicious or unauthorized activity
Manage log data to meet IT risk and compliance requirements related to log retention
Proactively consolidate log data