Best 21 User and Entity Behavior Analytics Software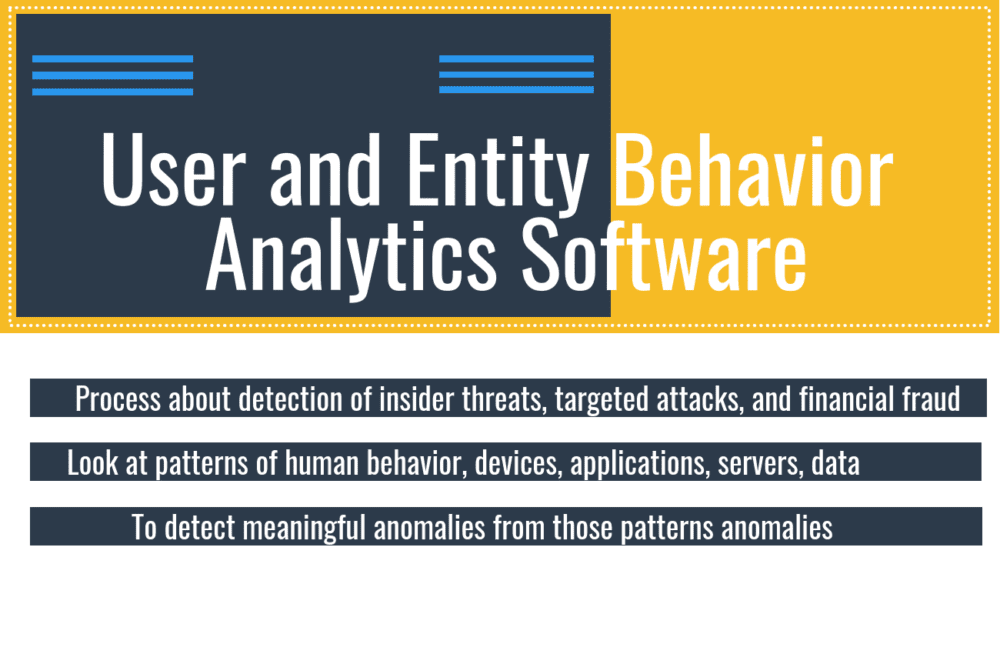 Any functional organization is prone to threat attacks. These attacks can either be from within or from outside the organization. Attacks from within the organization are commonly referred to as insider attacks. Insider attacks can be very costly for an organization thus it is important to put in measures to avoid such an occurrence. In many instances, insider attackers target personal information stored in the organization which is later used for either financial or personal gain.
How can you guard your organization against such threats? You need to have relevant data that will help predict with certainty the likelihood of an attack happening. That's what user behavioral software is meant for.  The software helps to collect data that gives an overview of how a typical user behaves. This data then assists in identifying unusual or suspicious behaviors. With such information, you can easily predict if there is a looming threat and take necessary precautions on time.
What are the Best User and Entity Behavior Analytics Software: Cynet, Exabeam, Microsoft Advanced Threat Analytics, Dtex Systems, Bay Dynamics, Securonix, ObserveIT , Content Square, HPE Security ArcSight, Rapid7, Fortscale, Gurucul Risk Analytics, LM WISDOM, Niara, Bottomline Technologies, Interset, LightCyber, E8 Security, INTERLOCK, Preempt , TRITON APX Suite, StealthDEFEND are some of the best Best User and Entity Behavior Analytics Software in alphabetical order.
What are User and Entity Behavior Analytics Software?
User and Entity Behavior Analytics process about detection of insider threats, targeted attacks, and financial fraud. UBA solutions look at patterns of human behavior, devices, applications, servers, data, or anything with an IP address and then apply algorithms and statistical analysis to detect meaningful anomalies from those patterns anomalies that indicate potential threats. User and entity behavioral analytics (UEBA) technologies help detect malicious and abusive user activities that may otherwise go unnoticed.
User behavioral analytics software is a system that mainly focuses on user activities such as the launching of new apps, activities on your network, and any access to the stored files. The system checks on when the files were accessed, who accessed them, and what activity was carried on. It also monitors the frequency of access to the files.
The technology is also able to detect any pattern that portrays some suspicious behaviors be it from an insider or a hacker. Unfortunately, the technology is not able to stop attacks in your system but it can spot the activities and minimize any damage that would have been caused.
Real-time alerts. This is a feature that enables the system to track user activities over a large population of files. The system is able to do this in real time such that any unauthorized access is detected immediately and the right measures are taken to avoid further damage to the affected files.
Hacker detection algorithm. Any breach of data should be detected instantly and the right action taken there and then. This feature allows the system to work in real-time both in the detection of malpractices and decision making of the right action to take. It only takes a few seconds to copy sensitive data from a file once there is access. Thus the system should be able to react immediately and arrest any suspicious activity before it is too late.
Process enormous user files and email activities. Sensitive data can easily spread out like a bushfire especially if you are dealing with large volumes of files. By analyzing activities of different users across a large volume of data, the system should be able to look at key metadata and raise queries in case of any anomalies from the users.
Access to granular files and email activities. In most instances, attackers are normally after data from emails and files. Having a system that is able to access activities from emails is much better as it will be able to arrest even the smartest hackers attacking your data. It should be able to keep historical data of your employees' activities so as to accurately profile the user's behavior. This will make it easy to detect if an unauthorized user has access to the employee's account.
Best User and Entity Behavior Analytics Software
Cynet, Exabeam, Microsoft Advanced Threat Analytics, Dtex Systems, Bay Dynamics, Securonix, ObserveIT , Content Square, HPE Security ArcSight, Rapid7, Fortscale, Gurucul Risk Analytics, LM WISDOM, Niara, Bottomline Technologies, Interset, LightCyber, E8 Security, INTERLOCK, Preempt , TRITON APX Suite, StealthDEFEND are some of the best Best User and Entity Behavior Analytics Software in alphabetical order.
User and Entity Behavior Analytics Software
PAT Index™
1
Cynet
Cynet 360 is a detection and response security platform specifically created for today's multi-faceted cyber-battlefield. It gives your organization a comprehensive tool for finding unknown, camouflaged threats which have gotten through protection perimeters.Cynet uses a unique approach to detecting threats, correlating and analyzing indicators across files, users, networks and endpoints. Cynet easily integrates into existing security infrastructure, providing organizations with the rapid and flexible ability to respond – neutralizing the unknown threats, anomalies and unsigned malware which have bypassed existing detection solutions. The software has been designed to detect and identify various threats. The software enables users to identify unknown…
Overview
Scans files for threats
Scans users activities for threats
Scans networks for threats
Scans endpoints for threats
Rank threats
Correlate indicators
2
Exabeam
Exabeam's behavior-based security intelligence uses advanced machine learning techniques to detect and assess risky activity on your network. Exabeam connects user activities across multiple accounts, devices, and IP addresses to create a coherent timeline. Then, Exabeam UEBA presents risky user profiles to your analysts so that they can respond to incidents quickly with full understanding of what happened and which systems were affected. EXABEAM can identify threats that may emerge from the inside.Exabeam is a security intelligence solution that leverages existing log data to quickly detect modern cyber attacks, prioritize security incidents, and accelerate effective response. Unique among analytics products,…
Overview
Identify insider threat
Collect data from cloud service
Detect ransomware
Uses entity behavior analytics techniques
Prevent data loss
Provide privileged account monitoring
Provide a query tool
3
Microsoft Advanced Threat Analytics
Advanced Threat Analytics continuously learns from the behavior of organizational entities (users, devices, and resources) and adjusts itself to reflect the changes in your rapidly evolving enterprise. As attacker tactics get more sophisticated, Advanced Threat Analytics helps you adapt to the changing nature of cybersecurity attacks with continuously learning behavioral analytics. Microsoft advanced threat analysis analyzes the system for threats and risks that might attack the system. These threats are detected and an actionable information is provided about how to combat them. Cyber-attacks have significantly increased than before. These threats may leak confidential information about company strategies, action, customer information…
Overview
Detect threats
Provides alerts for real threats
Fast and easy to learn
Works as effectively as cyber attackers
Standalone licene -CAN$107 per user
Standalone license -CAN$82 per device/per Operating System Environment
Microsoft Advanced Threat Analytics
4
Dtex Systems
Detex is capable of searching for information that won't be available anywhere otherwise. The software can detect threats emerging from inside the organization. These threats may be from malicious employees, fraudulent activity, failed security controls, thefts of intellectual property, accidental misuse and so on. The software has the ability to detect insider threats. Some software cannot identify threats due to unavailability of data and information. In this way they cannot have complete view of what's going inside. The software provides complete data to identify and detect threats. It actually fills gap with data that makes its unable to identify threats.…
Overview
Identify insider and outsider threat
Fill in data gaps
5
Bay Dynamics
Bay Dynamics Risk Fabric leverages User and Entity Behavior Analytics (UEBA) capabilities, combined with advanced situational awareness to get a complete picture of an organization's cyber risk posture. Risk fabric is a risk analysis software that combines the capabilities of user and entity behavior analytics. It analyses threats and risk that businesses are more likely to suffer from. The software collects data from various sources. Data is collected from events, asset data, data in motion, organizational data, configuration data, vulnerability data, indicators of compromise, threat intelligence and so on .This data is then analyzed by combining the capabilities of user…
Overview
Identify threats and risks
Uses capabilities of user and entity behavior analytics
Produce results to add to business value
Uses single data modal to present result
Data is collected from various internal and external sources
6
Securonix
Securonix Platform is a purpose-built advanced security analytics technology that mines, enriches, analyzes, scores and visualizes customer data into actionable intelligence on the highest risk threats from within and outside their environment. Securonix uses signature-less threat detection algorithms paired with known risk boosters and third party intelligence to continuously scan your data to pinpoint rogue activities, abnormal security events, and access privileges. The Securonix solution utilizes multiple algorithms working in harmony to detect unseen attacks launched from within or outside the perimeter of your organization. The software can identify insider risks too. The software can detect all types of cyber-attacks…
Overview
Allow threat detection
Allow system and user scoring
Allow privacy control
Allow integration with existing technology
Allow anomaly detection
Allow full text monitoring
7
ObserveIT
ObserveIT monitors and records all user activity on Windows and Unix/Linux servers and desktops. Playing back a user session shows exactly what occurred on screen during the session - reducing investigations to under 10 minutes per incident.ObserveIT provides screen-recording technology to capture all user activity regardless of the environment. The solution converts screenshots into a video-like playback that is easy to review and understand. The visual interpretation technology turns these video recordings into User Activity Logs that our solution makes easy to search, analyze, audit and act upon alerts. Observeit can identify threats and risks. According to a survey most…
Overview
Create alert foe risk
Perform behavior management
Educate users' about risk
Identify shared account
Comply with government regulation
Create video of risk
8
Content Square
ContentSquare is a next-generation behavioral insights solution that uniquely captures all online visitor behavior without the need for a tagging plan. Entire digital teams can easily surface and understand customer behavior across entire journeys and the contribution of every element towards KPIs, over any period of time. Content square enables online business to see how they are performing and to improve their performance over a period of time. The software helps business analyze their performance metrics, determines the best winning version of their website and take steps to maintain high levels of performance in the future. Content square simplifies decision…
Overview
Enable performance analysis and optimization
Enable decision making
Enable data visualization
Enable multi device analysis and test
Enable data collection from all data points
9
HPE Security ArcSight
HPE Security ArcSight User Behavior Analytics (UBA) enables security analysts to minimize the risk and impact of cyberattacks in real time. Instead of solely focusing on events and log data, HPE ArcSight UBA detects unknown threats through purpose-built security analytics by creating a baseline of normal user and entity behavior and identifying anomalies associated with users and entities as they occur. HPE ArcSight UBA enables detection of advanced user- and entity-based threats, and when used in conjunction with the installation of HPE Security ArcSight SIEM, can leverage the same operational teams, data feeds, and incident response processes already in place.…
Overview
Detect threats
Score risk
Make use behavioral analytics and purpose built techniques to detect threats
Detect both user and entity based risks
10
Rapid7
Rapid7 is a leading provider of security data and analytics solutions that enable organizations to implement an active, analytics-driven approach to cyber security. Rapid7 combine the extensive experience in security data and analytics and deep insight into attacker behaviors and techniques to make sense of the wealth of data available to organizations about their IT environments and users. Rapid7 solutions empower organizations to prevent attacks by providing visibility into vulnerabilities and to rapidly detect compromises, respond to breaches, and correct the underlying causes of attack. Rapid7 is capable of identifying threats and risks. Businesses today are more exposed to risk…
Overview
Perform threat detection
Provide advisory services for security analyses
Reduces exposure to risks.
11
Fortscale
Fortscale is the only pure-play machine learning UEBA product on the market. No rules to write. No limits on what Fortscale can detect. From its intuitive alerts and investigations, to its self-tuning anomaly detection and risk scoring, Fortscale is stacked with features designed to make the lives of security analysts easier. Fortscale consumes, stores, and analyzes millions of individual events on a daily basis. All of that data needs to be within reach at a moment's notice, which is why Fortscale is backed by Hadoop architecture. Big data architecture coupled with the machine learning-based Insider Threat Detection Engine allows Fortscale…
Overview
Detect insider threat
Allow data ingestion and enrichment
Perform risk scoring
Allow scalability
Generate reports
12
Gurucul Risk Analytics
Gurucul Risk Analytics is built upon our core PIBAE architecture (Predictive Identity Based Behavior Anomaly Engine). PIBAE identifies anomalous behaviors across users, accounts, applications, and devices by leveraging behavior analytics, machine learning, and peer group modeling.Gurucul big data enabled approach provides organizations' with risk based compliance, continuous access governance and protection from under-the-radar cyber campaigns and sophisticated insider activity like IP Theft, Sabotage, and Fraud. Gurucul provides a Hybrid Behavior Analytics (HBA) architecture with the breadth of Identity Access Intelligence to User Behavior Analytics, and the depth from cloud apps to on-premises behavior. GRA enables companies to identify threats by…
Overview
Can work on big data sets
Make use of hybrid behavior analytics
Built upon be predictive analysis behavior based analytics engine
Incorporate machine learning
Has signature less technology
Provide risk scoring
Provide risk medaling
Perform self-audits
Perform account and identity management
13
LM WISDOM
LM WISDOM is a predictive analytics and big data technology tool that monitors and analyzes rapidly changing open source intelligence data (newspaper feeds and social media content for example). This type of content has the power to incite organized movements, riots and sway political outcomes. LM WISDOM turns this data into actionable intelligence for our customers. LM wisdom has designed its products in a way to carry out predictive analysis efficiently and effectively. The software gathers data from various sources and converts the data into an actionable information. The software collects data from newspapers, social media and other sources. The…
Overview
Perform predictive analysis
Analyze trends, sentiment and influences
Perform analysis in the real context
Collects information from various sources.
Provide actionable information
14
Niara
Niara Analyzer is a big data, analytics platform that builds constantly updating and historically complete Entity360 risk profiles that are context-rich security-dossiers for users, systems and IP addresses. Niara uniquely combines identity data with both IT logs and alerts (e.g., firewall, web proxy, VPN, endpoint, DLP, AD, DNS, DHCP, badge logs etc.) and network sources (packets, flows, etc.) to detect attacks that have evaded real time systems and accelerate incident response.Niara's behavioral analytics platform automates the detection of attacks that have bypassed an organization's perimeter defenses and dramatically reduces the time and skill needed to investigate and respond to security…
Overview
The makes use identity data and network sources to identify threats
The software builds risk profile using machine learning techniques
The scores risks and prioritize them
15
Bottomline Technologies
Bottomline technologies enable business to identify various forms of threats. These threats could be from the inside or outside the organization. The software identifies cyber thefts, mobiles frauds, payment frauds or money laundering. The software enables companies to comply with various regulations. The software provides different solution for identifying different threats. Solutions are available to detect cyber fraud, payment fraud, mobile fraud, web fraud etc. Anti-money laundering management, enterprise case management, compliance monitoring and management are made possible by the software. Different solution cater to different needs of users. The software provides a digital banking suite. The suite helps users'…
Overview
Allow cyber fraud and risk management
Allow digital banking
Allow financial documentation automation
Allow financial messaging
Protect health care data
Manage legal spending and cash
16
Interset
Interset Connectors and Sensors collect specific metadata from enterprise applications, existing security systems and endpoints. Interset then aggregates and correlates this data focusing on the interactions between users, their devices, applications and files. Interset runs this information through its patent Adaptive Entity Analytics (AEA) Engine creating relationship baselines for and applying risk scores to all entities and events. The software detects threats before confidential data is compromised or illegally used. The Interset Platform collection process includes specialized data connectors, endpoint sensors and a big data architecture with aggregation and correlation capabilities. The software is very active and efficient in detecting threats.…
Overview
Allow risk scoring
Identify threats and anomalies
Identify threats at a very early stage
Combine data from all sources
Present reports that are easy to understand and analyze
17
LightCyber
LightCyber Magna accurately and efficiently detects active attacks regardless of malware status or attack techniques to reduce attacker dwell time and minimize the damage done. LightCyber Magna is a new Behavioral Attack Detection platform developed with the recognition that targeted attackers can circumvent legacy threat prevention systems, and then operate with unfettered access to network resources – what we call the Breach Detection Gap. Magna provides accurate and efficient security visibility into advanced or targeted attacks, insider threats, and malware that have circumvented traditional security controls.Magna delivers alerts that include automated investigative data with rich user, endpoint, and network context enabling…
Overview
Detect threats and risks at all lifecycle stages
Provides remedy for risks
Scans network traffic
18
E8 Security
E8 Security is transforming the effectiveness of enterprise security teams. By combining the power of behavioral analytics and incorporating human knowledge, E8 Security's solution provides insight into the real risk and nature of security threats within the business environment.E8 security provides a shield against various threats that may be already present inside a network. These threats may be already present but a company may not know it. The software can detect such hidden threats. In 2014 there was almost 4.2 million of malicious activities that attacked systems of various companies. There was a 48% increase in malicious activities than in…
Overview
Allow data fusion
Allow risk prioritization
Allow scalability
Allow data exploration
Allow integration with current system
Enable loop learning
19
INTERLOCK
Interlock detects and defeats the attacks you fear most by using identity analytics to secure access to your enterprise applications and data. Security that's automated, intelligent, effective and invisible. Interlock uses both historical data and real time identity analytics to persistently monitor how individual users and devices access enterprise data.Interlock uses adaptive access controls to automatically detects and stops malicious attacks, risky activities and policy violations. The software makes use of adaptive access controls to safeguard the system. The software is intelligent in detecting threats. The software combine the capabilities of historical data and real time analytic to identify threats.…
Overview
Identify threats
Stops threats
Uses identity analytics and adaptive access controls to identify threats
The software is workable on different devices
20
Preempt
Preempt's Behavioral Firewall couples User and Entity Behavior Analytics (UEBA) and Adaptive Response to help you proactively protect your organization and reduce risk from attackers and malicious insiders. By learning the behavior of every user including privileged user, system account and endpoint in the network, Preempt establishes real-time behavior-based policies, user-driven security, risk scoring and fine-grained automated actions to eliminate threats without manual intervention from your security team. The software detect risks that may be malicious to organizations. The software makes use of adaptive responses and entity behavioral analytics to detect risks and threats. The software analyzes behavior of users,…
Overview
Allow threat detection
Provide threat mitigation strategy
Allow easy integration and deployment
Assign scores to risks
21
TRITON APX Suite
Forcepoint's APX Suite provides flexible deployment and management of unified Web, email, and DLP to stop increasingly advanced threats in hybrid environments spanning an enterprise network, mobile workers, and cloud services. TRITON APX products share a common architecture based on the TRITON ACE and ThreatSeeker Intelligence Cloud, which work together in real time to accurately identify and classify network traffic, apply policies and detect threats. TRITON APX's unified management and reporting functions streamline work for your security team, giving them the context and insights they need to make better decisions, minimize the dwell time of attacks and prevent the exfiltration…
Overview
Detect threat at all lifecycle stages
Identify threat across network and cloud services
Allow risk scoring
Allows risk visibility
Enable adaption to advanced risks.
22
StealthDEFEND
StealthDEFEND combines user behavior analytics and machine learning with access auditing and sensitive data discovery to not only detect abnormal account behavior, but accurately assess the risk associated with such behavior.StealthDEFEND detects attempts to use common attack vectors to either gain initial access to, or propagate through, an environment. Examples of these attacks include: Brute Force, Lateral Movement, Golden Ticket, Account Hacking, Breached Passwords.The software tracks risky and abused accounts. The software make use of advanced machine learning techniques to detect threats. StealthDEFEND detects shifts in behavioral patterns of users and correlates them with the user access information to determine…
Overview
Detect risky account
Detect ransomware and malware
Allow sensitive data discovery