Review
Exabeam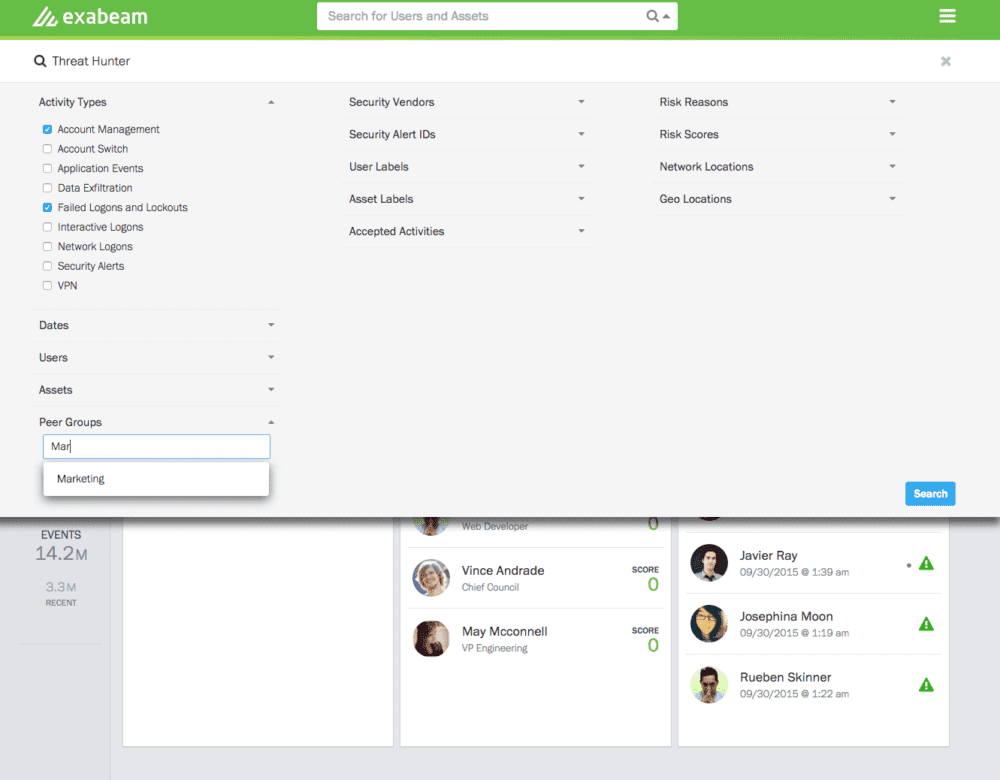 Overview
Exabeam's behavior-based security intelligence uses advanced machine learning techniques to detect and assess risky activity on your network.
User and Entity Behavior Analytics
Identify insider threat
Collect data from cloud service
Detect ransomware
Uses entity behavior analytics techniques
Prevent data loss
Provide privileged account monitoring
Provide a query tool
Small (<50 employees), Medium (50 to 1000 Enterprise (>1001 employees)
Exabeam's behavior-based security intelligence uses advanced machine learning techniques to detect and assess risky activity on your network. Exabeam connects user activities across multiple accounts, devices, and IP addresses to create a coherent timeline.
Then, Exabeam UEBA presents risky user profiles to your analysts so that they can respond to incidents quickly with full understanding of what happened and which systems were affected. EXABEAM can identify threats that may emerge from the inside.Exabeam is a security intelligence solution that leverages existing log data to quickly detect modern cyber attacks, prioritize security incidents, and accelerate effective response. Unique among analytics products, Exabeam's session data model automatically creates a complete timeline of every event and anomaly tied to an attack -- across devices, IP addresses, and credentials -- and uses that timeline to assess risk and automate many tasks of incident response. The software may identify hackers' activities or insider threats.
The software makes use of intelligent behavior based security intelligence system that is combined with machine learning techniques to identify threats. These threats are then presented to the users to determine what actions and strategies are to be formulated in order to combat them. EXABEAM technology combine features and capabilities of behavior based intelligence systems, security analytics and data sciences to identify threats and detect them before it is too late.
Threats are them present to users who can take actions accordingly. Advanced data science looks for malicious activities. These activities are identified by analyzing different types of data. The data types include contextual, numerical and categorical data. Threat hunting is a query tool. Using this query tool, users can identify various behaviors that might result in malicious activities. Users can explore different dimension of behaviors and activities. The software can identify insider threats.
These threats may arise form employees or contractors having an access to company data and information. The software is capable of collecting data from cloud systems. This is then analyzed to see threats and malicious activities. The software can identify threats occurring as a result of locked out accounts. The software can identify threats entering into the network of a company from the outside. The software uses behavioral analytics techniques to detect threats that may hamper a company performance. The software can detect threats that may enter from any source into company existing system and network.