Review
Interset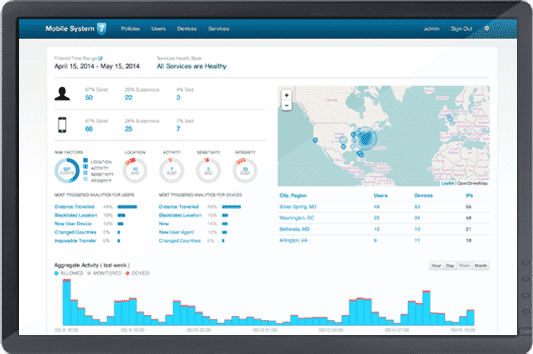 Overview
Interset Connectors and Sensors collect specific metadata from enterprise applications, existing security systems and endpoints.
User and Entity Behavior Analytics
Allow risk scoring
Identify threats and anomalies
Identify threats at a very early stage
Combine data from all sources
Present reports that are easy to understand and analyze
Small (<50 employees), Medium (50 to 1000 Enterprise (>1001 employees)
Interset Connectors and Sensors collect specific metadata from enterprise applications, existing security systems and endpoints. Interset then aggregates and correlates this data focusing on the interactions between users, their devices, applications and files. Interset runs this information through its patent Adaptive Entity Analytics (AEA) Engine creating relationship baselines for and applying risk scores to all entities and events. The software detects threats before confidential data is compromised or illegally used.
The Interset Platform collection process includes specialized data connectors, endpoint sensors and a big data architecture with aggregation and correlation capabilities. The software is very active and efficient in detecting threats. The software detect threats and presents them to security analysts. Threats are detected that are truly malicious. The software reduces noised and presents risk that are real and may compromise security parameters of a company.
The software collects data from company's systems, files, application etc. this data is then analyzed to detect risks. The software develops a baseline for detecting threats. The software score and rank risks. And at the end a report is presented to security analysts to view threats and take action accordingly. The report is easy to comprehend and provides a quick view of risks and threats. Anomalies can be traced by the software too. The software provides two platforms. One is for threat detection and the other is for data collection. Intersect data connectors, collect data from data repositories and security tools already deployed in companies.
This data is utilized to develop baselines and identify anomalies. End point sensors continuously look for various threats and anomalies. They are connected across workstation, laptops and personal computers. Aggregation engine collects and aggregates data from various sources. Data of all types and sizes is collected and analyzed. Events and activities are analyzed to find threats.
Adaptive analytic engine capabilities are combined with machine learning techniques to develop baselines and identify threats. Interset also offers Endpoint Sensors that can be deployed across workstations, desktops and laptops. These lightweight sensors continuously track data interactions – in real time – for any signs of anomalous activities. Usually deployed to the machines of across hi-value users or to machines or persons of interest, these lightweight sensors offer continuous system monitoring and collect an even richer behavioral data set than with the use of Interset Collectors alone.