150 Open Source, Free and Top Dashboard Software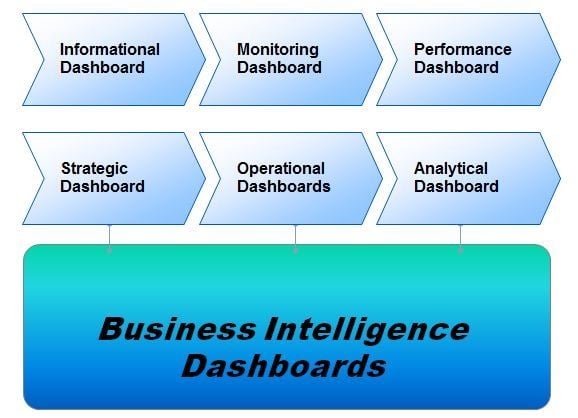 Dashboards are easy to read, real time user interface, which shows a graphical presentation of the current status and historical trends of key performance indicators to enable informed decisions. Dashboards can be broken down according to role and are either strategic, analytical, operational, or informational.
Strategic dashboards provide the quick overview that decision makers need to monitor of the business such as performance, and forecasts. Strategic dashboards benefit from static snapshots of data such as daily, weekly, monthly, and quarterly. Analytical dashboards typically support interactions with the data, such as drilling down into the underlying details.
Dashboards for monitoring operations are often designed differently from those that support strategic decision making or data analysis and often require monitoring of activities and events that are constantly changing and might require attention and response at a moment's notice.
What are Dashboard Software
Dashboard Software provide at-a-glance views of key performance indicators of a business process such as sales, marketing, human resources, or production. Dashboard is displayed on a web page that is linked to a database which allows the report to be constantly updated.
It provides a visual presentation of performance measures, the ability to identify and correct negative trends and measure efficiencies and inefficiencies. Dashboards enable the business to generate detailed reports showing new trends and provides the ability to make more informed decisions based on collected business intelligence.
Open Source, Free and Top Dashboard Software
Top Dashboard Software Open Source: Knowage, Seal Report, SWING Dashboard, Dashing, Dashku, Metabase, jSlate, Shiny, ReportServer Community Edition are some of the Dashboard Software Open Source.
Top Dashboard Software Free: Microsoft Power BI Free Edition, Dashzen, Cyfe, Zoho Reports Free Edition, QlikView Personal Edition, Alfresco Audit Analysis and Reporting, IBM Watson Analytics Free Edition, Freeboard, Google Data Studio, Qlik Sense Desktop Personal Edition, Databox, ChartBlocks, Jolicharts, InetSoft Style Scope Agile Edition, Arcadia Data, Prognoz Platform Personal Edition, Highcharts, OpenStack, Quadrigram, Knowi, Beekeeper, Cluvio are some of the Top Dashboard Software Free.
Top Dashboard Software: Sisense, iDashboards, Microsoft Power BI Pro, SAP Lumira, Watson Analytics, SQL Server Reporting Services, SAP Crystal Dashboard Design, BOARD, GoodData, Tableau Desktop, SAS Enterprise BI Server, Arcadia Data, Phocas BI Software, Pyramid Analytics, Datapine Business Intelligence, Adaptive Insights, Birst BI, MicroStrategy, Information Builders WebFOCUS Platform, Dundas BI, Domo, Oracle Business Intelligence, ClicData, IBM Cognos Analytics, Analytics Canvas, ThoughtSpot, andara, Dimensional Insight, OpenText Actuate Information Hub, SAP Crystal Server, Exago Business Intelligence, BIME, Yellowfin, SAP BusinessObjects BI, JReport, Tableau Server, Tableau Online, Qlik Sense Enterprise, Noetix, Flexmonster Pivot Table, Bright Gauge, Grow, Salesforce Wave Analytics, DecisionPoint, 4SightBI, AVORA, Notion, DBxtra, Active Intelligence, Redash, Vizard, SAP Crystal Presentation Design, BellaDati Business Intelligence, Logi Analytics, Izenda, InetSoft Style Intelligence, Prognoz Platform, Panorama Necto, TARGIT Decision Suite, Logi Vision, InetSoft Style Scope, InetSoft Style Report Enterprise, Strategy Companion Analyzer, FusionCharts, Entrinsik, Windward Studios, Easy Insight, Klipfolio, Geckoboard, Jet Professional, Slemma, Longview, ORBIT Enterprise, RW3, DataLion, Vizdum, Viewics, Kyubit Business Intelligence, gtmhub, Viur, Bilbeo, Yaware.Dashboard, Profitbase BI, BizViz Platform, Lumalytics, Visual KPI, Zoomdata, Wizdee, idaciti, AnswerRocket, IntelliFront BI, ApeSoft DataCycle Reporting, Yurbi, Zoined, AppInsights, Fathom, Funnel, InfoCaptor Dashboard, Stytch, Panintelligence, OQLIS, Freebird, MammothDB, Nucleus, Neatly, Vismatica, Decydz, DrillDb, Ubiq, Quadrigram, Tour de Force BI, Starcom BI, ShareMy Insight, NetCharts, Knowi, Beekeeper, Cluvio, Dashboard Builder, DataHero are some of the Top Dashboard Software.
Sisense empower the most non-technical user with the ability to access data and build interactive dashboards and business intelligence reports. Sisense provides a variety of dashboard widgets to pinpoint the best visualization for your data, such as: geographical maps, gauges to measure KPIs, line charts to determine trends, scatter plots to see correlations, and pie charts for clear comparisons.Sisense enables to customize dashboard layout with drag-and-drop features to place each widget exactly where you want for optimal representation.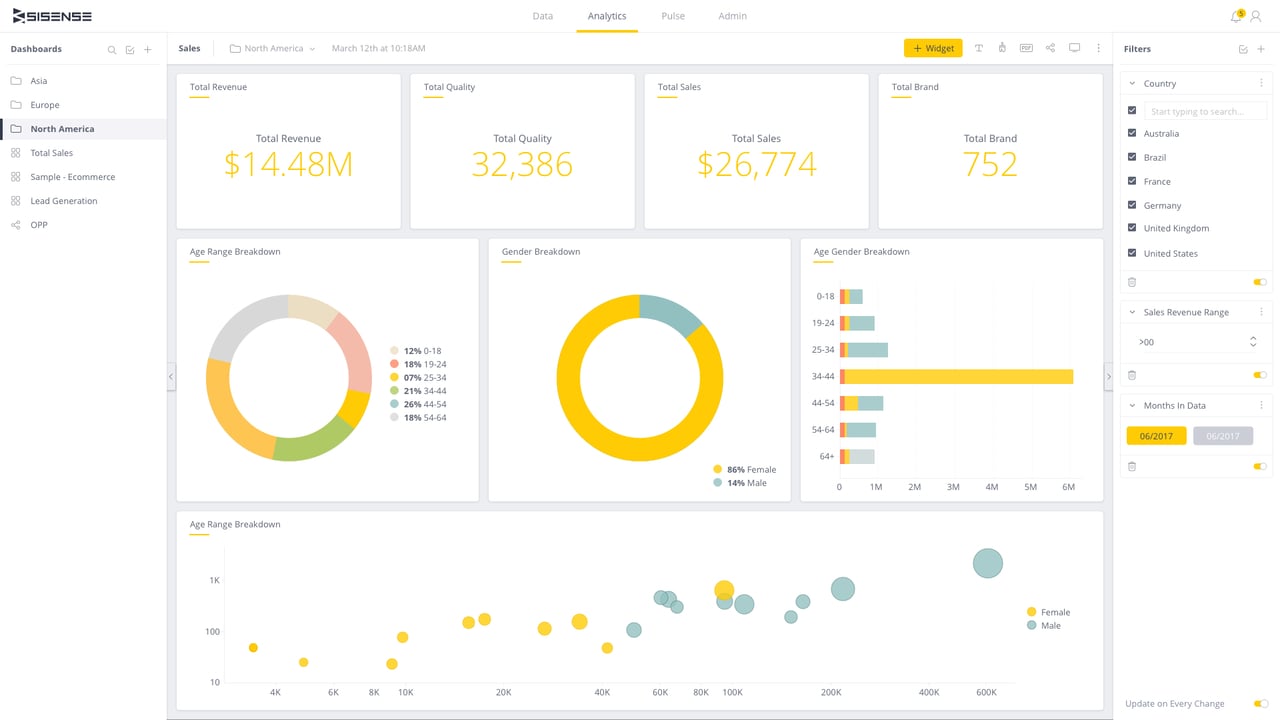 What are the features of Dashboard Software?
Predefined dashboard themes, with the ability to use any theme.
Drill up, Drill down, Filtering etc
Numerous Chart Options
Collaboration and Sharing Options
Embedded Analytics
Mobile Availability
Top Open Source Dashboard Software
Knowage, Seal Report, SWING Dashboard, Dashing, Dashku, Metabase, jSlate, Shiny, ReportServer Community Edition are some of the Top Open Source Dashboard Software
1
Knowage (SpagoBI) is an Open Source Business Intelligence suite, which offers a large range of analytical functions, a functional semantic layer and a set of advanced data visualization features including geospatial analytics. The modules of SpagoBI suite are SpagoBI Server, SpagoBI Studio, SpagoBI Meta and SpagoBI SDK.SpagoBI Server is the main module of the suite, offering the core and analytical functionalities. It provides two conceptual models which are called Analytical Model and Behavioural Model, administration tools and cross-platform services. SpagoBI Studio allows the developer to design and modify analytical documents such as reports, charts, GEO and cockpits. SpagoBI Meta is…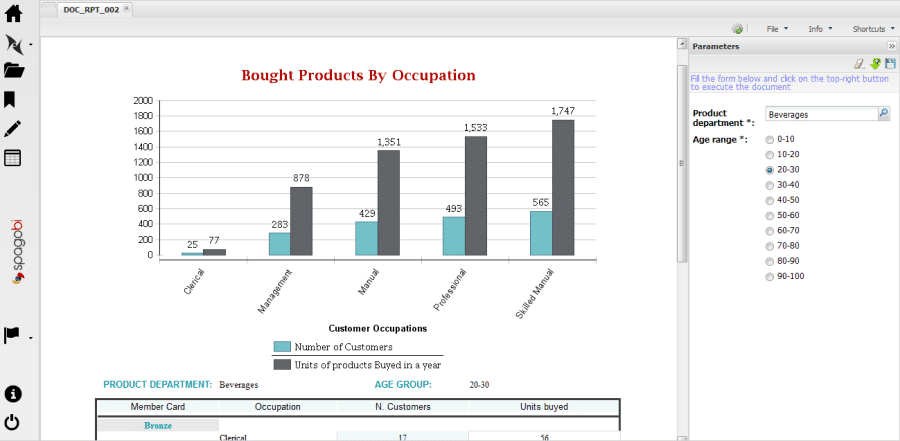 2
Seal Report is an Open Source for the Microsoft .Net Framework entirely written in C#, which offers a complete framework for producing every day reports and dashboards from any database.Seal Report focuses on an easy installation and report design. Once setup, the reports can be built and published in a minute. The main features include Dynamic SQL sources, Native Pivot Tables, HTML 5 Charts and Microsoft Charts, HTML Rendering using Razor engine, Web Report Server and Task scheduler. The Dynamic SQL sources use either the SQL or let the Seal engine build dynamically the SQL used to query the database.…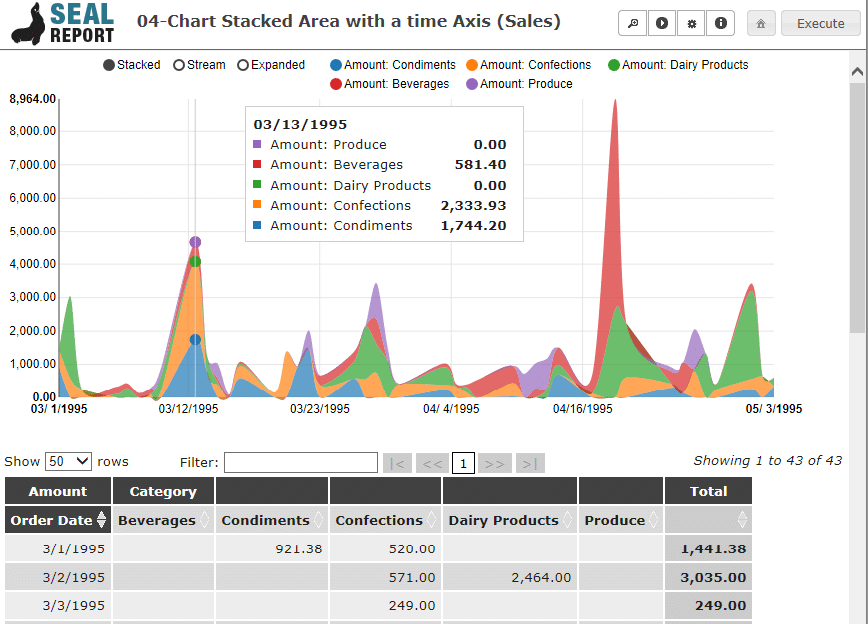 3
SWING Dashboard displays your KPI which are updated daily. User friendly and visually appealing, it allows a proactive monitoring of your organization's activities and to make appropriate decisions quickly. The Administrator Menu allows the complete management and configuration of the SWING Dashboard.Dashboard transversal Menu allows the printing , the export and the creation of a new portlet. The portlet allows the displays of KPIs or reports.The Options Menu provides a list of functionalities linked to the portlet.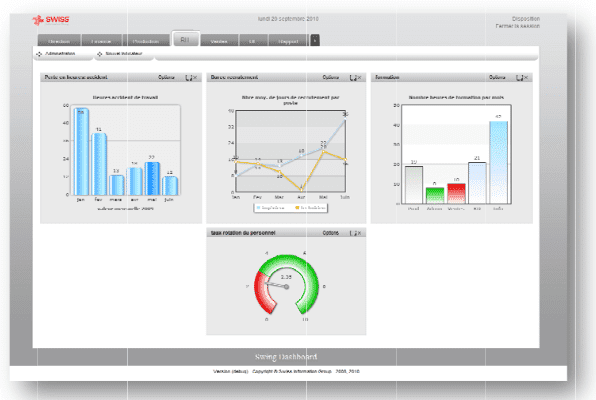 4
Dashing is a Sinatra based framework that lets you build beautiful dashboards. It is a dashboard framework in Ruby and Coffeescript. The key features include use premade widgets, or fully create your own with scss, html, and coffeescript, widgets harness the power of data bindings to keep things DRY and simple. Dashing API can be used to push data to your dashboards, or make use of a simple ruby DSL for fetching data. Drag & Drop interface for re-arranging your widgets and Host your dashboards on Heroku in less than 30 seconds.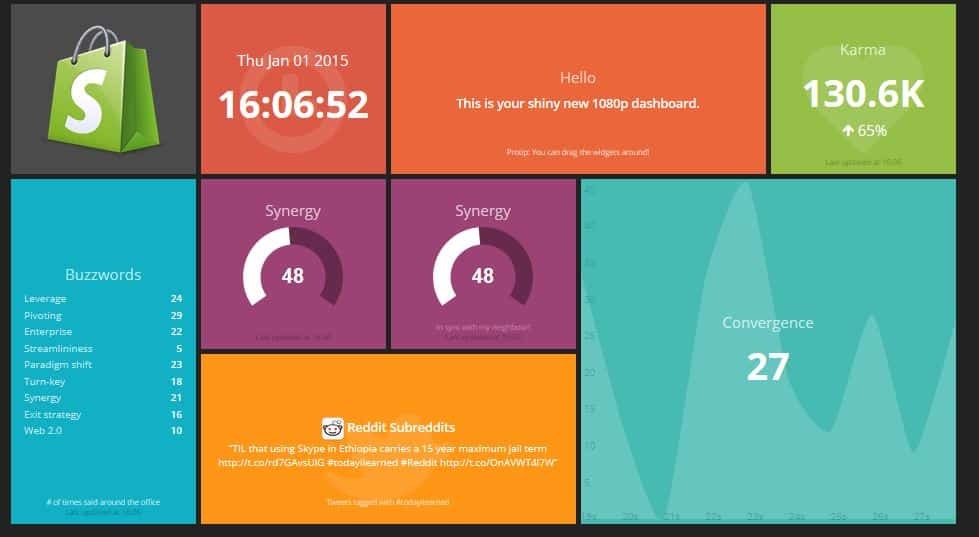 5
Dashku is a web application for creating dashboards and widgets in HTML, CSS, and JavaScript. Dashku is an open source software. Dashku also has a hosted edition is also available. Dashku provides features of a dashboard software and lets you to build real-time dashboards and widgets using HTML, CSS, and JavaScript.
6
Metabase is the easy, open source way for everyone in the users' company to ask questions and learn from data.Users can easily filter and group their data to find just what they are looking for, all without ever writing a line of sql or having to wait on a co-worker. It just takes a click to see individual records and explore connections between users' data, so users can move from who, to what effortlessly. Users can move from their data to beautiful graphs and charts with just a few clicks. When users need to dig into the complicated stuff, Metabase…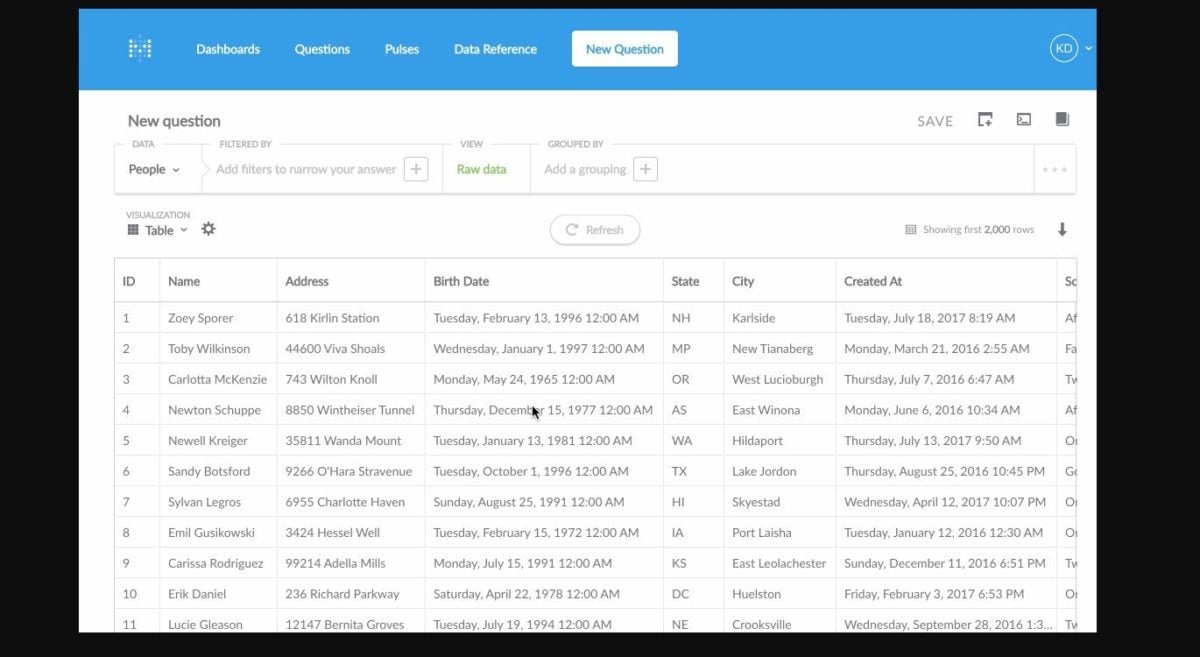 7
jSlate enables to setup dashboards for displaying data easily. jSlate dashboard consists of widgets. Widgets are html/javascript and can do anything and a number of templates for widgets are provided to get you started. jSlate provides a php proxy so the widgets can request data from off-site locations.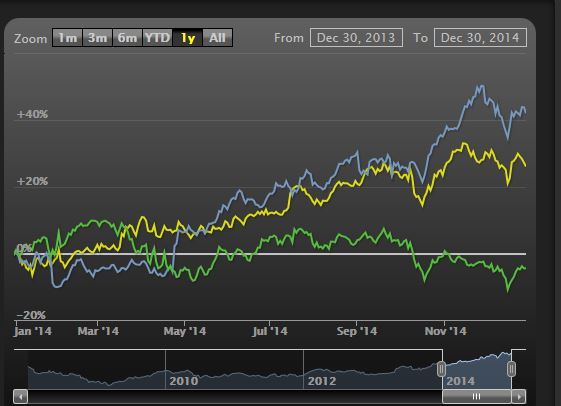 8
Shiny is designed for fully interactive visualization, using JavaScript libraries like d3, Leaflet, and Google Charts.It let to deploy your apps on-premises with Shiny Server or Shiny Server Pro. It is a web application framework for R to turn your analyses into interactive web applications.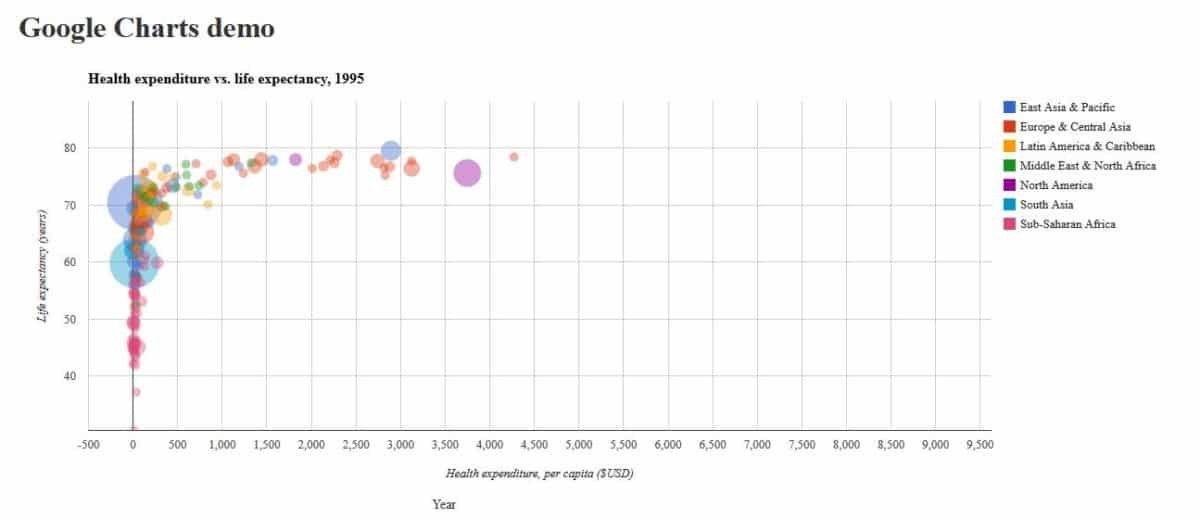 9
ReportServer is the modern and versatile business intelligence (OSBI) platform for users' company. ReportServer Community Edition is open source software under the aGPL. Pixel-perfect reporting, ad-hoc analyses, Excel and Word reporting or multidimensional OLAP analytics: ReportServer comes with a great selection of powerful tools. ReportServer's Dynamic List is a powerful yet intuitive tool to create and manage ad-hoc analyses. The Dynamic List is the preferred method in ReportServer for fast and user specific analyses of data. The real data (i.e., the raw data) for user reports is usually stored within in tables (aka. lists). With ReportServer's Dynamic List users can…
ReportServer Community Edition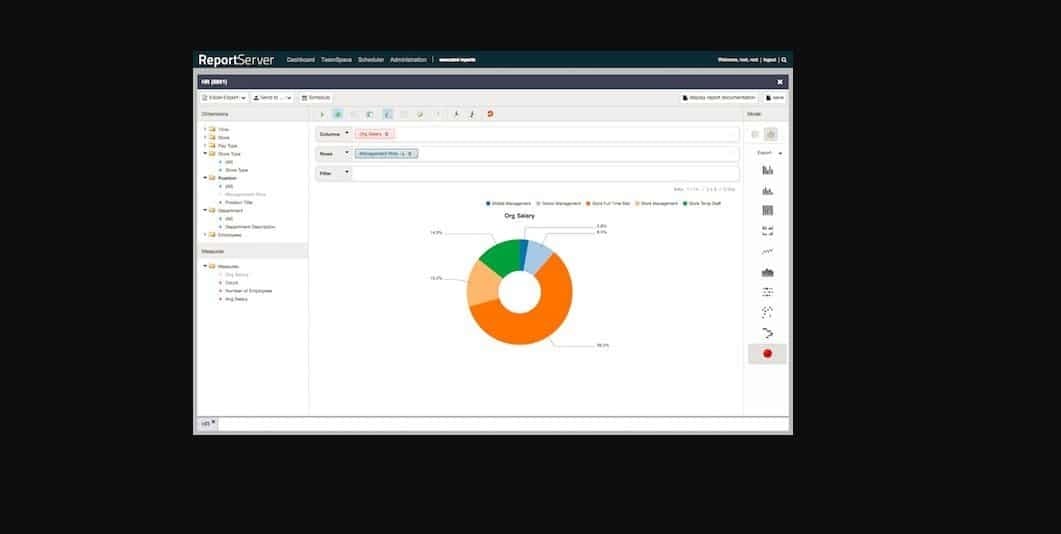 Top Free Dashboard Software
Microsoft Power BI Free Edition, Dashzen, Cyfe, Zoho Reports Free Edition, QlikView Personal Edition, Alfresco Audit Analysis and Reporting, IBM Watson Analytics Free Edition, Freeboard, Google Data Studio, Qlik Sense Desktop Personal Edition, Databox, ChartBlocks, Jolicharts, InetSoft Style Scope Agile Edition, Arcadia Data, Prognoz Platform Personal Edition, Highcharts, OpenStack, Quadrigram, Knowi, Beekeeper, Cluvio
1
Power BI transforms your company's data into rich visuals for you to collect and organize so you can focus on what matters to you. Power BI is a suite of business analytics tools to analyze data and share insights. Monitor your business and get answers quickly with rich dashboards available on every device. Power BI Free Edition provides Data capacity limit of 1 GB/user . Enables to create, view and share your personal dashboards and reports with other Power BI users , Author content with the Power BI Desktop, Explore data with Natural Language, Access your dashboards on mobile devices…
Microsoft Power BI Free Edition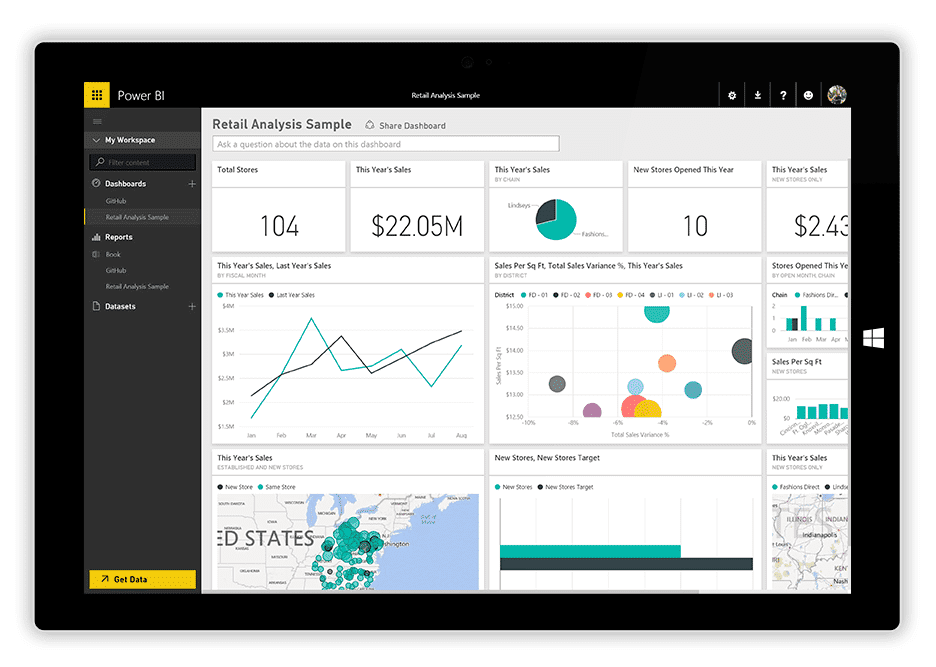 2
Dashzen brings all of your data together in one place and interprets that data into meaningful information. Dashzen provides public and private dashboards. Private dashboards are viewable only by you. Dashzen dashboards are completely configurable, giving you flexible options for presentation. Dashzen is a new cloud platform for creating meaningful information out of raw data that businesses and people are already collecting. This information is presented beautifully on browser-based dashboards that can be public or private.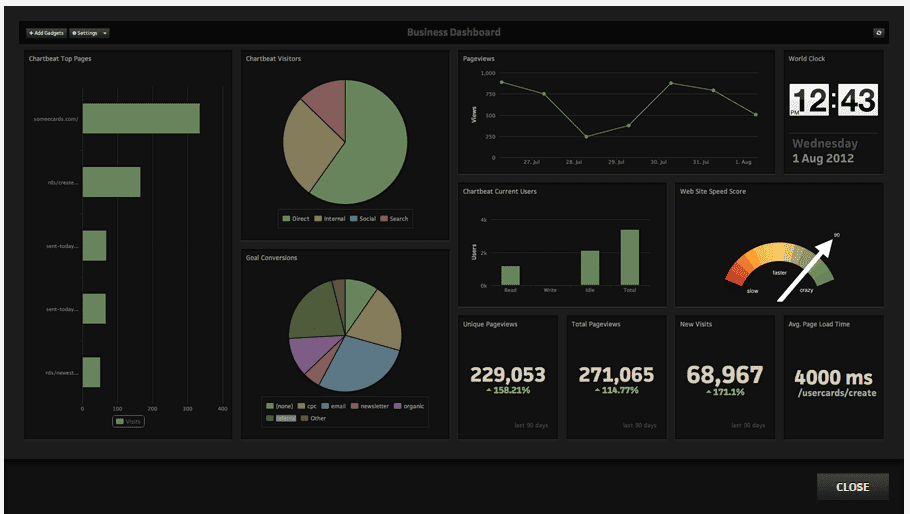 3
Cyfe, is a self-service cloud based business intelligence dashboard app, designed to analyze, transform and report data from different integrated sources of business intelligence. It is a freemium application to track and monitor all business metrics in one single place. Cyfe Dashboard is an online dashboard platform for building real-time business dashboard.Cyfe provides a browser-based dashboard that allows business users to connect to many data services, automate data retrieval, analyze, and then transform and visualize the data for business intelligence. The product targeted non-technical end user by providing them a schema-less architecture to easily connect to data sources, and separates…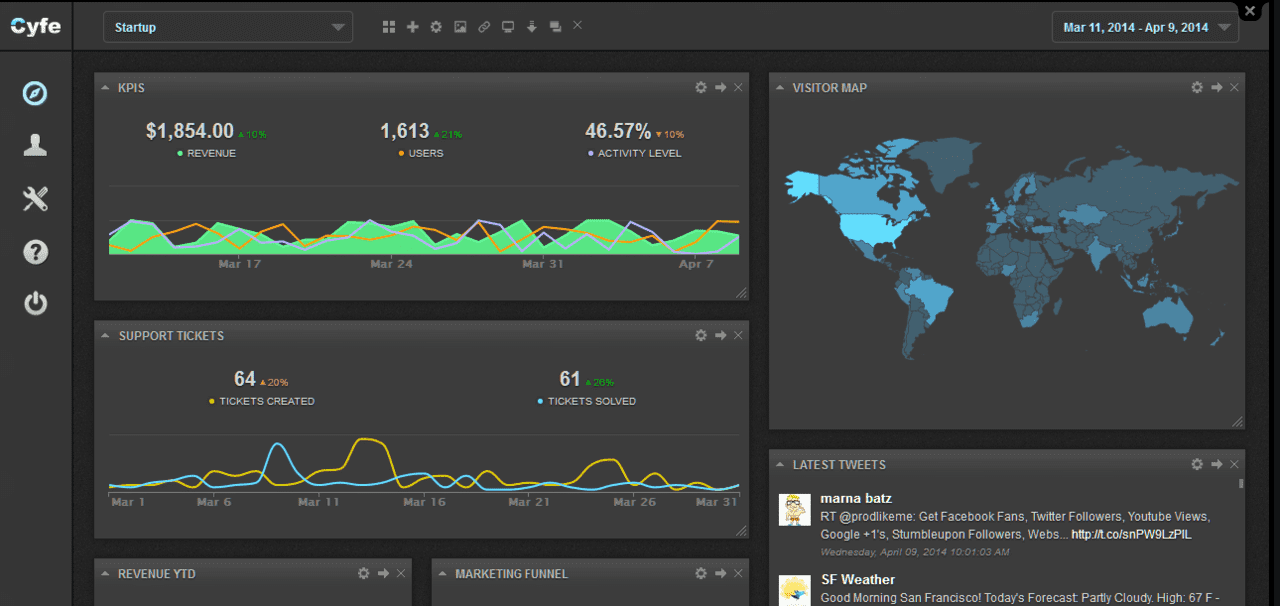 4
Zoho Reports Free Edition is an online reporting and business intelligence service that helps to easily analyze business data, and create insightful reports & dashboards for informed decision-making. It allows to easily create and share powerful reports in minutes with no IT help. Zoho Reports Dashboard view users can collate similar reports and view them all on a single page. Zoho Reports Free Edition is avaible for up to 2 users, 100,000 rows total number of data rows that you can have in your account. It also allows to created unlimited number of reports and dashboards that can be created…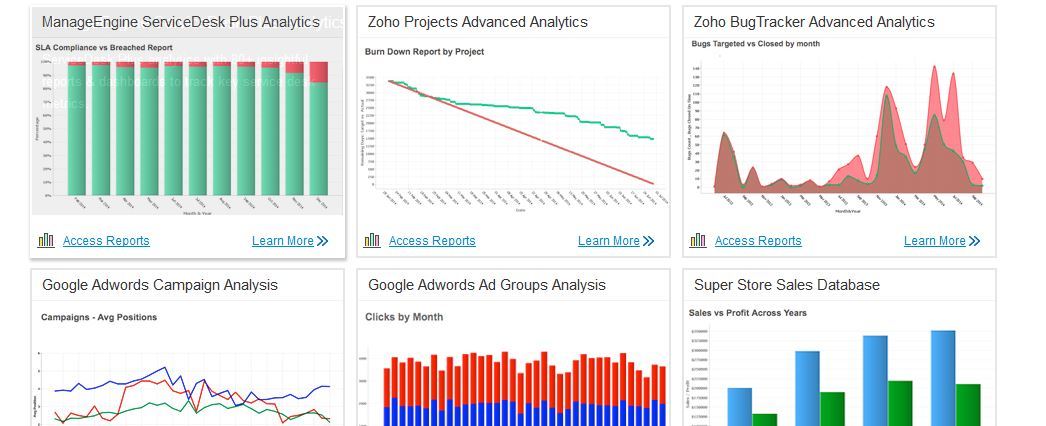 5
QlikView, is the leading Business Discovery Platform, providing user driven business intelligence (BI) to a variety of organizations worldwide. QlikView makes data associative, creating easily-understandable visual relationships across multiple, complex data sources. It's also mobile, social and collaborative. QlikView Personal Edition is the full QlikView Desktop product that is run on a machine without a customer or partner license assigned to it. With the QlikView Personal Edition license, everyone is free to create QlikView documents for personal use. If at any point you or your organization decides to acquire a full QlikView license, this Personal Edition installation will automatically become…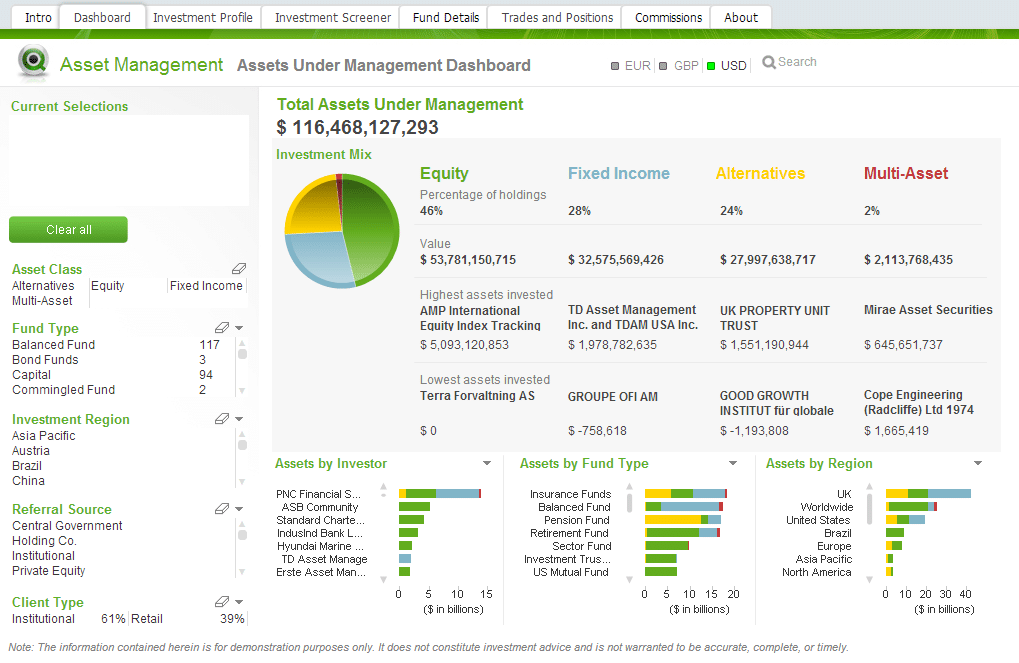 6
Alfresco Audit Analysis and Reporting (A.A.A.R.) is provided as a solution to extract, store and query audit data together with the document/folder informations at a very detailed level, with the goal to be useful to the end-user in a very easy way. To reach that goal, to make the data more friendly for the end-user, the data are published in reports in well-known formats (pdf, Microsoft Excel, csv, etc.) and stored directly in Alfresco as static documents organized in folders, versioned, authorized and published. The A.A.A.R. Analytics is a set of powerful tools to analyze data in an interactive and…
Alfresco Audit Analysis and Reporting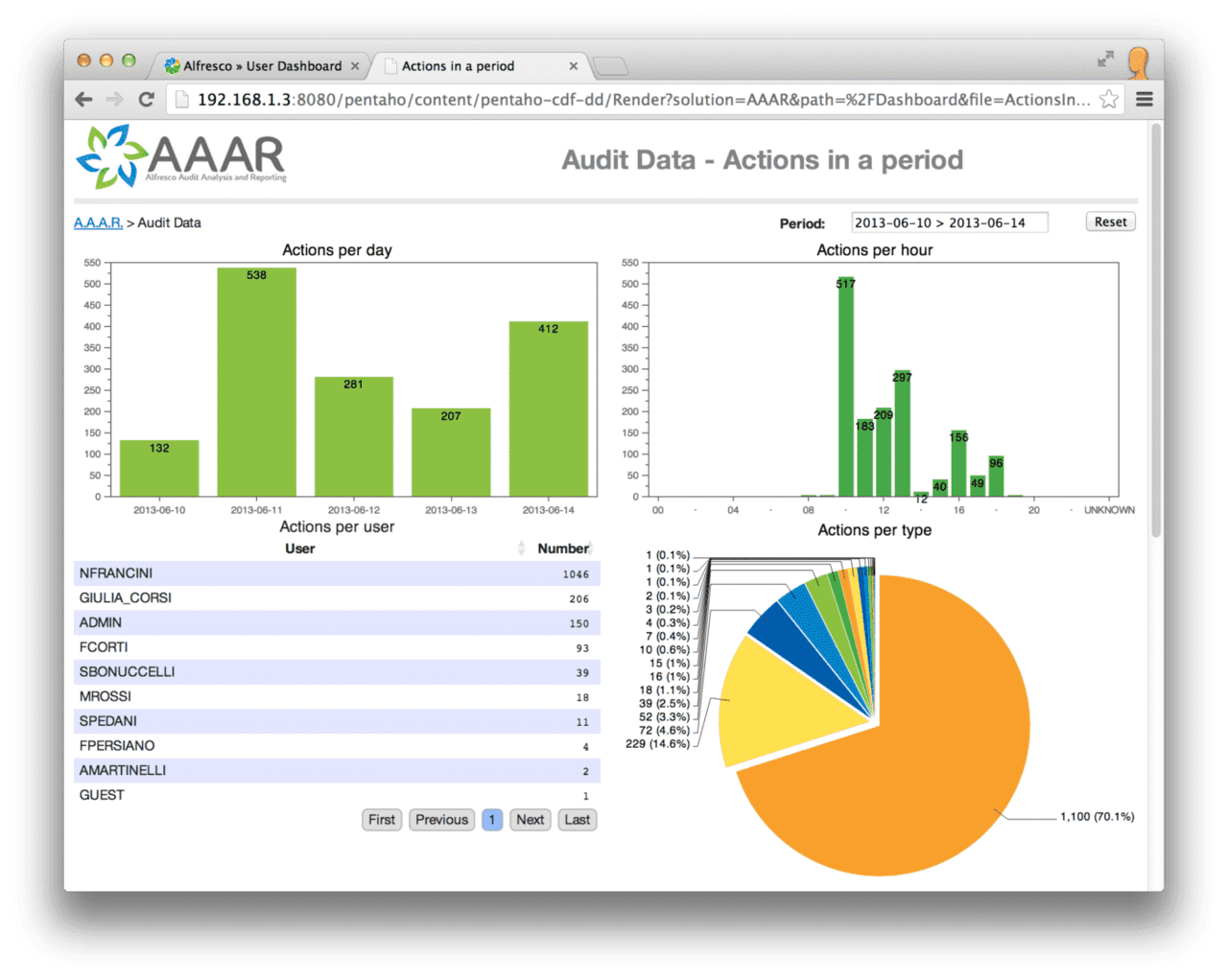 7
Watson Analytics Free Edition offers visualization and discovery from the cloud so you can analyze data on your own. Free Edition let to upload spreadsheets, get visualizations, discover insights and build dashboards-all on your own for one user with 1 MB storage included. It also provides access to Twitter data and limited access to IBM Analytics Exchange offerings. Watson Analytics offers you the benefits of advanced analytics without the complexity and offers a smart data discovery service available on the cloud, it guides data exploration, automates predictive analytics and enables effortless dashboard and infographic creation. Watson Analytics offers you the…
IBM Watson Analytics Free Edition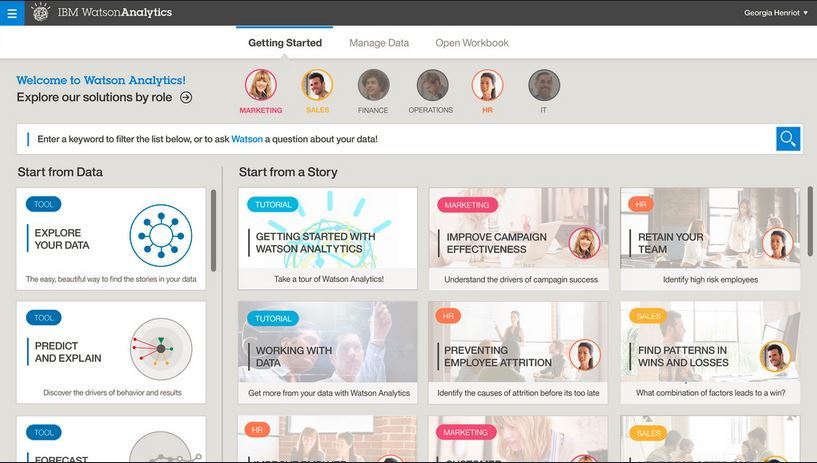 8
Freeboard build real-time, interactive dashboards and visualizations in minutes using the intuitive drag & drop interface. Freeboard is built upon a secure, high-performance, enterprise-class cloud system. Freeboard provides Seamless integration with dweet.io, or access any web-based API. Every Freeboard has a unique URL that you can share via email, SMS, and social networks. Design layouts that exactly meet your needs. Change them quickly and easily as requirements change.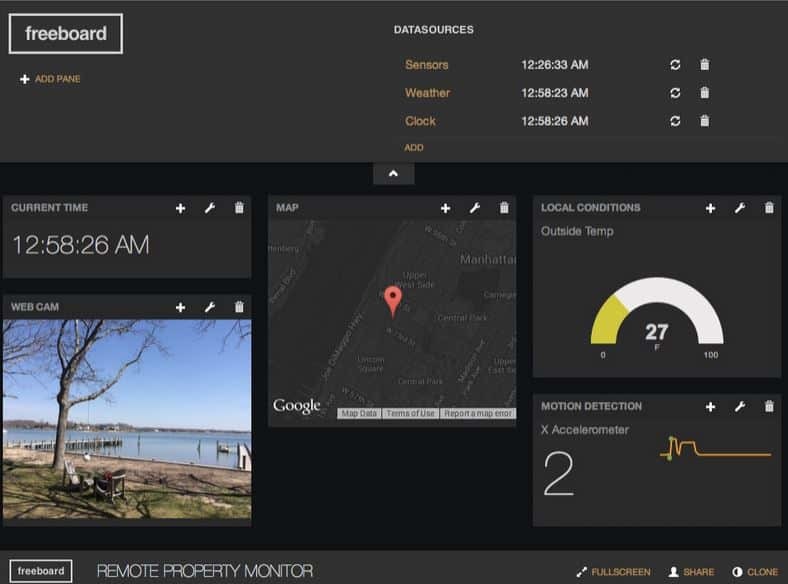 9
Google Data Studio provides easy access to all the data sources for the business to make better decisions. Regardless of whether you're a business user or a data analyst, and no matter where the data lives, simply access it with a pre-built Data Studio connector. Data Studio handles the authentication, access rights, and structuring of the data. Once a data source is connected, the underlying dimensions and metrics are readily available for use in calculations, transformations, and visualizations.With Data Studio you'll be able to transform your raw data into the metrics and dimensions needed to create easy-to-follow reports and dashboards.…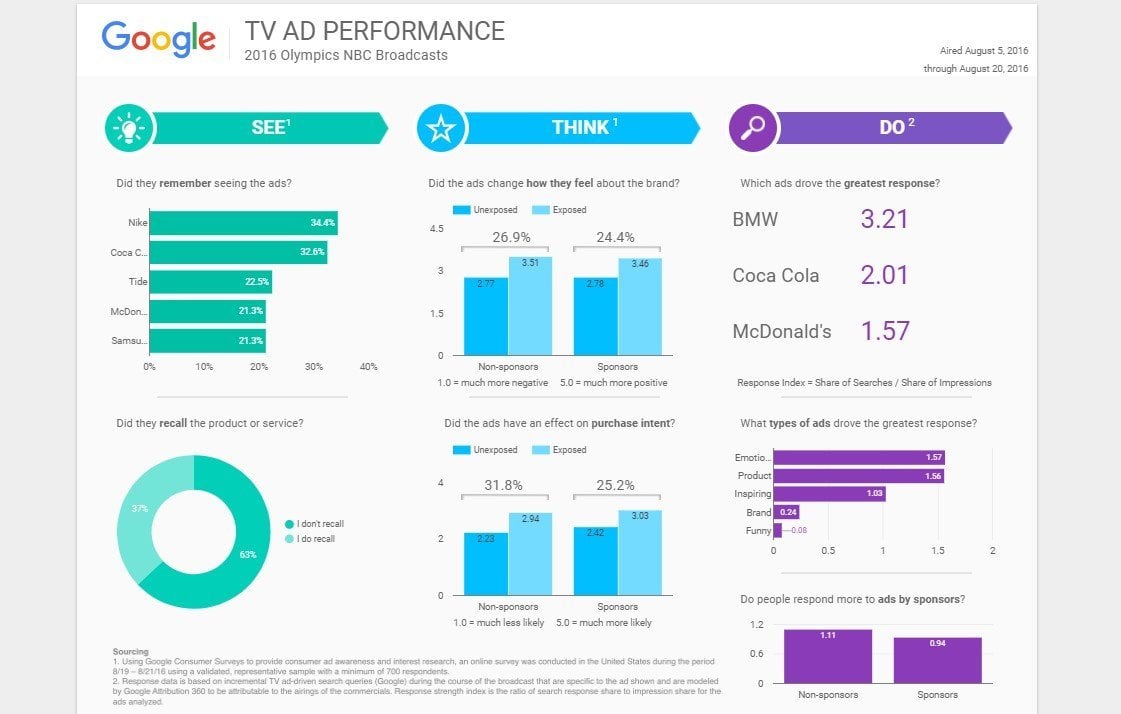 10
Qlik Sense Desktop is a fully functional business intelligence software, available at no cost for personal and business use. Qlik Sense Desktop empowers business users to easily create personalized visualizations, reports and dashboards with drag-and-drop simplicity. It an installed Windows application which provides Drag-and-drop app creation, data loading and Multi-data source integration. Qlik Sense Desktop data loading interface enabling quick and easy file based data access and supports spreadsheets, delimited, fixed length, QlikView, and other file formats. Qlik Sense Desktop allows to create apps and visualizations quickly by using an intuitive design and navigation paradigm that works well on both…
Qlik Sense Desktop Personal Edition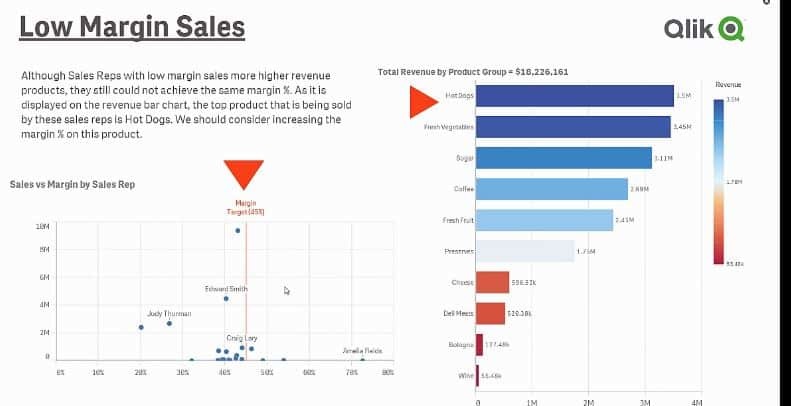 11
Databox is an app that serves as a personal data assistant, helping business users pay attention to what matters, when it matters. From a morning briefing that makes sure you start the day knowing where you stand and how you're progressing towards your goals, to smart alerts throughout the week that let you know when something needs your attention, Databox makes sure you're never in the dark about the data that matters most to you. The Databox mobile app provides data access and business insights through an intuitive mobile experience. Through an actionable, personalized experience that enables collaboration, Databox helps…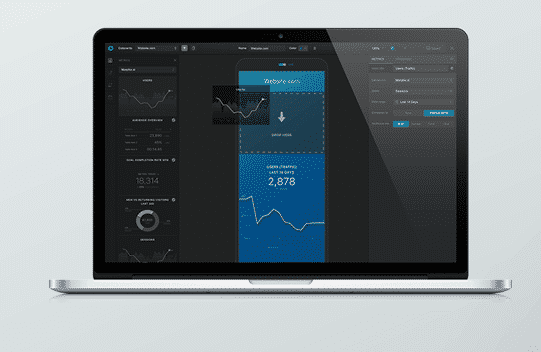 12
ChartBlocks picks the correct part of the data to formulate a chart and guides the entire import process. It can import data from almost any source. It boosts several sharing tools that place the chart on the website and share it immediately. It has hundreds of options to customize and design that control different aspect of the chart. The Wizard feature uses the simple chart building wizard to select and pick the right data for the chart. The data import options in ChartBlocks allow the data to be imported quickly from any source. It helps to Import the correct data…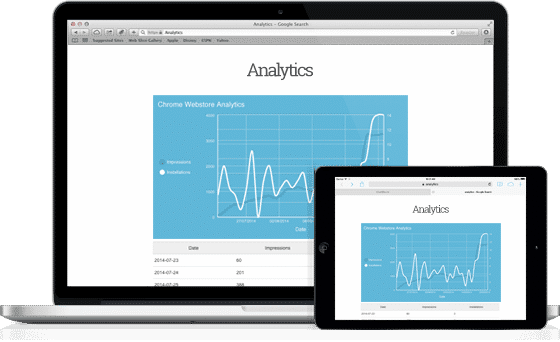 13
Jolicharts aims to provide the simplest tool to analyse data so that you can build and share powerful data presentations in minutes. Stop switching between spreadsheets and presentation tools. Jolicharts combines powerful data analysis and beautiful presentations in a unique app. Users get to connect to their data, build a presentation and share it with users' customers or colleagues. It's simple, fast and accessible from anywhere. Users can connect to their data sources (Excel, Google Spreadsheets, Databases, etc.) and analyze them in real-time. Users can build beautiful data slideshows that users can be proud of. Users can publish their data…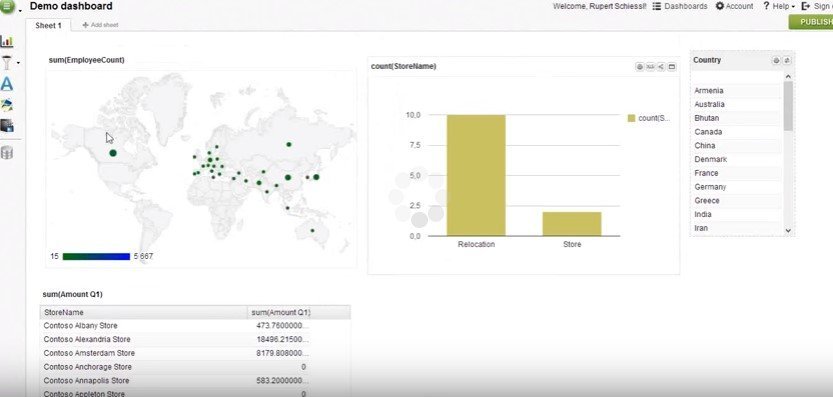 14
InetSoft Style Scope Agile Edition is an easy to use, interactive dashboard software application that includes real time reporting and visual analytics capabilities. It is an edition of Style Scope that is designed for business users and is primarily limited by the number of users. It's perfect for an individual analyst or a departmental workgroup to share among business users. Features include Dashboard and visualization annotations. Mobile dashboards accessible from a browser on devices including Android-based tablets, smartphones, iPads, and iPhones. All popular web browsers supported with or without a Flash plugin - e.g., Chrome, Internet Explorer, Firefox, Safari, Unlimited…
InetSoft Style Scope Agile Edition

15
Arcadia Data unifies data discovery, visual analytics and business intelligence in a single, integrated platform that runs natively on Hadoop clusters. Arcadia Data does not require coding and users can go straight to into big data with intuitive drag and drop self service interface which provides exploration and semantic modeling on breadth and depth of all business data.Arcadia Data allows working on multiple sources such as Hive, Impal, Postgres, Amazon Redshift, MySQL, Teradata Aster and much more. It's unique Active Data store models and tunes data structures continuously at Hadoop scale. Active Data automatically replaces sub-optimal curated schemas with intent…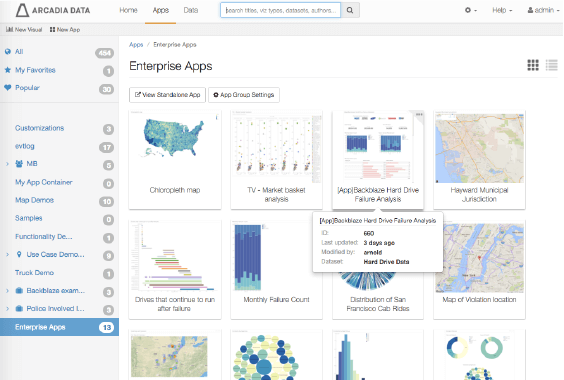 16
Prognoz Platform offers a comprehensive set of analytical tools for efficient management. Embedded advanced analytics combined with a broad range of modeling and forecasting capabilities to help you gain future insights and make more informed decisions. Interactive charts, graphs, and maps for visually compelling analysis across a variety of data slices, Self-service BI for fast data import and analysis that can lead you to new insights and access to analytical tools and ready reports via Web, desktop, and mobile applications, and easy export to popular formats. Personal version contains all tools of Prognoz Platform 8, a repository with demo examples…
Prognoz Platform Personal Edition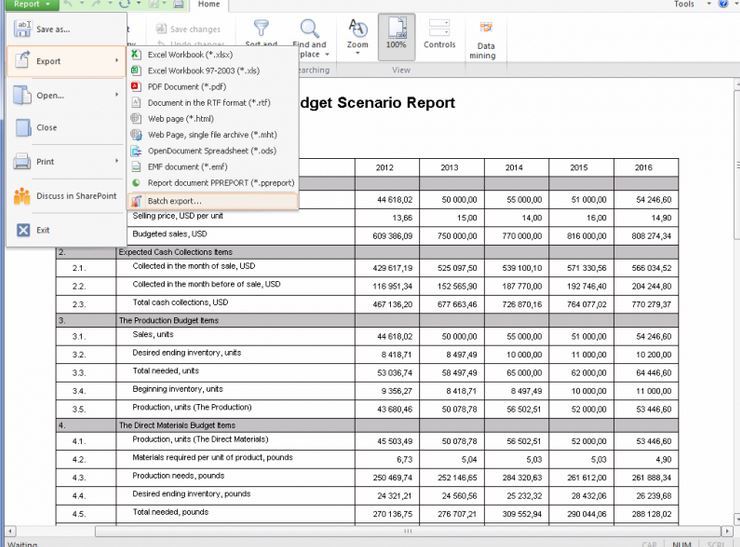 17
Highcharts is a charting library written in pure JavaScript that is used to add interactive charts that can be shown on websites and web applications. Currently, Highcharts supports line, spline, area, areaspline, column, bar, pie, scatter, angular gauges, arearange, areasplinerange, columnrange, bubble, box plot, error bars, funnel, waterfall and polar chart types. Highcharts is fully compatible with almost all devices including iOS and Android from mobile phones and tablets as well as Internet Explorer starting from version 6. For mobile devices, Highcharts supports multi-touch for a seamless user experience. Highcharts also offers free services if used on personal website, educational…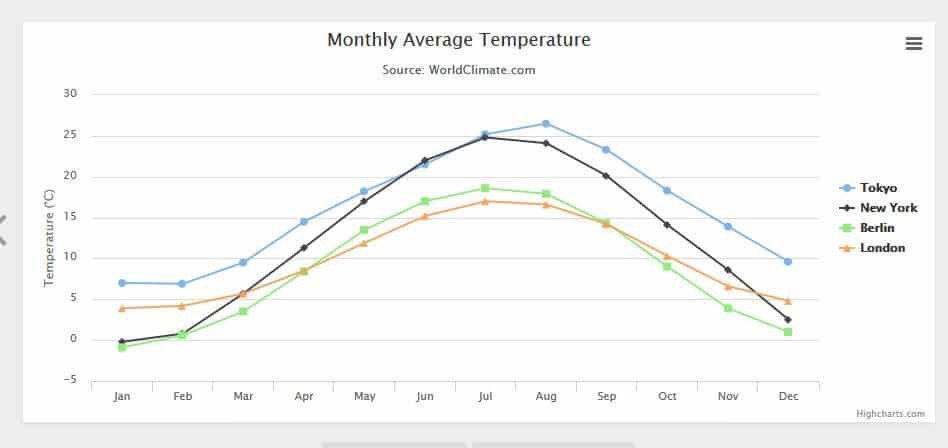 18
OpenStack dashboard provides administrators and users a graphical interface to access, provision and automate cloud-based resources. The extensible design makes it easy to plug in and expose third party products and services, such as billing, monitoring and additional management tools. The dashboard is also brandable for service providers and other commercial vendors who want to make use of it.OpenStack is a cloud operating system that controls large pools of compute, storage, and networking resources throughout a datacenter, all managed through a dashboard that gives administrators control while empowering their users to provision resources through a web interface.OpenStack is open source…

19
Quadigram is a visual drag & drop data editor that will transform the stories you bring to the web.Quadigram combine texts, images and interactive visualizations to bring your data to life.Create articles, presentations or embedded visualizations to communicate your insights. Quadrigram is a visual programming environment that lets users construct and share interactive data visualization projects quickly and easily, without any programming skills or hassles.Located between the paradigms of standard programming and the spreadsheet, Quadrigram offers a new innovative system for iterating and prototype interactive data-driven solutions quickly and with ease. This in turn increases efficiency in the analytical process. …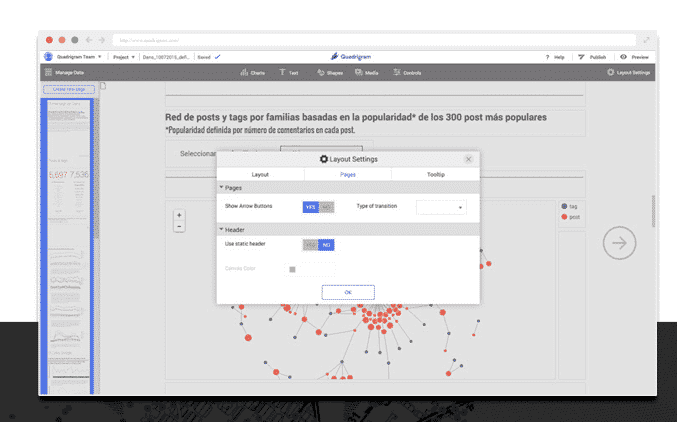 20
Knowi is an adaptive intelligence for modern data and a business intelligence platform that unifies analytics across multi-structured, unstructured and structured data. There is no need for ETL or ODBC drivers. Users just connect the datasource(s) then Knowi does a schema on read, and users start building queries. Simple as that. Users can create blended datasets by joining data from NoSQL, SQL, REST-API, RDBMS and even file based sources in a matter of minutes. If users are ready to become a data-driven enterprise, users just need to insert the algorithms into the analytics workflow to automatically trigger notifications or actions.…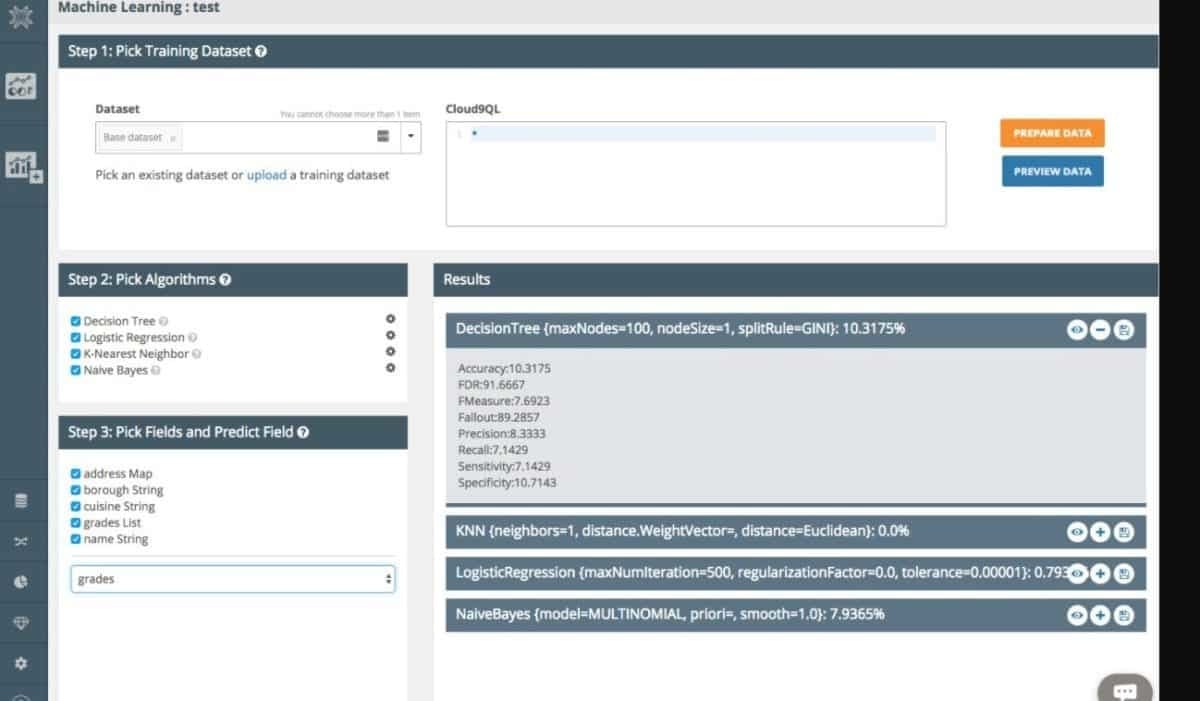 21
Beekeeper lets developers write SQL to quickly build reports and share data with business users. Beekeeeper connects to the users' database over a secure, encrypted channel. Users can write SQL speedily with its query workbench, plus users can also save them for later or share with the users' team. Users may add parameters like date and region to their query to generate a business user interface. Share links, binders, embeddable code, or emails with team members or customers using Beekeeper. Writing SQL in Beekeeper is quick and easy with its full-featured IDE. Users can represent their data visually to provide…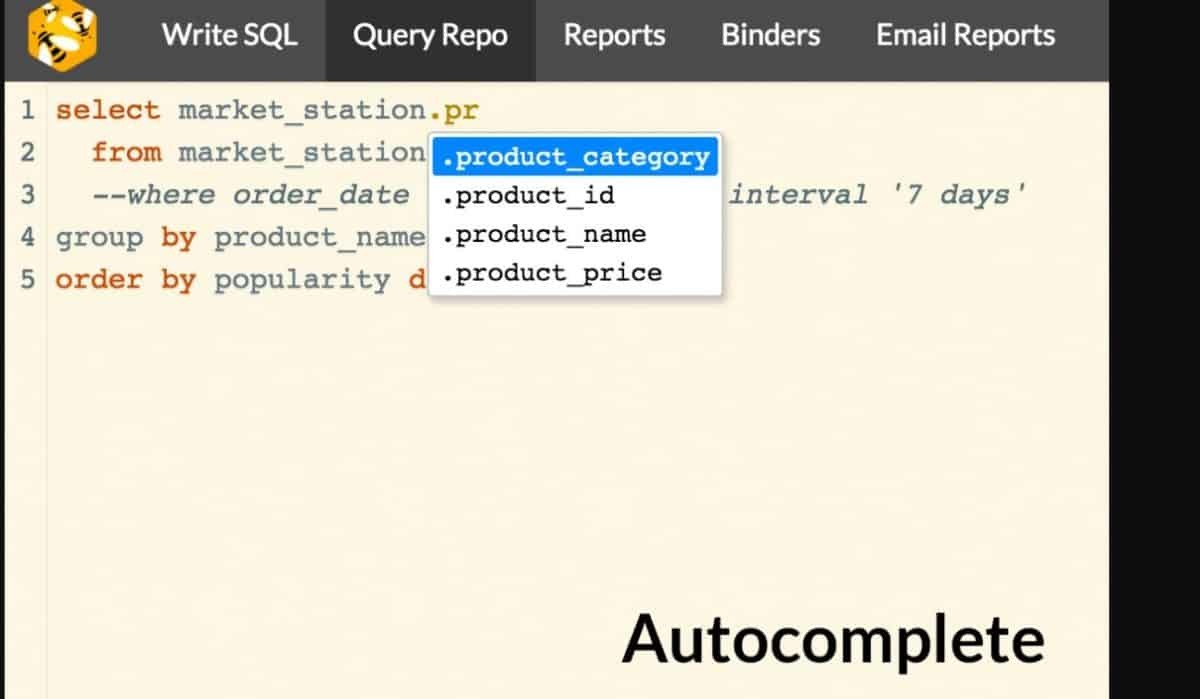 22
Cluvio is a cloud analytics platform for startups and data-driven teams, trusted by over 100 companies. Users can use SQL and R to analyze their data and in a few minutes create beautiful, interactive dashboards for their entire company. There is a wealth of information hiding in the data in the users' database that is just waiting to be discovered. Daily active users, monthly recurring revenue, signups per day. With Cluvio, users can see the most important KPIs on interactive, real-time dashboards anywhere, anytime. Users can receive alerts for conditions that users define - a sudden drop in number of…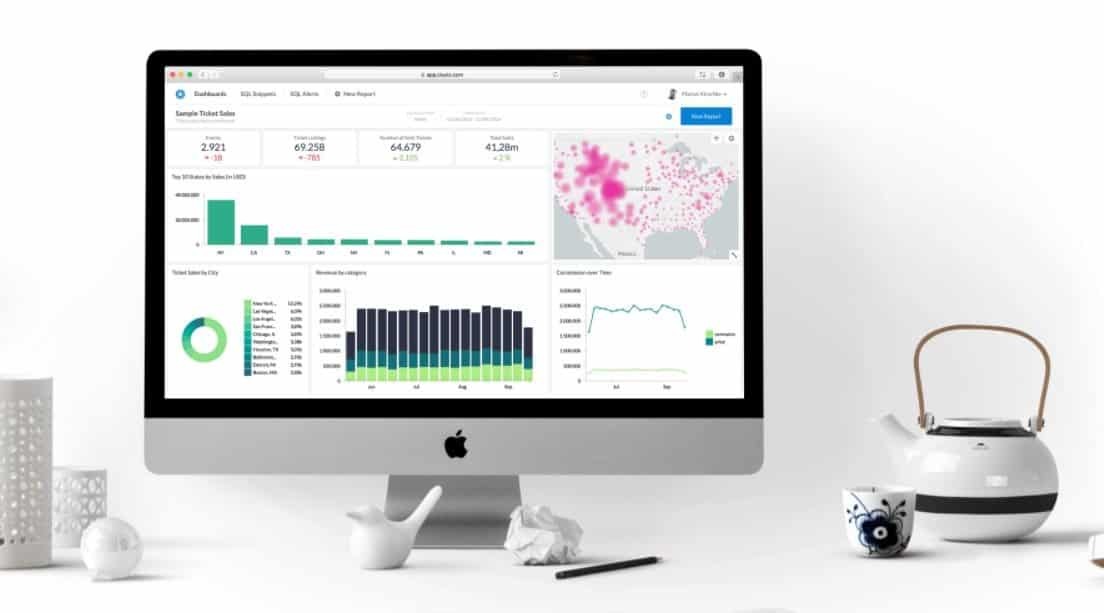 Top Dashboard Software
Sisense, iDashboards, Microsoft Power BI Pro, SAP Lumira, Watson Analytics, SQL Server Reporting Services, SAP Crystal Dashboard Design, BOARD, GoodData, Tableau Desktop, SAS Enterprise BI Server, Arcadia Data, Phocas BI Software, Pyramid Analytics, Datapine Business Intelligence, Adaptive Insights, Birst BI, MicroStrategy, Information Builders WebFOCUS Platform, Dundas BI, Domo, Oracle Business Intelligence, ClicData, IBM Cognos Analytics, Analytics Canvas, ThoughtSpot, andara, Dimensional Insight, OpenText Actuate Information Hub, SAP Crystal Server, Exago Business Intelligence, BIME, Yellowfin, SAP BusinessObjects BI, JReport, Tableau Server, Tableau Online, Qlik Sense Enterprise, Noetix, Flexmonster Pivot Table, Bright Gauge, Grow, Salesforce Wave Analytics, DecisionPoint, 4SightBI, AVORA, Notion, DBxtra, Active Intelligence, Redash, Vizard, SAP Crystal Presentation Design, BellaDati Business Intelligence, Logi Analytics, Izenda, InetSoft Style Intelligence, Prognoz Platform, Panorama Necto, TARGIT Decision Suite, Logi Vision, InetSoft Style Scope, InetSoft Style Report Enterprise, Strategy Companion Analyzer, FusionCharts, Entrinsik, Windward Studios, Easy Insight, Klipfolio, Geckoboard, Jet Professional, Slemma, Longview, ORBIT Enterprise, RW3, DataLion, Vizdum, Viewics, Kyubit Business Intelligence, gtmhub, Viur, Bilbeo, Yaware.Dashboard, Profitbase BI, BizViz Platform, Lumalytics, Visual KPI, Zoomdata, Wizdee, idaciti, AnswerRocket, IntelliFront BI, ApeSoft DataCycle Reporting, Yurbi, Zoined, AppInsights, Fathom, Funnel, InfoCaptor Dashboard, Stytch, Panintelligence, OQLIS, Freebird, MammothDB, Nucleus, Neatly, Vismatica, Decydz, DrillDb, Ubiq, Quadrigram, Tour de Force BI, Starcom BI, ShareMy Insight, NetCharts, Knowi, Beekeeper, Cluvio, Dashboard Builder, DataHero are some of the Top Dashboard Software
1
Sisense simplifies business analytics for complex data. Powered by In-Chip and Single Stack technologies Sisense delivers unmatched performance, agility and value, eliminating much of the costly data preparation traditionally needed with business analytics tools and providing a single, complete tool to analyze and visualize large, disparate data sets without IT resources. Sisense's expertise in complex data includes both large data sets and data derived from multiple, disparate sources. Sisense leverages In-Chip analytics to dramatically improve business users' access to advanced…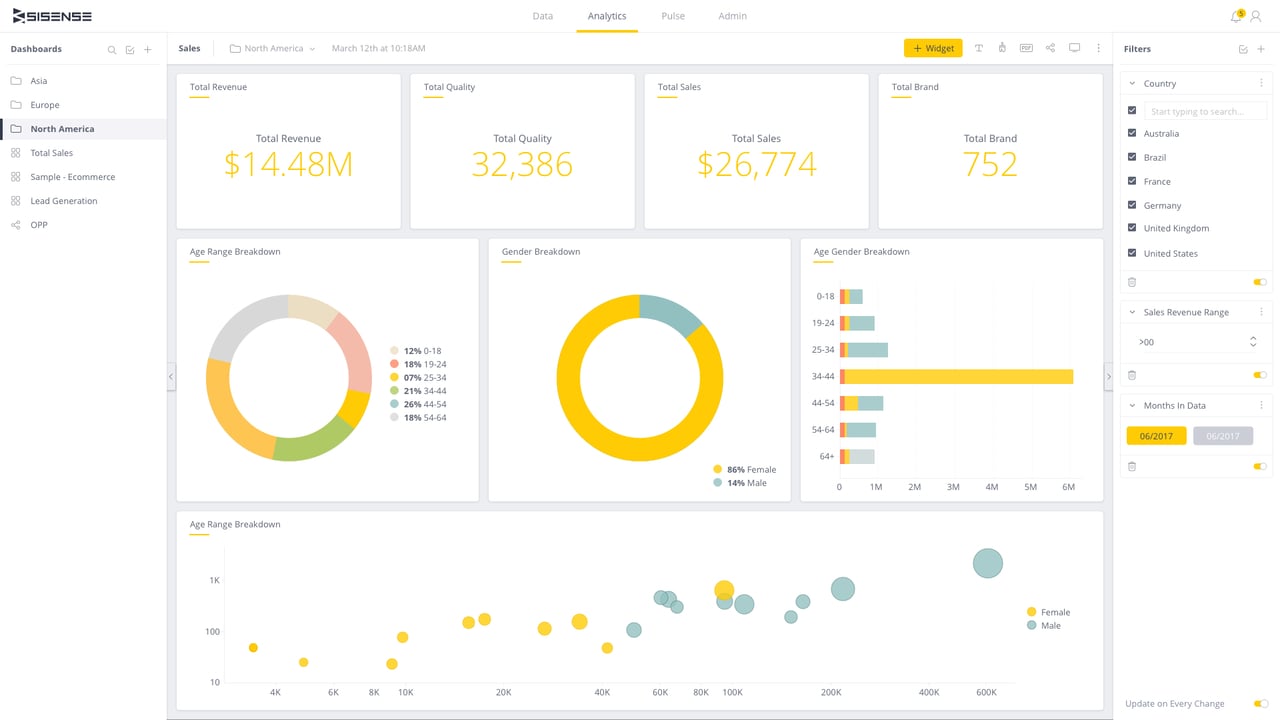 2
iDashboards provides the best experience when it comes to managing data and dashboards alike. Customize and present better charts during presentations using iDashboards. Incorporate images, videos and company logos to various charts or even create unique theme for each dashboards. It also provides huge color selection and a lot of personalized operations just to make sure every chart provide a good impression.iDashboards' Enterprise software is a programming-free dashboard solution that allows you to easily combine multiple data sources and build…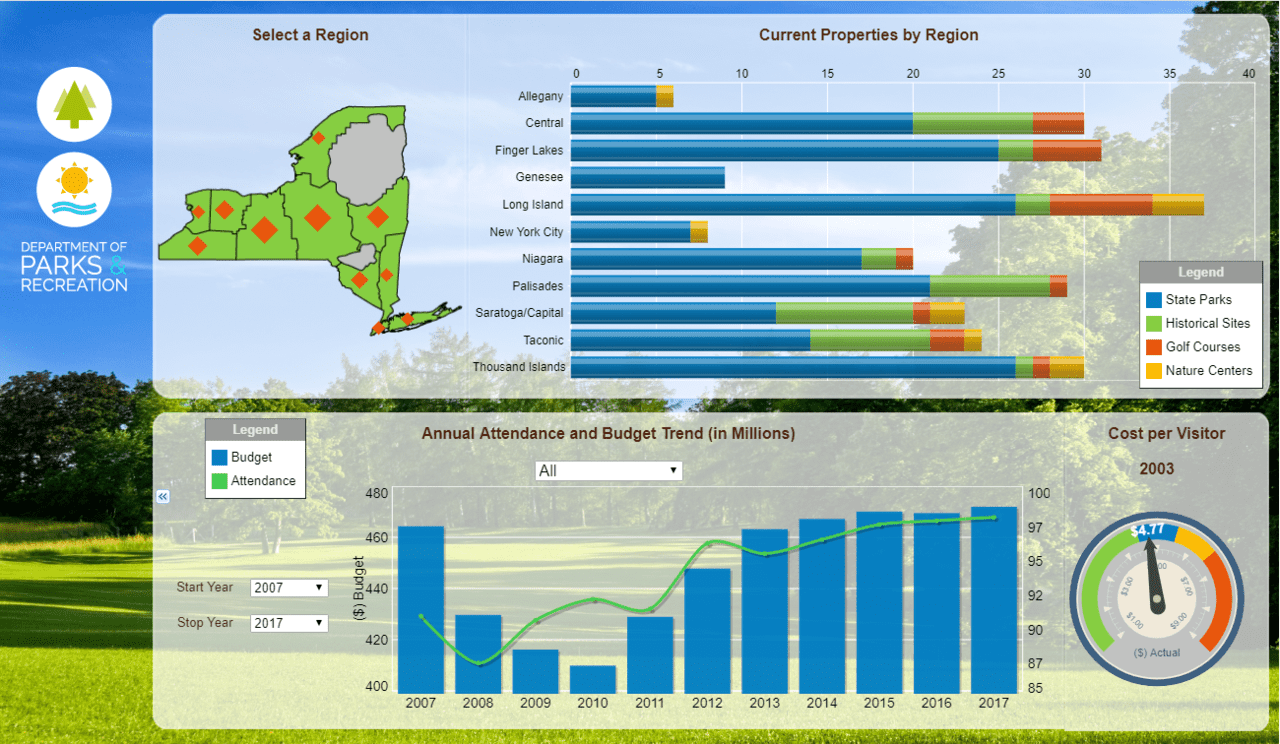 3
Microsoft Power BI : Microsoft Power BI, is a cloud based, software as a service, self-service business intelligence solution for non technical business users. With just any browser or a Power BI mobile app, customers can keep a pulse on their business via live operational dashboards. They can deeply explore their business data, through interactive visual reports, and enrich it with additional data sources. The first version of Power BI was launched last February and since then customers have used…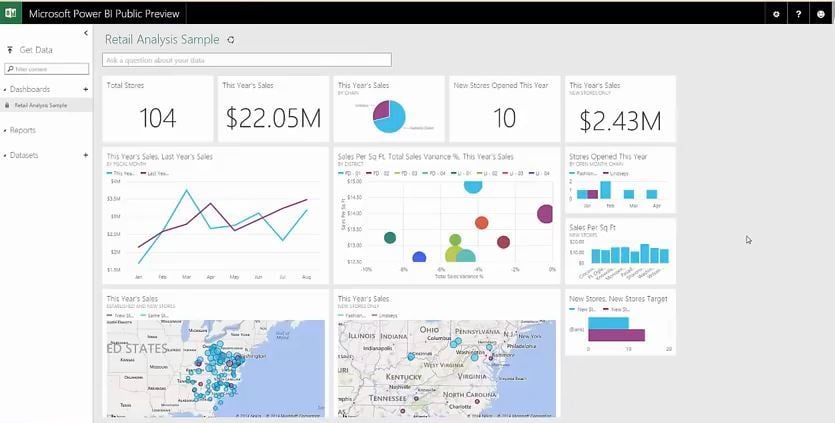 4
SAP Lumira : SAP Lumira is a self service Business Intelligence solution from SAP which allows business users to access, transform, visualize data, analyze the trends, and share insights on the BI platform or in the cloud. SAP Lumira solution portfolio includes SAP BusinessObjects Lumira, Standard Edition, SAP BusinessObjects Lumira, Server for Teams and SAP BusinessObjects Lumira, Server for BI Platform. The SAP Lumira desktop prepares the data from multiple sources, and provide tools to visualize the data. Using SSAP…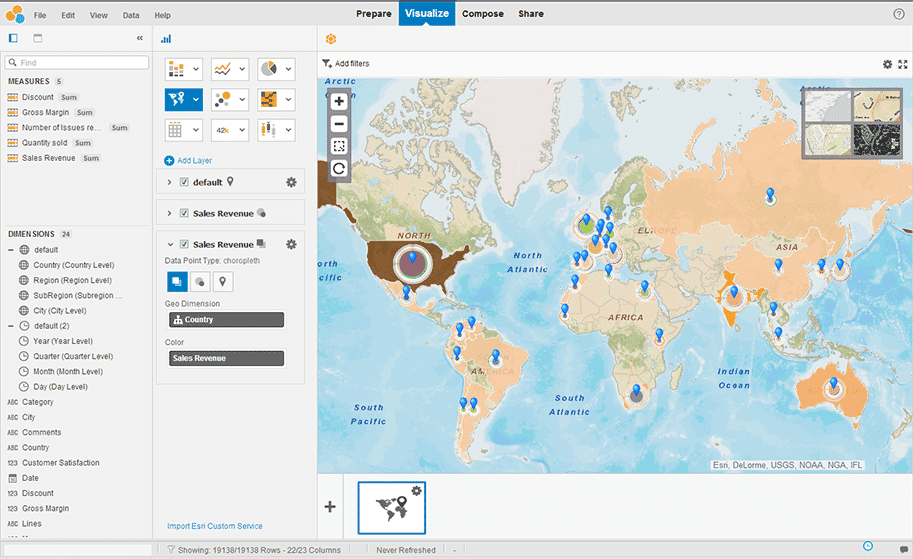 5
Watson Analytics : Watson Analytics, is a cloud based natural language based cognitive service that can provide instant access to powerful predictive and visual analytic tools for businesses. This is offered as freemium version designed to run on desktop and mobile devices. Watson Analytics offers a full range of self service analytics, including access to easy to use data refinement and data warehousing services that make it easier for business users to acquire and prepare data beyond simple spreadsheets for…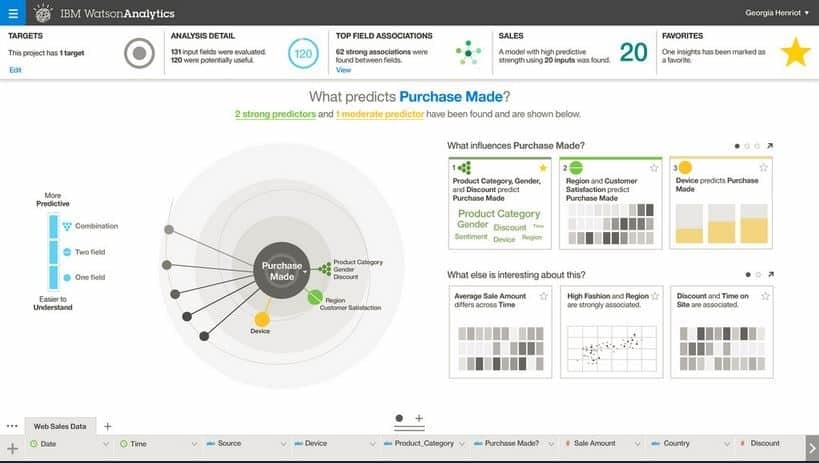 6
SQL Server Reporting Services provides tools and services that Create, deploy, and manage mobile and paginated reports for your organization. Reports can be mobile, paginated, interactive, tabular, and graphical, with a variety of data, including relational, multidimensional, and XML-based data sources. Reports can include rich data visualizations, including charts, maps, sparklines, and KPIs. Reporting Services is a server-based reporting platform. You publish reports to a report server, or as part of a Microsoft Windows application, or to a SharePoint site.…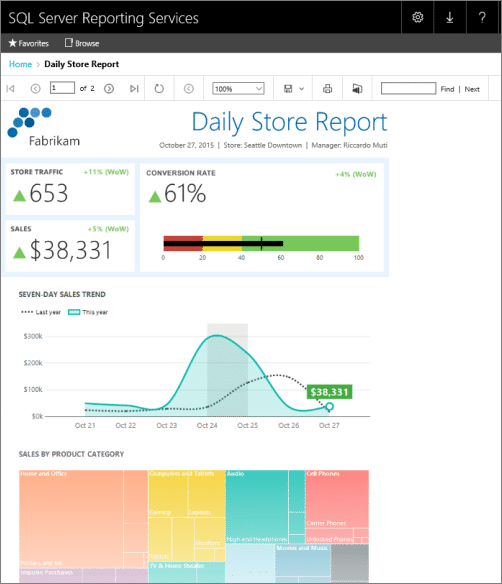 7
SAP Crystal Dashboard Design software is used to create insightful dashboards from any data source with point and click ease. With SAP Crystal Dashboard Design, business can create professional dashboards from any type of live company data via the universe semantic layer in SAP Crystal Server software, Web services, or Microsoft Excel spreadsheets. With a feature-rich library of ready-to-use charts, maps, gauges, drill-down charts, and progress bars, plus a point-and-click interface for connecting prebuilt charts and graphics to data, you…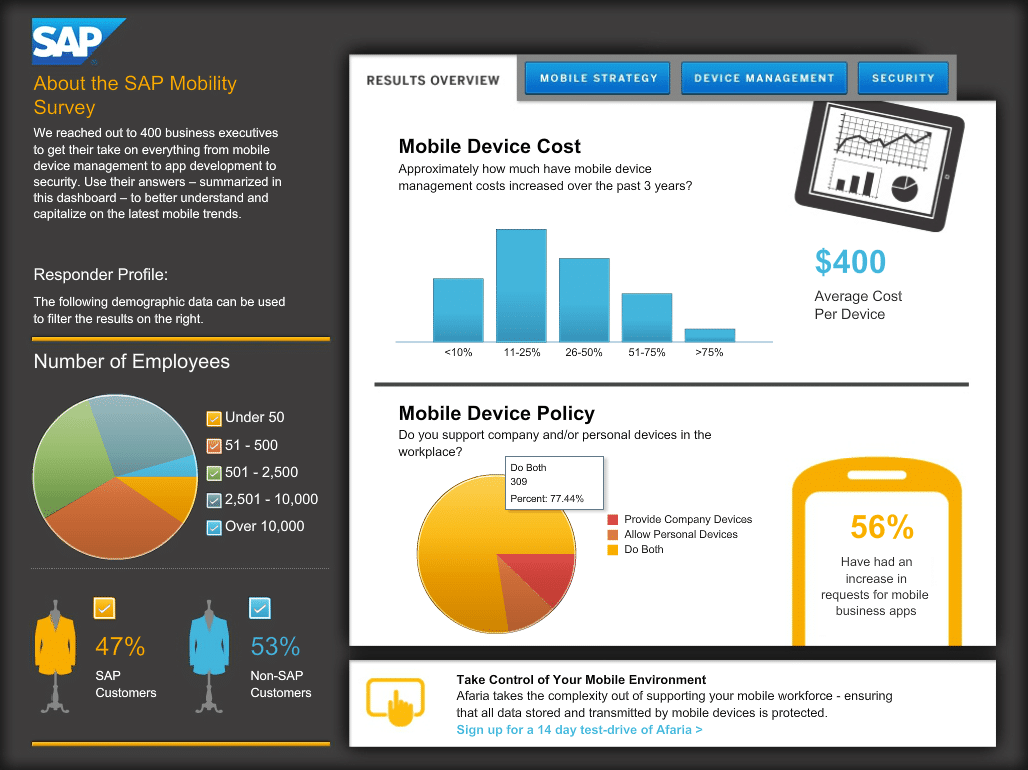 8
BOARD integrate Business Intelligence Software (BI) with Corporate Performance Management tools and provides Business Intelligence functions including reporting, multi-dimensional analysis, ad hoc querying and dashBOARDing is combined with the ability to manage and monitor all performance planning and control processes, from budgeting, planning and forecasting to profitability analysis, scorecarding and financial consolidation. BOARD International is a global leader in the Business Intelligence and Performance Management space. BOARD has enabled over 2,500 companies worldwide to rapidly deploy BI and CPM applications…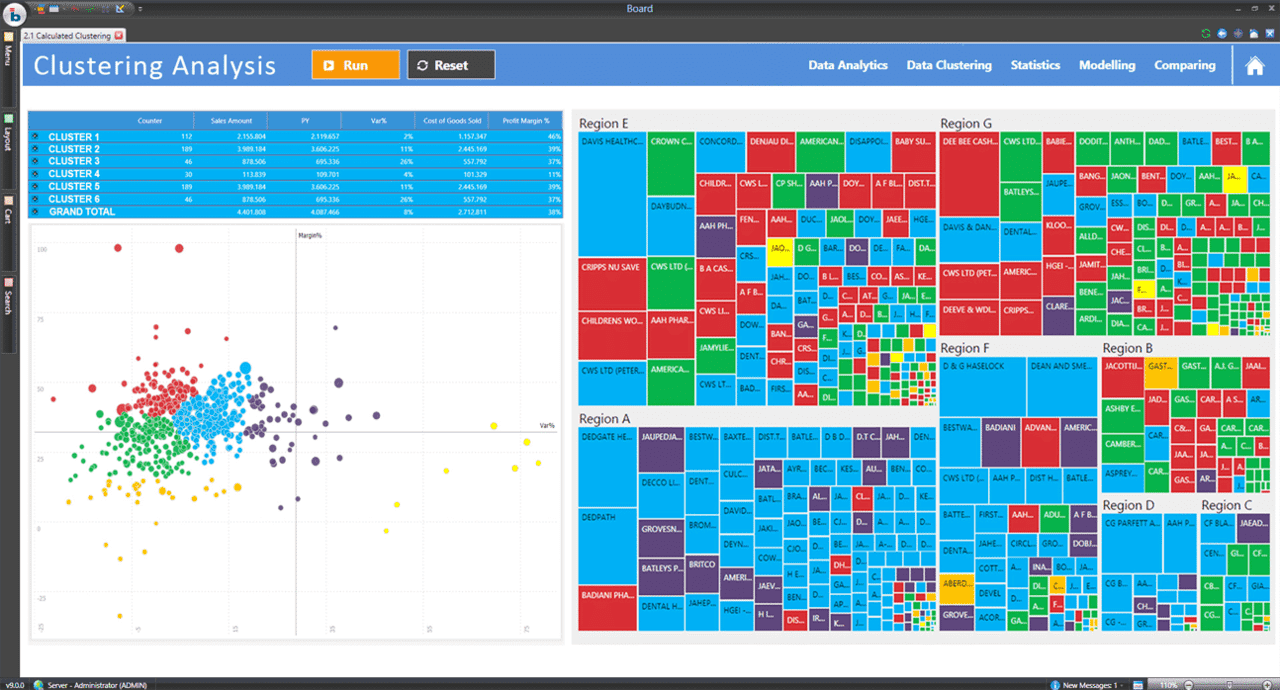 9
The GoodData platform includes advanced distribution and product lifecycle management features to automate the process of maintaining one-to-many cloud deployments. GoodData provides a highly engaging guided analytic exploration experience that drives actionable insights by teaching users best practice techniques through recommendations inside the interface.GoodData's dashboards are responsive, mobile optimized, and include built-in alert, email and collaboration features to promote sharing across the organization GoodData provides groundbreaking BI for data monetization to enterprises, independent software vendors, and system integrators who seek…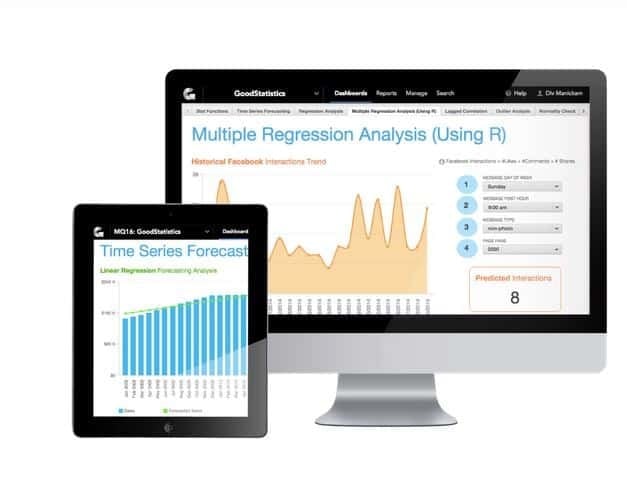 10
Tableau Software helps people see and understand data. Tableau helps anyone quickly analyze, visualize and share information. Tableau Desktop is a product that everyone can use to ask new questions, spot trends, identify opportunities, and make data-guided decisions with confidence. Tableau's Data Engine lets you extract data for ad-hoc analysis of massive data in seconds. It combines advances in database and computer graphics technology so you can analyze huge datasets on a laptop. Tableau is 10-100x faster than existing solutions.…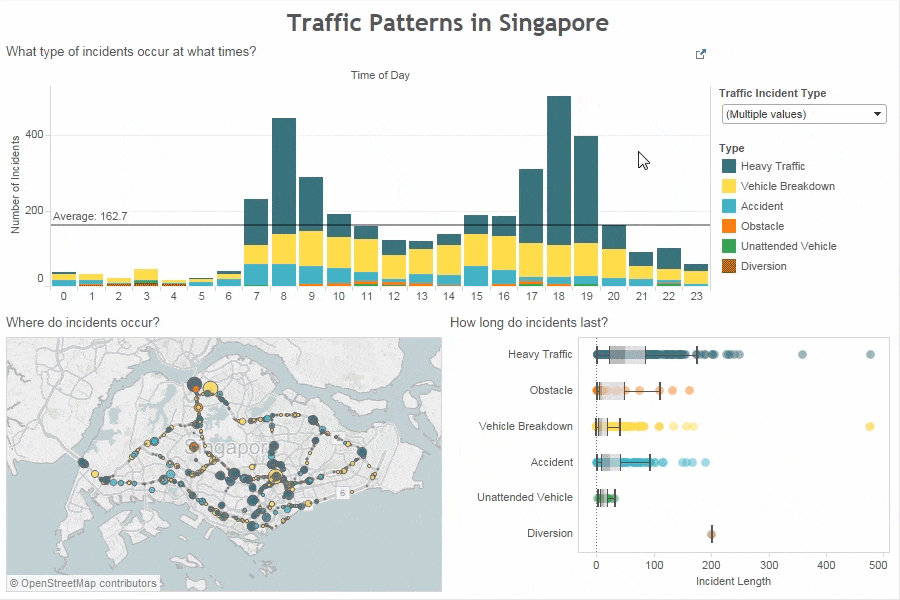 11
SAS BI software integrates the power of SAS, role-based interfaces and Microsoft Office so everyone can make fact-based decisions. SAS Enterprise BI