Review
Microsoft Advanced Threat Analytics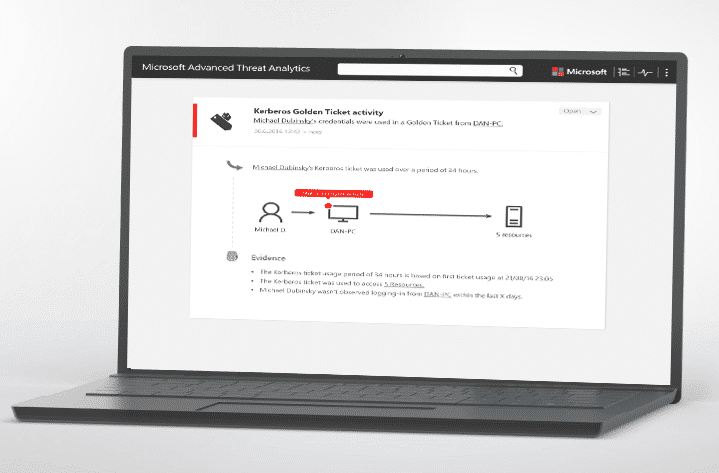 Overview
Microsoft Advanced Threat Analytics helps you identify breaches and threats using behavioral analysis and provides a clear, actionable report on a simple attack timeline.
User and Entity Behavior Analytics
Detect threats
Provides alerts for real threats
Fast and easy to learn
Works as effectively as cyber attackers
Standalone licene -CAN$107 per user
Standalone license -CAN$82 per device/per Operating System Environment
Small (<50 employees), Medium (50 to 1000 Enterprise (>1001 employees)
Microsoft Advanced Threat Analytics
Advanced Threat Analytics continuously learns from the behavior of organizational entities (users, devices, and resources) and adjusts itself to reflect the changes in your rapidly evolving enterprise. As attacker tactics get more sophisticated, Advanced Threat Analytics helps you adapt to the changing nature of cybersecurity attacks with continuously learning behavioral analytics. Microsoft advanced threat analysis analyzes the system for threats and risks that might attack the system.
These threats are detected and an actionable information is provided about how to combat them. Cyber-attacks have significantly increased than before. These threats may leak confidential information about company strategies, action, customer information etc. These threats can cause a lot to the one being attacked. Companies might lose their customers, their revenues could fall and so on.
These threats are malicious. Behaviors analytics combined with machine learning techniques uncovers various abnormal behaviors and deviations in activities. These deviation may represent some sort of risk and threats. The software quickly identifies threats and sends an alert about malicious activities. The software with the help of its advanced algorithms can quickly detect threats before it is too late for threats to cause a huge damage.
The software not only detect threats but provides a remedy and recommendation about how to combat it. The software presents reports to its users about various malicious activities, risks and threats. Cyber-attacks are becoming much advanced them before. The software has the capability to track such activities and to be as active and advanced as any other attacker. The software provides alerts only for real malicious activities. The software does not present improper and unnecessary alerts for threats. The software works in four steps. At the first it analyzes data, detects threats, learn about the malicious activities and them sends an alert about malicious activities. The software is fast and quick. It is easy to learn and adapt.