Review
Zoomdata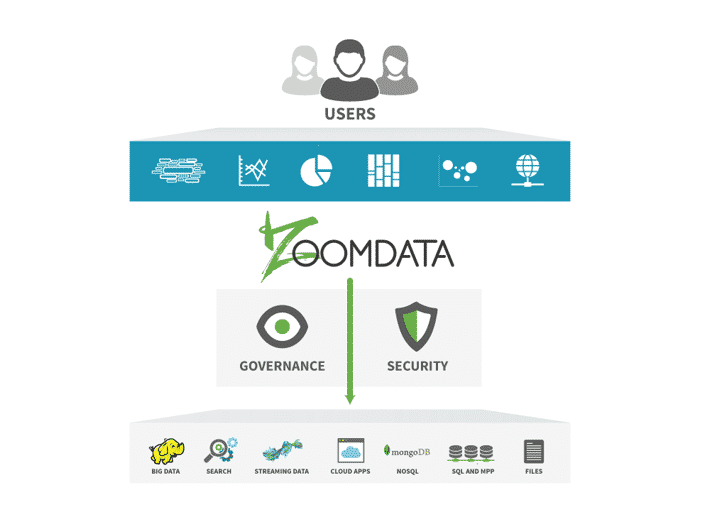 Overview
Zoomdata makes it easy to embed visual analytics into any application. The client side of Zoomdata is built using highly flexible, modern web technologies including HTML5, JavaScript, WebSockets, and support for CSS.
Business Intelligence Software
•Fast Visual Analytics
•Big Data Exploration
•Self-Service BI
•Data Sharpening
•DataDVR
•Multi-Source Analysis
•Dashboards
•Built for Big Data
•Big Data and Hadoop
•Streaming Data
•Search Data
•noSQL Databases
Small (<50 employees), Medium (50 to 1000 Enterprise (>1001 employees)
https://www.zoomdata.com/
What is best?
•Search Data
•noSQL Databases
•MPP and SQL Databases
•Custom UI
•Custom Visualizations
•Developer Tools
What are the benefits?
• Accelerate time-to-insight by reducing the clutter that distracts novice users in traditional analytics applications
• Can span a data ecosystem that includes traditional relational databases and new sources like nosql, search, and streaming data
• Stream processes more data through additional micro queries
• Provides sharp visualizations
• Interact with your data in the same way you use streaming video technology to interact with live video or replay movies
Zoomdata makes it easy to embed visual analytics into any application. The client side of Zoomdata is built using highly flexible, modern web technologies including HTML5, JavaScript, WebSockets, and support for CSS.Zoomdata provide a simple, intuitive, and collaborative way to visually interact with data to solve business problems to enable interactive data visualization at any scale.
Zoomdata, exploratory data analysis and visualization platform, empowers business users to see and interact with data. Its unique micro-query architecture delivers results on huge number of records in seconds and gives users a single pane of glass for bridging old and new data.With Zoomdata, big data discovery can range a data ecosystem that includes traditional databases and new sources like NoSQL, streaming and search data.
Zoomdata supports a wide spectrum of data visualization - from exploratory data analysis to dashboarding to embedded visual analytics. Exploratory data analysis allows users navigate data without a particular question in mind, formulate hypotheses and find what the data is able to tell us. Dashboard frames and communicates operational insight.
Any application supporting a business process can be strengthened with embedded visual analytics.Zoomdata supports interactive data visualization at any scale, from thousands to of records.
Users can interact with visualizations on the fly using Zoomdata's intuitive controls, removing the need to re-query the original data source. Users can drop, drag or swipe to switch between attributes and metrics while seeing the results instantantly. They can view customers by revenue potential, industry, geography or any other relevant category.
Zoomdata users easily create dashboards combining multiple data sources and share them with the rest of the enterprise.Using patented data sharpening technology, Zoomdata renders big data into compelling visualizations within seconds, tapping directly into historical and real-time data across old and modern data stores.
As Zoomdata stream processes more data through various micro queries, the visualization continuously sharpens.Data DVR harnesses the velocity of big data with the ability to rewind,pause, and fast forward the data stream, helping teams identify and track anomalies that occurred few seconds ago, few minutes ago, or five days ago.
Data DVR continuously calculates rolling or static windows, enabling users to track trends across real-time and historical data streams.Zoomdata Fusion enables interactive data mixing and analysis across contrasting data sources, bridging modern and old data architectures, mixing real-time streams and historical data, and integrating enterprise data on-premise and in the cloud.
You may like to read: Open Source, Free and Top Dashboard Software and How to Select the Best Dashboard Software for Your Business
Zoomdata ScreenShots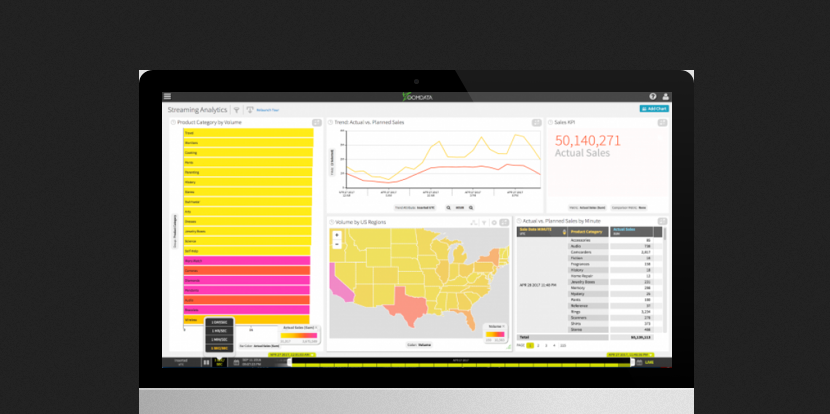 Zoomdata Videos