What to look for in a Small Business CRM Implementation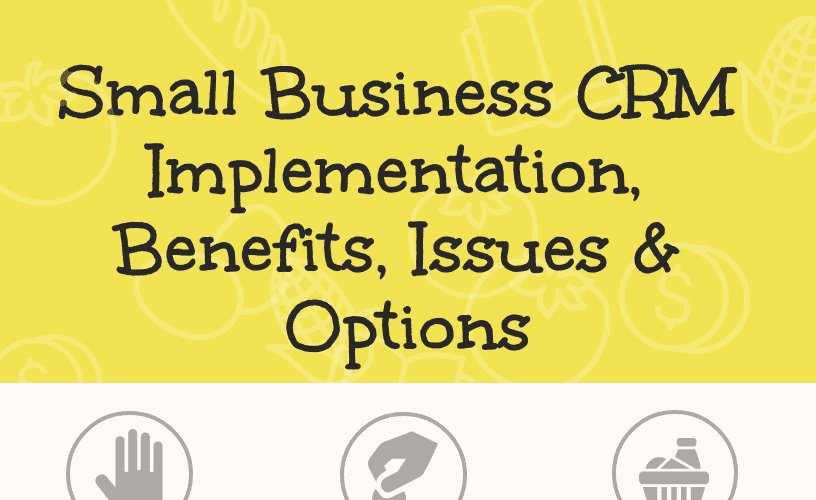 Customer Relationship Management provide the organization and all of its customer facing employees with a single, complete view of every customer at every touch point and across all channels. Customer Relationship Management analytics enable the effective management of customer relationships and organizations are able to analyze customer behaviours, to identify customer-buying patterns and discover causal relationships.
Implementing a CRM system is only part of the needed change and organisations need to align various organizational aspects such as business processes, strategies, top management support, and employee training with their CRM systems. Customer Relationship Management is the approach adopted by an organization in the management of customer relations and is essential in workplace linkages.
Departments such as sales, marketing, and customer services with finance, production, logistics and HR departments can be linked to useful Customer Relationship Management technology software.
Customer Relationship Management increases customer satisfaction due to its ability to increase customer loyalty and limit customer defections and complaints. Organizations can offer customized services to each customer through an accumulation of information to discover hidden trends in consumption. The customization of offerings enhances a firm's perception, therefore, affecting customer satisfaction.
CRM also enhance the ability of firms to accurately and timely process customer client requests and orders. In addition, CRM applications assist companies to efficiently manage the relationship of clients firms and manage customer relationships more effectively across the phases of relationship initiation, maintenance, and termination.
The most significant feature of the CRM is its ability to analyze data from a wide range of channels of communication, such as a company's website, telephone, email, live chat, marketing materials, and recently, social media. Through the CRM approach and the facilitative systems, businesses gain more knowledge about their target audiences and how to best serve their needs.
The most innovative approach to CRM demands a focus on enhancing the experience of the customers. To achieve this, Small Medium Business should evaluate and upgrade their contact centers through the addition of self-service applications. These calls upon Small Medium Business to implement analytics to gain consumer insights, which can be applied to sales and marketing tactics and strategies, targeting existing and potentials customers.
Small Medium Business can also develop mobile-enabled CRM applications to enable customer with access to mobile computing devices to self-service, or help remote workforces to service customers in the field. The objective is to ensure that the organization serves the customer efficiently. Businesses need to understand their internal requirements while deploying CRM solutions. This involves allocating adequate funds, identifying reputable CRM suppliers while at the same time recognizing infrastructure and training requirements for staff.
In adopting innovative approaches to Customer Relationship Management, salespersons need to rely on reliable statistics upon which to execute their campaigns. The data collected need to be reliable and fulfill customer needs and the various legal requirements. The customer purchasing habits need to be taken into consideration by marketers. This all provides reliable data which is applied together with BI, and predictive analytics enables marketing teams to develop offers targeted to specific consumers, therefore, driving increases in sales and revenues.
What are the issues in CRM Implementation ?
Avoiding CRM only restrict the growth potentials of organizations, Small Medium Business tend to shy away from adopting CRM due to the considerable cost of deployment. Before the adoption of the new system, enterprises evaluate the benefits to be accrued from the system as compared to the costs to be incurred in system acquisition.  The costs are even higher in organizations with little understanding of how a particular system can be implemented cost-effectively.
Lack of expertise Information Technology force organizations to delay the implementation of CRM infrastructure, this negatively influences business owners to believe that IT would not be useful for the Small Medium Business.
This can be remedied by employing adequate and skilled experts for a successful CRM system. Many Small Medium Business fail to adopt CRM in their businesses because they do not know where to get started in the implementation. IT experts can be helpful in helping business owners understand the type of CRM that best suits their enterprises this will help in reducing the rates of CRM failures among Small Medium Business.
At times employees can be unwilling to embrace new software due to difficulties in using it, the feeling that the software is too complex or the lack of enthusiasm in learning something entirely new. It is important to gauge employee buy-in before the deployment of CRM.
A top-down approach can be used to encourage employees to shift. Managers can lead by example through demonstrating to employees in the lower cadres how the system works. Employee buy-in can be enhanced through laying down the vision, personalization of tasks, carrying out follow-ups and soliciting employee feedback on the effectiveness of the CRM system.
Additionally, factors such as competition from rivals, support from the government, identifying the right CRM partner and IT knowledge are some of the minor factors that affect the adoption of CRM. All these factors need to be taken into account before Small Medium Business adopt CRM system due to their ability to impact on the smooth operationalization of CRM, therefore, inflicting huge losses on the Small Medium Business.
What are the benefits in CRM Implementation ?
Implementing Customer Relationship Management provides great benefits to both established businesses and Small Medium Business. Some of the benefits accrued from the implementation of CRM include:
a) Improvements in customer relations
CRM guarantees improved customer satisfaction. Through adaptation of CRM, all aspects involving marketing, servicing can be undertaken in an organized manner. Services are also offered to customers through improved understanding of their concerns; this significantly raises customer loyalty and reduces incidences where clients are frustrated.
Business owners can receive continuous feedback from customers touching on products and services offered. Customer referrals can also be enhanced as satisfied customers may refer their friends and acquaintances.
b) Increase in revenues
The use of CRM significantly increases revenue earnings. Through the data collected from clients, marketing campaigns are undertaken effectively. Through the analysis of the spending habits of clients, enterprises can deploy different sets of resources and attention to different types of consumers, therefore, ensuring that product promotions reach a specific target group of customers.
c) Maximization of upselling and cross-selling
Upselling is the practice of offering customers services and products that fall into the same category as those purchased. Cross-selling, on the other hand, is the sale of products that complement each other based on a customer's previous purchase.
These approaches are made after interactions between the marketing team and customers who can freely express their needs, wants and purchase patterns. The data obtained during these interactions is stored and later accessed by company executives who promote their products if an opportunity is spotted. This maximizes both up-selling and cross-selling.
d) Improved internal communication
CRM system enhances communication within the enterprise. Through the adaptation of CRM, different departments can share customer data which enhances teamwork. This reduces the risk of departments working as isolated entities, therefore, improving both profitability and customer relations.
e) Optimum marketing
Customer needs and behaviour are better understood through CRM, therefore, enabling the enterprise to know the correct time to undertake marketing campaigns. CRM also enables the salespersons to identify the most profitable customer bands. This information is used to similar prospective groups at the right time. Marketing resources are therefore used to the optimum, and the enterprise is saved the trouble of investing in marketing campaigns that fail to net in customers.
What are the CRM Implementation options?
There are now so many options available for Small Medium Business to choose the best and most appropriate Customer Relationship Management system for themselves. Small Medium Business boasting of a large pool of IT experts can develop their CRM systems. There also exist open source CRM systems available to Small Medium Business which only need to select systems that can best implement their business operations.
A frontline system that shares customer information across the entire organization is important in the implementation of a proper CRM. Tools such as data mining, relational database, and data warehousing are important in CRM systems together with the active involvement of end-users such as marketing, sales, and finance department in the implementation phase.
Establish the requirements and objectives: The CRM implementation has to have a purpose that should be defined and a goal that should be achieved. You have to gather the requirements and establish clear objectives for each goals.
Educate employees for change: Prepare the employees for the change and train them for the implementation, so that they are more likely to adapt themselves to the new system
Select an appropriate vendor: Thoroughly analyze vendors and select a vendor who are aligned with your objectives and goals.
Select a scalable product: Select a scalable product with long term perspective that can scale up with your requirements and provide the features and functionalities you would need as you grow.
Here are the trending and the top rated CRM Software for you to consider in your selection process:
Top CRM Software
PAT Index™