Why Small Businesses Need Customer Relations Management Software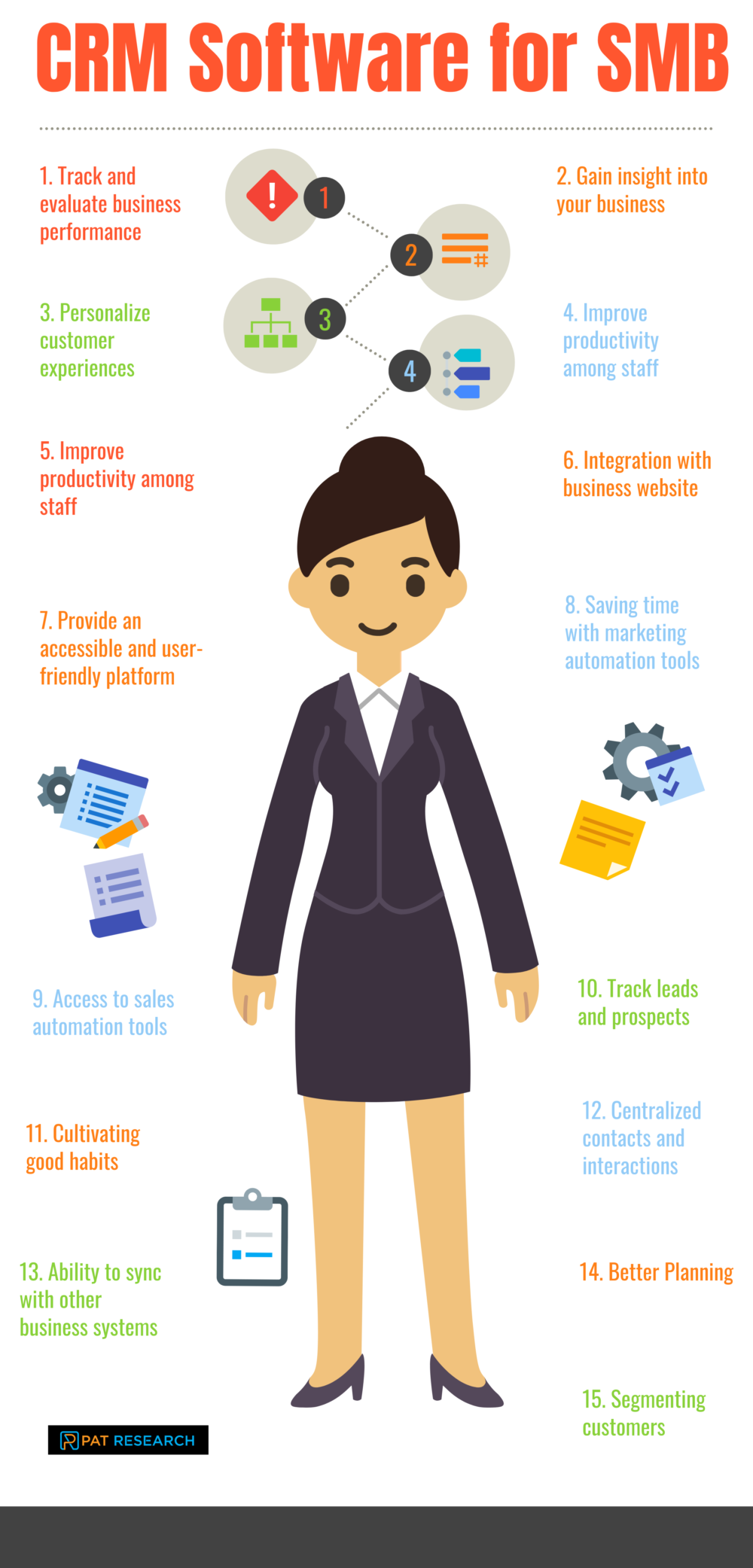 Customer Relations Management (CRM) are tools and strategies which businesses utilize to manage business interactions and relationships with existing customers and prospects. CRM is no longer a reserve for large organizations because it is now being put into use by small businesses.
It is one of the most valuable systems which any small business can implement to improve their competitive edge. CRM system helps businesses, whether large or small, to maintain connections with their customers, improve profitability and streamline processes. It targets at developing overall business relationships.
Studies have indicated that small businesses that implement the CRM system have a chance of experiencing growth of up to 29%. Small business owners try hard to maintain good customer relations as they depend on them for business growth. In this social selling and social-media era, word of mouth has become sophisticated: a customer will want to be engaged from their introduction to the product to the last stage of purchase. CRM is vital in increasing customer loyalty and satisfaction and contributes to building good reputation for a small business.
Small businesses need CRM to improve their customer relations while keeping track of their buyers' trends. It helps give a clear insight into your business for increased sales, organizing data, standardization of business processes, personalization of customer experience and production maximization while cutting costs.
CRM platform enables small business owners to handle operational challenges like sales decline, client attrition, revenue targets and the performance of salespeople. It is an essential tool for improving customer care practices as it helps customer care representatives to offer quick and reliable responses to clients' queries. It gives an insight on clients ordering trends ensuring that support staff does not mess with customer orders and that they provide the correct information to customers.
It enhances collaboration between departments ensuring that staff members are on the same page. If a team member chats with a customer or creates a lead, they record the information in the system for other members to access and refer to during the next conversation with the same customer.
However, to ensure that the small business fully benefits from implementing the CRM system, the system should be simple to use, it should integrate with other existing business solutions, it should be easy to learn, and should offer real-time results.
A small business can reap numerous benefits from implementing a CRM system. They include but not limited to:
Track and evaluate business performance
CRM allows business managers to easily visualize all business processes so they can determine which areas need improvements. For instance, it makes it possible to evaluate marketing campaigns and to determine the one that are bringing in the most qualified sales leads. With CRM, it is easy to note which areas need adjustments in order to achieve a better ROI.
Gain insight into your business
It is evident that no matter what kind of business you operate, you deal with customers' data almost every time. This data may not be useful on its own. However, having a CRM with analytics can help to process such data based on sales performance, trends, and more, to obtain reports and metrics that can provide actionable insights to small businesses, enabling them to make smart and effective decisions.
Personalize customer experiences
According to a recent survey by Gartner, about 89% of companies approach competition from the perspective of customer experiences. CRM software provides access to a broad range of information regarding customers, including their interactions, conversations, and purchases.
Hence, it is possible to have a 360°-view of your customers, which makes it possible to create customized offers based on theFir interests, purchase history, and so on. A CRM system can also segment customers according to a variety of parameters so that a personalized message can be sent out to the right audience.
Improve productivity among staff
CRM helps to define actions or that need to be taken or checklists that need to be followed for certain processes, and thus ensure every employee knows what to do in that situation and when. This will not only promote efficiency and improve productivity but also make easy the process of onboarding of new staff.
Accurate financial reporting
CRM solutions reduce the burden on accounting officers allowing them to concentrate on instead concentrate on other more demanding activities like strategizing on product discounts, client returns and shipping costs. It can act as an effective bookkeeping system, making it easy to monitor your billing processes and to produce accurate financial reports.
Integration with business website
CRM solutions can be integrated with your website and thus make it possible to track and analyze consumer activity on the website, including the pages they visit, the products they view and the duration of visits, before conversion. The captured data can be automatically stored in your CRM database, where it will be accessible to all staff, and it can be relied upon for lead generation.
Provide an accessible and user-friendly platform
CRM software can provide an accessible and user-friendly platform across the multiple points of contact between a business and its customers. For instance, CRM can store details regarding customers' location and payment information so that customers will not have to re-enter such information for each transaction.
Besides, CRM can also help to store a list of favorite items or history of items a customer has purchased in the past making it easier for customers to locate products they love during future purchases. Businesses can also utilize stored data to ensure that existing customers are kept in the know when it comes to company news, offers, sales campaigns, or other initiatives.
Saving time with marketing automation tools
Most CRM solutions have an inbuilt marketing automation tools such as email design templates that small businesses can use to create unique and creative emails which can leave a positive impression on both prospects and customers.
With CRM, it is also possible for small business to curate personalized emails based on target audiences, location, among other parameters. This not only saves time but also Utilizing this feature saves time and amps up your cool factor.
Access to sales automation tools
Small businesses can leverage available sales automation tools to visualize their sales pipeline, create valuable forecasts for future sales and boost business growth. CRM can help to determine areas in the sales process that can provide opportunities, which can help businesses to plan and manage forecasts.
Track leads and prospects
CRM provides tools that allow businesses to track leads and prospects acquired through the business website and notify you to connect with existing customers and prospects. By knowing actions that need to be taken to convert leads into sales, and having software to remind you of those actions, businesses can maximize opportunities for making profits and growing the business.
Cultivating good habits
CRM provides access to automation features and information that the management and the team can use to help in developing good habits. Availability of accurate data ensures that sound business decisions are made.
Having consistency in making smart choices, it can lead to the building of good practices that can help sustain your customers and attract new ones. Retention and attraction of new customers drive to the growth of the business with increased sales and profits.
Centralized contacts and interactions
CRM helps in having all the business contracts and communication all on a single platform. It reduces the amount of time spent searching for information. Your employees can do more in a short time as with the implementation of the system they have access to information such as notes from the previous conversation with a potential customer, LinkedIn profile, email, website, phone number and so much more in one location.
Ability to sync with other business systems
CRM solutions can integrate with other business internal systems fostering better internal communication and better customer relations. It allows the building of customized templates, sends bulk emails enabling you to track response and open rates.
Cloud-based CRM system helps in accessing information from anywhere on the globe with robust mobile features making management of business prospects accessible and more comfortable.
Better Planning
Planning is essential for the growth of a small business. Missing a single event can cost the company in a big way so it should be avoided at any cost. CRM systems have calendar features that help you schedule tasks, milestones, and tasks for you and your employees and linking them with your contacts staying on targets with follow-ups and to-dos. Each time an item is due you will receive an alert and check on what are tasks are completed or overdue.
Segmenting customers
It makes it possible to segment your contacts into various categories like close date, deal size, or location to identify the best leads to focus on.
Conclusion
In modern business space, CRM software is a tool that small businesses should utilize to improve how businesses handle customers, both existing and prospects. CRM solutions can help customer service staff to respond to customer queries quickly, provide insight into customer trends, and other multiple benefits that have been highlighted in this article. Hence, CRM solutions are highly recommended because they can empower small business to compete with other large corporations in terms of customer service and support.
Why Small Businesses Need Customer Relations Management Software?
The Small Businesses Need Customer Relations Management Software to Track and evaluate business performance, Gain insight into your business, Personalize customer experiences, Improve productivity among staff, Improve productivity among staff, Integration with business website, Saving time with marketing automation tools and many more