Top 8 Presentation Software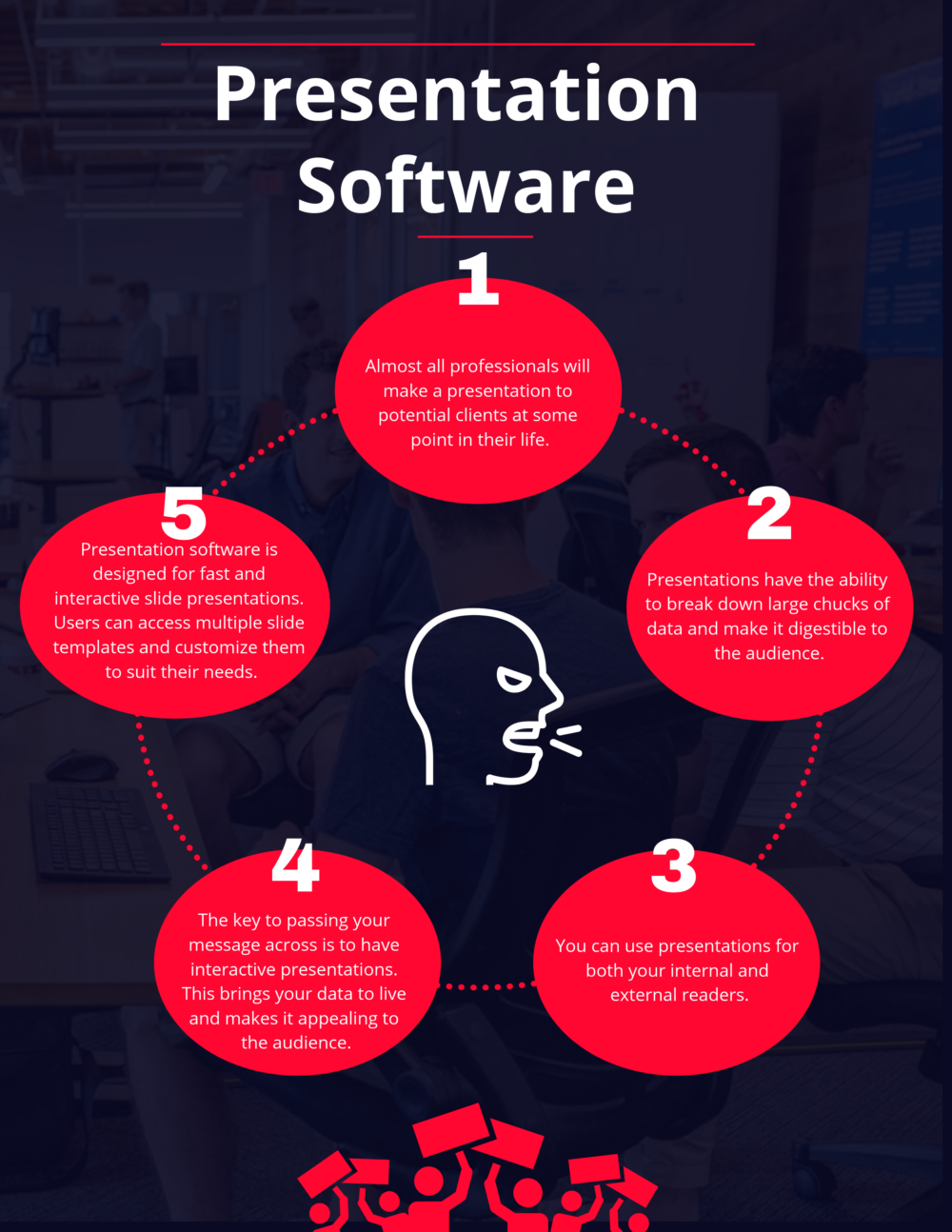 Having a presentation is a powerful way for a brand to inform, educate, and engage their audience. Almost all professionals will make a presentation to potential clients at some point in their life.
Presentations have the ability to break down large chucks of data and make it digestible to the audience. This is done through bullets points, videos, animations, images, charts, and graphs. You can use presentations for both your internal and external readers. Presentations can be accessed through a laptop, tablet, power slides or embedded online on websites and various social media platforms.
The key to passing your message across is to have interactive presentations. This brings your data to live and makes it appealing to the audience. For many years, the main way through which people have been creating their presentations has been through Microsoft PowerPoint. But, this has soon faced stiff competition from presentation software that are more interactive, versatile and have more customized templates that enable a wide range of designs.
Top Presentation Software: Adobe Spark, Canva, Visme, Slidebean, SlideDog, Prezi, ClearSlide, and Vyond are some of the Top Presentation Software.
What is Presentation software?
Presentation software is designed for fast and interactive slide presentations. Users can access multiple slide templates and customize them to suit their needs. You can attach your laptop to a projector and present your ideas to teams or embed the presentation to websites and social media platforms. If you want to pass a message effectively and make it memorable to the audience then you have to make it as interactive as possible.
Presentation software enable you to create and edit animations, videos, and images. You do not have to be a graphic designer to create the most interactive animations. You can also share your presentations with teams and this enhances collaboration.
Presentation software will come with numerous templates for you to customize. All this is done through an intuitive dashboard that has drag and drop buttons. The software will save you the time it would have taken you to design a new presentation from scratch. You can use the slides to present your ROI, profits, projected revenue, business ideas, or architectural designs. The use of presentation software is unlimited.
What are the features of Presentation Software?
Presentations have moved from boring flipcharts to interactive slides that have HD images and videos while making good use of animations. Access to a huge library of templates saves you time to design a slide from scratch. You can share your presentations internally or externally by embedding it to your existing website or social media accounts. Presentation software allows you to communicate your ideas in a clear and interactive way without necessarily needing to learn graphics design.
What are the benefits of Presentation Software?
What are the Top Presentation Software?
Adobe Spark, Canva, Visme, Slidebean, SlideDog, Prezi, ClearSlide, and Vyond are some of the Top Presentation Software.
1
Adobe Spark is a suite of design tools that allow users to make posters, videos and web pages using a computer or iOS mobile device. Adobe Spark simplifies content creation to a level that anyone can master on the first day. Adobe Spark's flyer maker helps your flyers look professional while keeping the design process quick and easy. Flyer design is important, and images speak for themselves and can go a long way toward communicating tone and feel. Spark flyer maker users can better promote their cause with easily shareable content that is sure to inspire. Spark Post lets users…
2
Canva is a user-friendly, reliable and simple design platform for businesses, organizations, and even individual professionals which enables them to create amazing and professional quality graphic designs. Canva offers features such as photo straightener, image cropper, add text to photos, speech bubble maker, image transparency tool, photo enhancer, 8,000 templates, photo blur, photo vignette, design grids, free icons, photo frames, web wireframe, stickers, badges and add texture. Canva has a powerful drag and drop editor with its vast selection of images, fonts, and templates which makes it easy for users to build documents and designs from scratch. Canva lets users…
3
Visme is an infographic software that provides simple and intuitive solutions that will transform the way you communicate visually. Visme enables you to create infographics in three simple steps, which are quick start, visualising your information, and editing and customising your infographic. In the first step, Visme provides you with an excellent platform for tapping into their professional templates as well as allowing you to create your own custom layout for your infographic. Visme provides hundreds of beautiful templates, designed infographics, and report templates. With, Visme you have an excellent platform for creating your own layout by allowing you to…
4
Slidebean can save valuable time while creating highly engaging presentations. Slidebean's professional templates are the fastest and most stunning way to present ideas. Explore and experiment with hundreds of design combinations with a single click. Slidebean provides presentation templates created by professionals, from startup pitch decks to marketing proposals and more.Choose from a variety of Themes that combine colors, fonts, and layouts to change the look of the entire presentation with a single click. Slidebean ensures that the presentation looks clean and consistent according to the style you need. The galleries integrated into Slidebean tool allow users to use quality…
5
SlideDog is a multimedia presentation tool that lets you combine PDF files, web pages, movie clips, Prezi presentations, PowerPoint presentations into one innovative platform, which provides seamless viewing and audience interaction experience. The key features offered by SlideDog include presentation playlist, real-time sharing, interactive elements, seamless switches when presenting, dual screen support, and digital signage. The presentation playlist feature allows you to create custom playlists for all your presentation files and media. With the feature, you only need to drag your files into SlideDog and then arrange the files and media – then save and play. Typically, the presentation playlist…
6
Prezi is a one of kind presentation tool and open canvas that let's organize and view your presentations as a whole. Prezi uses "smart structures" that make it easy to arrange content with a simple drag and drop without disrupting the whole layout. Nonetheless, it comes with a zoom reveal function that allows you to focus in and unveil critical details. The free movement function on the other hand eliminates the need of clicking through for you to find the topic you want. Through this function, you can navigate at will with the flow of your conversation. The features offered…
7
ClearSlide delivers the right content at the right time – in a way that's trackable, measurable, and actionable. ClearSlide's cloud content library is a single-source of truth for sales content, marketing collateral, tools, and customer-facing materials that sales teams can to draw from whether they are preparing for that big meeting, in the middle of a meeting, writing an email, or on the road. Marketing and Sales Enablement teams can create and recommend marketing collateral by sales stage, customer-facing role, or industry – with recommended next-step interaction cards. Robust group-based permissions can be set by user, team, or group so…
8
Vyond is a presentation tool that is built for professionals of all skill levels in all industries. The tool allows you to create dynamic videos for any audience. The key features offered by Vyond include training and eLearning, marketing, Vyond Studio, Vyond for Enterprise, and Vyond Secure Suite. Vyond stands out because it lets you to create characters that fit any content. That is from workplaces, jobs and workplaces to casual environment. With Vyond, you have access to modern casual settings and whiteboard animations to address your clients and employees around the world. Nonetheless, you can create animated GIFs or…