Italian Grocer Il Gigante Supermercati to Optimize Inventory and Improve Customer Service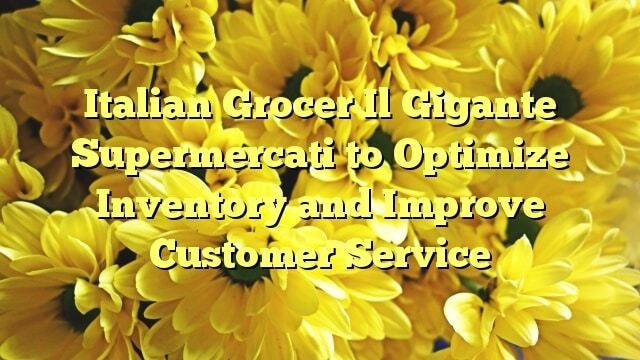 Italian grocer Il Gigante Supermercati has selected JDA Advanced Warehouse Replenishment to help improve visibility and forecasting of its inventory and stock levels, to meet customer demands while reducing costs and maintaining profitability.
Il Gigante Supermercati is a family owned company founded in 1972. They are strongly focused on quality fresh food, with a commitment to serving customers efficiently, offering the best products at competitive prices and maintaining corporate social responsibility.
Il Gigante will use JDA Advanced Warehouse Replenishment to create seasonal and store-level promotional forecasts to define profitable inventory policies that optimize the ordering process while reducing stock and warehouse logistics costs. This project is part of Il Gigante's innovation initiative to improve the way in which they meet customer demands, while keeping an eye to cost reduction and profitability improvement through a revamped replenishment process. Il Gigante's overarching goal is to tailor store-level offers at the point of sale according to demand, in a profitable way.
"We are proud to add Il Gigante as a key grocer to our customer portfolio and are dedicated to supporting their success and helping address their business challenges. Today's retailers are increasingly pressured to profitably manage their largest financial asset – inventory – while minimizing costs, overstocks, out-of-stocks and short shipments, while decreasing lost sales and improving customer service," said Franck Lheureux, regional vice president, sales, EMEA, JDA. "To accomplish this, Il Gigante needs accurate real-time visibility into their inventory in-store as well as in their warehouses to not only keep shelves stocked with the right products, but to do so profitably. JDA Advanced Warehouse Replenishment will accurately allocate resources to manage the replenishment process, and help them deliver the right products to the shelves in the most efficient way possible."
JDA Advanced Warehouse Replenishment empowers retailers to order in the most economic order cycle, as well as plan and execute promotions and forward-buy opportunities. Advanced, predictive algorithms enable buyers to formulate precise demand for every SKU/location, driving highly accurate forecasts and a clear understanding of sales and product movement based on actual, tracked demand patterns. It also considers the purchasing needs of planned promotions and automatically incorporates distribution center constraints. By facilitating long-term, precise planning and purchasing effectiveness, customers decrease inventory investment while driving top-line revenue.
"We chose JDA thanks to its proven rock solid references and specific end-to-end supply chain expertise for the food retail industry," said Giorgio Panizza, vice president for purchasing at Il Gigante. "We are satisfied with the service provided by the local team, and look forward to our implementation completion, which will help us better allocate resources to manage the replenishment process, give us a more accurate view into stock availability based on demand, and reduce our inventory and warehouse logistics costs."