Top 13 Supply Chain Analytics Software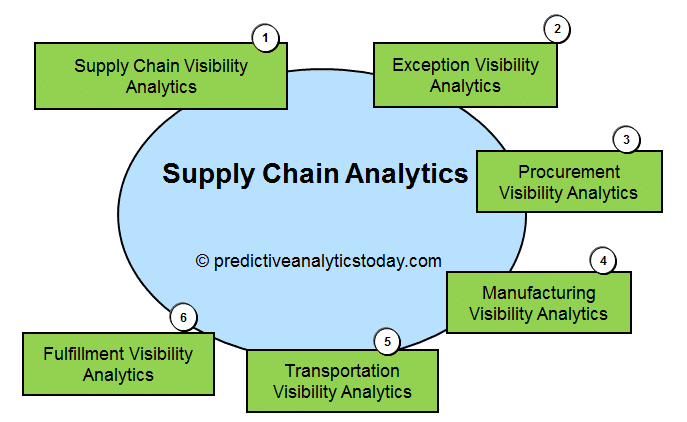 Measuring the Key Performance Indicators in the supply chain process through the supply chain building blocks such as Strategic Planning, Demand Planning, Supply Planning, Procurement, Manufacturing, Warehousing, Order Fulfillment and Transportation process is essential to the success in Supply Chain .
Supply Chain Analytics Software provides these capabilities to support the business in Supply Chain Visibility Analytics, Exception Visibility Analytics, Procurement Visibility Analytics, Manufacturing Visibility Analytics, Transportation Visibility Analytics, Fulfillment Visibility Analytics and for further Analysis with Supply Chain Performance Management.
Supply Chain Analytics
Supply Chain Visibility helps to monitors the events along the supply chain and notifies involved and interested parties for controls and analyzes in supply chain process. Exception Visibility helps to monitors and manages the exception with a view the supply chain from all angles.
Procurement Visibility provides the visibility across the procurement process. Manufacturing Visibility provides the visibility in production with plant maintenance related information. Transportation Visibility delivers the visibility across the transportation execution process for international inbound and outbound shipments. Fulfillment Visibility delivers the visibility across the fulfillment process.
Top 13 Supply Chain Analytics Software
SAP, Oracle, JDA, Manhattan Associates, Ariba, SAS, IBM, Tableau, TARGIT, Kinaxis, Birst, Logility, Demand Solutions are some of the top supply chain analytics software solution providers.
1. SAP Supply Chain Analytics Software
SAP Supply chain analytics software deliver strategic tools for department relevant metrics and benchmarking data to ensure accountability, improve performance, and turn your supply chain analytics into a competitive advantage.
SAP
2. PeopleSoft Supply Chain Analytics
PeopleSoft Supply Chain Analytics, provides the real time information to manage operational performance to track most profitable products, investigate production problems before they become critical bottlenecks, to identify product quality issues, and track operational performance in order to continually maintain costs and improve customer satisfaction.
Oracle
3. JDA Supply Chain Analytics
JDA Reporting & Analytics provides increased network and trading partner visibility, consolidating key data elements that enable to monitor and measure your company and supply chain performance. Reporting & Analytics works as a combined offering to embed critical monitoring and measuring capabilities across JDA Solutions.
JDA
4. Manhattan Associates Visibility and Insight
Manhattan Associates Visibility and Insight provides tools for supply chain management performance and profit analysis across the enterprise.
Manhattan Associates
5. Ariba Analysis
Ariba spend analysis provides a consolidated and classified analysis of your spend and suppliers enriched by insights from D&B's global database.
Ariba
6. SAS Supply Chain Intelligence
SAS Supply Chain Intelligence solutions deliver unique insights about demand patterns, supply networks, operations and customer service requirements. SAS also provides the ability to combine data from other data sources, such as transactional and operational systems, to provide more comprehensive analysis and reporting to better meet corporate business requirements.
SAS
7. Cognos Supply Chain Performance Procurement Analytics
IBM Cognos Supply Chain Performance Procurement solution help to lower costs and improve margins by providing insight into procurement spending, supplier performance, contract management and operational efficiency.
IBM
8. Tableau Software Supply Chain
Tableau Software supply chain analysis software provides capabilities for logistics analysis, QOH Analysis, Supply Chain Algorithm and Advanced metrics analytics. Tableau integrates with many of the most common data sources and are used to combine views from multiple data sources to highlight, filter and see trends.
Tableau
9. TARGIT Business Intelligence & Analytics solution
TARGIT Business Intelligence & Analytics solution, deliver reports, personalized dashboards, and alerts to establish goals and key performance indicators (KPIs). Monitor shipment systems and other enterprise applications while maintaining an overview of your transport fleet, warehouse assets, as well as inventory and procurement status throughout the entire supply chain.
Targit
10. Kinaxis RapidResponse
Kinaxis RapidResponse offers the analytical depth and speed for both the supply chain planning and supply chain response cycles. RapidResponse adds a highly-configurable planning and supply chain analytics layer.
Kinaxis
11. Birst Supply Chain Analytics
Birst Supply Chain Analytics provide solution to analyze historical forecast accuracy, shipment reliability, inventories, channel forecasts, incoming orders, bookings, and backlog in a single view. Birst provides supply chain analytics that use cross data source analysis coupled with historical point in time comparison.
Birst
12. Logility Advanced Analytics
Logility Advanced Analytics helps to monitor, control, alert, simulate and measure critical supply chain events by moving organization from a reactive mode to a proactive position. The solution helps to manage supply chain processes on an exception basis and focus on tasks and activities with the highest priority.
Logility
13. Demand Solutions SCM BI
Demand Solutions SCM BI delivers supply chain business intelligence in its DSX software. The functionality works closely with predictive lead time feature to give real time insight into what matters most to your bottom line. The overall business results can be viewed at a high level, and then drill down to learn more in seconds about the individual challenges or opportunities.
Demand Solutions SCM BI
For a review of the top business intelligence companies, click on the button below:
Top Business Intelligence companies
For a review of open source and free business intelligence solutions click on the button below :
Open Source and Free Business Intelligence Solutions
For a review of the top Cloud – SaaS – OnDemand Business Intelligence Solutions, click on the button below:
Cloud – SaaS – OnDemand Business Intelligence Solutions
For a review of the top free Extract, Transform, and Load, ETL Software, click on the button below:
Top Free Extract, Transform, and Load, ETL Software