Top 9 Trade Promotion Management Software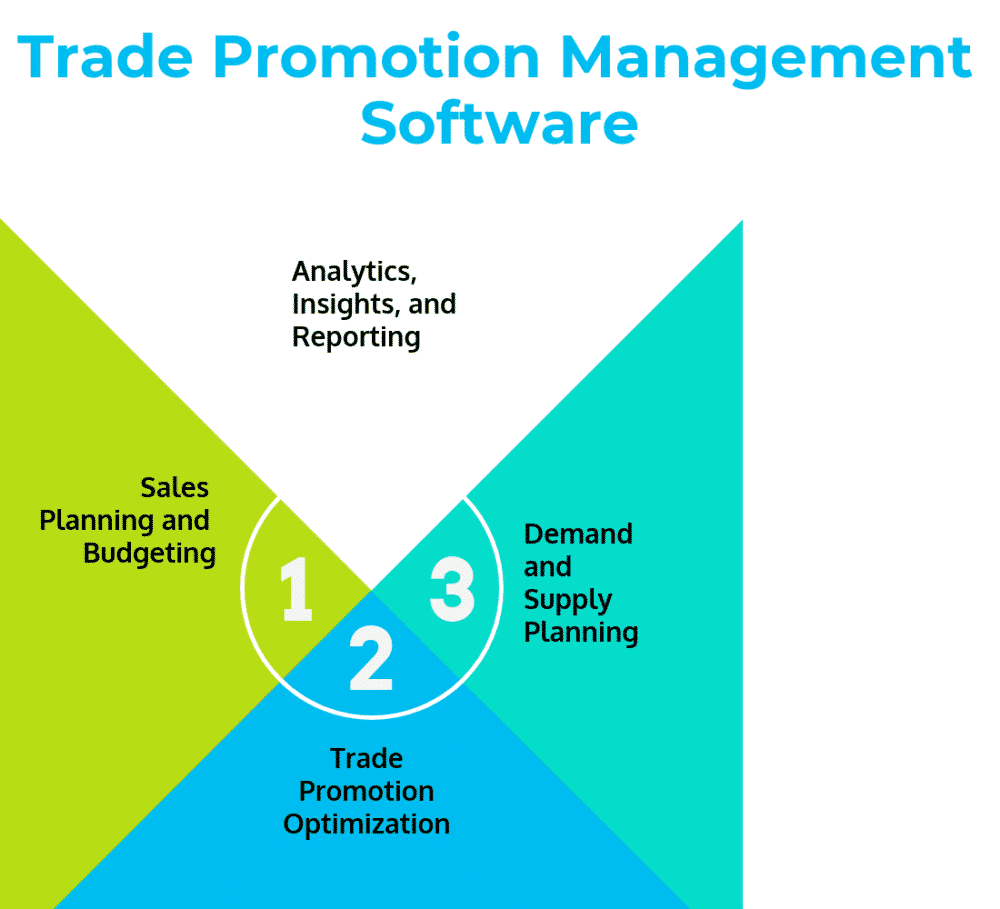 Trade promotion management is one of the major challenges faced by companies that deal with consumer packaged goods (CPG) or fast moving consumer goods (FMCG) across the world. These companies have to handle complex trade promotion activities on a daily basis. Additionally, some of them have to spend huge sums of money and a lot of time on promotions. One of the best ways to deal with trade promotion challenges is to use trade promotion management software.
Companies that use trade promotion management software are able to gather accurate information to help them make trade promotion decisions at the right time. The software provides useful trade promotion data making it possible for companies to plan their promotions based on analyzed data. Additionally, the software helps companies boost their ROI through promotions, increase their share of the market, gain competitive advantage, make accurate sales forecasts, and identify inefficiencies.
What are the Top Trade Promotion Management Software: BluePlanner, Effectsmakers BMS, Exceedra, SAP TPM, GoSimple, AFS TPM Retail, Flamingo TPM, Trade Promotion Master, Oracle Demantra are some of the examples of best Trade Promotion Management Software.
What are Trade Promotion Management Software?
Trade promotion management software refers to a software program that allows companies to plan, execute, and manage trade promotion campaigns. The main goal of using the software is to increase sales, which in turn leads to increased profits. Manufacturers and retailers use trade promotion management solutions to increase demand by capitalizing on various strategies such as product display, pricing techniques, and attractive offers such as coupons and gifts. The software is usually used by people who deal with demand planning such as operations, finance, and sales staff.
In most cases, companies implement trade promotion management software as a standalone system. However, the software can integrate with other systems such as retail management systems, supply chain systems, and logistics software. Companies that use trade promotion management software are able to plan promotions, create promotion budgets, forecast sales, manage workflows, track financial resource usage, adjust promotions, monitor campaigns and promotions, identify opportunities, and determine the effects of promotions on revenue.
Sales Planning and Budgeting: Companies that utilize trade promotion management software can manage trade promotions and sales across multiple dimensions and create winning strategies. They can make accurate forecasts with workflow and alerts, enhance visibility with updated plans, integrate demand and supply planning, and get useful estimates from aggregated consumer plans.
Demand and Supply Planning: Demand planning helps companies generate baseline forecasts and increase productivity through automation. The software's supply planning feature makes it possible to optimize supply requirements and inventory, understand trend-offs between supply and demand, and enhance efficiency through exception reporting.
Trade Promotion Optimization: This feature allows business users to create guidelines, allocate funds, set goals, monitor compliance, forecast future promotion outcomes, get reliable recommendations, and automate workflow. It also helps companies calculate promotions and reward their customers with gifts, discounts, loyalty points, rebates, premiums, and coupons.
Analytics, Insights, and Reporting: Trade promotion management software provides real-time insights and analytics. Users have access to reporting functions for managing everyday operations. Moreover, users can benefit from in-context insights (including mobile insights), integrated data sources, and configurable alerts.
Some of the benefits include:
Effective promotions based on accurate and timely data and information.
Businesses can increase product visibility through brand awareness.
Increased revenue due to improved product visibility and effective campaigns.
You may like to read: How to Select the Best Supply Chain Management Software for Your Business and Cloud Computing in Supply Chain Activities, Benefits and Adoption
Top Trade Promotion Management Software

BluePlanner, Effectsmakers BMS, Exceedra, SAP TPM, GoSimple, AFS TPM Retail, Flamingo TPM, Trade Promotion Master, Oracle Demantra are some of the Top Trade Promotion Management Software
Top Trade Promotion Management Software
PAT Index™
1
BluePlanner
BluePlanner is the best Revenue Management platform, Trade Promotion Management (TPM), supporting Sales Planning, Optimization (TPO) and Analytics. It is designed in order to evaluate, monitor and track the trade which are spent for addressing the various challenges as well as to support the growth by effectiveness and efficiency of advertising activities. BluePlanner develops certain ways which are built around the information with workflows between various departments. It provides highest perceptibility to the key account managers based on individual accounts' performance in addition to the combined information for finance, supply chain, marketing or sales management. Clients can improve their trade…
Overview
•Sales Planning,
•Trade Promotion Management,
•Analutics,
•Trade Promotion Optimization
2
Effectsmakers BMS
Effectmakers BMS is a software solution for Business planning and Trade promotion management. The solution is simple and easy to implement, yet it gives powerful functionality for planning and improving businesses. BMS integrates trade promotion management, business planning, and business tracking. The easy and flexible planning boards are a focal point of BMS. Although the monochrome and grid-like appearance - it gives all the information users need to analyze, plan and track their business. The TPM module in BMS lets users plan individual trade promotions on specific products. The module contains the full life cycle of the promotions from planning,…
Overview
• Full company and user specific customizable reporting analytical capabilities
• Customer Business Planning: Plan promotion in BMS with full pre-calculated P&L
• Promotion management: Evaluate, optimize and analyze promotions
• Business management: Provide information for field sales force
• Mass updating of listing states are provided for easy maintenance
• A rolling estimate with the sum of actual sales year-to-date and year-to-go plan
3
Exceedra
The Exceedra system supports a closed-loop, integrated business planning process and revenue management activities to drive better control, decision making and visibility across the enterprise. Exceedra services provide client-configured solutions that include a full spectrum of capabilities to ensure the project runs smoothly from conception through on-going support. Using historical data, the Exceedra solution lets you study the performance of past promotions from various perspectives. This gives the information users need to run planned promotions through a set of performance scenarios before they are launched. The solution applies the framework of optimization by comparing baseline results of past promotions with…
Overview
• Supply planning: Understand and optimize supply planning requirements
• Dynamic scenario planning and embedded TPO
• Retailer-specific metrics such as calendars and buying patterns
• Monthly snap shots of the business incorporating the latest estimates from aggregated customer plans
• Integrated Demand, Supply, Replenishment and Inventory planning
• Increase forecast accuracy with supporting workflow and alerts
4
SAP TPM
SAP TPM leverage real-time visibility to actual consumer demand to assess promotion effectiveness, quickly simulate available options to make fast course corrections, and to predict and optimize future promotions. Enable cross-functional collaboration with marketing, supply chain and finance to maximize consumer sell-through, drive promotion spend ROI, and ensure promotional and financial compliance. The solution incorporates robust analytics to drive better trade spend decision making as well as a more intuitive user experience to drive better adoption by users. While this solution can be used as a rich accelerator throughout the lifecycle of a project, it is especially useful during the…
Overview
• Trade Promotion Agreements provides the contractual framework for all events and trade activities
• Get reliable recommendations for promotional activity by running what-if simulations based on order history, retail point-of-sale, and market research
• Predict and optimize promotion outcomes, including revenue and profit, for both manufacturers and retailers through predictive analytics
• Promotion execution and settlement: Associate individual deductions and claims with specific trade promotion activities
• Volumes and trade spends planning: Carry out forecasting for deals, trade promotions, or trade promotion elements
• Mass copy and mass change: Quickly create and modify multiple trade promotions
5
GoSimple
GoSimple provides a complete foodservice & retail trade promotion management solution to small and mid-tier CPG manufacturing organizations. GoSimple offers an end-to-end workflow, pricing analytics, and a fully integrated claims processing capability. For most companies, trade planning and sales forecasting are completely separate activities – now they will find the happy medium – using one tool to see trade investment and sales forecast. GoSimple provides superior service in the claims/deduction management arena while providing a best in class software solution. The GoSimple solution offers cloud-based, centralized contract management; hierarchy approval process; standardized contract letters; and more. Great for brokers that…
Overview
• Advanced Analytics: Dashboards streamline organizational access to business insights
• Cloud-based contract entry systems access data from connected systems
• Calendar: Plan events according to single SKU or group of products
• Lifecycle Management
• Time-saving contract creation and approval workflow features
• Claim Resolution: Process all claims within the system and validate them against the approved contracts
6
AFS TPM Retail
AFS Technologies is a global TPM solution provider with a proven track record of deploying TPM quickly and cost-effectively. AFS TPM Retail solution can be integrated with your existing IT landscape in as little as three months to provide complete end-to-end support of TPM processes. AFS TPM Retail can be used quickly to establish best practices for companies with immature processes. At the same time AFS TPM Retail has the sophistication to also faithfully reflect existing mature processes, but at a lot lower cost of ownership than most other solutions. AFS TPM Retail offers full closed-loop management Trade Promotion Management.…
Overview
• Powerful alert engine can be utilized to highlight any issues which need immediate attention
• Generate a calendar view of brand and trade activity to understand how one impacts the other
• Build ad-hoc reports to compare and contrast data at one or more levels of the data hierarchies
• The Dashboards enable executives to quickly identify areas of opportunity
• Trade Agreement Management
• Competitor Analysis
7
Flamingo TPM
Flamingo provides trade promotion management (TPM) solutions and activation services for small to midsize consumer packaged goods manufacturers. The company offers TPE (trade promotion effectiveness) Community, an online platform that brings like-minded CPGs together to help address common trade issues; a SaaS TPM product to help plan, control, and analyze trade promotion spending; and trade promotion activation services to help users with analysis, planning, and TPM solution administration support. Its solutions include RapidDraft that allows representatives to make payments via writing checks; and WebPay, an online solution to make trade settlement easy and trackable in real time. Track data and…
Overview
• Hovers to expose underlying data
• Integration to payments capabilities
• Yellow shading indicating mandatory entry fields
• Smart Dashboards reporting platform
• Deduction and settlement management
• Reporting and post-promotion analysis
8
Trade Promotion Master
Trade Promotion Master™ is a cloud-based SaaS solution within Visualfabriq's revenue management suite, that promises to deliver end-to-end predictive trade promotion tools to businesses. Claiming to radically improve the trade promotional process based on the maturity of the user's market and business needs, the "single platform" software integrates internal and external data to improve business-wide connectivity with in- and outbound interfacing. Native SAP integration is joined by the addition of Artificial Intelligence (AI) technology for producing more accurate, objective insights around business decisions. Claiming to reduce the planning process to minutes, promotions can be optimized and evaluated at the moment…
Overview
• Comprehensive insights on the aggregated level through the report&analytics module
• Budget tracker: An overview on planned, committed and actual spend
• SoX compliant approval workflow: Relevant promotions will automatically be sent to the responsible manager for approval
• Configuration screen: Easily create and edit users, and give them authorization for specific tasks
• Live logbook completes the SoX compliancy even for promotions where no approval is needed
• Automatic communication on promotional changes to relevant stakeholders and systems
9
Oracle Demantra
Demantra is a tool that helps to align production with customer demand and ensure increased customer service levels. It allows modeling new products based on the lifecycle of existing products. Oracle Demantra provides central repository, and provides all the participants with tailored worksheets, with security to control what they can see and edit, in a simple, flexible, and intuitive layout with any data at any level of aggregation they need to perform their tasks. Data can be edited at any level. Automatic aggregation and allocation rationalize the data to all levels so users can make adjustments top down, bottom up,…
Overview
• Robust business rules and process flows & templates: Key business rules have been built into the solution to support the promotion management process
• Allows for funds accrual and automatic matching of claims and deductions
• Unifies reporting for BI, analytics, simulation, and optimization
• Intelligent, Intuitive and flexible promotion management system makes it easy for account managers to enter promotions in an accurate and timely manner
• Flexible liability reporting system enables trade finance managers to see planned, estimated and actual accrued liabilities instantly
• Embedded real-time analytics allow account managers to see planned, estimated and actual spend
You may like to read: How to Select the Best Supply Chain Management Software for Your Business and Cloud Computing in Supply Chain Activities, Benefits and Adoption