Top 53 Business Intelligence Companies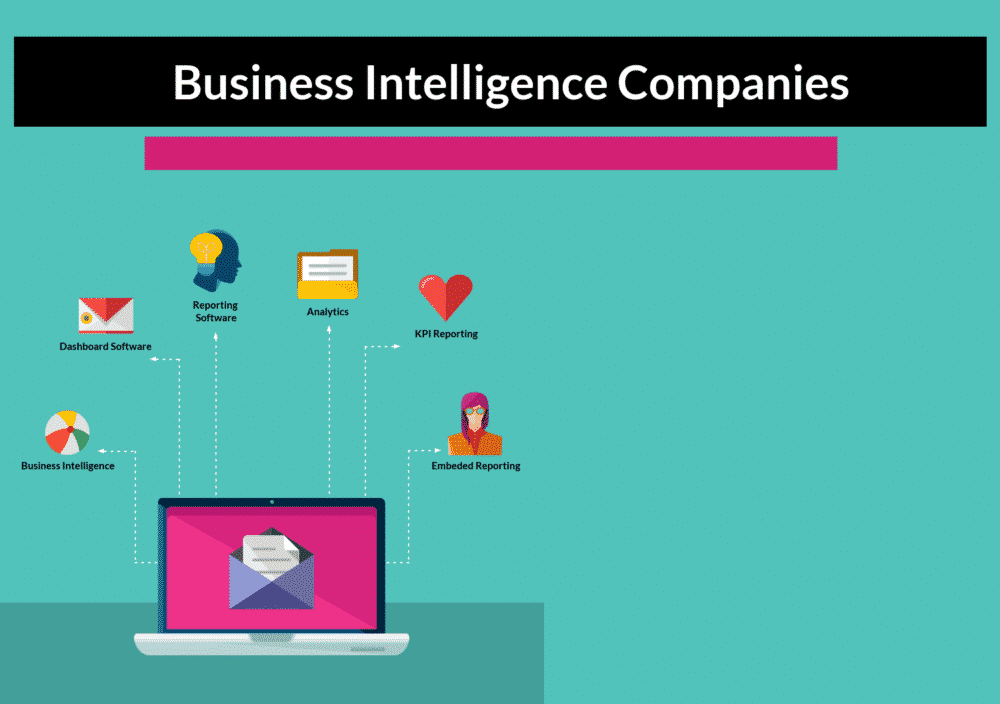 Business Intelligence technologies provide historical, current and predictive views of business operations.
Following is a list of 53+ Top Business Intelligence companies including MicroSoft, Tableau Software, QlikTech,  Logi Analytics, Pentaho, Sisense, Targit, Birst, Prognoz, Bitam, Oracle, IBM, SAS, MicroStrategy, Tibco, GoodData, Information builders, SAP, Actuate, Panorama Software, Yellowfin, 1010Data, Kognitio, Exago, Host Analytics, Zoho, Adaptive Insights, Datapine, Attivio, BellaDati, Pyramid Analytics, Datameer, Domo ,FICO, Phocas Software, Quadbase Systems, Board, Jinfonet, AtScale, Kyvos Insights, Arcadia Data, ThoughtSpot, Metric Insights, Dundas, InetSoft, Dimensional Insight, Periscope Data, Halo, Clear Analytics, Antivia, Ducen, and Izenda in no particular order.
Common functions of business intelligence technologies are reporting, online analytical processing, analytics, data mining, process mining, complex event processing, business performance management, benchmarking, text mining, predictive analytics and prescriptive analytics. These are achieved using multiple tools such as spreadsheets, reporting and querying software, online analytical processing, digital dashboards, data mining, data warehousing, decision engineering, process mining, business performance management and local information systems.
The tools are sometimes packaged into data warehouse appliances. Business Intelligence Companies develop and implement data warehouse appliances.
Sisense empower the most non-technical user with the ability to access data and build interactive dashboards and business intelligence reports. Sisense provides a variety of dashboard widgets to pinpoint the best visualization for your data, such as: geographical maps, gauges to measure KPIs, line charts to determine trends, scatter plots to see correlations, and pie charts for clear comparisons.Sisense enables to customize dashboard layout with drag-and-drop features to place each widget exactly where you want for optimal representation.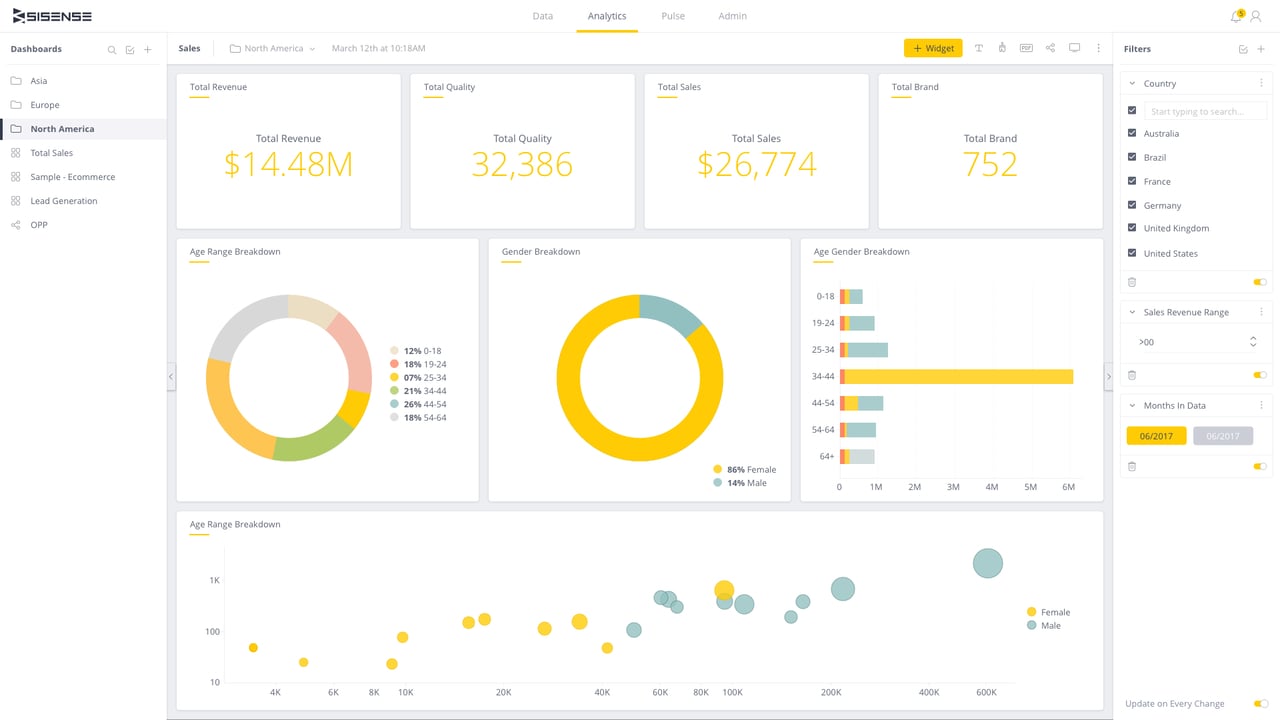 Top Business Intelligence Companies
MicroSoft, Tableau Software, QlikTech,  Logi Analytics, Pentaho, Sisense, Targit, Birst, Prognoz, Bitam, Oracle, IBM, SAS, MicroStrategy, Tibco, GoodData, Information builders, SAP, Actuate, Panorama Software, Yellowfin, 1010Data, Kognitio, Exago, Host Analytics, Zoho, Adaptive Insights, Datapine, Attivio, BellaDati, Pyramid Analytics, Datameer, Domo, FICO, Phocas Software, Quadbase Systems, Board Jinfonet, AtScale, Kyvos Insights, Arcadia Data, ThoughtSpot, Metric Insights, Dundas, InetSoft, Dimensional Insight, Periscope Data, Halo, Clear Analytics, Antivia, Ducen, and Izenda in no particular order.
1.MicroSoft
Microsoft business intelligence portfolio includes MS Office- Excel, SQL Server, SharePoint and Power BI.
MS Office- Excel empower users to discover, analyze and visualize data with powerful self-service. SharePoint enable collaboration and sharing of reports and data in a managed and secure environment. SQL Server Reporting Services provides operational reporting for pixel perfect printing, browser based viewing, ad hoc data exploration and visualization.Microsoft Power BI, is a cloud based, software as a service, self-service business intelligence solution for non technical business users. With just any browser or a Power BI mobile app, customers can keep a pulse on their business via live operational dashboards.
2.Tableau Software
Seattle based Tableau Software portfolio includes a family of interactive data visualization products focused on business intelligence. These are Desktop,Server,Public and online.
Tableau Desktop is an intuitive, drag-and-drop tool for exploring and visualizing any data. Tableau Server is an online and mobile business intelligence solution. Tableau Online is a hosted version of Tableau Server.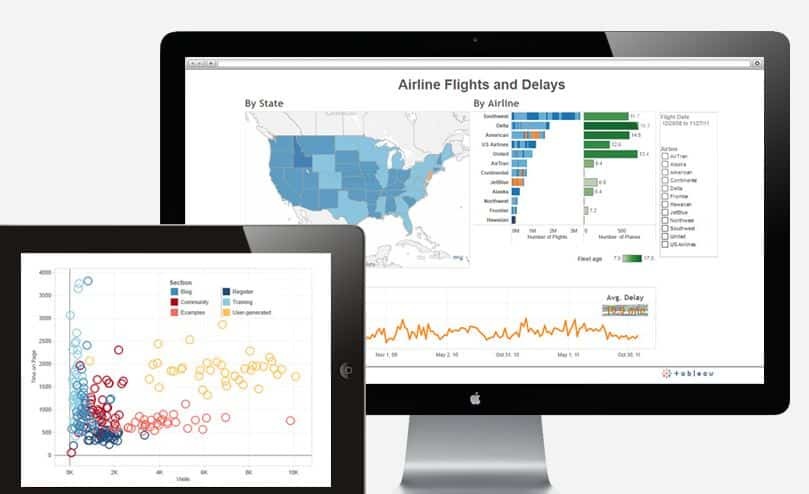 3.Sisense
Sisense is a business analytics software company with offices in New York City and Tel Aviv. Sisense lets to create and manage complex data models from multiple sources in a simple drag and drop environment anyone can understand and enables data come to life in interactive web dashboards with a host of stunning visualization options.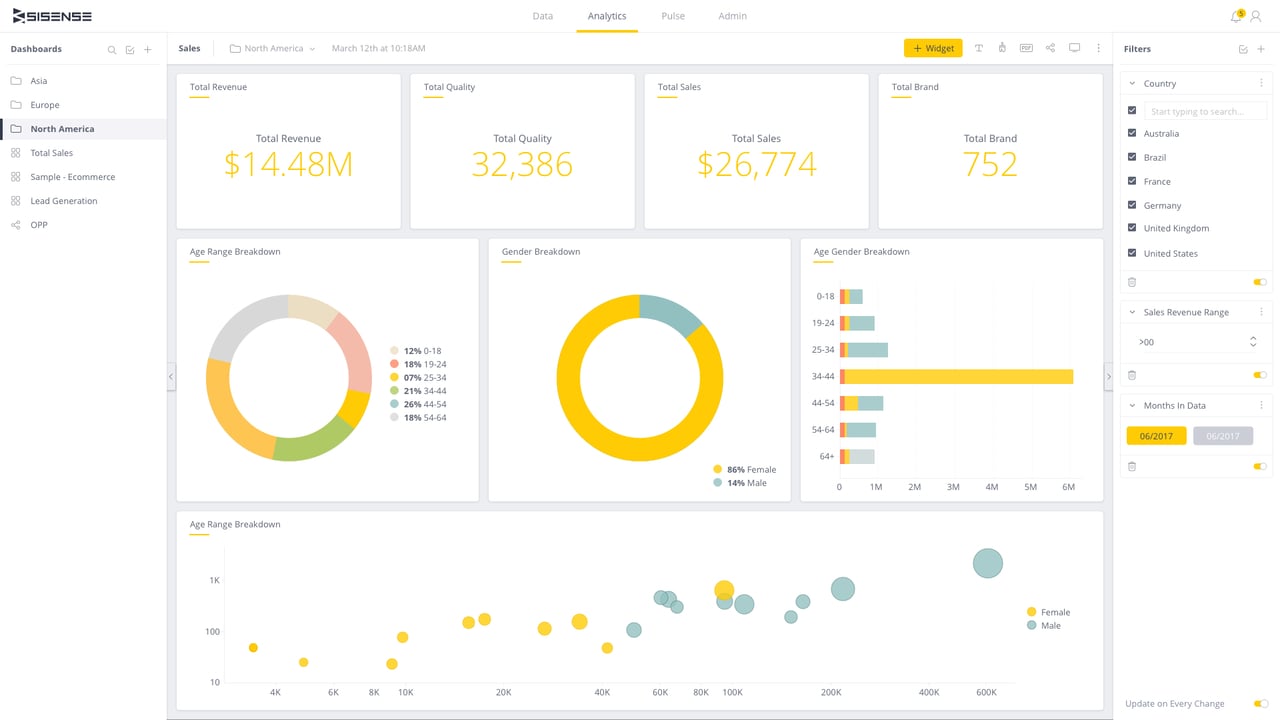 4.Domo
Headquartered in American Fork, Utah, Domo solves that problem by bringing the business and its data together in their intuitive platform. Domo makes it easy to see the information you want, how and when you want it for anyone from CEO to contributor and has the ability to discover, mash up, visualize, and present data any way they'd like.
5.Logi Analytics
Virginia based Logi Analytics is the provider of Web based BI reporting and analysis products. The portfolio includes Logi Info, Logi Vision, Logi Adhoc .
Logi Info provides dashboards, reports, and analytics to create feature rich, interactive data visualizations and to deploy a single app to multiple desktop and mobile platforms. Logi Vision is a web based data discovery application which allows to acquire data, analyze information, create visual representations and share insights with others. Logi Ad Hoc is a ready-made reporting app that can be quickly integrated with your critical data repositories.
6.Pentaho
Orlando, based Pentaho portfolio includes a suite of open source Business Intelligence products called Pentaho Business Analytics providing data integration.
Pentaho 5.0 provides an open, unified platform  to access, integrate and blend any data, in any environment, across a full spectrum of analytics.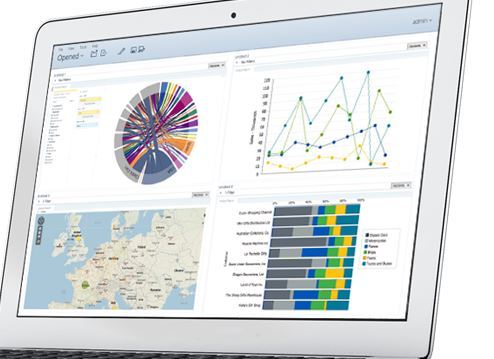 7.Targit
Targit is a Denmark based developer of business intelligence and analytics software with subsidiary offices in the United States. The Targit portfolio includes TARGIT Decision Suite. Targit is the world's largest BI vendor for companies using Microsoft Dynamics NAV or AX.
TARGIT Decision Suite is a BI platform that offers data discovery tools, self-service analytics, reporting, and dashboards in a single, integrated solution.
8.Birst
San Francisco based on demand business intelligence and analytics provider offers solution in a private or public Cloud.
Birst Discovery Edition enables business users and analysts to intuitively explore data in seconds.Birst Enterprise Edition offers a suite of analytic tools designed for meeting the reporting needs including pixel perfect reporting, visual discovery, ad hoc analysis, dashboards and mobile analytics.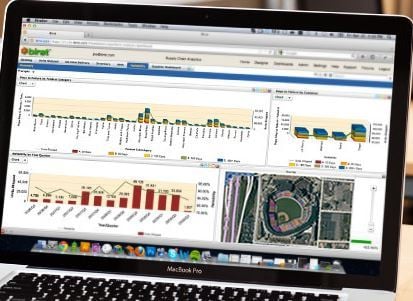 9.Prognoz
Perm, Russia based Prognoz develops business software in the business intelligence or business process management market segments.
Prognoz Platform supports the development of software solutions on desktop, web, and mobile devices for visualization and online analytical processing (or OLAP), reporting, and modeling and forecasting of business processes. The platform provides self service BI features that enable business users to customize applications without IT support.
10.Bitam
Roswell GA based Bitam is a provider of Business Intelligence solutions.
Bitam BI solution provides easy to use dashboards, analysis, reporting and alerts to organizations while allowing access to information from one or many data sources with the visibility and detail to effectively run operations.
11.Oracle
Oracle is the provider of Oracle Business Intelligence Enterprise Edition. Oracle Business Intelligence Enterprise Edition is a comprehensive business intelligence platform that delivers a full range of capabilities including interactive dashboards, ad hoc queries, notifications and alerts, enterprise and financial reporting, scorecard and strategy management etc.
12.IBM
IBM business intelligence products are designed to integrate with one another and with many third-party solutions, including leading big data platforms. These are Cognos BI and Cognos Insight.
13.SAS
SAS Business Intelligence offers an integrated, robust and flexible presentation layer for statistics, predictive analytics, data and text mining, forecasting, and optimization. The portfolio includes Enterprise BI Server, Visual Analytics and Office Analytics.
14.MicroStrategy
Washington, based MicroStrategy is a provider of business intelligence, mobile software, and cloud-based services. They are the provider of MicroStrategy Analytics platform.
15.Tibco Software
Palo Alto, California based Tibco Software is the provider of Spotfire Platform, Spotfire Analytics, Spotfire Social and Spotfire Event Analytics.
16.GoodData
San Francisco, based GoodData is a provider of cloud based business intelligence platform.
GoodData offers both pre built applications for Sales, Marketing, Services, and Social, as well as customer specific implementatons.
17.Information builders
New York based Information Builders is the provider of business intelligence tools FOCUS and WebFOCUS.
FOCUS is host based application development and reporting tools for custom application development, reporting, and analysis. WebFOCUS offers self service analytics with rich, consumable, interactive information.
18.SAP
SAP is the provider of a number of business intelligence solutions. The portfolio includes SAP BI suite, BusinessObjects BI Suite, Lumira and SAP Crystal Reports .
SAP BI suite adds measurable value to existing SAP investments, including the SAP Business Suite and SAP NetWeaver Business Warehouse with business intelligence (BI) solutions for SAP applications to empower users to extract data from current applications and analyze and present it for actionable insights.BusinessObjects BI Suite offers multiple solutions to perform analysis of multidimensional data sources in an intuitive, web based, MS office, BI applications environment.Lumira solutions let the business users to gain insights from data quickly without IT's help. SAP Crystal Reports produce pixel perfect reports that are clear and customizable for business insights.
19.Actuate
San Mateo, California based Actuate is a business intelligence solution provider with a portfolio of BIRT Designer, BIRT iHub and BIRT Analytics.
BIRT Designers is a development environment for presenting business intelligence from multiple data sources in stunning graphical visualizations. BIRT iHub Visualization Platform with user friendly features, let business users manage content through interactive dashboards, statements, custom applications, reports, and visualizations. BIRT Analytics deliver real time visual data mining and business analytics with an intuitive, drag-and-drop user interface.
20.Panorama Software
Based in Toronto, Canada Panorama is a leader in Business Intelligence in self-service business intelligence solutions. Panorama's Necto product is a BI platform which is context aware allowing any type of user to interact intuitively with data within an intelligent collaborative environment.
21.Yellowfin
Headquartered in Melbourne Australia, Yellowfin is a global Business Intelligence (BI) and analytics software vendor founded in 2003. Yellowfin is a highly intuitive 100 percent Web-based reporting and analytics solution and is a leader in mobile, collaborative and embeddable BI as well as Location Intelligence and data visualization.
22.1010Data
Based on New York, 1010Data provides a cloud-based software platform and associated services for business analytics and database publishing of large data sets. It is used by hundreds of the world's largest retail, manufacturing, telecom, and financial services enterprises.
23.Kognitio
Headquartered in Marlow, UK, Kognitio delivers competitive advantage to its clients in various industries, including telecommunications, the financial sector, retail, leisure and utilities. Kognitio offers solutions to businesses that require the acquisition, rationalisation and analysis of large or complex data volumes centred around three areas: Data Migration expertise, WX2, the fastest and most scalable analytical database on the market and managed services. Kognitio's data warehouse managed services model allows its customers to focus on running their businesses and increasing the bottom line.
24.Exago
Based in Shelton, CT, Exago offers self-service business intelligence solutions including ad hoc reporting, dashboards, and analytics for business applications.
25.Host Analytics
Headquartered in Silicon Valley, Host Analytics is the leader in cloud-based financial applications for planning, consolidation, reporting and analytics. Host Analytics enterprise performance management (EPM) customers benefit from improved business agility, improved security, and lower overall cost compared to legacy on-premises alternatives.
26.Zoho
Headquartered in Pleasanton, California, Zoho Reports is an online reporting and business intelligence service that helps to easily analyze the business data, and create insightful reports & dashboards for informed decision-making.
27.Adaptive Insights
Based on Palo Alto, California, Adaptive Insights was founded in 2003 and delivers an on-demand business performance management service and business and financial analytics solutions. Via the software as a service (SaaS) platform, the company offers capabilities for budgeting, reporting, consolidation, dashboards, and business intelligence that empower finance, sales, and other business leaders with insight to drive true competitive advantage.
28.Datapine
Based in Berlin, Germany Datapine, enables business to explore, analyze and monitor the data and generate meaningful insights.
29.Attivio
Based in Newton, Massachusetts, Attivio offers a unified information access platform that lets users find all types of information with a single query and analyze data extracted from text along with traditional data.
30.BellaDati
Based in Chicago, BellaDati offers agile data analytics tool in the hands of business user. The products are BellaDati Agile BI, Analytics Apps, Mobile BI & Data Platform.
31.Pyramid Analytics
Headquartered in The Netherlands, Pyramid Analytics offers the BI Office Suite, the Business Intelligence and Analytics platform for the users to access, visualize, and present their data.
32.Datameer
Based in San Francisco, California, Datameer, offers big data analytics and visualization solutions, offering self-service and schema-free Big Data analytics application for Hadoop.
33.QlikTech
Radnor, Pennsylvania based QlikTech is the provider of QlikView, which is a business intelligence software.
QlikView is a self service business intelligence software that enables users to analyze and search their data visualizations, make associations, and uncover insight.
34.FICO
Based in San Jose, California, FICO provides businesses intelligence solutions to increase and retain customers through business analytis.
35.Phocas Software
Based on Coventry, United Kingdom, Phocas Software provides Business Intelligence solutions with expertise in manufacturing, distribution and retail, and compatible with over 80 ERP systems.
36.Quadbase Systems
Based in Santa Clara, CA, Quadbase Systems, provides tools, technologies, and services that enable customers to disseminate high-value business information and manage business performance through Web sites, portals, mobile phones, tablets and applications.
37.Board
Headquartered in Lugano, Switzerland, Board provides solutions in Business Intelligence and Performance Management space. Board provides one accurate, complete view of an organization's information, fully integrated with its processes, uniquely linking performance from strategic vision to all levels down to operational detail.
38.Jinfonet
Jinfonet Software provides the JReport product suite, a Java reporting solution that delivers highly customizable business intelligence. JReport's sophisticated reporting engine seamlessly embeds into any application and empowers end users to make better business decisions by helping them visualize and interact with their data.
39.AtScale
San Mateo, based AtScale, provide business users interactive and multi-dimensional analysis capabilities, directly on Hadoop, at maximum speed, using the tools they already know, from Microsoft Excel to Tableau Software to QlikView.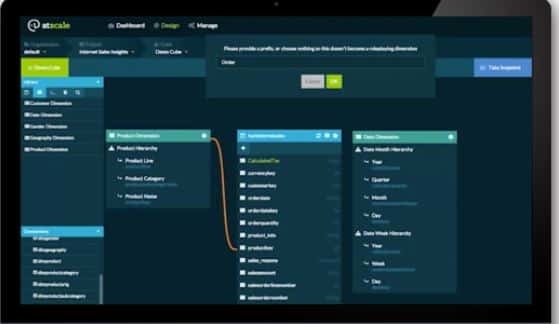 40.Kyvos Insights
Los Gatos based Kyvos has built an OLAP-on-Hadoop technology that is massively scalable and responds to queries in record short time in the order of single digit seconds. Kyvos Insights aims to revolutionize big data analytics by providing business users with the ability to visualize, explore and analyze big data interactively, working directly on Hadoop.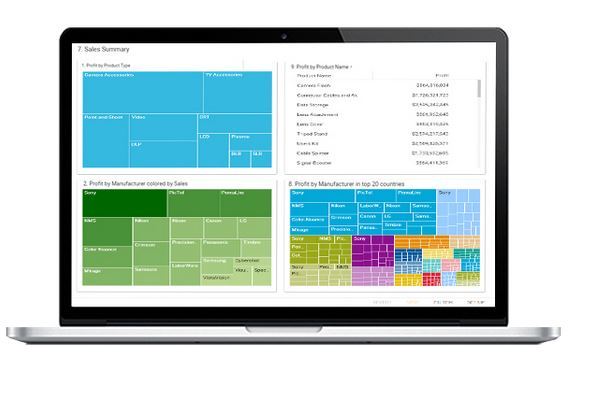 41.Arcadia Data
Arcadia Data builds Unified Visual Analytics and BI Platform for big data. The Arcadia Converged Analytics Platform unifies visual exploration and back-end data analytics in one integrated enterprise platform that runs natively on Hadoop cluster and converge the visual, analytics and data layers to provide accelerated access to all of the data stored within Hadoop, and support net-new analytics on granular datasets.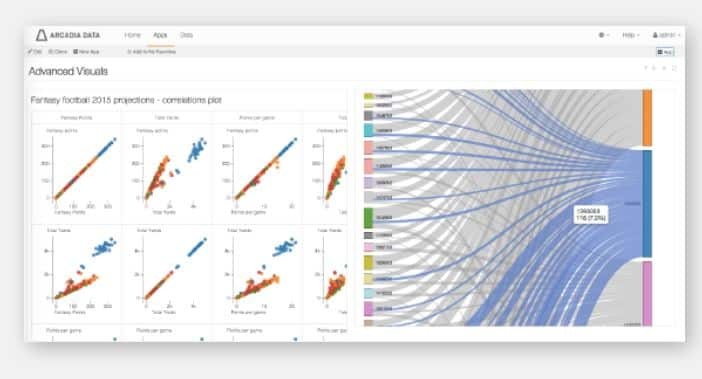 42.ThoughtSpot
Palo Alto, based ThoughtSpot is providing BI industry with search-driven analytics built for the enterprise. Anyone can use ThoughtSpot with zero training to ask questions, analyze company data, and build reports and dashboards - all in seconds. ThoughtSpot can combine data from on-premise, desktop and cloud sources, and Hadoop, can scale to billions of rows, and can be deployed in hours.
43.Metric Insights
San Francisco based Metric Insights lets users cut through the noise, focus immediately on the critical business issues that warrant their attention, and take action. The Push Intelligence platform connects quickly and easily to your existing business intelligence tools, big data and SaaS applications.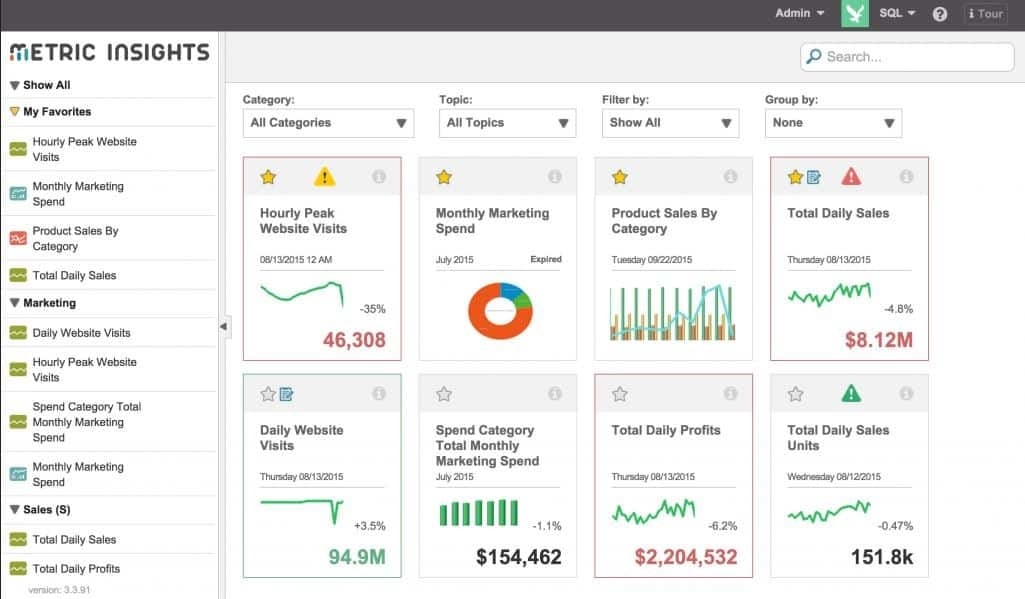 44.Dundas
Toronto based Dundas offers easy to use self-service, single BI experience allowing users to connect, interact and visualize powerful dashboards, reports and advanced data analytics for any data, on any device.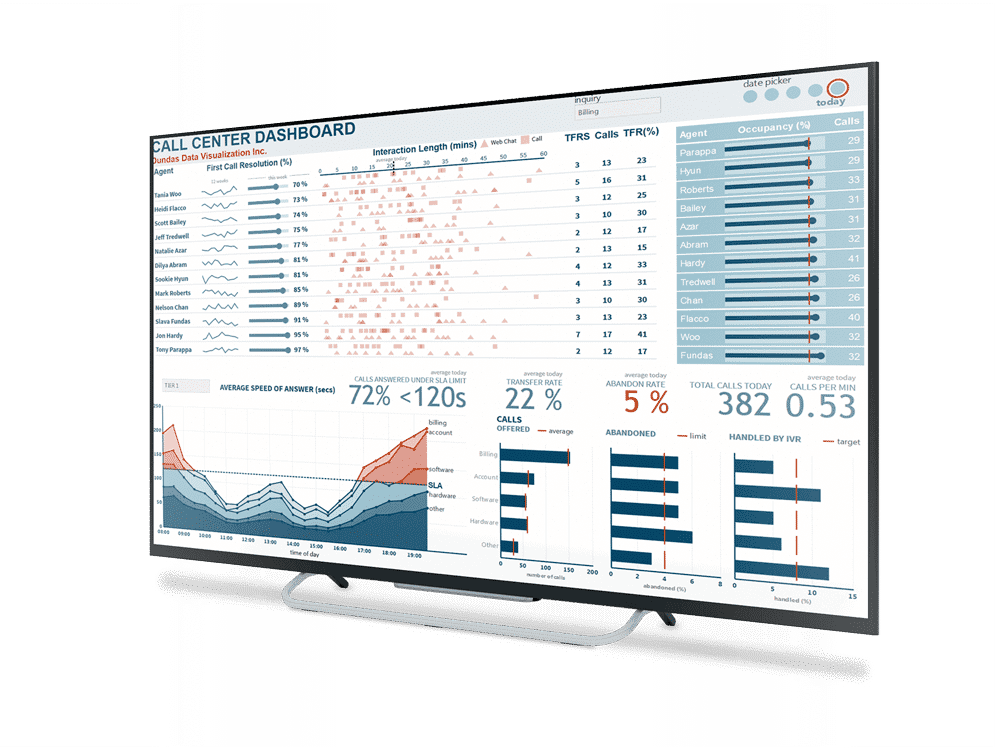 45.InetSoft
New Jersey based InetSoft delivers easy, agile, and robust business intelligence software that makes it possible for organizations and solution providers of all sizes to deploy or embed full-featured business intelligence solutions. Application highlights include visually-compelling and interactive dashboards that ensure greater end-user adoption, plus pixel-perfect report generation, scheduling, and bursting.
46.Dimensional Insight
Burlington based Dimensional Insight offers a complete portfolio of BI capabilities ranging from data integration and modeling to sophisticated reporting, analytics, and dashboards.

47.Periscope Data
San Francisco based Periscope Data offers a data analysis tool that unifies business data across multiple different data sources.
48.Halo
San Diego based Halo's scalable supply chain intelligence and data discovery platform includes easy-to-use pre-packaged self-service solutions with alerts, what-if modeling, dashboards and predictive analytics for faster and more accurate decisions that bring agility to end-to-end supply chain planning.
49.Clear Analytics
50.Antivia
Vancouver based Antivia provides DecisionPoint, which is a modern BI tool that enables you to create stunning interactive dashboards, reports and BI applications for mobile devices and the desktop, with a no-coding interface that lets you produce the results you need in minutes.
51.Ducen
Ducen's Analance Business Intelligence suite, help customers easily capture, integrate, visualize and analyze data to make more informed decisions that positively impact their business. Analance Business Intelligence (BI) software offers the latest in data analytics, helping customers uncover more meaning from data to drive smarter decisions and improve overall operational effectiveness.
52.Izenda
Atlanta based Izenda builds its self-service business intelligence platform for independent software vendors, solutions providers and enterprise users. Izenda embeds seamlessly in applications to deliver BI directly to the people who need it most. The integrated BI platform allows end users to easily analyze, visualize, and share valuable data and insights in real time.
53.Jedox
Jedox provides unified planning, analysis and reporting empowers decision-makers from finance, sales, purchasing and marketing. Jedox helps business users work smarter, streamline business collaboration, and make insight-based decisions with confidence. Jedox is a leading Business Intelligence and Corporate Performance Management solutions provider.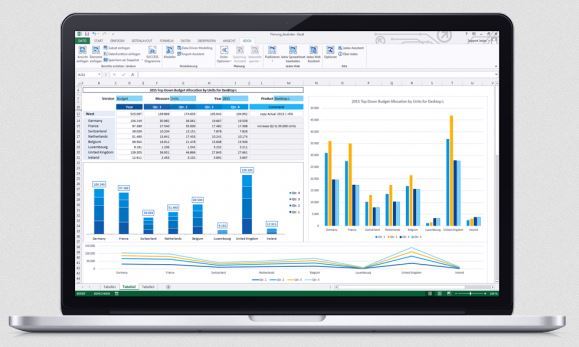 For a review of open source and free business intelligence solutions click on the button below :
Open Source and Free Business Intelligence Solutions
For a review of the top free Extract, Transform, and Load, ETL Software, click on the button below:
Top Free Extract, Transform, and Load, ETL Software
For a review of the top Cloud – SaaS – OnDemand Business Intelligence Solutions, click on the button below:
Cloud – SaaS – OnDemand Business Intelligence Solutions
For a review of Online Analytical Processing Tools click on the button below :
Online Analytical Processing Tools
Top Business Intelligence Software at a Glance