Top 15 Supply Chain Management Software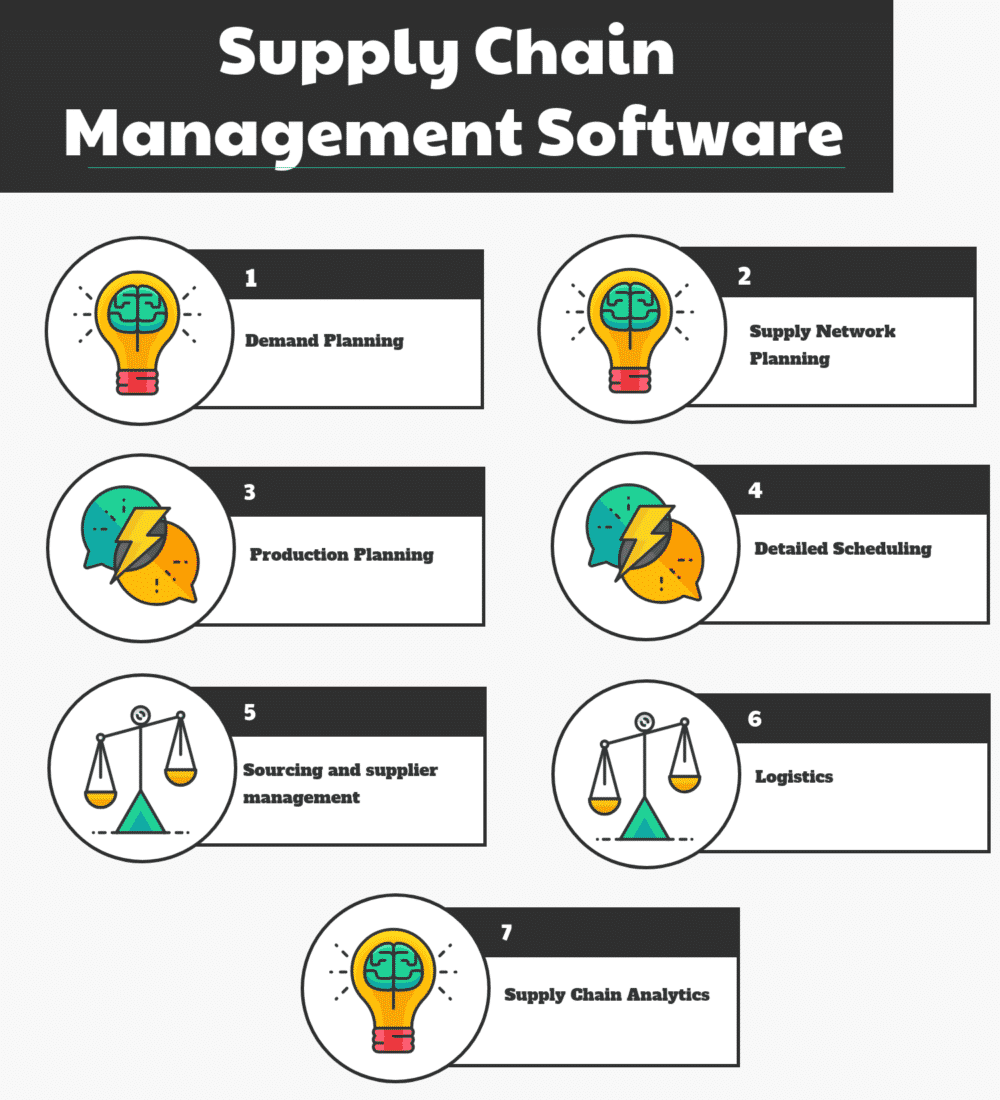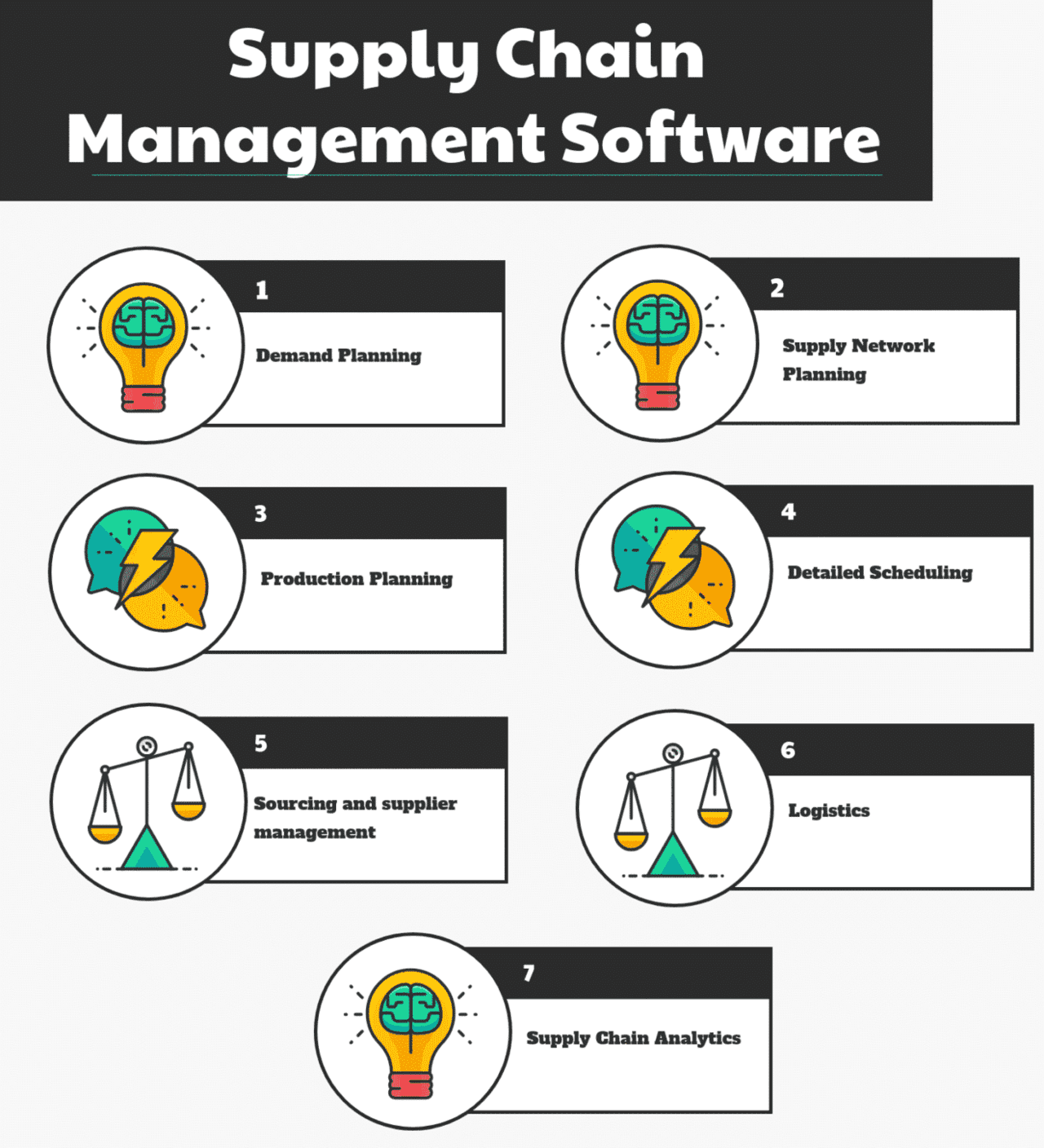 Every business needs an effective supply chain management system in place for a good number of reasons. For one, the software helps to make sure that there is a continuous flow of stock into the business without unnecessary interruptions in the deliveries. This is necessary for ensuring that the production processes do not stop indefinitely, which may affect customer service.
The software is also essential for maintaining good relations with your business's suppliers. This good faith goes a long in ensuring that they are dedicated to providing you the best service they can.
Your company may also need the software to make sure that costs are cut down on the procurement process, and that the best supplier is chosen. This is one of the most emphasized principles of procurement and stock management; obtain the highest quality of stock available at the lowest price possible.
What are the Top Supply Chain Management Software: E2open, SAP SCM, Logility, Perfect Commerce, Oracle SCM, Infor SCM, JDA SCM, Manhattan SCM, Epicor SCM, Dassault Systemes SCM, Descartes SCM, Highjump SCM, IFS, Watson Supply Chain, BluJay SCM are some of the examples of best Supply Chain Management Software.
What are Supply Chain Management Software?
Supply Chain Management is a set of synchronized decision and activities, utilized to effectively integrate suppliers, manufacturers, transporters, warehouses, retailers and customers so that the right product or service is distributed at the right quantities, to the proper locations and at the appropriate time, in order to minimize system wide costs while satisfying customer service level requirements.
Supply Chain Management software applications provide real-time analytical systems that manage the flow of product and information throughout the supply chain network. They are designed to enhance SCM operations  such as supplier sourcing, production planning, inventory planning, transportation planning, demand planning.
In basic terms, supply management software manages supply chain transactions and activities, flow of data, supplier relationships and any other related activities. The software runs on the principles of the supply chain which is a very crucial area for any business. It may be involved in all processes from the product development stage to the logistics, tapping into activities such as warehousing, transportation, and inventory management.
Other functions that the software may be involved in include the processing of customer requirements, sourcing, and management of suppliers and shipping. Traditionally, all these processes are managed individually by different teams of people usually working in various departments. This may cause difficulties and confusion in the overall management of the supply chain, which the problem that this software seeks to solve. It incorporates these functions into one system that can be controlled and managed from a single point.
Inventory management: The software provides tools for managing the availability of stock and raw materials as well as their quantity. This feature is also used in predicting future trends in the inflow and outflow of inventory.
Warehouse Management: This feature enables management of all activities taking place in the physical warehouse of goods and analyses aspects such as storage space and labor.
Customer requirement process: This involves seeing to requirements of the customers by overseeing operations involved from the arrival of raw materials, processing to the delivery of the final product.
Logistics: Supply chain management software also creates space for future expansion of the business in the respective field, eliminating the need to acquire a new one which may cause some downtime.
Returns management: The SCM software also monitors any returns of damaged goods and oversees the processing of refunds while also checking and initiating any insurance claims.
Sourcing and supplier management: The software also offers tools to help in identifying viable suppliers and working with them to maintain a good vendor relationship.
Analytics: Some also come with intelligence to analyze any problems and find their causes as well as provide suggestions for risks management.
Top Supply Chain Management Software

E2open, SAP SCM, Logility, Perfect Commerce, Oracle SCM, Infor SCM, JDA SCM, Manhattan SCM, Epicor SCM, Dassault Systemes SCM, Descartes SCM, Highjump SCM, IFS, Watson Supply Chain, BluJay SCM are some of the Top Supply Chain Management Software.
You may like to read: How to Select the Best Supply Chain Management Software for Your Business and Cloud Computing in Supply Chain Activities, Benefits and Adoption
Top Supply Chain Management Software
PAT Index™
1
E2open
E2open is an online supply chain management system designed to provide more responsive and demand-driven supply chain. E2open's features include supply chain monitoring, supply chain analytics, supply chain planning, order processing management, inventory management, warehouse management, transportation management, sourcing and procurement, supplier management and client collaboration. With E2open, one can integrate the existing data without losing any data. E2open's supply chain monitoring enables advanced shipment notification management for customizable notifications and intransit –status updates. Supply chain analytics helps in analysis forecast accurately, management of data integration and analysis of data, inventory analysis, transportation analysis and warehouse analysis. E2open's supply chain…
Overview
• Supply chain monitoring
• Supply chain analytics
• Supply chain planning
• Order processing management
• Inventory management
• Warehouse management
• Transportation management
• Sourcing & procurement
• Supplier management
• Client collaboration
2
SAP SCM
SAP Supply Chain Management harnesses new technologies such as AI and the Internet of Things to provide full visibility and advanced analytics to help the users in planning, sourcing, and delivering the right goods and materials at the right time. SAP Supply Chain Management offers various SCM software such as SAP integrated business planning, SAP extended warehouse management and supply chain collaboration. SAP Integrated Business Planning is a real-time supply chain planning software which connects stakeholders across the user's organization and integrates S&OP, demand and supply planning, and inventory optimization so that the users can rapidly and profitably meet demand.…
Overview
• Combine sales forecasts, inventory targets, supply plans, and financial plans
• Streamline and integrate your transportation management processes.
• Enhance your storage and inventory management processes
• Work with partners across your supply chain, including multiple tiers of suppliers
• Digitize and automate the source-to-contract process for all spend categories
3
Logility
Logility is a supply chain management software that provides you with advanced analytics and optimized planning to enable you to gain a competitive advantage. Logility present digital supply chain that leverages smart and intelligent solutions to help you to proactively respond to what's happening in the market. Logility also provides you with a collaborative scenario analytics and advanced analytics to help you to solve the toughest retail and supply chain planning challenges. The key features provided by Logility include optimization of demand, inventory optimization, integrates business planning, supply optimization, management of master data, optimization of the retail, and transportation management.…
Overview
• Integrated business planning
• Demand optimization
• Inventory optimization
• Integration and master data management
• Supply optimization
• Retail optimization
• Transportation optimization
4
Perfect Commerce
Perfect Commerce is a supply chain management software that provides you with a variety of solutions to enable you to maximize ROI and simplify source-to-pay. Perfect Commerce provides you with an excellent platform for saving strategic resources on tactical categories to enable you control the tail spend. Perfect Commerce also provides you with a boutique approach that enables you to serve more than 300 customers globally in over eighty countries. The boutique approach also enables you to still engage with your customers by providing attention and personal care. The primary features offered by Perfect Commerce include implementation services, management of…
Overview
• Implementation services
• Tail Spend management
• Auctions as a service
• Catalog content services
• Strategic Sourcing
• Group Purchasing
5
Oracle SCM
Oracle's Supply Chain Management transforms the user's business, with end-to-end supply chain visibility from developing products to fulfilling orders, through planning and managing inventory, sourcing, manufacturing, and delivery. Oracle's SCM products include supply chain planning cloud, order management cloud and manufacturing cloud. Supply Chain Planning Cloud proactively devises revenue growth and cost reduction strategies, and consistently execute them with enterprise-wide alignment. Supply Chain Planning Cloud lets the users use visual analytics and intelligent recommendations to help even inexperienced users plan effectively. Supply Chain Planning Cloud enables the users to watch for deviations from the user's plan and changes in the…
Overview
• Logistics manages all warehousing needs and transportation modes
• A product lifecycle management system enables you to innovate, develop, and commercialize profitable products to grow your business.
• A supply chain planning solution helps you stay ahead of marketplace changes
• A procurement management system streamlines your source-to-pay process through automation and social collaboration, while controlling costs and achieving higher margins.
• An order management system manages orders from all your channels to get a single view of your customer.
6
Infor SCM
Infor SCM is a supply management software that combines advanced supply chain planning, finance capabilities, and execution with the GT Nexus Commerce Network to enable companies achieve the control and velocity required to compete in the current market. The unique combination between Nexus commerce network and Infor SCM enables you to deliver faster actionable insights across your entire supply chain. Infor SCM also provides an excellent platform for solving relevant problems and challenges such as unexpected disruptions by offering real-time insights and greater visibility across the entire supply chain. The key features offered by Infor SCM include supply chain visibility,…
Overview
• Supply chain visibility
• Supply chain planning
• Sales and operations planning (S&OP)
• Warehouse management
• Supplier collaboration
• Procure-to-pay automation
• Supply chain finance
• Transportation management
7
JDA SCM
JDA Supply Chain Management is an end-to-end retail and supply chain planning and execution technology which is designed to address the complexities of today's global and consumer-driven marketplace. JDA Supply Chain Management offers solutions such as manufacturing & distribution, retail and service industry solutions. These game-changing, cloud-based solutions can help the user's company reduce costs, increase profitability and improve collaboration from planning to delivery, so that the user delivers on the user's customer promises every time. JDA SCM manufacturing and distribution's Category Management solution lets the users collaborate with retailers to create localized assortments and planograms for store-level execution. JDA…
Overview
• Collaborate with retailers to create localized assortments and planograms
• Reduce inventory levels and costs, improving customer service and providing more agile, profitable and responsive operations
• Provide the foundation for accurate, synchronized data with real-time inventory updates and secure transactions
• Combine budgeting, forecasting, scheduling, space and inventory management, workforce and task management systems
• Understand exactly what customers are looking for and deliver it reliably, increasing your market share and brand strength
8
Manhattan SCM
Manhattan SCM is a supply management software that provides architected solutions that break down the silos and enable the supply chain to serve top line growth without sacrificing the bottom line performance. The primary features offered by Manhattan SCM include management of carrier, distribution overview, extended enterprise management overview, and transportation overview. The carrier management feature provides you with an excellent platform for optimising load assignments, minimizing fuel costs, managing driver's hours of service, and meeting customer expectations. The carrier management feature enables you to respond and manage the challenges like fluctuating fuel prices, utilisation of equipment, changing customer demand,…
Overview
• Carrier management
• Distribution overview
• Extended enterprise management overview
• Transportation overview
9
Epicor SCM
Epicor SCM is a supply chain management software that provides an excellent platform for driving supply chain efficiency for greater profitability. Epicor SCM provides solutions designed around the unique operational requirements of each industry. The solutions are available on premises or in the cloud and enables customers to focus on core growth activities and manage complexity. Epicor SCM facilitates integration of mission-critical processes along with centralised solutions that empower your supply chain with greater control, data visibility, and insights. The critical features provided by Epicor SCM include management of purchase, management of demand, management of inventory, shipping and receiving, management…
Overview
• Purchase management
• Demand management
• Inventory management
• Shipping and receiving
• Warehouse management
• Advanced material management
• Supplier relationship management
• Supplier connect
10
Dassault Systemes SCM
Dassault Systemes SCM is a supply chain management software that provides automotive suppliers and manufacturers with a complete suite of tools required for managing the sourcing cycle. The tools are essential from collection of requirements to the on-going and tracking and improvement of supply-base performance. Dassault Systemes SCM offers excellent solutions that enable the supply chain to be categorized in profiles to provide suppliers with the structure of locations and capabilities. Dassault Systemes SCM also establishes a framework in which OEMs can effectively communicate the requirements of development organizations and fulfil the requirements of the supply-base. Dassault Systemes SCM also…
Overview
• Supplier database management
• E-RFx & bidding management
• Contract management
• Supplier development, evaluation and management
• Concurrent design management
• Component library management
• Component lifecycle management, reuse and usage tracking
• Materials reporting
• PPAP/Supplier collaboration
• PPAP/PSW (Production Part Approval Process/Part Submission Warrant)
11
Descartes SCM
Descartes SCM is a supply chain management application that provides you with an array of cloud-based, modular, wireless logistics, and interoperable web solutions. These solutions enable you to deliver value for a wide range of logistics processes to organizations that enable them to operate their fleet across air, ocean, and ground. The primary features provided by Descartes SCM include management of transportation, global logistics network, mobile, routing, and telematics, customs and regulatory compliance, and broker and forwarder enterprise systems. The routing and mobile telematics feature provides you with an excellent platform for creating delivery appointments and plans that best serve…
Overview
• Routing, mobile, and telematics
• Transportation management
• Customs and regulatory compliance
• Global logistics network
• Broker and forwarder enterprise systems
12
Highjump SCM
Highjump SCM is a supply chain management software that uses supply chain technologies to provide you with an excellent platform for responding to market needs. Highjump SCM provides you with solutions that enable you to respond to changes by yourself. The solutions provided by Highjump SCM have a compelling cost of ownership. The primary features provided by Highjump SCM include Omni channel fulfilment, management of labour, multi-client operations, and ERP integrations. The yard management feature provides you with an excellent platform for conquering complexity by providing you with graphical yard operations. The yard management feature also provides you with intelligent…
Overview
• Cloud WMS
• Ecommerce
• Yard management
• ERP integrations
• Multi-client operations
• Labor management
• Omnichannel fulfillment
13
IFS
IFS is a supply chain management software that provides you with comprehensive features for providing the simplicity you require to better visualize the flow of products and use the system efficiently. IFS also provides you with an excellent platform for easily adapting to different distribution working methods and models. The components provided by IFS aloe enable you to grow and support change throughout your enterprise. The primary features provided by IFS include demand forecasting, multi-site planning, inventory replenishment, custom orders, procurement, management of rental, and warehousing. The demand forecasting feature provides an excellent platform for allowing you to plan visually…
Overview
• IFS demand forecasting
• IFS multi-site planning
• IFS inventory management
• IFS distribution
• IFS customer orders
• IFS procurement
• IFS rental management
• IFS warehousing
14
Watson Supply Chain
Watson Supply Chain is a supply chain management software that provides you with an excellent platform for elevating your existing systems to provide greater transparency, visibility, and insight into supply chain processes and data. The primary features provided by Watson Supply Chain include supply chain optimisation, B2B collaboration, order fulfilment and management. The supply chain optimisation feature provides you with an excellent platform for meeting the rising customer expectations by enabling you to monitor the ever-increasing array of potential disruptions experienced in management of supply chains. The supply chain optimisation feature powered by Watson AI enables your company to assess,…
Overview
• Supply chain optimization
• B2B collaboration
• Order management and fulfilment
15
BluJay SCM
BluJay SCM is a supply chain management software that optimizes the future your supply chain by providing you with a cloud-powered portfolio of hands-free customs, application services, analytics, real-time, and velocity that you can quickly adapt. BluJay SCM eliminates the traditional supply chain logistics and provides you with solutions that help you to minimize risk, improve efficiencies, and capitalize on opportunities for profitable growth. BluJay SCM also provides you with advanced technologies that scale up with your business. The key features provided by BluJay SCM include management of transportation, warehouse management, compliance management, commerce management, network management. The transportation management…
Overview
• Transportation management
• Warehouse management
• Compliance management
• Commerce management
• Network management
• LaaS managament
You may like to read: How to Select the Best Supply Chain Management Software for Your Business and Cloud Computing in Supply Chain Activities, Benefits and Adoption