How to Select the Best Supply Chain Management Software for Your Business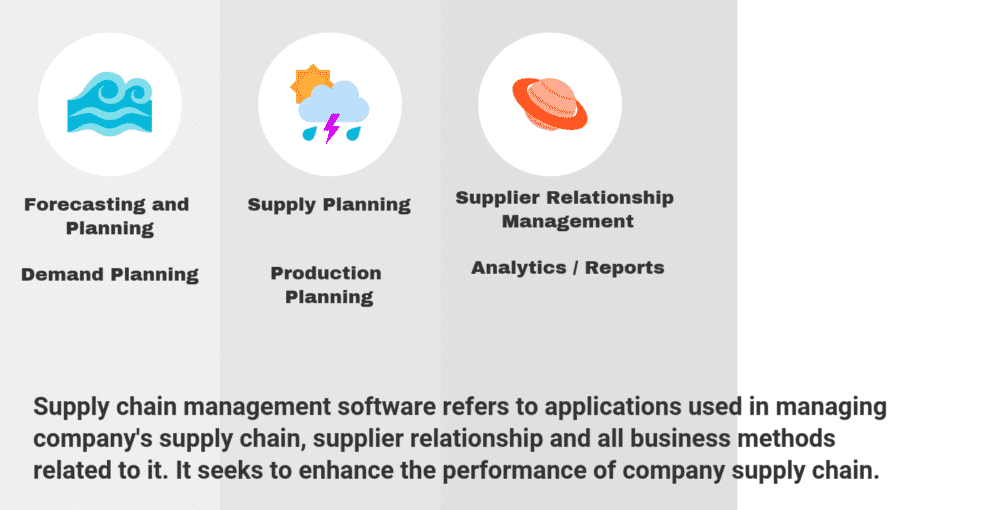 Supply chain management software refers to applications used in managing company's supply chain, supplier relationship and all business methods related to it. It seeks to enhance the performance of company supply chain. A supply chain refers to a group of steps taken in transforming raw materials into finished products. The supply chain for some businesses is relatively simple and straightforward while for others, it is an entirely different story. Regardless, every supply chain has to be properly managed to maximize productivity.
Supply chain management refers to the process by which companies make their supply chain both cost effective and efficient. Technological advancement in how business is done has made carrying out supply chain management activities easier through supply chain management software. Supply Chain Management Software significantly reduces the cost incurred from creating, insuring, shipping and storing products a company cannot sell. Organizations use supply chain management in addressing the needs of their business such that, the resources needed for supply align with current or future product demand.
The Supply Chain Management software can effectively carry out every step of supply chain. Each step in the supply chain has a number of specific task, majority of which have specific software. A chuck of these software have been integrated under single roofs by vendors, yet, none has been able to create a holistic software application that caters for all activities in the supply chain.
One major common element of supply chain management software is forecasting, which is made possible by an attempt to utilize algorithms and analyze product consumption in planning future needs. Often, supply chain management software possess integration technology which allows firms trade with their supply chain associates electronically. Due to the fact that most companies engaged in supply chain management are tightly integrated with the finance system, software systems are usually used alongside accounts deliverables, financial-account payables and company general ledger. Supply chain management also makes organizational book keeping easier.
You may like to read:  Top Supply Chain Management Software and Cloud Computing in Supply Chain Activities, Benefits and Adoption
What are the Features of Supply Chain Management Software
Supply chain management software a lot features to businesses, some of which include inventory management, order management, return management, processing customer requirement, supplier relationship management, warehouse management, procurement, and forecasting and planning.
Inventory management: supply chain management allows organizations track raw materials availability, quantity of products stocked, asset management, and helps with integrating barcodes.
Order Management: companies can generate and track their purchase orders, schedule deliveries from suppliers, configure products and pricing through the automation of purchase order processes.
Logistics: with supply chain management software, organizations can improve their transportation channels, the way they deliver goods and increase general customer satisfaction.
Return Management: Supply chain management software in dealing with and inspecting damaged products, and the processing of customer's insurance claims and refunds.
Processing of customer requirements: with supply chain management, organizations can monitor the availability of raw materials, manufacturing of products, and get products to the logistics department, thereby enhancing customer requirement processing speed.
Supplier relationship management: companies can use supply chain software in gaining access to the capabilities and assets of suppliers, and compare company business strategy with them.
Warehouse management: supply chain management software can be used in the fast processing of transactions to effectively support company's warehouse management system.
Procurement: companies can fully automate and streamline all processes relating to sourcing, making purchases and payables.
Forecasting and planning: organizations can use customer demand predictions, made by supply chain management, software in planning procurement and production activities.
What are the Types of Supply Chain Management Software

Supply chain planning: this type of supply chain management software is also known as advanced planning and scheduling software. It includes applications that help manage planning processes associated with product demand, materials supply throughout the company's extended supply chain, orders scheduling, product distribution among distributors, or the allocating of final products to various customer orders.
Supply chain execution and fulfilling orders: applications found under this category deal with the management, monitoring and allocation of resources associated with supply chain management activities. Applications in this category include inventory management, transportation management system, logistics, warehouse management system, and order management. All software applications that help manage and monitor global trade and goods clearance by customs are under supply chain execution.
Supply chain collaboration: applications that fall under this category are web based software applications that distribute, and manage planning and administration information throughout a global-wide network of supply chain. This application type was created to help professionals in supply chain marketing gather information fast via the web.
Supply chain execution, business analytics and intelligence, and reporting: applications under this category monitor, and manage execution and overall performance disclosure, alerts company about unplanned events, or help in performing what-if analysis relating to demand conditions, supply or inventory for various business scenarios.
What are the Key Performance Indicators of Supply Chain Management Software

Time to customer: this is a good indicator of how well supply chain management software is performing, as the software ought to manage supply chain by cutting down excesses that waste time and other resources.
Smooth flow of production process: a good supply chain management software should help in ensuring the execution of activities in supply chain is hitch free.
Accurate forecasting: supply chain management software should be able to give accurate predictions of customer demand; an information to be used by companies in making business plans.
Customer service: supply chain software improves delivery of products, invariably increasing customer satisfaction.
Reduce cost: a good supply chain management software eliminates cost incurred on unproductive and wasteful ventures in the supply chain.
What are the benefits of Supply Chain Management Software

Reduce cost effects: company's overhead expenses is reduces when inventory management system is improved and successfully implemented, damaged resources are eliminated by improving storage space efficiency, and management systems become more responsive.
Increase company output: the design of supply chain management software is such that it improves collaboration and communication with vendors, suppliers, firms that deal in transportation and shipping, and supports bi-directional flow of information.
Raise profit level of your business: supply chain management software increases business visibility and improves collaboration by increasing organizational output, which in turn leads to an increase in organization's profit.
Reduces time spent in processes: supply chain management software helps manage problems like delayed product shipment from suppliers, hold-up in the chain of production, errors in logistics that can negatively influence the satisfaction of customers demand.
Supplier relationships: by using supply chain management software, companies can analyze supply relationship by viewing how much vendors charge for goods, how they push the product in the market, and how they handle delivery.
Liability and risk: supply chain management software informs companies on risk they are likely to face, which helps companies employ counter strategies like improving design of work process, insurance policies, and protective gear distribution to workers.
Better customer service: by helping with making product shipping better, supply chain management software improves company's customer service.
What are the latest trends in Supply Chain Management Software ?
Consolidation: in a bid to grow and keep up with new developments in technology, vendors are merging and acquiring supply chain software applications.
Analytics: according to reports, correct analytics help in achieving a more precise product demand forecast, which in turn results in inventory levels that are more accurate and greater cost saving.
Automation: supply chain are fast becoming more sophisticated and are able to perform a number of functions without human help, and can also review and select the best possible actions when issues arise.
 How to choose the right Supply Chain Management Software

Supply chain management houses a wide range of processes. Despite the efforts of vendors in merging and acquiring software to better manage business supply chain, no single software application can be used to manage all aspects of supply chain. For this reason, one has to consider some key factors when choosing and buying supply chain management software. We have compiled a list of factors that would help you choose the best supply chain management software for your business.
What you need the software for: putting the type of supply chain management software earlier discussed into consideration, identify what you need the software for in your business, and select the software type that best covers that list.
How compatible it is with your business: it is important to examine how well a new soft chain management software would integrate with your already existing software and business, such as accounting and sales.
Reliability of the vendor: it is imperative to find a service-oriented and reliable vendor, putting into consideration how long the company has been and will be around for, and if they offer support services for implementing, upgrading and maintaining the software to avoid a malfunction disturbing the supply chain process.
Customized for your industry: not all supply chain management software is suitable for all kinds of products, and purchasing a software applications made for another category of products might put a dent in your supply chain process.
Possession of special hardware system requirements: the supply chain management software you eventually choose should possess flexibility in regards to its operating system and data base.
Top Supply Chain Management Software

Top Supply Chain Management Software
PAT Index™
You may like to read:  Top Supply Chain Management Software and Cloud Computing in Supply Chain Activities, Benefits and Adoption