How to Select the Best Warehouse Management Software for Your Business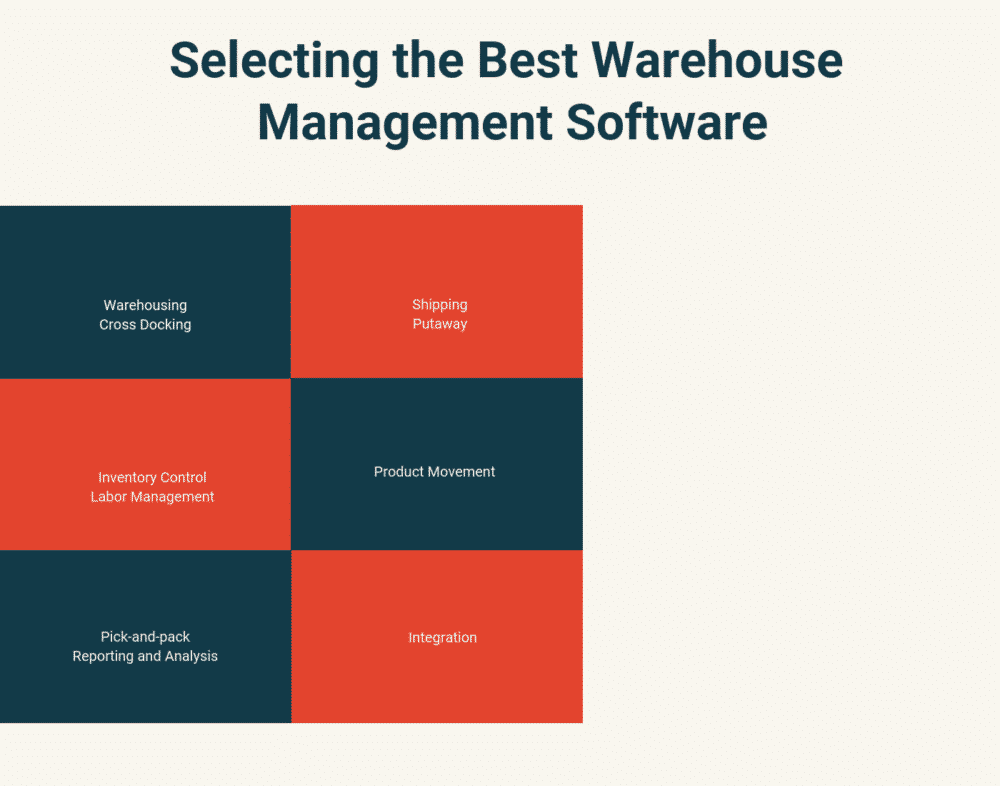 Warehouse management software (WMS) is an automated system, designed to manage the day-to-day operations of a warehouse or distribution center. The software application includes processes related to inventory collection and storage, manual and automated picking, and tracking items to be shipped.
Warehouse management software, also referred to as warehouse management system, has built-in programs that enable businesses to manage various tasks from a centralized location. Activities include tracking and monitoring inventory levels and stock location. Warehouse Management Software can operate as a standalone system or can be integrated into an Enterprise Resource Planning (ERP) or supply chain system.
Businesses are interested in finding a software solution that provides accurate and timely information to facilitate the smooth flow of materials within their warehouse. Stemming from this, businesses need a solution that would help reduce the costs of holding excessive inventory and improve inventory turns.
Warehouse Management Software takes care of these needs. Another reason why businesses use WMS is to manage inventory levels for each product across warehouses or distribution centers. WMS is also an essential solution to help lower costs by improving businesses' logistics and supply chain process. Providing greater supply chain visibility to stakeholders and accurately quoting delivery times to customers are additional reasons for implementing the software. Businesses may also use Warehouse Management Software to improve workforce scheduling and allocation across warehouses in order to optimize production levels. Managing a warehouse is no easy feat especially when it comes to monitoring losses due to pilferage and burglary.
As such, businesses need to Warehouse Management Software to increase security levels through the automation of each phase of warehouse management. The software enables businesses to track and trace items across the entire supply chain to identify their location. Businesses can also ensure adherence to legal and regulatory requirements. Finally, businesses use WMS software to help with continuous process improvement.
You may like to read: Top Warehouse Management Software
What are the Features of Warehouse Management Software
WMS offers businesses core features to improve overall efficiency in their warehouses such as Inventory Control, Product Movement, Pick-and-pack, Integration, Mobile-readiness, Third-Party Logistics (3PL), Labor Management, Dashboards, User-friendly Interfaces, Technical Support, and Reporting and Analysis.
Inventory Control: Allows businesses to track inventory levels by item; locate items by weight, size or other criterion; and locate difficult-to-move items.
Product Movement: Allows businesses to track the flow of products using radio frequency identification (RFID) tags or barcodes; and to analyze and reduce fulfillment times.
Pick-and-pack: Offers businesses a range of options inclusive of zone picking, batch picking and wave picking to provide managers greater flexibility.
Integration: Integrates easily with ERP and supply chain systems to facilitate the tracking of and quick response to unconventional changes in inventory levels and employees. Some solutions can also be integrated with accounting programs, customer relationship management (CRM), and other applications used by businesses.
Mobile-readiness: Allows access from mobile devices and tablets, which enables managers and warehouse staff to effectively perform tasks that were previously done manually.
Third-Party Logistics (3PL): Enables businesses to effectively coordinate all outsourced operational logistics, allowing managers to focus on other critical aspects of the business.
Labor Management: Through the integration of workforce planning software, WMS can identify staff, maintain staff schedules, track hours worked, and forecast labor demands for peak and down times.
Dashboard: Provides real-time updates on the status of inventory and supply chain operations, showing data regarding inbound and outbound shipments.
User-friendly Interface: Enables users to navigate the software with ease and very little training.
Technical Support: Provides support to users during any given time frame via online chat, telephone, and email and may include support during emergencies.
Reporting and Analysis: Generates reports for businesses to analyze operations in real-time, analyze production efficiency, and identify areas for improvement.
What are the Types of Warehouse Management Software
Standalone System: This is an onsite system that requires hardware and connection to the business' existing network. This type of WMS needs to be integrated with supporting applications such as ERP to create a comprehensive system that can encompass various aspects of the business. Standalone systems are the most affordable option because of their limited features.
ERP Modules: This type can easily be integrated with an ERP solution and includes supporting systems such as accounting, sales orders, shipping management.
Cloud Based: This web-based system, also known as software as a service (SaaS), utilizes cloud technology. This type provides access from any location and users can receive automatic software updates at no additional costs.
What are the Key Performance Indicators (KPI's) of Warehouse Management Software

Inventory accuracy: Compares number of items in stock to actual number recorded in database
Carrying cost of inventory: The cost of storing inventory over a period of time, and factors costs such as labor, insurance, freight, and storage
Inventory turnover: Measures the rate at which a business sells out inventory (cost of goods sold / average inventory for a specific period)
Receiving efficiency: Rate at which inventory is counted and factors in cost per line item received, volume received per man-hour, receiving truck time at the dock, and accurate receipts
Pick release to ship: Average time between pick release and confirmation of shipment (Total elapse time for shipping confirmations / Number of confirmed shipments)
Receipt to put-away:Measures average elapsed time from receipt of an item to the time it is put away in storage. This KPI factors cycle time, cost per item put away, time from receiving to pick location, and required man hours.
What are the Benefits of Warehouse Management Software

Reduced errors: Automated solutions eliminate the need for manual processes, therefore reducing the likelihood of errors
Reduced fulfillment time: Enables businesses to quickly process, fulfill and ship orders and easily trace the location of ordered products
Increased customer satisfaction: Higher fulfillment rates result in improved customer service
Increased inventory accuracy: Provides businesses with real-time, accurate reports thereby reducing variances with inventory levels
Greater utilization of space: Helps businesses coordinate pick times, which means less space required for dock storage
Increased warehouse productivity: Enables businesses to get more done in less time by streamlining pick-and-pack activities, fine-tuning order fulfillment, and other critical activities
Reduced labor cost: Reduces manpower requirements since WMS automation replaces the need for manual tasks to be performed, and analytics tools help streamline work schedules
Reduced downtime: Decreases (or possibly eliminates) the likelihood of inventory discrepancies and periods of inactivity due to accurate reporting
Improved data collection and reporting: The use of bar coding facilitates the automation and accuracy of data collection.
What are the Latest trends in Warehouse Management Software

Radio Frequency Identification (RFID): More high-end WMS have been offering RFID to automatically identify and track tags that are attached to items within the warehouse. More businesses are gravitating to this tool since product movement can be better monitored.
Speech recognition: This allows employees to communicate with the software through a microphone. This is becoming useful for employees who are involved in picking since information on what to pick is communicated and the employees will respond when the action is completed. This helps improve accuracy and productivity.
Increase in cloud-based options: It is expected that three quarters of WMS solutions will be cloud-based by 2020 and more businesses are already choosing this option.
Increased use by automotive industry:Automotive businesses accounted for the greatest market share for WMS solutions in 2016 and the figure continues to rise. The increase in customized vehicles and the need to ensure availability of manufacturing parts have fuelled the increase.
Food & beverage industry on the increase:Like the automotive industry, food and beverage businesses are changing the status quo. The need for improved traceability of food items and the increase in packaged food sales have caused a growing desire for WMS.
 How to choose the right Warehouse Management Software

Before purchasing a WMS solution, businesses should compare features and pricing. WMS generally come with common basic features while more advanced systems tend to include add-ons or offer premium services that are industry-specific. Businesses should consider Barcode/RFID capabilities, Integration capabilities, Implementation and training, Customization, and Perpetual vs. Subscription License.
Barcode/RFID capabilities: Businesses should first identify if there is significant movement of inventory within the warehouse to determine if there is need for an RFID system. The radio frequency in this system helps employees track the location of items in the warehouse. This is particularly helpful for expensive and sensitive items that require real-time tracking without the need for barcode scans every time they are relocated.
Integration capabilities: Businesses should ensure that the solution can integrate with their current applications, particularly accounting, e-commerce, and ERP.
Implementation and training: A user-friendly WMS solution saves businesses time and costs associated with training users. Businesses should compare options to decide which solution is simple to implement and use, while providing the essential features.
Customization: Not all options allow businesses to tailor aspects to meet their specific needs such as logos, customized forms, etc. If customization is a priority, businesses should choose a solution that offers this flexibility.
Perpetual vs. subscription license: Perpetual licenses, while more costly, allow businesses to have entitlement to WMS for an unlimited time on premises. This license requires a high upfront investment followed by yearly fees to cover maintenance and support. Subscription licenses grant access for a limited period, during which time monthly fees are to be paid. This license allows businesses to access the software remotely.
Top Warehouse Management Software
Top Warehouse Management Software
PAT Index™
You may like to read: Top Warehouse Management Software