Aras Innovator 11 on Microsoft Azure Marketplace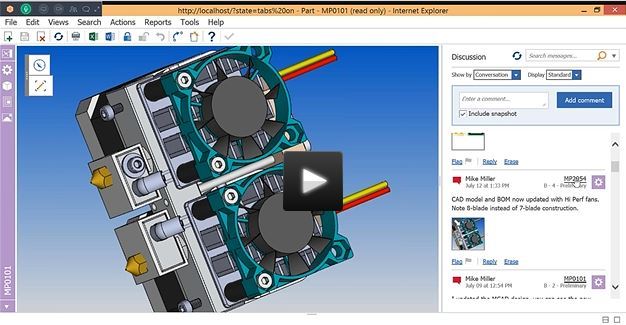 Aras Innovator 11 on Microsoft Azure Marketplace : Aras Innovator 11 is available in the Microsoft Azure Marketplace. Now certified to run on Azure, Aras Innovator 11 is the most complete and customizable cloud ready PLM suite for global companies with complex products that incorporate electronics, software and mechanical designs. Aras on Azure is ideal for enterprises that need to be up and running quickly with a complete PLM environment for supply chain co-development initiatives, joint ventures, rapidly evolving product lines and other fast-paced environments. Aras on Azure includes multidisciplinary bill of materials (BOM) management, configuration management, change workflows, stage-gate projects, CAD integrations and more. Designed from the outset to support cloud deployment options, Aras Innovator on Azure provides full customization, integration and data federation capabilities for extensibility without limitations.
Aras on Azure provides secure, scalable PLM deployed on the cloud, a complete PLM suite on the cloud, with full customization and integration capabilities. The only PLM solution designed for flexible cloud and hybrid deployments to meet the needs of global enterprises, joint ventures, and the supply chain
"By making Aras available in the Azure Marketplace we're providing a full-featured PLM alternative for fast-moving business situations," said Peter Schroer, CEO of Aras. "With Aras on Azure, you don't have to sacrifice functionality or flexibility, and no matter how much you customize, your upgrades are included in your Aras Subscription."
Aras Innovator on Azure gives enterprises complete control over cloud or hybrid deployment. Companies can deploy and run securely in the cloud, and switch to a hybrid or on-premise scenario at any time based on the needs of the business. Aras on Azure also enables companies to control when upgrades occur to assure critical operations continue without disruption.
For global enterprises with an Azure account, Aras on Azure offers quick, flexible deployment of enterprise PLM for rapidly evolving new product projects that involve collaborating with customers, suppliers, or contract manufacturer. Joint ventures that require a secure, standalone PLM environment and fast-paced programs & projects that fall outside the scope of an existing PLM system