How to Select the Best Sales and Operations Planning (S&OP) Software for your Business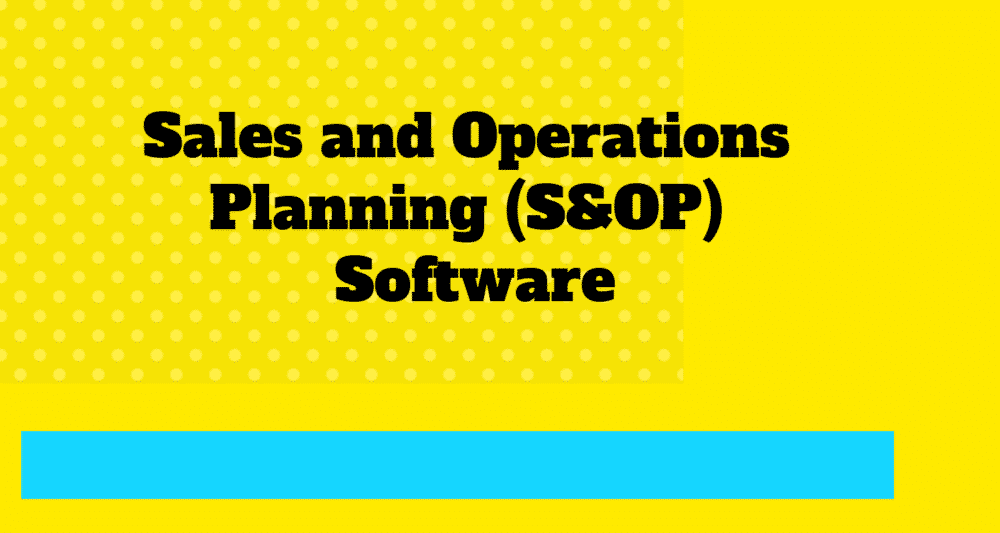 Sales and Operations Planning (S&OP) Software align a company's diverse functions while balancing supply and demand. This software gives executives a comprehensive overview of the business so they can grasp where it stands.
Sales and Operations Planning (S&OP) Software takes into account all the various planning and monitoring processes that are necessary to run a world-class supply chain. This software can also help you take a cross-functional approach to integrated business planning that unites all the moving parts across your supply chain with a shared focus to meet demand across markets, and with an eye on both immediate and long-term strategic goals.
Sales and Operations Planning software ties together your operational business plan with your strategic plan to provide a holistic view of demand, finance, and supply so that you can plan to profit. This software gives you the ability to assess a range of scenarios and options, allowing you to develop a possible plan given a set of supply chain constraints, this will enable your company to continuously match high-level strategy with day-to-day operational tactics in all departments.
If your firm aims to achieve "best-in-class" performance, total organizational and surpass the industry competition, it must be able to implement S&OP software accurately.
You may like to review: Top Sales and Operations Planning (S&OP) Software and Cloud Computing in Supply Chain Activities, Benefits and Adoption
What are the Features of Sales and Operations Planning (S&OP) Software

S&OP software helps organizations replenish and manage their inventory through sales forecasting. This software gives teams the ability to take a glimpse of the future. There are different Sales and Operations Planning software features that can significantly improve and help optimize business performance; some of the features are:
Dashboard: This feature display data related to equipment, labor, facilities, material, and finance to provide the teams with a single shared view.
Cost and capacity modeling: This essential feature provides the quantitative tools to model future and anticipated supply and demand activities.
Problem detection: This feature helps you identify material shortages in any plan and recommend solutions to solve those problems.
Data synchronization: This feature describes the ability to connect to a data source, inventory loads, facilitating delivery schedules, and revenue/expense projections.
Sales planning: This feature helps build the sales organization, production network, and product structure as early as possible in the product lifecycle.
Demand capacity management: This feature balance demand and minimizes the risk of confusion in the event of changes in supply availability, order changes or production disruptions.
Event alerts: This feature sends signals decision-maker to analyze exceptions, determine the cause, and communicate it to the right people to improve your plan and processes.
Data separation: The software gathers a wide range of data to improve past, and future demand analysis, separation occurring by customer, product, season and market information.
Historical analysis: Analyze the actual demand for an individual product along with broader micro and macroeconomic trends to give an accurate forecast to supply chain executives.
Supply chain communication: This essential feature link with other parts of the software through capacity planning to renegotiate replenishment scheduling, this limits cost inefficiencies and unnecessary oversupply.
What are the Key Performance Indicators (KPI's) of Sales Performance Management Software
As in every business project, supply chain operations need to focus continually on improvement to compete in the marketplace. However, how do you know if your supply chain performance is getting better, or worse? Here is where KPIs come in. Below are some standard Key Performance Indicators that are key to S&OP software:
Sales revenues: Certainly one of the essential KPI elements of S&OP to forecast demand.
Inventory turn: This KPI measures how quickly you are turning your inventory, which will have a direct impact on cash flow
Service levels: This metric will measure how well you satisfy your customers with on-time delivery and complete orders.
Lead-time: The smaller your lead times versus competition, the more possible you'll be able to improve sales, assuming all else is equal.
Margins: This measure how good you have aligned sales demand with supply and optimized your supply chain including planning, operations, purchasing, and distribution.
Delivery On-time: Just like the way you measure your outbound delivery time performance, so you should also keep your suppliers by tracking the percentage of inbound deliveries taken on time.
Accuracy: It's a good idea to monitor the accuracy of the data provided; this measurement is usually recorded over a given period.
What are the Benefits of Sales and Operations Planning (S&OP) Software

Well-executed S&OP software drives results and creates unlimited opportunities for companies that execute it efficiently. However, incorporating this software technology can yield many core benefits. Below are some benefits of a successful S&OP implementation.
Sales quotes and invoicing: S&OP software creates and store sales quote for customers and automatically turns those quotes into invoices when they are ready to purchase.
Sales forecasting: This software automatically predicts both short-term and long-term sales prospect with just a few clicks, which eradicate the need to collect data and create charts from scratch.
Accurate supply planning: S&OP software helps companies to be proactive, thus reducing last-minute shuffling in the distribution process.
Improved risk management: When executed correctly, S&OP software ultimately drives improved cash flow, excellent customer satisfaction, and a long-term leveraged scalable process.
Improve operational planning: This software improves and streamlines your supply chain, from procurement to storage and transportation.
Cost-effective operations: It also allows users to manage demand variation and business constraints, reduce manual effort and storage costs.
Solve existing issues: S&OP software address a wide range of the internal problems related to unacceptable lead times, customer service issues, excessive on-hand inventories and ineffective utilization of resources.
Share and leverage historical data: Historical data helps sales teams discuss future sales with customers and compare past forecasts to historical actuals to understand discrepancies and increase projections.
Automate workflow: This software allows you to automate workflow by sending email notifications and reminders to make sure salespeople deliver inputs on time.
Real-time data sharing: This software enables transparent processes, effective communication, and timely data sharing, which are essential to getting your sales department on board with continual improvement.
Increased efficiency: This software helps increase the effectiveness of a company's supply chain and operations, improve capacity and manage inventory levels.
Cost control: S&OP software reduces costs by providing efficient inventory-stocking plans; it also prevents inventory overstocking while concentrating on high-profit inventory items.
What are the Latest trends in Sales and Operations Planning (S&OP) Software

Sales and Operations Planning Software is becoming a reality across almost every industry. Those that are not prepared to use these modern technological advancements are likely to be left behind. This section explores some current trends in S&OP software, its growing importance in the current business environment,
Movement away from manual data entry: S&OP software solutions automate data and reporting for immediate analysis and distribution, this software also centralizes data entry, reporting points, reduce waste in resources, and time related to manually gathering and compiling of data.
Supply chains will evolve: S&OP software will dramatically change the former buy-make-move-store-deliver objective of supply chains and replace them with sophisticated and cross-enterprise networks with a laser focus on serving each customer segment better.
Big Data will become routine: S&OP software is poised to transform manufacturing planning processes with it abundance real-time data; as a result, effective data management will continue to grow in strategic importance for every distribution and manufacturing company to reduce costs and drive improved supply chain performance.
Mobility will become the norm: The proliferation of mobile devices and the growth in network infrastructure will continue to increase as the first choice for future decision-support solutions in Sales and Operations Planning.
Digital monitoring: S&OP Software will continue to offer a digital monitoring feature that provides real-time updates to tackle the challenges such as delays, degraded quality, longer delivery times and higher costs that companies face with the increasing globalization of the supply chain.
 How to choose the right Sales and Operations Planning (S&OP) Software

There are different factors to take into account when choosing sales and operations planning software system for your company. So when shopping for new S&OP Software to strengthen your marketing initiatives, consider:
Multi-user capabilities: Good S&OP Software must allow all member of the team to collaborate, ensuring an accurate, definitive sales and operations plan.
Ideal fit: Your S&OP software needs to be aligned with your business goals and with all other processes in your company.
Customizable: The right software for your company must allow you to create plans based on your business priorities.
Easy to use: Save yourself the frustration and headache by choosing the software with a clean, simple user interface that doesn't require much training.
Third-party integration: The S&OP Software should work with all sorts of apps to streamline all your data throughout various areas of your business.
Security: The software should have robust security measures to prevent data loss and cyber attacks, as well as provide a means to access your data in the event of cyber attack or outage.
Mobile access: Get software that has mobile apps or at least be accessed and easily viewed with the use of mobile Web browser.
Top Sales and Operations Planning (S&OP) Software
You may like to review: Top Sales and Operations Planning (S&OP) Software and Cloud Computing in Supply Chain Activities, Benefits and Adoption
Top Sales and Operations Planning (S&OP) Software
PAT Index™