Supply Chain Planning and Supply Chain Execution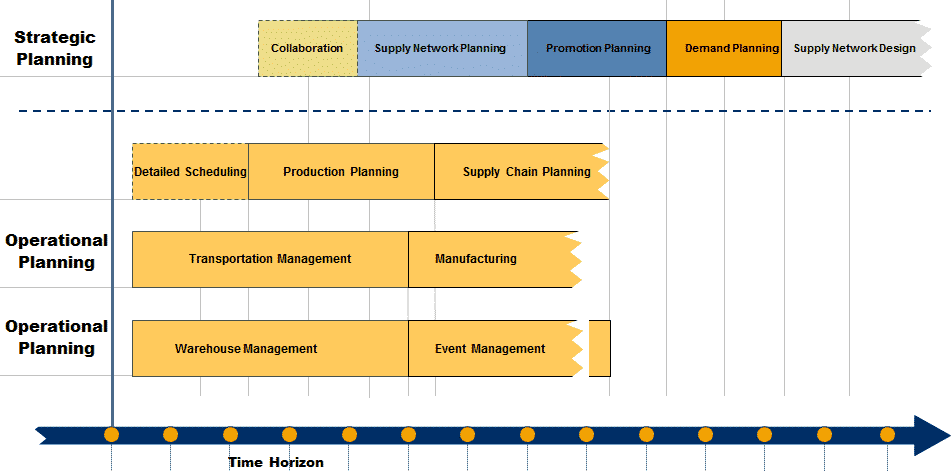 Supply Chain Management software is segmented into planning components and execution components. Planning are activities such as developing demands forecasts, establishing the supplies, planning and scheduling manufacturing operations, and developing key performance metrics to ensure efficient and cost effective operations.
The execution functions manage the processes and activities to ensure completion of the plans, including creating purchase orders, planned orders, project orders, production orders. This also includes taking customer orders, updating the inventory, managing movement of products in the warehouse and delivering goods to the customer.
The major distinction between Supply Chain Planning and Supply Chain Execution applications is the business users planning horizon or decision time frame. Supply Chain Planning applications support strategic and tactical planning processes that look several months to years into the future, often in terms of weekly and monthly time buckets.
Supply Chain Execution applications deal with tactical and operational planning processes that look hours, days, and weeks into the future, usually measured by small incremental buckets.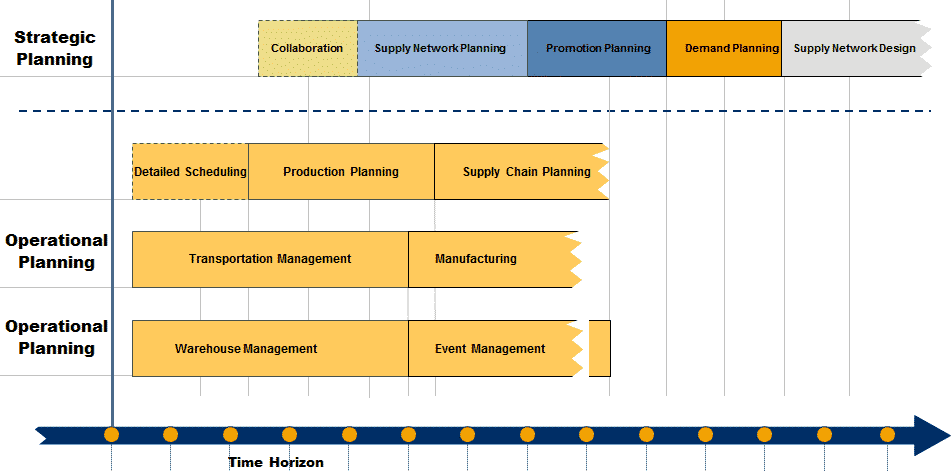 Supply Chain Planning and Supply Chain Execution
1. Supply Chain Planning
Supply Chain Planning provides strategic and tactical planning which is forward looking with an outlook for the future. The Supply Chain Planning deals with the supply, distribution, manufacturing, planning, production scheduling, demand planning, forecasting, supply chain collaboration and supply chain network design.
Supply Chain Planning applications coordinate assets to optimize the delivery of goods and services, and information from supplier to customer, balancing supply and demand. Supply Chain Planning application suite sits on top of a transactional system to provide planning, what-if scenario analysis capabilities and real-time demand commitments. Typical software modules of supply chain planning include network design, network planning, capacity planning, demand planning, manufacturing planning and scheduling, and distribution and deployment planning.
2.Supply Chain Execution
Supply Chain Execution applications use the information generated by Supply Chain Planning tools to guide the physical production, storage and movement of raw materials, assembly components and completed products.
Supply Chain Execution applications are able to interface with Supply Chain Planning and other management systems to determine production capacity, both the cost or time constrained, capacities and calculate a production plan which satisfies all requirements.
This plan can also adapt quickly to any change in variables. Supply Chain Execution applications are order management, inventory management, warehouse management, transport management and logistics. These execution applications hence track the physical status of goods, the management of materials, and financial information involving all parties.
a.Warehouse Management Systems
Warehouse Management Systems are applications that manage the operation of a warehouse or distribution center. Its functionality includes receiving, put-away, inventory management, cycle counting, task interleaving, wave planning, order allocation, order picking, replenishment, packing, shipping, labor management and automated material-handling equipment interfaces. Using radio frequency (RF) technology in conjunction with bar codes provides the foundation of a WMS, delivering accurate information in real time.
b.Transportation Management Systems
Transportation Management Systems are used to manage all freight activities across the enterprise. Its functions include planning and procuring freight movements, freight rating and shipping across all modes, route and carrier selection, management of freight, visibility, and freight payment and audit.
c.Manufacturing
Manufacturing Supports tactical planning of plant and material resources to create a master production schedule. Applications contain integrated functionality in two or more of the following areas: resource allocation and status, detailed scheduling, document control, labor management, quality management, process and maintenance management. It can provide feedback from the factory floor on a real time basis and interfaces to Supply Chain Planning, Supply Chain Event Management as well as to accounting oriented software systems.
d.Order Management
Order Management Is a business process and not a specific market. Much of the functionality attributed to order management touches components within the CRM, ERP and SCM markets as it guides products and services through order entry, processing and tracking.
e.Sourcing and Procurement
Sourcing and procurement applications are used to support the automation and management of corporate sourcing and purchasing (or procurement) of direct and indirect goods, suppliers and content (for example, product catalogs, parts databases and supplier directories).
Integrated Supply Chain Planning and Supply Chain Execution
In todays business environment, the supply chain planning processes have to be much more comprehensive in capability and scope and must also be flexible enough to support fast changing market conditions, and evolving business process needs.
There is a requirement for a unified planning platform that can support the full spectrum of planning processes, including the strategic, tactical, and operational which dramatically decrease decision making times.In that perspective both the supply chain planning and execution information be integrated and synchronized in near real time.
Benefits of Supply Chain Planning and Supply Chain Execution systems
Reduced Out-of-stocks
Faster fulfillment cycles times
Lower inventory requirements to support target service levels
Collaboration Platform for all value-chain participants to leverage
Reduction in lost sales
Reduced Working Capital Requirements